Every time I think of Brandon Finnegan, I envision a long-storied lineage of Irish pub purveyors.  "Have a pint, laddie!"
A very big name prospect with the Royals, the Reds hit on the luck of the Irish by dealing a really awful-looking Johnny Cueto – whose numbers are getting walloped by an ugly stick – and picking up some nice prospects with Finnegan the centerpiece.  Man, both the Reds and my Brewers got some nasty returns for vets that have been atrocious in the AL…  The NL Central is going to be unreal in a few seasons…
Back to the point!  Hell, I'm all over the place – I'm writing this open while watching football, and while taking a break from putting together basketball ranks in position tiers.  Oh yeah!  Play in an RCL Basketball League, it's like Fantasy Baseball but without rainouts!  Yikes, get me some Adderral…
Even with all the hype, and even though he's made a few relief appearances, I don't think I've ever watched Finnegan pitch.  So I decided to break down Finnegan's first career MLB start at the Brewers last Friday night to see if he's worth an add over the final two weeks, and/or a buzzy sleeper pick in 2016:
First Inning: Finnegan gets spotted a nice early 1-0 lead, and is low with a fastball to Jean Segura at 94 MPH.  Not necessarily that tall, but he's a pretty big lefty out there and a fastball on the outside edge is slashed foul, 1-1.  93 is barely inside – nice smooth fastball delivery – 2-1 is way inside, 3-1.  Hasn't gotten in the zone yet.  Then a fastball on the outside corner is hit pretty hard to short, but Eugenio Suarez is able to make the play for a fairly hard hit first out.  Hernan Perez is first pitch swinging, and flares a fastball to center for a very easy second out.  Up is Ryan Braun who takes a 92 MPH fastball with some cut on it in the zone, then 92 MPH is hit routinely to second for the third out.  Nice efficient inning to start it off!
Second Inning: Nothing but fastballs thus far, and Finnegan grooves yet another one, but this time Khris Davis was sitting dead red fastball and crushes it into the Brewers bullpen for a homer.  Davis has been mad hot and historically crushes lefties (hasn't hit them well this season), so that was too hittable as a "get me over" pitch.  Jason Rogers takes a nice cutting fastball at 92 in there – not sure if it's a legit cutter or just some movement on the 4-seamer, then Finnegan's first off-speed is a nasty slider that gets a whiff, 0-2.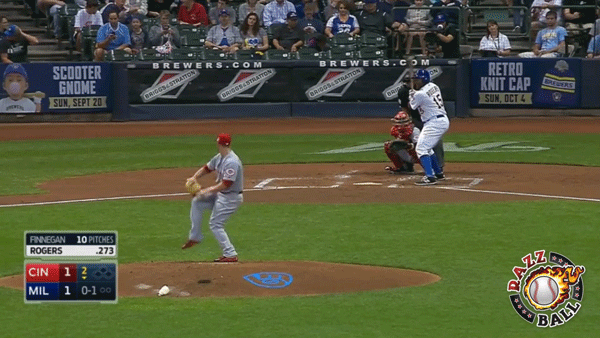 Damn, throw that to start Davis and you get him swinging out of his shoes!  Big sweeping slider breaks well inside 1-2, then throws yet another slider but hangs it badly, and Rogers crushes it into the gap for a double: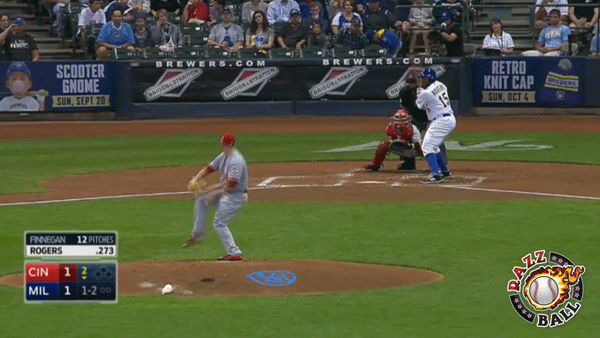 Yikes, that's quite a difference with the breaking ball.  Up is my boyfriend Domingo Santana, and he was sitting fastball as well but hits it right to Finnegan for a groundout to the pitcher.  That was hit pretty hard and would've had a chance up the gap, but nice to see Finnegan field it well.  Finnegan's best fastball or cutter on the day paints the low inside corner to Elian Herrera at 92 MPH, 0-1.  Then his first change-up on the day at 85 sits on the outside edge of the zone, but Herrera rolls it over to third for an easy groundout.  Two down, and Martin Maldonado takes 92 outside, then change-up at 85 gets Maldonado reaching and out front for a pop up to second, inning over.  Some hard contact this inning, but luckily the homer came first.
Third Inning: Still a 1-1 game and opposing pitcher Zach Davies takes one outside, fastball outside, 92 on the outside black nips the zone, 2-1 is fouled away, then 94 on the hands is fisted to second for a lazy lineout, one down.  Nice rolling slider for a first-pitch strike at 83 MPH is in the zone to Segura for strike one, fastball is low, then another nice painting 92 MPH hits the low inside black, 1-2: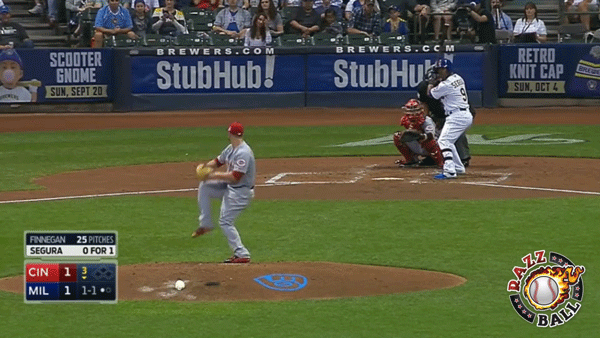 If Finnegan can spot that pitch, he can be successful right away.  94 on the outside edge is slashed foul, then heater again is grounded weakly to second for another easy out.  Slider is way inside to Perez, then he hangs one that is way outside, 2-0.  Very inconsistent feel with the slider so far.  Fastball is way low and outside for a pretty ugly 3-0 count.  Wow, 92 MPH fastball that looked 2-3 inches inside gets the call 3-1, 92 MPH fastball hits the inside edge for sure this time to fill it up, then Finnegan gets out of that AB with a fastball hit to short for a routine groundout, and another 1-2-3 inning.
Fourth Inning: Finnegan picks up two more runs of support and now spotted a 3-1 lead, and the first pitch slider to Braun is rolled over foul, 0-1.  Fastball at 93 hits the inside edge for strike two – Braun doesn't like it, but it seemed close – slider is fought off foul, 93 on the outside corner fought again foul down the first base line, 93 is barely low and inside, nice pitch at 93 MPH on the hands is popped back foul, nice battle.  1-2 is a high fastball at 94 that Braun lays off, change-up hangs outside, and Braun works it back full.  Change-up hasn't looked great for Finnegan either…  Then a fastball at 92, maybe a cutter, goes way low almost in the dirt for a leadoff walk.  Wow, and then an absolutely bizarre play on the first pitch, as Finnegan throws Davis a slider – not the fastball(!!) – and it's popped up a mile high and hits the roof; Finnegan adjusts and makes a diving catch, but the umps rule it's a foul ball.  I watch a lot of Brewers, and ya know, I can't remember another time when someone hit the Miller Park roof, it's no Trop…  So 0-1 count, and Finnegan throws a fastball in the dirt that skips away for a wild pitch.  Overthrew that one – a little scared of the batter.  1-1 is a perfectly placed fastball on the outside edge at 93 swung over and missed, fastball skips into the catcher, then a change-up at 86 MPH in the dirt gets a swing over top it for Finnegan's first K as a starter.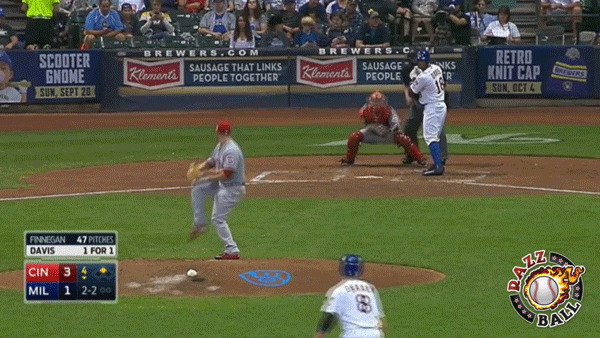 Not the best pitch, but Finnegan is finally on the board with a K!  Rogers takes 93 outside, 92 is low, 91 is low and outside, another 3-0 count.  Then 91 is well outside and low again for a four-pitch walk.  Yuck.  At 52 pitches and runners at first and second, out comes pitching coach Jeff Pico for a chat.  Bullpen already warming.  Yikes, first pitch to Santana is a 93 MPH fastball that went about 58 feet, and when you miss with a fastball that bad, it's scurry.  1-0 fastball is in the zone and Santana swings out of his shoes but is late on it, 1-1 change-up gets a foul in the seats, 93 is sliced hard into the seats on a line, 1-2 again is a slider that almost hits the backdoor but is called outside, 2-2 fastball tipped foul, another long AB here.  Then a high and away fastball at 94 gets a horrible late swing from Santana for Finnegan's second K.  Santana didn't look great on the whiffs that AB.  Anyway, Braun stole third on that pitch to put runners at the corners, and Herrera fouls the first one off, certainly looked like a cutter that time at 92 that cuts inside, fastball fouled straight back, fastball again fouled back, then 93 high and a tad outside gets a late swing-and-miss for the third out, Finnegan strikes out the side, but had to work around two walks and it took him 30 pitches.
Fifth Inning: After a long fourth inning, Finnegan's 65th pitch is another get-me-over fastball right down the middle, and Maldonado crushes it into the left center gap for a leadoff double.  Carbon copy of the 2nd inning.  Showing bunt, Davies pulls it back for ball one, fastball bunted foul, then a perfect bunt is put down the third base line, the out is made at first and Maldonado is easily to third.  Segura fouls off the first offering, low fastball fouled out of play again, fastball gets really close to painting the low inside corner for strike three but called low, then the 1-2 fastball on the outside edge is poked hard to first, luckily Adam Duvall was in the perfect position to make an easy play and be able to step on the base and keep Maldonado at third, two outs.  First-pitch change-up is floated foul by Perez, fastball flared foul, then just like that third GIF, Finnegan paints the low inside corner with a 93 MPH fastball to get strike 3 looking.  That'll end Finnegan's outing, and the Reds hold off the comically hapless Brewers to give Finnegan the W.
Final Line:  W  5.0 IP  75 Pitches (49 Strikes)  1 ER  3 Hits  2 Walks  4 K  Gamescore: 59  Gamescore+: 59.4
Final Analysis: Meh.  Really wasn't all that impressed.  I know it's a lazy comp, but he reminds me of Tony Cingrani.  At times I could see him looking dominant even by next year, but the breaking ball was so inconsistent and he struggled with his third pitch.  Maybe he should be given a little slack since he is stretching out as a starter for the first time…  The 4 Ks helped keep his Gamescore+ get right near his Gamescore, as all hits allowed were hard hit with a few hard outs mixed in as well.
Finnegan's heater is certainly a plus when it's on, sitting 92-94 with pretty consistent velocity.  It had some really nice cutting movement on it at times as well, as Fangraphs doesn't list him having a cutter.  Maybe he does have a slightly different grip for the four-seamer which can give it some running action.  Overall, the location was spotty on the heaters.  According to the Reds broadcast, his slider is what made him such a highly regarded prospect, and I gotta say, not all that impressed.  The first GIF showed some great, sharp bite when it was on, but then two pitches later it was a rolling, cookie hanger rocked for a double as the second GIF.  It was inconsistent the whole outing, and doesn't give me the warm-and-fuzzy feeling of a prospect's slider, say of a Carlos Rodon earlier in the year when he was struggling (interestingly, the broadcast mentioned that while playing for Team USA, Rodon taught Finnegan a new grip which Finnegan uses on his slider now).  And on top of an inconsistent breaking ball, his third pitch didn't look good either, with a change-up sitting 85-86 without much life.  A change-up that is only 7-8 MPH slower than the fastball is a red flag, especially without strong consistent movement.
Am I maybe being too harsh for this being his first MLB start, especially since he had to adjust for coming out of the bullpen?  Maybe.  But then again, this Brewers line-up is an absolute joke right now, even with a flood of righties.  And on top of that, he got gifted a call that should've given him a third walk, and would've been two four-pitch walks on the day.  It looks like Finnegan could pick up two more starts either @STL/NYM, then @WAS/CHC.  I'm not too excited for any of those matchups, so I don't think I'd use him as a streamer in the final two-week push.  Plus they're going to really cap his innings and not let him go too deep.  2016?  My expectations are a little tempered; he'll likely be on the back end of my top-100 if he's looking like he'll start in the rotation opening day.
Thoughts on Mr. Finnegan?  Any other pitchers down the stretch you have streaming questions for or have keeper quandaries?  Shoot your thoughts below, and happy pitching Razzball Nation!