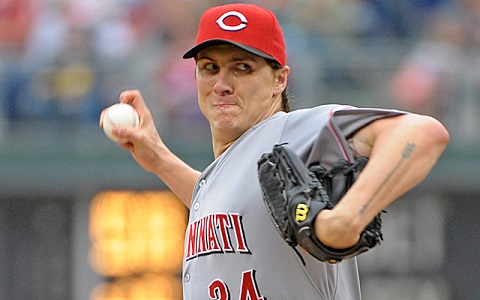 Only week 1 into Spring Training and we're already seeing some draft altering injuries. Some predictable (Homer Bailey,) some crushing (Alex Reyes,) and some hilarious (Brian Flynn–who falls through barns in 2017?!) Expect to see this article appearing more regularly now that we're back in baseball season.
Here are some players who are ruining people's fantasy lives already before the calendar even turns to March.  
Homer Bailey, CIN, bone spur surgery, throwing elbow, February 8, 2017.
Diagnosis: Stop me if you've heard this one–Homer Bailey is on the DL. Bailey hasn't pitched over 150 innings since 2013 and it looks like the streak continues! Last year he returned from Tommy John surgery only to have his season end due to bicep tendinitis.
Treatment: He's turning 31 this season and has spent more time on the DL than not on the DL since he was a highly-touted prospect over a decade ago. I don't know if that is actually true or not–but the fact that you accepted that alternative fact without looking it up should tell you something. If you are now or have ever hoped for a healthy season from Bailey–knock it off.
Josh Bell, PIT, left knee surgery, Feb 1, 2017.
Diagnosis: Offseason yoga may have left Bell with a looser body overall, but it has also left him with a "loose body" floating around in his knee. What the hell is a "loose body" and how did it get there? Do pieces of our body just break off and float around looking for a new home? Gross.
Treatment: Bell was given a 2-4 week timetable before returning to play. As of February 17th Bell was cleared to return to hitting. With the Pirates first game not coming until April 3rd–Bell should be just fine in time for opening day. The good news is this injury might drive his cost down a little bit because anytime anyone hears "knee" and "surgery" in the same sentence–they rightfully overreact. I'm expecting a breakout year from Bell due to his excellent plate discipline, his weight loss and his untapped power potential. You're 6 foot 2 inches tall and 225 pounds Joshua–act like it.
Adrian Beltre, TEX, Left calf strain, February 18, 2017
Diagnosis: Beltre is expected to miss 2 to 3 weeks of playing time which will put his World Baseball Classic availability in question. Rangers ownership are hoping that he takes it easy with all that noise so he'll be ready for Opening Day.
Treatment: Beltre is normally a fairly durable player, averaging 147 games played over his 16 year career, but you have to start wondering when 37 years of age and 2,720 games played are going to catch up with him. I know the report only says 2 or 3 weeks, but this could just be the start of Beltre's end of career injury parade. Bump him down a round or two in your rankings until you're convinced he's healthy.
Carter Capps, SD, Tommy John Surgery recovery, March 8, 2016
Diagnosis: Capps, owner of the most unfair delivery of all-time, had Tommy John Surgery in March of 2016 but seems on track to return for opening day.
Treatment: Capps will challenge and eventually overtake Brandon Maurer for the San Diego Padres closer job. Not that there will be many save opportunities for the Padres with Jered Weaver and Trevor Cahill as their two blockbuster free agent starting pitcher signings this offseason. In 2015, Capps hopped and hopped to a 1.16 ERA and a 16.8 K/9 over 31 innings for the Marlins. Regardless of role, he'll be a solid fantasy reliever and should be drafted deep in standard leagues with the expectation of either winning the closer role outright–or taking it over once the Padres realize the caliber of pitcher they have in Maurer.
Josh Donaldson, TOR, Right calf strain, February 18, 2017
Diagnosis: Early drafters just keep telling yourself: "There's 2 months until Opening Day. There's two months until Opening Day." Plenty of time for this first round pick to get healthy.
Treatment: Admittedly, this injury just popped up as I was writing this article so there isn't much to go on. Donaldson is built like a horse and is just as durable, playing in over 155 games in each of the last 4 seasons. The Blue Jays will give him plenty of rest to make sure he's ready for Opening Day.
Alex Reyes, StL, Tommy John Surgery, February 16, 2017
Diagnosis: Brutal. The 22 year old kid with a career 12.1 K/9 in the minor leagues was looking like the next great Cardinal ace entering 2016. Unfortunately, the human body hasn't evolved enough where the ulnar collateral ligament can withstand a couple hundred upper-90's fastballs in a season. Until Rob Manfred permits cybernetic enhancements in the year 2023, we're going to be seeing more and more Tommy John surgeries.
Treatment: For re-draft leagues–not a big deal–don't draft him. Dynasty and keeper leagues–a bit more tricky. Reyes is still young, dumb and full of gum (sp?) so I fully expect him to come back to full strength around the All-Star Break 2018. I would stash him for now–possibly sacrifice this year's pitching a bit–and wait until his dominance returns fully in 2019. 'Cause he's worth it.
Sean Rodriguez, ATL, rotator cuff surgery, left shoulder, February 14, 2017.
Diagnosis: Not even going to try to make light of this situation–this is pulled straight from a news report in Miami: "A professional baseball player and his family were riding in the SUV that was T-boned by the driver of a stolen Miami-Dade Police cruiser in West Miami-Dade." Scary stuff. He's expected to miss 3 to 5 months.
Treatment: Rodriguez showed impressive power numbers as minor leaguer in the Angels system in 2006. He hit 29, 27 and 30 HR in 3 consecutive seasons. However, no team has been willing to give Rodriguez a full time shot to show what he's capable of. However, last year, in only 300 at-bats Rodriguez hit 18 HR with a .270 average prompting the Braves to sign him to a 2 year contract. With these numbers and his willingness to play wherever the hell his team wants him to could've made him a deep sleeper option in the new look Atlanta line-up. Now, the only thing everyone is hoping for is a speedy recovery for him and his family.
Max Scherzer, WAS, stress fracture ring finger, throwing hand, January 9, 2017
Diagnosis: This one slipped through the cracks of my last article. Probably because Scherzer is a grown-ass man who pitched through this injury on route to his second Cy Young award in 2016.
Treatment: Unfortunately for our great nation, this injury forced Scherzer to withdraw from the World Baseball Classic. There are probably some Scherzer doubters out there, but don't count me among them. Draft Scherzer as your ace (possibly a round or two later than usual) and reap the benefits.
Blake Swihart, BOS, Rube Baker Disease, February 17, 2017
Diagnosis: In the medical community we say he's got a case of "the yips." Apparently in Red Sox camp Swihart has been having issue getting the ball back to his pitcher, overthrowing Rick Porcello several times. Fortunately for Swihart, Porcello has been working on his jumping all off-season to catch the way-too-high expectations people have for him after he won the Cy Young award in 2016. (My completely unclever way of predicting that Porcello is going to disappoint.)
Treatment: Swihart was my prediction for the Red Sox starting catcher on Opening Day and I still think he'll be there come April 3rd. Hopefully this doesn't turn into a Knoblauchian nightmare for Swihart. If all else fails, he could just recite the articles from Playboy magazine to help cure his yips.
Chris Tillman, BAL, shoulder soreness, February 14, 2017
Diagnosis: The Orioles "ace" suffered through a brief stint of bursitis in his right shoulder in August of 2016, but returned in September to throw 372 pitches over 19 innings. It is unclear what is causing his shoulder issue now–but it is something to keep an eye on. He had a platelet-rich plasma injection, which always sounds like science fiction mumbo jumbo, and has been playing catch.
Treatment: There are some concerns over Tillman's availability for opening day. Soreness in a pitcher's throwing shoulder twice in a seven month period is concerning and it isn't like Tillman is a game-changer for fantasy teams where he's worth the risk. Without injury, he could be a 5th or 6th starter for your team in deeper or AL-only leagues. With injury, his 4.13 career ERA and 6.8 career K/9 are better left to that guy in your league who only brings MLB depth charts to the draft table.
Zack Wheeler, NYM, (try a little) throwing elbow tenderness, February 15, 2017
Diagnosis: The 6th overall pick in the 2009 MLB draft hasn't pitched in a major league game since September 25, 2014 due to throwing elbow injuries so this report shouldn't give much confidence to fantasy owners.
Treatment: The Mets starting rotation will either set league records in ERA, K's and WHIP…or will all be done for the season by June 1st. There is some talk of Wheeler serving in a bullpen role to manage his innings. With Seth Lugo, Robert Gsellman and even Rafael Montero vying for the Mets 5th starter role–Wheeler might find himself without a job come Opening Day. Watch this battle closely because in his last season in the majors, Wheeler had 187 K's in 185.1 IP with a 3.54 ERA and could be had for a late-teens draft pick.
Anyone I missed? Leave a comment below and I'll let you know what I think.