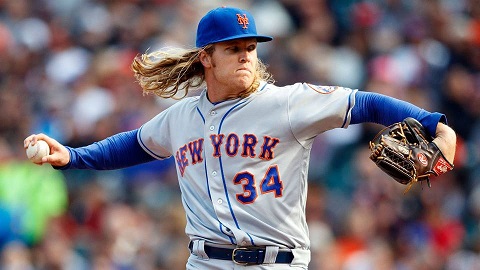 This 10-day DL situation has really created some nice job security for me. Jeff Zimmerman of Fangraphs has done the work to prove this for me — as of May 1st, players have spent 4,198 days on the disabled list, an 8% increase from 2016. There has also been a 30% increase in disabled list trips from 2016.
If you have any specific questions about injured players or fill in options that are specific for your league please leave a comment below and I will get back to you with my thoughts, otherwise, let's get to it!
Noah Syndergaard, NYM, Right Lat Muscle Partial Tear
Thor is leading the league with his fourth appearance in Ambulance Chasers. There isn't a lot of info about rehab or time missed so far, but some estimates have him missing an indefinite amount of time. Stash or Trash: Stash. He's a top 3 pitcher in the league and whenever he comes back it will be to your benefit. Fill In: There is no one who can replace Odinson, but Eduardo Rodriguez might be worthy enough to wield Mjolnir. He has put his considerable skill set all together so far this year to the tune of a 2.70 ERA and a 12.0 K/9. His 5.4 BB/9 is a bit worrying, but this is almost 2 walks higher than his career numbers.
Brandon Crawford, SF, Strained Groin
Talk about a kick in the nuts. Brandon was on the Giants bereavement list following a death in his family and upon his return was immediately placed on the 10-day DL with a strained groin. Crawford was either the last starting SS taken in your deep league or the first starting MI taken in your standard league so this injury probably isn't ruining your fantasy team too much. Crawford has been hitting 5th and for his career he has his highest batting average hitting out of this slot (.289.) He, so far, has a career low BABIP (.290) so you can predict him to improve once he's back and healthy (could be as soon as Friday, May, 5th.) Stash or Trash: Stash. When healthy, Crawford is a reliable deep league option for 60+ runs, 10+ HR, 70+ RBI, 5-10 SB and a .260ish average. Fill In: Jedd Gyorko (58.5%) has been swinging a hot bat over his past 7 games (3 HR, .478 AVG) and can fill in at short or as a MI option. The nice thing about Gyorko is once Crawford returns Gyorko is a useful piece due to his three position eligibility.  
CJ Cron, LAA, Bruised Foot
A lot is being made about manager's abusing the new 10-day DL system and this seems like exhibit A. Most players would just play through a bruised foot, but I have a feeling the Angels are just using the 10-day DL to stash Cron for a short time. Cron hasn't done much of anything so far this season, but his minor league numbers show that he is capable of more. Stash or Trash: You can probably trash him and he won't be picked up by your league rivals. Fill In: Cron is only 11% owned after a 8.1% decrease. Around that same percentage of ownership is Yonder Alonso (7.6%.) Yonder is already only 5 HR away from matching his career high of 9 HR. If Yonder can increase his power output while maintaining his respectable average he could be a nice corner infield option in AL-only leagues.
Adam Eaton, WAS, Torn ACL
In redraft leagues you should've already dropped Eaton. This is a huge blow for fantasy owners and the Nationals as he was on pace for a career year across the board. If Eaton makes the speediest of recoveries he will be ready to play again by the beginning of November. More conservative estimates have him coming back in February 2018. Stash or Trash: In redraft you can trash him. In dynasty or keeper leagues it really depends on the value you can keep him. Fill In: Let's get the obvious one out of the way: Michael Taylor is not the answer. He has shown that he can't make enough contact to be relevant in the major leagues regardless of his power and speed combo. But you could grab the guy they call the German Adam Eaton: Max Kepler (29.9%.) Who is they? I am. I is they. Kepler has shown moderate power (17 HR in 2016) and moderate speed (19 SB in 2015 in the minor leagues.) He could be a nice little multi-category replacement.
David Freese, PIT, Strained Right Hamstring.
The 2011 World Series MVP has only hit over 15 HRs once in his 8 year career and his career high in SBs is 3, but he can still be moderate source of runs, RBI and a decent average in deep-league or NL-only leagues. He has been performing pretty well so far even if the rest of his friends on the Pirates have not been. The 1B/3B dual eligibility is a nice bonus for roster flexibility. Stash or Trash: Trash unless you're desperate. Fill In: I feel like I've recommended this guy as a fill in for every article but here I go again; his teammate Josh Bell (14.8%) You are probably starting Freese as a corner infielder so Bell works for this. Like Freese, he hasn't hit for much power or stolen many bases but for ratios, runs and ribbies he can help you out. I'm going to trademark RRR™, ratios, runs and RBIs for all the Denard Spans, Josh Bells and Adam Eatons of the world.
Koda Glover, WAS, Left Hip Impingement
Glover was being mixed in as part of Dusty Banker's closer catastrophe notching back-to-back saves last week after Blake Treinen lost his job. As is the trend with this 10-day DL, Glover is saying he expects to be back as soon as he is eligible on Saturday, May 6th. Stash or Trash: I don't know honestly. Call Dusty for who he plans on closing each day. After notching three saves in a row for the Nats, Shawn Kelley has let up runs in his last two appearances so there is still room for Glover to take the job back either part or full-time. Stash. Fill In: If you can't wait the four days for Glover to return, you could take a shot on Archie Bradley (9.0%) or JJ Hoover (3.4%) in Arizona. Fernando Rodney has 6 saves and a 12.60 ERA. Bradley or Hoover are going to take this job over any minute now.
Travis Jankowski, SD, Bruised Foot
Some reports are saying that it might be a hairline fracture. After stealing 30 bases in 383 plate appearances in 2015, expectations were high for the next Scott Podsednik. Unfortunately for his late round drafters, Jankowski has been a disaster so far this year getting on bases only about 26% of the time. Stash or Trash: Trash. Fill In: Delino Deshields (5.2%.) After lighting it up in Spring Training everyone was expecting the Rangers left fielder job to be Deshields's. Unfortunately this wasn't the case. Deshields has been giving starter's minutes over the past 7 games, getting on OBP of .522 with 3 stolen bases. If he can take this job and run (har har) with it he can be a great Jankowski replacement.
Sean Manaea, OAK, Throwing Shoulder Strain
Originally it looked like Manaea might not miss any time, but ultimately he seems to only be missing one start. He started the season with two ugly starts leaving his ERA north of 7. After his next 2 starts throwing 11 innings and only allowing 2 ER brought his ERA down to a more palatable 4.43. Stash or trash: Stash. When healthy Manaea can be a great young starter. Fill In: Ariel Miranda (2.7%) is a good spot starter until Manaea comes back on May 7th. The lefty is set to face the Angels at home. The Angels have not figured out hitting so far this year, batting only .239.
Joc Pederson, LAD, Groin Strain
Young Joc was my pick for Most Valuable Fantasy Hitter going into this year and so far he's embarrassed me in front of Grey and everyone. Where is the guy who hit 34 HR and stole 33 bases in the minors in 2014? I thought this would be the year that he'd put it all together. Joc is expected to return to the Dodgers on Friday, May, 5th. Stash or Trash: Stash at this point he's got a few games until he's back. Fill In: If you really can't wait three days, then grab Andrew Toles (3.8%) who has been a main beneficiary of Pederson's injury. In his last 20 at bats he has 7 hits, 7 runs, 2 HR and 5 RBI.
Hyun-Jin Ryu, LAD, Left Hip Contusion
Since September 13, 2014 Ryu has made 6 big league starts. Stash or Trash: Take out the trash! Fill In: Martin Perez (4.8%.) I had to dig real deep for this recommendation. The Mariners have been pretty bad against lefties so far this year: batting .219 against southpaws.
Aaron Sanchez, TOR, Split Fingernail
First blisters, now a split fingernail. What the hell is Aaron Sanchez doing with his fingers? I think he'll miss a start or two to allow his finger nail to heal. Sanchez had a great 2016 as a 23-year-old. He went 15-2 with a sparkling 3.00 ERA finishing 7th in the AL Cy Young race. This year he's only made three starts, one good (7 IP/1 ER), one bad ( 1 IP, 0 ER, left game early), one ugly (5.1 IP/ 5 ER.) Stash or Trash: Stash. His nail should heal and I think he'll return to form. Fill In: Patrick Corbin (28.6%.) Corbin has been the best starter in Arizona's impressive rotation so far. After only going four innings in his first start of the season, Corbin has gone at least six innings in each of his next five starts, registering quality starts in all five. His next start is in Colorado which should make you a little nervous, but he did shut them out over 6.1 innings in his last start in his own home hitters stadium.
Tyler Skaggs, ARI, Right Oblique Strain
Nasty Boy Skaggs is going to miss two to three months with this injury showing you how serious oblique strains can be. Like Manaea, Skaggs started the season off with two stinkers, but has only allowed three ER in his last 19 innings. Stash or Trash: Boy, two to three months? That's a safe trash for me. Fill In: Jesse Hahn (22.7%.) Hahn is six for six in quality starts so far. And his 2.92 FIP isn't too far off from his 2.53 ERA suggesting that this might not be too much of a fluke. Hahn has always teased his potential, but after last year's 6.02 ERA debacle he went undrafted in your league. If he's still available, grab him now.  
Denard Span, SF, Sprained Right Shoulder
Span is usually a safe bet to be a fill in option once one of your outfielders go down because he has safe ratios and can chip in a few RBI and a handful of runs. Or RRR™ if you will. However, last year's .266 AVG might have marked the beginning of the end of Span's reliability. Stash or Trash: Trash. The decline here could be quick and deadly. Fill In: Shin-Soo Choo (11.4%.) I know it seems weird for to be recommending one aging outfielder to replace another aging outfielder, but BIg League Choo has been seeing the ball well over his last 8 games boasting a .357/.455/.643 slash line. He's hitting at the bottom of the Rangers line-up now, but you can expect him to move up.
Steven Wright, BOS, Sprained Left Knee
The knuckleballer has been having kissues with his knee since kspring ktraining. Wright is seeing a knee specialist in New York which seems like a terrible idea for a Red Sox player to do. If the specialist is a Yankee fan you can almost guarantee that he is going to "accidentally" leave a scalpel in there. Stash or Trash: Trash. Specialist visits are never good news. Unless it's a candy specialist and you want their expert opinion. Fill In: Kyle Freeland (5.2%.) Freeland was the Rockies #8 overall pick in the 2014 draft. Last year in the Pacific Coast League Freeland put up a 3.91 ERA which translates to about a 1.40 ERA in the major leagues due to the extreme hitter friendly nature of the PCL's minor league stadiums. This year he has been causing fits for NL West grounds crews with a 4.62 GB/FB ratio. If he can keep this and his 0.30 HR/9 ratio going he could see success even while pitching in Colorado and Arizona's stadiums.