Well, here we are towards the end of "week 1." If you had Teoscar Herandez and Kyle Lewis as your top OF after week 1, you are lying. If you are for real then you are a witch. (Burn the witch!) In our 'Perts RCL draft, Grey was joking that he was setting auto-draft Round 1 to Kyle Lewis… *shocked face emoji* Who knew this mustached man was Nostradamus? Nostradamustache? Anywho, now that this season is off and running and everything that we thought was true isn't anymore, and everything that wasn't is. My rankings are for looking forward not just where things currently are. If you want to see just current, take a peak at our Player Rater tool. Nothing is now something (Teoscar above), and the thing that was (Acuna et al) is now nothing.
Here's what I have been seeing around the league:
The Top Ten (Allegedly)
Regarding the top 10 outfielders from last week's Summer Camp Part 2: only 2 of them are hitting above .250, 4 are hitting below .200, one hasn't played a game yet, and another just left on paternity leave — Wheeeee! Collectively they have 6 HRs 1 SB, whereas Teoscar by himself has 4 HRs, 2 SBs. My, that is scarring. Are we having fun yet? Hello, Darkness, my old friend.
The Ins
Teoscar Hernandez – Hitting .321/.355/.821 with 4 HRs and 2 SBs. AND LITERALLY NOTHING CAN STOP HIM. Except for the Rona. Blue Jays are a band of roaming hobos in the worst time to be a traveler. So he may lose some games this weekend which might bring him back in orbit. But soon they might have a home in Buffalo (their AAA affiliate) for the season. So naturally, I made a logo to commemorate their season: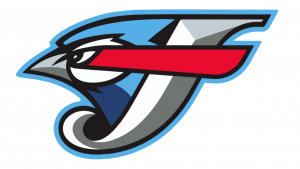 Kyle Lewis – Hitting .450/.500/.636 with 2 HRs. Is there anything he can't do? (Maybe steal some bases.) He has made some adjustments in his swing and spent a lot of time in the offseason working on his patience. On the swing, he's letting the ball travel further back in the box and keeping his hands back to allow the bat head to sweep it through. This a real improved player (his defense is a lot better too), not just a hot streak. Unlike Carl Lewis, he's making up for it.
Mike Yastrzemski – Hitting .414/.527/.793 with 2 HRs and 1 SB. Speaking of Carls (segue high five!), Yaz's grandson is tearing up the league and making McCovey Cove feel a lot closer along with 5 multi-hit games to boot. Too early to tell if it's just a hot start or if he's just this good now. Either way its all going his way right now, Yahtzee!
Tommy Pham – He has 5 steals already in a little over a week. WOW. With the top speedsters not stealing any bags yet, I bet Pham has more SBs than any other team not rostering him. Facing the DBacks has been a miracle, they can be run on with ease. Take note.
The Outs
Andrew Benintendi – Hitting .095 with 1 SB… The good news is he's taken 7 walks. The bad news is he's got 8 Ks. Homeboy's BABIP has been taking a beating so far, so hopefully, he can rebound soon but his contact rate is down nearly 10%.
Christian Yelich – Hitting a dismal .037/.041/.148, That is not going help anyone win. He's had some bad looks so far at the plate that goes into Summer Camp. Some reports are saying that he's still in extended spring training and hasn't found his rhythm yet. Believe it or but I pointed out here that Yelich's career numbers point to him being a second-half player with wRC+ split of 130/144. So his struggles could be seen as another victim of the truncated Summer Camp. Also, wonder if that knee is bothering him.
George Springer – Hitting .120/.258/.240 with 1 HR. "So he just had a career-high in HRs, ISO, HardHit%, AVG, and OBP. Did Bang-gate help with some of that? Possibly. Looking at his HRs by pitch count, a lion's share of them came off of the first 2 pitches. Hmmm. I then look at the breakdown by pitch type: all but 1 of his HR gains from last year came off of fastballs (12 to 27), yet he hit the worst vs offspeed since his rookie year (.279 to .149). Looks like he was trying to zero in on fastballs early and missing the change etc more. Make of that what you like. Oh, I will. This will be interesting to watch this year…" as I quote myself from the First Look. So him, Altuve, and Bregman are all hitting under .200, hmmmmm nothing to see here. Despite my warning, I went ahead and drafted him on a few teams though. Didn't expect THIS much regression.
The What-have-yous
Whit Merrifield – He has come out of the gate strong, and just like Brantley, this elder statesman has been getting real lucky with BABIP so this party should come to end sooner than later. But he's doing a nice Trent Grisham impersonation.
Wil Myers – Hitting .259/.394/.593 with 2 HRs and 1 SB. It's looking like Myers has got his mojo back and DH'ing most of the time rather than playing the field can only benefit him to keep his legs fresh. I'm keeping an eye on him.
Cody Bellinger – Hitting .139, and has been pretty awful and just Friday got his first steal before his first home run. Wew lad. So you can't help but wonder if he's being affected by his abrupt swing change and is pressing right now. Through the first week last year he already had 7 home runs.
The Board
The Bubble: Domingo Santana, Dylan Carlson, JaCoby Jones, Brian Goodwin, Tyler O'Neill
You can follow me on Twitter at @CoolwhipRB.