Well, it sorta began last week, but there wasn't really anything to report. We had one day of stats and a whole lot of J-FOH to deal with. Speaking of, I should point out that he did a wonderful job filling in for me last week as I traveled to the Bahamas and had a plethora of little umbrella drinks placed around my general vicinity. Haha, just kidding, I don't drink anything with umbrellas in them. And the Bahamas are what I call my bar "area". Which is really just a shelf with several Makers Mark bottles that have varying levels of fullness. I could have said emptiness, but I'm an optimist. And probably an alcoholic. That being said, we're here now, together, once again, and I wouldn't have it any other way. I mean, I might, but that involves you buying me a steak dinner. Speaking of ways into my heart, Rudy has found a way to become legend to my soul, and you'll learn what that is after the jump. So let's start the story of your 2014 RCL Season…
For the returning RCL'ers, I'm obviously not Vin, and this series will not be like last year's. There wasn't anything wrong with his series, and there's no real reason for the change other than I'll be telling the story. So it'll basically be like you're reading me. MUTHA. EFFING. DEEP. So here's the general lineup (with explanations) for the year, and don't worry, I'll be drinking profusely to help inspire a great season for everyone…
The RCL Top 10
Why the top-10? Because they're the top-10 teams out of 1,000+? And that's pretty amazing? I'm Ron Burgundy? Simply put, they're the best of the best of the best, and I think they deserve a little bit recognition. BUT NOT TOO MUCH. Just a taste.
And right here is where some commentary will go. Like, for example, I want to comment on the fact that two of the top-10 teams are each in one of my leagues. Gosh, I'm so proud of you guys, I'm tearing up right now… but more like Peter North tears. It's still a good thing, trust me.
Oh, and remember the thing about Rudy Gamble now being called Rudy Legend? He's been working day and night, for at least 15 minutes at a time, a couple of times, to bring you this work of art. That's right folks, the 2014 Master Standings… fully sortable, brought to you in amazing hi-def! (only works if you have a hi-def monitor.)
Look at how monstrous that font looks. It's bauce. Now, excuse me while I go make sure I never spell 'boss' like that ever again.
The RCL Round-Up
Now we get to the interesting part. I'm not quite sure what subject matter I'll want to touch on long term (that's what she said), but I want to make sure I cover different teams and different leagues in this  section. We'll call it the RCL Round-Up? Does that sound good? Don't say anything, I can't even hear you if you tried. And you'd be late, seeing as how this isn't real-time. You're weird for even trying…
– I want to lead this off by mentioning that from what I'm looking at, the average amount of moves any team has made so far this season has been in-or-around six moves. And let's also establish that if you made 12 or more moves, that would put you in the upper-echelon of teams that should change their name to 'Turnstile'. So of course there were two teams in the past few weeks that have made 32 moves each. WUT? Those two teams are The Hippos and Big Magoo. It's certainly worked with the Hippos, as he's in first place so far, but I'm fascinated that Kyle Farnsworth and Seth Smith are involved in like, 27 of those transactions. For Big Magoo, this strategy hasn't worked out as well, being in second place and all. Probably because he's added and dropped Raul Ibanez 31 times.
– On the opposite side of the spectrum, four teams have made just one move so far. For Dug Fister, that one add was Adam LaRoche. GAME CHANGER.
– So, what does the number one overall team look like right now? Well, Tennessee Achilles has no Brandon Belt, no Mark Trumbo, and no Felix Hernandez, strangely enough. He is getting production across the board from guys like Jay Bruce, Giancarlo Stanton, Trevor Rosenthal, Jose Fernandez, and Johnny Cueto. But those players aren't the reason he's first overall. The real reason is because he made a deal with the mustache-devil and is holding Cody Asche on his bench like some sort of spirit totem for the fantasy baseball Gods.
– I gotta ask, if that's what the numero uno team looks like, what does the flip side bare? Let's ask the Evansville Enforcers. Funny story; this last place (overall) team owns Jean Segura, Jay Bruce, Jose Bautista, Alex Cobb, and oh yeah, Miguel Cabrera. Uhhhh, let's just chaulk this up to small sample size… Also, baseball is weird.
The RCL #1
The RCL #1, which sounds like a RCL made for Space Odyssey, is the Friends & Family league that Grey created so we could all be his fantasy baseball punching bags. Actually, maybe not so much punching bags as mustache combs. Seems more Grey-ish to me. Regardless, this league stars myself, Rudy, Tehol the Elder God, Prospector Scott, Nick the Podcast Host, and Sky… err, the Blue? We need to find you a better title buddy. But that's us, that's the family. Which, I can assure you, I'm already filing paperwork to gain emancipation. The friends are Dalton Del Don from Yahoo, Brad Johnson from FanGraphs, Ryan Carey of Mastersball, Paul Singman of Baseball Prospectus, and Tim McLeod of RotoRob.
The Standings: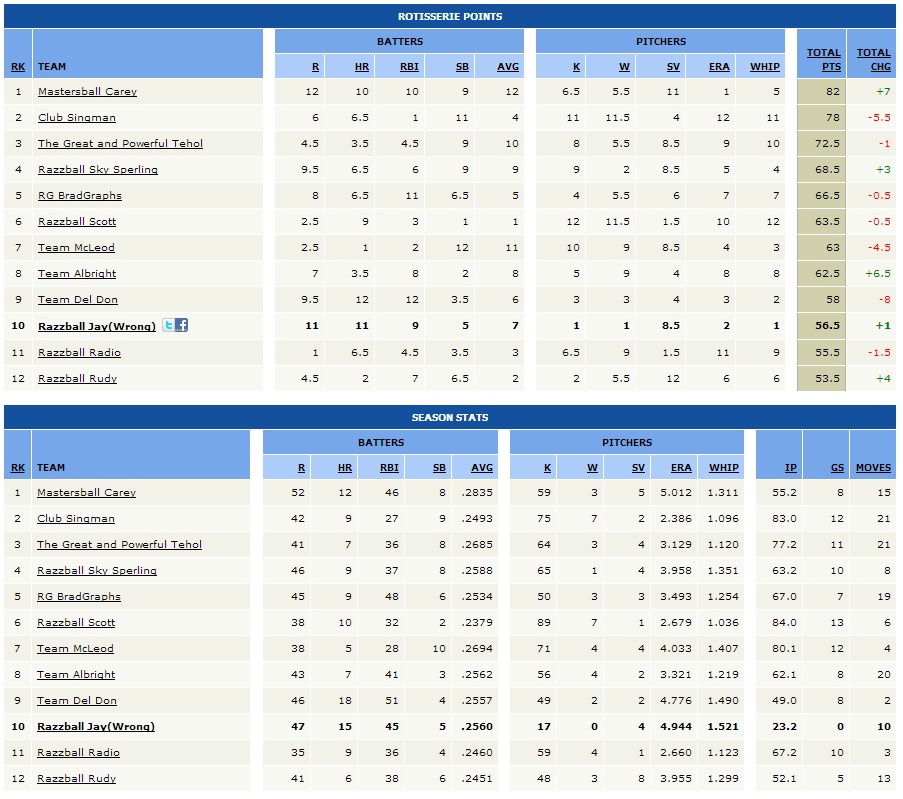 – Here's where I'll probably do some more commentary. Because you know me, always commentating. And drinking. And mustache combing. Sometimes all at the same time.
– There's been one trade so far, and that was between yours truly and Brad Johnson. The deal took place on March 28th, and I sent David Ortiz and Brandon Moss for Chase Headley (HAHA) and Brandon Belt. I'd say the trade is a wash so far, even with Belt's fast and furious start. Headley's slow and haphazard start has kind of negated that fact. Thanks! BUT, the silver lining here is that I now own Chase Headley in all of my RCL teams. So ef me, I guess.
– Grey, just yesterday, offered me Alex Wood for Jose Abreu. He mentioned that I needed starters, and he's right, seeing as how I'm fielding an all-reliever team, and Derek Holland on the DL for some reason. So my counter was Jose Abreu for his entire pitching staff. Hey, when a guy's right, you slap him on the shoulder, ya know?
– I think every team has owned Luke Gregerson so far…
Want more of the Jay? Don't we all folks? Don't. We. All. Well, you, in fact, can have more. AMAZING. I know. You can find Jay enjoying his new dig's running the Football side of Razz.