It's time once again to check in with our dynasty league…the Razznasty. J-FOH has put some distance between first and second place this month and now sits on a seven point lead heading into the home stretch. Hippos has held strong in the third spot, and – hey wait a minute! That's Kid A kissing 110! Kid put up top five numbers in all but one hitting category in August, while at the same time posting the second-most strikeouts on the pitching side. Just when it looked like the Hippos might be getting comfortable in their pond, Kid put together an August run that has got to be making Truss sweat just a little. Our league's trade deadline has come and gone, so at this point we've got to dance with the girls we brought or press our luck on the wire. Spoiler alert – it's basically been picked clean at this point. Like…it's kinda fugly. Here are the updated standings, recent trades and FAAB acquisitions for the month of August…
2015 Razznasty Standings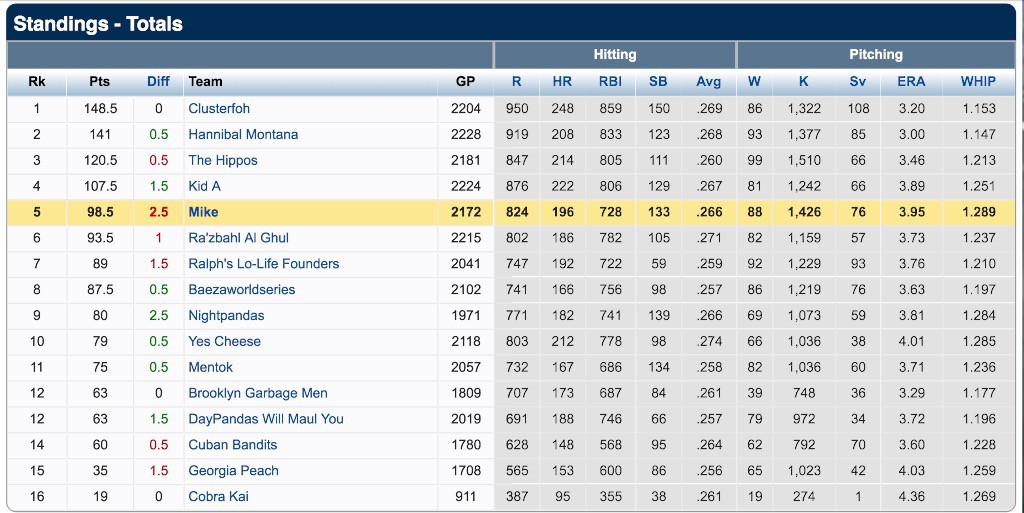 Trades
– J-FOH trades Evan Gattis to Hippos for Adam Lind
– Cobra Kai trades Eric Hosmer and 9th/10th round picks to Hannibal for Ryan McMahon and a 2nd round pick
– J-FOH trades Robbie Ray and a 2nd round pick to Mike for Anthony Gose
– J-FOH trades Jose Quintana to Ghul for James Shields and Collin McHugh
– Cuban Bandits trade Grant Holmes to Cobra Kai for a 1st round pick
FAAB Report
Wilkerman Garcia ($0) – Garcia fills a farm slot vacated by Aaron Altherr. I'm a sucker for shortstops and early reports on this one have been very positive.
Welington Castillo ($0) and Travis Shaw ($2) – Castillo was a straight up steal by Baezaworldseries, and while Shaw's long-term outlook with the Red Sox is a little hazy, he's yielded a good return for a $2 bid.
Brett Martin ($0) and Derek Dietrich ($2) – J-FOH grabbed the sleeper southpaw for the Rangers in Martin, while also adding an intriguing bat for both this year and next in Dietrich. Dietrich's uber flexibility this season will help his run for the title.
Alex Colome ($1) – I'm torn on Colome, but I'm glad he found a home. Even if starting doesn't work out, he could end up in high-leverage situations in that Rays bullpen. Nice pickup for the Bandits.
Keone Kela ($5) – Speaking of bullpens, Texas has a great one. Tolleson has been fantastic, but don't sleep on Kela in dynasties. The 22-year-old has 59 strikeouts in 53 innings in his first taste of the majors and could be a dark horse for saves down the road.
Erik Johnson ($1) and Terrance Gore ($2) – Hannibal played it right given his place in the standings, picking up two players who can be slotted on his farm but help him now. Gore is a steals threat on a run-happy Royals squad and Johnson has posted a great season at Triple-A for the White Sox. Both were called up yesterday as expected.
Mark Canha ($5) and Jerad Eickhoff ($4) – Kid A takes the gamble on Eickhoff for pitching depth. He was one of the minor pieces in the Cole Hamels deal with Texas.
Sean Nolin ($0) – Nolin is finally logging healthy innings and the lefty should be fighting for a rotation spot with the Athletics next spring. I like the stash here by Mentok.
Lonnie Chisenhall ($0) – Hey Lonnie, Ghul picks you up and you hit .394 in August? Ghul, I need you to pick up a bunch of Phillies for me…please.
Nick Tropeano ($1) and Tanner Roark ($1) – Ralph takes a peek at two good young arms for the low, low price of a buck apiece. Nice moves here.
Tom Wilhelmsen ($0) – FREE SAVES! If you could only see how much FAAB saves cost in this league (partly my own doing) you would appreciate just how awesome a value this was. Hat tip Hippos.
Anderson Espinoza ($2) – Last but not least, a really strong use of a farm slot here by Cheese. Espinoza is doing dirty things to GCL hitters at just 17 years old. He now has 20 straight scoreless innings with 24 strikeouts to boot. Cheese got in on this one at just the right time.  Well done!