The wait has been overbearing… The anticipation in the air… palpable.  I almost typoed Palpatine.  Which is what you loyal starting pitcher-aficionados probably think of me!
We had a start pushed back.  We had me an unbelieving heathen.  Then Memorial Day!  Plus my near-descent into the inability to get out of bed when I watched Yordano Ventura's start the other day – saw him torched, velo fall, and taken out early.  Now we get "valgus extension overload" which sounds like some sort of Eastern European sex move…
But alas!  We've finally gotten here.  A Pitcher Profile wholly dedicated to Dallas Keuchel, as he continues to rock-m sock-m robot opposing hitters.  Did I just make that a verb?  Yup!  Add yet another complete game to his docket (very nearly three in a row), and he's easily become the flashiest, out-of-nowhere add to legions of fantasy squads.  But is he a guy to cut at the first sign of danger?  To try and sell high?  Let's take a looksy at his start this past Sunday where he went the distance against the Mariners:
First Inning: Keuchel's first pitch is a fastball for a strike taken to James Jones.  Apparently he hates being newly acquired by the Raiders so much, he decided to try some MLB!  Slider is outside, again outside, then a two-seamer at 89 on the hands gets a pretty sharp grounder right to first, one down.  Stefen Romero fouls off a fastball, another is outside, then a loopy, 78 MPH slider that hung a tad in the top of the zone gets a very weak grounder to second, two down.  Keuchel zips in a fastball, and Robinson Cano for some reason shows bunt then pulls back, but it was in there 0-1. Fastball low, really establishing that pitch, then his best on the day is a four-seamer at 91 on the knees, 1-2.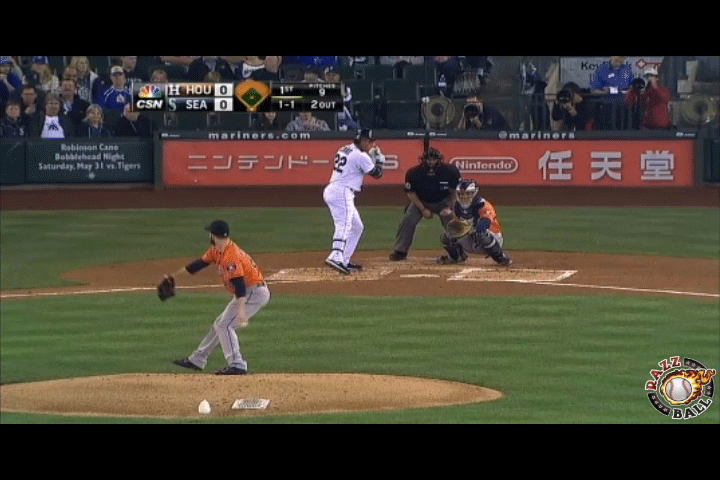 Keuchel bounces a slider low, then another 91 MPH heater on the outside edge gets Cano to chop it weakly right back to him, for an easy groundout to the pitcher.  Typical Keuchel – three groundball outs to start the game.
Second Inning: A perfect fastball pours in the zone to Justin Smoak, he then bounces a slider – hasn't found the feel on that one yet – then another two-seamer is right in there, 1-2.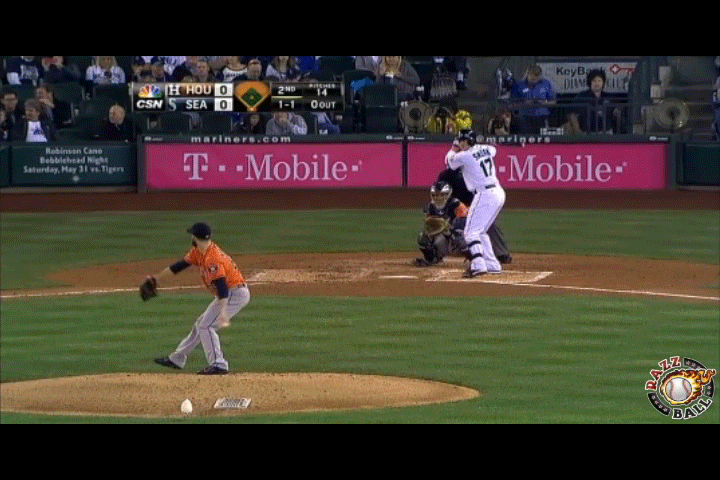 Man, that two-seamer has some great movement on it.  Four-seam at 90 MPH is low by a mere inch, slider bends in on the hands and gets tapped foul, then a fastball perfectly on the inside corner gets a K looking, one down.  Four-seamer in there to Kyle Seager, perfect slider is taken right on the knees on the outside corner, two-seamer on the hands is nipped foul, fastball is just off the plate – 1-2.  Then a perfect slider, almost identical to the 0-1 pitch, gets Seager way out in front, second K.
Up is Mike Zunino, who takes the first-pitch two-seamer and lines it to left for a single.  That one didn't have the sink and was up in the zone, so a mistake there.  Two-seamer is in there to Michael Saunders, four-seam is outside, then a slider that hung a tad at 78 and stays in the zone gets laced to right for a solidly hit single, and it's runners on first and second.  Two mistake pitches there, and the Mariners took advantage of both.  So Keuchel has to bear down, and gets a cutter in there to Cole Gillespie, then it looked like he hit the same exact spot with the slider but doesn't get the call, 1-1.  A big swing-and-miss on the two-seamer makes it 1-2, a change-up dips low, another slider trying to backdoor him barely is off the black, full count.  So the 3-2 pitch is a slider, it hung a bit and was out of the zone, but Gillespie taps it down the third base line – Keuchel has to make a quick play, but is way off with the throw to first, Zunino is able to score on the pitcher's error, and Saunders gets to third, Gillespie to second, and it's 1-0 Astros.  Gotta love that errors on the pitcher still make them unearned runs!  Keuchel needing to mitigate the damage, and the first-pitch two-seamer is tapped weakly to second by Brad Miller, and Keuchel is quickly out of the inning only allowing the one unearned run.
Third Inning: Back to the top of the order, and a fastball is in there to Jones, two-seamer dips low, then a slider gets tapped very weakly back to him for another weak groundout.  A hanging first-pitch slider to Romero is hit pretty hard to center, but Dexter Fowler is there a few feet in front of the track for an easy out, two down on three pitches.  And the first pitch to Cano is a fastball outside, but Cano still muscles it hard for a line drive, but Marwin Gonzalez leaps and snares it for the final out.  Wow, five pitches – three outs.
Fourth Inning: At 39 pitches, Keuchel is all the sudden looking great with the pitch count after that speedy third, and misses low with the cutter, then in there with the two-seam, then slider low, 2-1 on Smoak.  Four-seam is low, then a hanging slider that stays low is reached for and flares out to left, one down.  Wow, that was a mistake and Smoak really had to reach for it… Smoak looking awful on that swing there, especially on a 3-1 pitch.  First-pitch slider to Seager is cut through and missed, then a fastball gets banged right to Altuve for an easy groundout, two down.  Keuchel starts Zunino with a change-up and he misses, then surprisingly goes to it again, and Zunino misses again, 0-2.  Good confidence with that pitch there, haven't seen but one or two until now.  And he goes to it again and Zunino grounds it extremely weakly to third to end the inning.
Fifth Inning: Still down 1-0, Keuchel starts Saunders with the slider and it's flown out weakly to left, one down.  Man, Keuchel since that long 2nd is absolutely cruising.  A two-seamer is just outside to Gillespie, then is right on the black with the same pitch, a 78 MPH slider dips barely low, then another two-seamer gets a hack and miss, 2-2.  Then another slider goes into the dirt, but Gillespie tries for it and misses, and the K is completed to first, two down.  So 3 Ks for Keuchel, and he's in there to Miller with the four-seam, slider low, four-seam outside, then two-seamer eats up Miller – sounded like it broke his bat – and it's flared right to Keuchel who makes the easy catch right to him.  Another quickie.
Sixth Inning: Now protecting a 2-1 lead after a George Springer HR (man, how good has he been lately!?), and Keuchel is outside to Jones, then a really good looking slider at 79 barely misses outside, 2-0.  Haven't seen many, if any, 2-0 counts.  Two-seam is in there, then Jones bunts one foul, and another slider in the dirt gets Jones to swing through it, and another K is completed to first for Keuchel's 4th.  First-pitch change-up to Romero is outside, then a really really nasty one on the outside lower black gets Romero unable to check his swing, 1-1.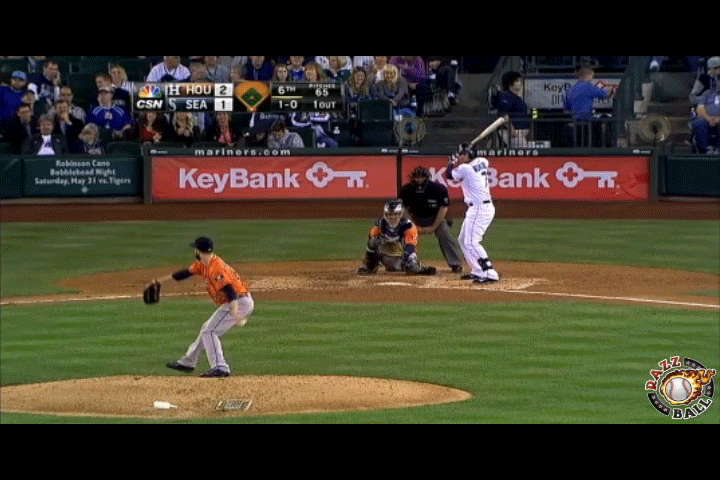 Another change-up is outside, then a fastball is grounded weakly to second, two down.  How many weak groundouts have there been?!  Sheesh.  Cano takes a four-seam outside, Keuchel bends a slider in there, fastball tapped foul, slider in the dirt is taken, then another slider that probably was in the zone gets a foul tip into the mitt for Keuchel's 5th K.
Seventh Inning: Another 2-run homer gives Keuchel a 4-1 lead, and his 73rd pitch is a two-seamer in there, high with the slider, fastball low, cutter inside, and the 3-1 is lined by Smoak hard to first, but it's right to Marc Krauss for the first out.  That one was really lucky because a shift was on and Smoak was the only one in the vicinity, and it happened to find his glove on a rocket.  First-pitch two-seamer is on the black to Seager, a good slider is barely outside, then a fastball is grounded toward the right side gap, and it's past Jose Altuve for a single.  That one wasn't hit too hard and found a hole, so Keuchel's good luck on the first out goes to bad luck on that hit.  A change-up is fouled by Zunino, another change barely low, then an 88 MPH two-seamer is chopped weakly to second and Altuve makes the unassisted double play.  Cruise control!
Eighth Inning: At 84 pitches, things are smitten for Keuchel who is in there with the two-seam to Saunders, barely outside, again just off the paint, then another two-seamer tapped foul, 2-2.  After four fastballs, the slider sweeps across the zone and Saunders swings through it, 6th K.  Change-up is in there to Gillespie, cutter doesn't quite cut enough on the outside corner for a ball, then a nasty, and I mean nasty change-up gets a swing-and-miss, 1-2.  Slider in the dirt is taken, fastball low, full count.  Keuchel goes to the change-up – has a lot of confidence with that pitch – and it's nubbed very weakly to first and tossed to Keuchel covering for the second out.  Miller takes a slider outside, slashes a two-seamer foul, then a slider is then very weakly nudged to third, and the easy play is made to end the inning.
Ninth Inning: So going for the complete at 98 pitches, a two-seamer is on the corner to Jones 0-1, slider is low, then a cutter on the outside corner is rocketed to the mound… And this might be the luckiest out I've seen all year – it ricochets off Keuchel's foot, and somehow deflects perfectly to Jesus Guzman now at first, who has to take one step on first for the out.  The best way to sum up that play is the final putt from Happy Gilmore.  Anyway, fastball just outside to Romero, again outside, then hits the outside corner with it, 2-1.  Keuchel goes to the change-up, and it's hit really hard to Matt Dominguez – but he's able to knock the ball down and make the play by a step, two down.  Both of those hit hard.  Then a cutter to Cano is the furthest hit ball of the night, it rides out to dead center, but Fowler on the edge of the track makes the easy catch and it's complete-a-mundo!
Final Line:  W  9 IP  106 Pitches (66 Strikes)  0 ER  4 Hits  0 Walks  6 K  Gamescore: 83   Gamescore+: 81.2
Final Analysis: Well, Keuchel is kinda awesome.  Sure the Mariners batting order is pretty soft, but I saw some of the weakest groundballs I've seen from a team in one game all year.  With all the weak contact, I would've assumed a high Gamescore+, but since my stat is more fantasy-minded and he didn't get many Ks, he scored slightly lower.
Keuchel's arsenal is entirely built around the two-seamer, which acts more like a sinker than a traditional two-seam.  Usually 88-89, it has some fantastic sink to it – a tight, late sink.  For every 3 two-seamers, he goes to a four-seam to keep hitters honest and ramps that one up to 91.  He also mixes in his cutter at 85-86, but we didn't see too many of those in this start (he has used them 9.2% of the time on the year).  Then the slider took him a bit to find the feel for, but it was working from the 3rd inning on with some big 10-4 horizontal break.  Devastating to lefties.  And finally the change-up usually at 79 had a great sink and "pull the string" movement on it as well.  It's certainly not the best arsenal to rack up Ks, but all have sink to keep the groundballs a-flowing.
To that groundball rate… It's at an unreal 66.5% right now.  The outfielders might as well have a picnic.  That's good for best in the Majors right now.  And not just best, but second is Tim Hudson at 60.7%!  Not only is that an awesome asset for a pitcher, but having a gold glove caliber Dominguez at third and very good SS and 2B play from Gonzalez and Altuve is going to make him tough to rack up hits against.  All the other metrics make his 2.55 ERA look entirely for real – he's got a slightly below-average .275 BABIP, but man, he got some ridiculously weakly hit grounders through this start.
Since he's newer to the must-own fantasy pitcher-ranks, and doesn't really have the K appeal (he's at 7.77 K/9 right now – I think right around 7 is where he'll end up), I don't think he's a guy you can really sell high.  You probably just scooped him up within the past few weeks as is.  So ride the Keuchel wave!  The control looks great and if the sink is working on the two-seam, he should mow through hitters.  I do have a concern that if he ever loses the bottom of the zone and is missing that sink he'll get shelled.  He doesn't have the stuff to pull through that.  Think Martin Perez early in the year – his sinking stuff right at 90 MPH was chewing through people then he started elevating stuff.  Of course he was also hurt – maybe not the best comparison – but their arsenals are comparable.  Keuchel's next start is hosting the Orioles, I'm a little scared but he's too hot to bench right now, then after that it's cakewalks at the Twins then home Diamondbacks.  He might be a perfect guy to trade for if he hits a little bump against Baltimore – you can just throw out a bench bat or your last SP as an offer and might get it done.
JB's Updated Top 100 SP
(rankings based on 12-team Roto – green for risers, red for fallers)
| | |
| --- | --- |
| RANK | SP, TEAM |
| 1 | Adam Wainwright, St. Louis Cardinals |
| 2 | Clayton Kershaw, Los Angeles Dodgers |
| 3 | Yu Darvish, Texas Rangers |
| 4 | Stephen Strasburg, Washington Nationals |
| 5 | Felix Hernandez, Seattle Mariners |
| 6 | Max Scherzer, Detroit Tigers |
| 7 | Chris Sale, Chicago White Sox |
| 8 | Johnny Cueto, Cincinnati Reds |
| 9 | Masahiro Tanaka, New York Yankees |
| 10 | Madison Bumgarner, San Francisco Giants |
| 11 | Zack Greinke, Los Angeles Dodgers |
| 12 | Michael Wacha, St. Louis Cardinals |
| 13 | Hisashi Iwakuma, Seattle Mariners |
| 14 | Cole Hamels, Philadelphia Phillies |
| 15 | Julio Teheran, Atlanta Braves |
| 16 | James Shields, Kansas City Royals |
| 17 | David Price, Tampa Bay Rays |
| 18 | Anibal Sanchez, Detroit Tigers |
| 19 | Mike Minor, Atlanta Braves |
| 20 | Jeff Samardzija, Chicago Cubs |
| 21 | Sonny Gray, Oakland Athletics |
| 22 | Corey Kluber, Cleveland Indians |
| 23 | Jordan Zimmermann, Washington Nationals |
| 24 | Jon Lester, Boston Red Sox |
| 25 | Alex Cobb, Tampa Bay Rays |
| 26 | Gerrit Cole, Pittsburgh Pirates |
| 27 | Justin Verlander, Detroit Tigers |
| 28 | Cliff Lee, Philadelphia Phillies |
| 29 | Matt Cain, San Francisco Giants |
| 30 | Scott Kazmir, Oakland Athletics |
| 31 | Mat Latos, Cincinnati Reds |
| 32 | Gio Gonzalez, Washington Nationals |
| 33 | Jered Weaver, Los Angeles Angels |
| 34 | Hyun-Jin Ryu, Los Angeles Dodgers |
| 35 | Rick Porcello, Detroit Tigers |
| 36 | Lance Lynn, St. Louis Cardinals |
| 37 | Homer Bailey, Cincinnati Reds |
| 38 | Chris Archer, Tamp Bay Rays |
| 39 | Tim Hudson, San Francisco Giants |
| 40 | Ervin Santana, Atlanta Braves |
| 41 | C.J. Wilson, Los Angeles Angels |
| 42 | Shelby Miller, St. Louis Cardinals |
| 43 | Tony Cingrani, Cincinnati Reds |
| 44 | Yordano Ventura, Kansas City Royals |
| 45 | Drew Smyly, Detroit Tigers |
| 46 | Wily Peralta, Milwaukee Brewers |
| 47 | Ian Kennedy, San Diego Padres |
| 48 | Nathan Eovaldi, Miami Marlins |
| 49 | Jesse Chavez, Oakland Athletics |
| 50 | Tyler Skaggs, Los Angeles Angels |
| 51 | Kyle Lohse, Milwaukee Brewers |
| 52 | Dallas Keuchel, Houston Astros |
| 53 | Yovani Gallardo, Milwaukee Brewers |
| 54 | Marco Estrada, Milwaukee Brewers |
| 55 | Francisco Liriano, Pittsburgh Pirates |
| 56 | Trevor Bauer, Cleveland Indians |
| 57 | Hiroki Kuroda, New York Yankees |
| 58 | Zach Wheeler, New York Mets |
| 59 | Garrett Richards, Los Angeles Angels |
| 60 | Andrew Cashner, San Diego Padres |
| 61 | Drew Pomeranz, Oakland Athletics |
| 62 | Dan Haren, Los Angeles Dodgers |
| 63 | John Lackey, Boston Red Sox |
| 64 | Jon Niese, New York Mets |
| 65 | Mike Leake, Cincinnati Reds |
| 66 | Tyson Ross, San Diego Padres |
| 67 | Josh Beckett, Los Angeles Dodgers |
| 68 | Aaron Harang, Atlanta Braves |
| 69 | Ryan Vogelsong, San Francisco Giants |
| 70 | Doug Fister, Washington Nationals |
| 71 | Jason Hammel, Chicago Cubs |
| 72 | Phil Hughes, Minnesota Twins |
| 73 | Mark Buehrle, Toronto Blue Jays |
| 74 | Travis Wood, Chicago Cubs |
| 75 | Taijuan Walker, Seattle Mariners |
| 76 | Jake Odorizzi, Tampa Bay Rays |
| 77 | Drew Hutchison, Toronto Blue Jays |
| 78 | Justin Masterson, Cleveland Indians |
| 79 | Matt Garza, Milwaukee Brewers |
| 80 | R.A. Dickey, Toronto Blue Jays |
| 81 | A.J. Burnett, Philadelphia Phillies |
| 82 | Jake Peavy, Boston Red Sox |
| 83 | Collin McHugh, Houston Astros |
| 84 | Andrew Heaney, Miami Marlins |
| 85 | Michael Pineda, New York Yankees |
| 86 | Tom Koehler, Miami Marlins |
| 87 | Chris Tillman, Baltimore Orioles |
| 88 | Bartolo Colon, New York Mets |
| 89 | Tim Lincecum, San Francisco Giants |
| 90 | Ubaldo Jimenez, Baltimore Orioles |
| 91 | Jorge De La Rosa, Colorado Rockies |
| 92 | Danny Duffy, Kansas City Royals |
| 93 | Bronson Arroyo, Cincinnati Reds |
| 94 | Archie Bradley, Arizona Diamondbacks |
| 95 | Nick Tepesch, Texas Rangers |
| 96 | Tanner Roark, Washington Nationals |
| 97 | Jason Vargas, Kansas City Royals |
| 98 | Liam Hendriks, Toronto Blue Jays |
| 99 | Robbie Erlin, San Diego Padres |
| 100 | Danny Salazar, Cleveland Indians |
Dropped Out: Clay Buchholz, Boston Red Sox (DL/awful), James Paxton, Seattle Mariners (had some really high hopes, but suffered a setback in rehab), Alfredo Simon, Cincinnati Reds (I think he moves to the bullpen soon with Latos coming back), Alex Wood, Atlanta Braves (don't think he starts anytime soon), Zach McAllister, Cleveland Indians (DL/sucking), Edwin Jackson, Chicago Cubs (oops!  But did look better yesterday)
Wow – so I know I had a question about tiers, which I never have been a big fan of labeling, but the dropoff from Cobb/Cole, to three fringy vets that have issues, then it's gnarly.
Slight shuffling of the top 3, who I think are fantasy SP 1.A, 1.B, and 1.C.  Tough to not have Wainwright there at #1 right now though… And Darvish keeps having these neck issues, so I had to slide him to 3.
As in the open, Ventura has this "valgus extension overload", and the Royals GM said he has to learn to throw softer early and build it up within each start.  I'm no GM, and I'm the biggest Ventura supporter for the longest you could find, but I think they should give him a few starts in AAA to work on this new strategy.  I don't know if that's been floated out there, but there's a lot of uncertainty.  Sad.
Clay Buchholz!  8 walks in 3 innings!  That equals a sub-100 pitcher.  I think I did the math right… Plus DL to top it off.
Phil Hughes has walked 6 the entire year.  Less than Buchholz in his last 3 innings!  Crazy.  I still don't think he's very good, but he's hot right now and worth a decent ranking for ROS given his new cutter and control.
How bad has Verlander been?  Yikes.
I'm not worried about my boy Porcello.  He looked fantastic through three (I watched that start against Texas), then things snowballed.  A few lucky hits, the wind was carrying for the Donnie Murphy homer that looked like a popup… Not dropping him for one bad game.  Crossing my fingers Oakland doesn't rock him today – tough matchup with a lot of switch hitters and lefties available.
Pick up Andrew Heaney in all leagues.  As soon as he's called up, I'll probably put him above Bauer.
I know it might look a little weird moving Cobb up so much off a bad start, but the Toronto Blue Jays are unreal right now.  Maybe a mini-buy low window.  Next start is at Miami, so you gotta strike fast.
I've never been a Lance Lynn guy, but hard to argue the results in the milieu of the pitchers out of the top 30.  Sure the Ks are down, but maybe he's figured out how to pitch to contact a bit better.
Tyler Skaggs hasn't been the most flashy over his past four, but how about a 23:4 K:BB in those!?  Ks coming around, obviously love that ratio, I'm starting to buy more and more in.
Finally moving Fister up a bit – go ahead – tell me I caved, but still not going to where he is consensus-wise.  He owned the Pirates last year (his last good start), so let's see how it goes the next few weeks.
How'd I do with the much anticipated Keuchel profile?!  I hope everyone enjoyed it, and please share feedback on rankings below!