I know, I know.  I promised everyone Dallas Keuchel, but he's pitching tonight!  His last start was so long ago that Jose Abreu still seemed like a good guy to trade for if someone wasn't selling too high (ack!).  So long ago that Jay Z seemed to still love his little sister-in-law!
But do not fret, I promise unless there's a Noah-type monsoon that floods out four games, that Keuchel will be next week on his weekend start.
So in my despair when I saw Keuchel was tonight and not yesterday, I went to Twitter for some ideas and got a great one for Ryan Vogelsong.  I gotta admit – I love Vogelsong.  Helped carry me to titles in both 2011 and 2012 where he stayed undervalued for an entire 2-year stretch.  Pretty hard to do.  But 2013 was a disaster with hitters bashing him at a .299 clip, suffered a 5.73 ERA, and I guess the more appropriate adjective use of "suffer" would be for his broken hand on a comebacker.  It was in a 5-inning scoreless game too!  Talk about the worst timing, right whence he was turning it around.
In 2012, everyone ignored Vogelsong because he started the year on the DL and I think he missed all of one start.  Noobs!  To ignore him (like I obviously did) based on a terrible 2013 for a 36-year-old pitcher I think is more logical.  But he's got his velocity back up to 2012 levels, dropped the line drive rate, and has four gems in his last five starts.  Indeed, it felt only logical to break down his start yesterday against the Marlins, and if he can indeed make another under-the-radar lasting impact on fantasy teams in 2014:
First Inning: Vogey's first pitch to Adeiny Hechavarria is a fastball in there for strike one, a little cutter at 88 dips low, a huge curveball way outside makes it 2-1, a good two-seamer at 91 gets a foul, a really good sinking fastball is barely inside and low – that looked like a great pitch – then a fastball fouled back, followed by a second payoff pitch, a fastball, inside-outed to right for a single.  Not a great start and Hechavarria got a lot of pitches out of him to start the game. First-pitch curveball to Derek Dietrich bends low – that was a really good one for a putaway pitch – a nasty 80 MPH change-up flutters into the zone with great run on it 1-1,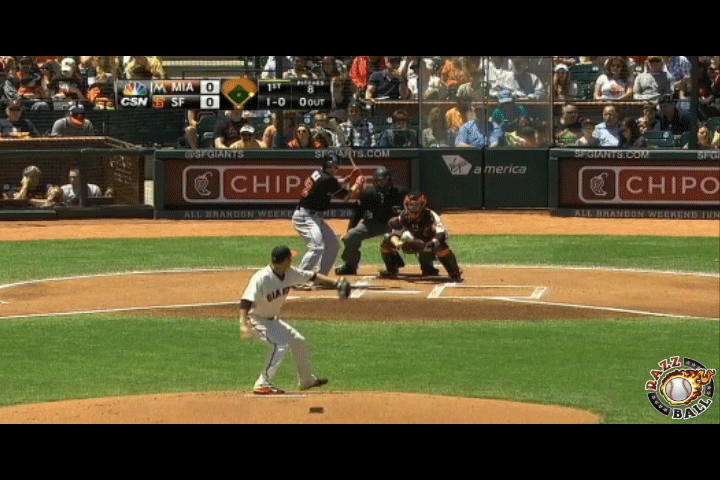 two-seamer hits the inside corner with some good run as well, then a cutter on the outside corner nips the black for a K looking.  Definitely looking like the Vogelsong of old.  Fastball to Christian Yelich is tipped foul, Hechavarria is almost picked off at first – nice pickoff move there – then that nasty curveball gets swung through 0-2,
then a well-timed pitchout catches Hechavarria on the move and Buster Posey throws him out at second.  Great move.  All the sudden it's two outs and 1-2, and Vogelsong barely misses high with the two-seamer, then is low with a fastball and Yelich takes off his shin pad and throws the bat – butttttt it's a full count.  Embarrassing!  Then that curveball, and a nassssty one gets Yelich to swing-and-miss for his second K.  Man after that leadoff at-bat, Vogelsong looked awesome.
Second Inning: After picking up three runs of support, Vogelsong starts Casey McGehee with a fastball on the outside black, a nasty change-up that runs back on the outside corner to make it 0-2 (looked a tad outside, but gets the call), misses outside, then another change gets a groundout to short.  Curveball drops in for a strike on Garrett Jones, cutter is inside then way inside, 2-1, four-seamer at 91 gets fouled back, change outside, then his bread-and-butter right now – the curveball – gets a weak pop to right, two down.  Cutter on the outside corner gets him up 0-1 on Ed Lucas, fastball fouled, fastball high, outside fastball laced foul, then a 1-2 change-up is squared up pretty well, but it's right to Hunter Pence in right for a 1-2-3 inning.
Third Inning: First-pitch cutter to Marcell Ozuna breaks the end of his bat, but it drops in right for a leadoff single.  That maybe got too much of the plate, but was a lucky bloop hit.  He again goes to the cutter on Jeff Mathis and dots the outside lower corner, fastball low and outside, fastball outside, then a great cutter at 87 gets a swing-and-miss 2-2.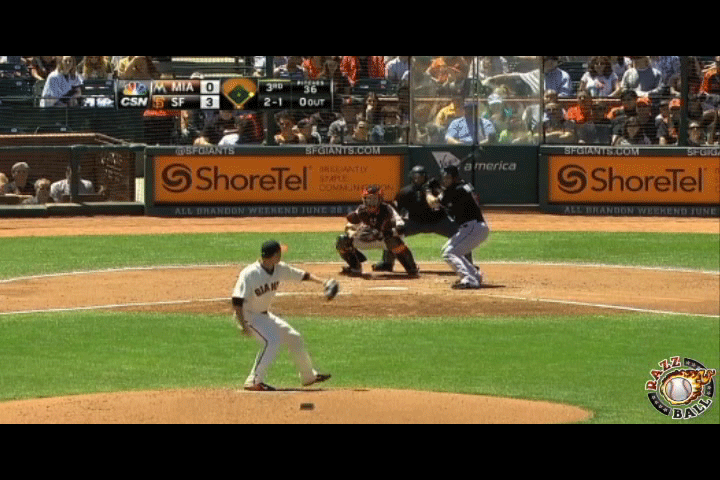 Vogelsong follows it up with a perfect change-up at 81 gets Mathis out in front for a big swing-and-miss K.  That change started at the same spot as that cutter, but dove down and into the plate at 6 MPH slower.  Great pitching.  First pitch to opposing starter Jacob Turner is bunted and Vogelsong makes the easy play at first on the sacrifice.  So runner at second, two down, and a curve hits the outside corner to Hechavarria, 0-1.  Another curve in the dirt almost induces a swing but not called one on the appeal, then a fastball is hit pretty hard on the ground, but it's right to second for an easy play, inning over.
Fourth Inning: Dietrich fouls off the first-pitch change-up, then a cutter is too far inside and hits him.  So Vogelsong lets the leadoff hitter on in back-to-back (and 3 out of 4) innings, and from the stretch starts Yelich with a change-up outside, curveball drops in the top of the zone, a cutter gets nipped foul, then another cutter on 1-2 on the outside corner gets grounded to short, and it's a double-play.  Great pitching there, sticking with that cutter to try and get a groundball and does.  Impressive [Darth Vader voice].  Cutter gets the top of the zone on McGehee, then another on the outside black gets tapped foul, then Vogelsong climbs the ladder with the heater, 1-2.  A great cutter bends just too low and outside at 88, nice looking pitch there – good eye from McGehee – a change-up dips too low, then a fastball on the outside corner gets blasted to right for a single.  I don't like that pitch there, he gave in with the fastball on 3-2 and paid for it.  I would've liked to see the curve.  So again runner on first and Jones takes a low cutter for a strike not liking the call, change-up is low, then a 77 MPH curveball gets tapped very weakly to first and it ends the inning.  See!  Vogelsong should've gone curve to McGehee too…
Fifth Inning: First-pitch curveball to Lucas gets the call on the outside corner – even the announcer called it a ball but it got the call – then is low, then a cutter gets hit hard to second, but the throw is on a tough in-between hop and Michael Morse (aka Javier Bardem) can't dig it out.  Wow, they give Lucas the base hit – I guess since Brandon Hicks made a pretty good play to range to it.  Either way, that's now 4 of 5 innings with the leadoff hitter on (given two have been on lucky hits), and curveball for strike one to Ozuna.  That curve is owning.  Curveball is barely outside, a great running change-up on the hands gets popped foul and almost caught but drops, then the 1-2 fastball is hit weakly to center for the first out.  First-pitch fastball to Mathis is yanked between short and third for a solid single.  Runners at first and second, one out, and most trouble Vogelsong has been in all day.  Turner immediately shows bunt. and Vogelsong's curveball is bunted extremely well, and Pablo Sandoval has to make a great play on it to throw him out at first.  Man, that easily could've been an infield single.  Runners 2nd and 3rd, and the first one to Hechavarria is a cutter down the middle that's hit hard, but Brandon Crawford dives for it, makes the snag, and throws out the speedy shortstop by over a step.  Great plays from Vogelsong's infield (well, after one bad play, so sorta evens out) and it keeps his ER total empty.
Sixth Inning: At 67 pitches, Vogelsong is cruising and a curveball is fouled off by Dietirch, a change is low, then another change gets a lazy popup to third, one down.  First-pitch curve is spiked in the dirt, then a cutter is grounded weakly to Hicks at second, two down on five pitches.  Curveball hangs high to McGehee, then another curve is in there, 1-1.  Great faith with the off-speed.  Curve again nips the outside corner 1-2, then a change-up on the outside corner gets hit fairly well to Crawford, but he makes a pretty easy play yet botches the throw for an error.  Crawford giveth and Crawford taketh away.  McGehee on first on the error with two outs and Jones takes a fastball in there, then another good one just misses, then a change-up hits the same exact spot and called a ball again, 2-1.  Good umping today – he's given some off the outside corner to righties, but consistent.  Fastball is definitely low, 3-1, then a two-seamer runs a good bit outside for a walk.  Vogelsong's first walk on the day, and it sucks he was close to the zone and had to fight through that at-bat off an error.  Again that great curve is working the zone today and he gets the outside corner with it, then a nasty one boring low gets a huge swing-and-miss, curve again is way outside, then a great fastball that looked like it was on the inside higher corner is a good take, 2-2.  Out comes Posey, and this inning that was a cruise is all the sudden a… canoe?  I dunno… Anyway, another curveball is a nasty one that is off the plate and dips in the dirt at 77, and Lucas can't help but emergency hack through it for Vogelsong's 4th K.
Seventh Inning: 86 pitches now, and a good cutter is barely low to Ozuna, cutter again fouled, curveball on the outside corner gets the call, 1-2.  Nice frame job by Posey, but like I said, ump calling it consistent.  Fastball is outside, then a change-up at 83 is swung through, K number 5.  Cutter dives low to Mathis, then a rolling curve gets the top of the zone, a pretty good change is taken barely for a ball, then change-up again at 82 gets him out in front, 2-2.  Mathis must've been sitting heater.  Then follows it up with a good fastball and blows him away at 90.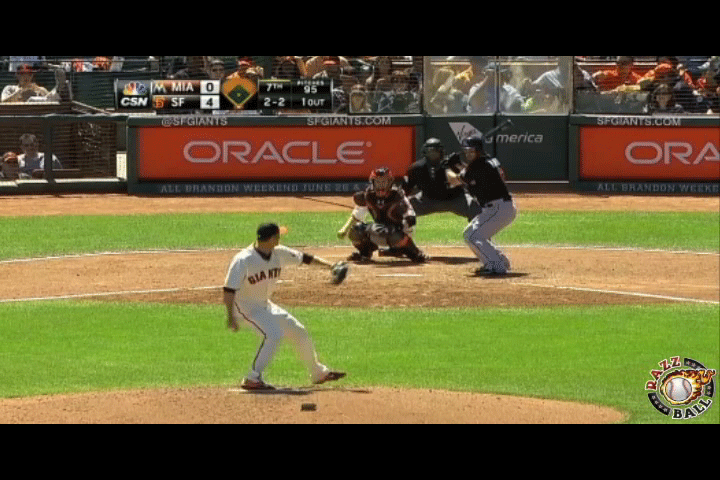 What mixing speeds does for you!  Another good sequence.  6 Ks for Vogey, and pinch-hitter Donovan Solano takes a strike, then Vogelsong's final pitch is a good change-up grounded right to Crawford who makes the easy play to end the inning.
Final Line:  W  7 IP  98 Pitches (62 Strikes)  0 ER  5 Hits  1 Walk  6 K  Gamescore: 72   Gamescore+: 71.4
Final Analysis: Vogelsong really did look like the Vogelsong we saw a couple years ago, mixing speeds, giving up only 5 singles (with one a bloop and one could've been an error) and no batted balls going past the mid-outfield.  Pretty impressive.  His Gamescore+ came out to be about the same as his Gamescore – just all-around good pitching.  Even though it was against the Marlins with no Giancarlo Stanton…
His fastball sits at 90-92, usually in the lower part of that, with both four-seam and two-seam action.  The two-seamer had good tail, and when his off-speed stuff is working as good as it did yesterday, the four-seamer can work like the K in the 7th on Mathis.  The cutter at 87-89 is pretty spot-on, good sink, late movement, and he was pinpoint with it.  Then there's the great off-speed, with a huge moving change-up from 80-83, and his go-to curveball from 76-78 that he was consistently able to throw for strikes – and quality strikes at that on the corners.  What's great about that curve is it's speed – if that same speed breakdown was for a guy throwing 95, that curve would get to 83-84 at times.  It's a power pitch.
So what happened last year?  Well, the fastball completely eluded him, dropping to a 89.0 average velocity after 91.4 in 2011 and 90.8 in 2012.  He's not a hard thrower by any means, but that's a pretty brutal drop.  The cutter also lost 1.5 MPH, both leading to a line drive rate that went from 20.4% in 2011/18.5% in 2012 to a whopping 27.1% last year.  Batters were absolutely crushing the fastball then able to tee off on the slower stuff, contributing to a huge spike in BABIP and a career-worst HR rate.  But that's been righted for the most part this year – LD rate slightly down to 25.0% (and I imagine a lot of that earlier in the year), with his velocity back up to 90.3 on the heater.  The improvements have shown over the last 5, with 4 of those starts 6+ innings, 6+ Ks, and 1 run or fewer.  He's really only had one brutal start all year, and that was at Colorado.  You get a little bit of a pass there.
I'm kinda all-in on Vogelsong.  I can't believe I didn't have him ranked before this week, as he snuck up on even me.  I think he's absolutely a bottom-end guy to own in 12ers.  Great park, stuff is back to where it was when he was successful, and even though he's older, he hasn't piled up huge innings since he bloomed so extremely late.  His next two starts are at home against the Twins and Cubs.  Ummm, yeah I want those!  Grabbing him where I can.
JB's Updated Top 100 SP
(rankings based on 12-team Roto – green for risers, red for fallers)
| | |
| --- | --- |
| RANK | SP, TEAM |
| 1 | Yu Darvish, Texas Rangers |
| 2 | Clayton Kershaw, Los Angeles Dodgers |
| 3 | Adam Wainwright, St. Louis Cardinals |
| 4 | Stephen Strasburg, Washington Nationals |
| 5 | Max Scherzer, Detroit Tigers |
| 6 | Felix Hernandez, Seattle Mariners |
| 7 | Cliff Lee, Philadelphia Phillies |
| 8 | Masahiro Tanaka, New York Yankees |
| 9 | Madison Bumgarner, San Francisco Giants |
| 10 | Johnny Cueto, Cincinnati Reds |
| 11 | Chris Sale, Chicago White Sox |
| 12 | Michael Wacha, St. Louis Cardinals |
| 13 | Zack Greinke, Los Angeles Dodgers |
| 14 | Hisashi Iwakuma, Seattle Mariners |
| 15 | Cole Hamels, Philadelphia Phillies |
| 16 | Justin Verlander, Detroit Tigers |
| 17 | Julio Teheran, Atlanta Braves |
| 18 | James Shields, Kansas City Royals |
| 19 | Jordan Zimmermann, Washington Nationals |
| 20 | David Price, Tampa Bay Rays |
| 21 | Anibal Sanchez, Detroit Tigers |
| 22 | Mike Minor, Atlanta Braves |
| 23 | Jeff Samardzija, Chicago Cubs |
| 24 | Sonny Gray, Oakland Athletics |
| 25 | Gerrit Cole, Pittsburgh Pirates |
| 26 | Matt Cain, San Francisco Giants |
| 27 | Yordano Ventura, Kansas City Royals |
| 28 | Corey Kluber, Cleveland Indians |
| 29 | Jon Lester, Boston Red Sox |
| 30 | Ervin Santana, Atlanta Braves |
| 31 | Scott Kazmir, Oakland Athletics |
| 32 | Rick Porcello, Detroit Tigers |
| 33 | Jered Weaver, Los Angeles Angels |
| 34 | Alex Cobb, Tampa Bay Rays |
| 35 | Drew Smyly, Detroit Tigers |
| 36 | Shelby Miller, St. Louis Cardinals |
| 37 | Mat Latos, Cincinnati Reds |
| 38 | Hyun-Jin Ryu, Los Angeles Dodgers |
| 39 | Homer Bailey, Cincinnati Reds |
| 40 | Tony Cingrani, Cincinnati Reds |
| 41 | Chris Archer, Tamp Bay Rays |
| 42 | Francisco Liriano, Pittsburgh Pirates |
| 43 | Lance Lynn, St. Louis Cardinals |
| 44 | Gio Gonzalez, Washington Nationals |
| 45 | Tim Hudson, San Francisco Giants |
| 46 | C.J. Wilson, Los Angeles Angels |
| 47 | Wily Peralta, Milwaukee Brewers |
| 48 | Yovani Gallardo, Milwaukee Brewers |
| 49 | Marco Estrada, Milwaukee Brewers |
| 50 | Ian Kennedy, San Diego Padres |
| 51 | Jesse Chavez, Oakland Athletics |
| 52 | Nathan Eovaldi, Miami Marlins |
| 53 | Trevor Bauer, Cleveland Indians |
| 54 | Hiroki Kuroda, New York Yankees |
| 55 | Zach Wheeler, New York Mets |
| 56 | Garrett Richards, Los Angeles Angels |
| 57 | Andrew Cashner, San Diego Padres |
| 58 | Drew Pomeranz, Oakland Athletics |
| 59 | Dan Haren, Los Angeles Dodgers |
| 60 | John Lackey, Boston Red Sox |
| 61 | Drew Hutchison, Toronto Blue Jays |
| 62 | Tyler Skaggs, Los Angeles Angels |
| 63 | Jon Niese, New York Mets |
| 64 | Tyson Ross, San Diego Padres |
| 65 | Chris Tillman, Baltimore Orioles |
| 66 | Kyle Lohse, Milwaukee Brewers |
| 67 | Travis Wood, Chicago Cubs |
| 68 | Jake Peavy, Boston Red Sox |
| 69 | Aaron Harang, Atlanta Braves |
| 70 | James Paxton, Seattle Mariners |
| 71 | Dallas Keuchel, Houston Astros |
| 72 | Justin Masterson, Cleveland Indians |
| 73 | Matt Garza, Milwaukee Brewers |
| 74 | Mike Leake, Cincinnati Reds |
| 75 | Jason Hammel, Chicago Cubs |
| 76 | A.J. Burnett, Philadelphia Phillies |
| 77 | Ryan Vogelsong, San Francisco Giants |
| 78 | Clay Buchholz, Boston Red Sox |
| 79 | Alex Wood, Atlanta Braves |
| 80 | Taijuan Walker, Seattle Mariners |
| 81 | Doug Fister, Washington Nationals |
| 82 | Mark Buehrle, Toronto Blue Jays |
| 83 | Tom Koehler, Houston Astros |
| 84 | Josh Beckett, Los Angeles Dodgers |
| 85 | Bartolo Colon, New York Mets |
| 86 | Ubaldo Jimenez, Baltimore Orioles |
| 87 | R.A. Dickey, Toronto Blue Jays |
| 88 | Tim Lincecum, San Francisco Giants |
| 89 | Danny Salazar, Cleveland Indians |
| 90 | Jake Odorizzi, Tampa Bay Rays |
| 91 | Danny Duffy, Kansas City Royals |
| 92 | Collin McHugh, Houston Astros |
| 93 | Archie Bradley, Arizona Diamondbacks |
| 94 | Michael Pineda, New York Yankees |
| 95 | Alfredo Simon, Cincinnati Reds |
| 96 | Tanner Roark, Washington Nationals |
| 97 | Jason Vargas, Kansas City Royals |
| 98 | Zach McAllister, Cleveland Indians |
| 99 | Robbie Erlin, San Diego Padres |
| 100 | Edwin Jackson, Chicago Cubs |
Dropped Out: Jose Fernandez, Miami Marlins (TJ – so effed up that happened…), Martin Perez, Texas Rangers (TJ), Dillon Gee, New York Mets (lat, but still sounds like it'll be a while), CC Sabathia, New York Yankees (his knee is like, "told you to lose that weight earlier!")
My first note is just my insatiable need to mention my Top 5 sleeper pitchers and they're ridiculous high ranks from my original Top 100.  Of course I've made some bad calls, but man, it'd be hard to pick a better 5 sleepers heading into the year.  I mean, Johnny Cueto may have been the best sleeper call, but camon!
Overall, the depth of starting pitching looks thin all the sudden.  After about Chris Archer, who I still believe in, it's a frenzy of meh guys.  Dr. James Andrews is going to make, like, a billion dollars this year.
Also with all the injuries, I made a lot of tweaks this week.  It looks like a friggin' rainbow today!
Andrew Cashner… Just a sore elbow… "Just"… Remember when Martin Perez's MRI said he only had some fluid?  Then they found the busted ligament.  MRI set for today, but I'm mortified.  MRIs on elbows have resulted in TJs 95% of the time lately…
Cole Hamels with back-to-back gems.  It's too late to buy now, but I always had him ranked highly and now I'm pushing the chips all-in.  *crosses fingers his shoulder doesn't fall off*
Corey Kluber at 28 seems wonky even for me.  But I can't pick 27 more that are better!  I hope my Kluber love gave you that last mmmphf to grab him.
Prezii – "Give it up on Porcello" Me – "NEVER!"  Me now – "muahahahahaha!"
Remember when Drew Smyly got yo-yoed in and out of the rotation and I had to really bear down to stick with him so high?  That one feels good too!
Remember when Alex Wood got the axe even though I said I wasn't worried about it and he'll get 190 innings?  That one feels like a kick in the nutsack!
All in on Bauer.  Pretty drastic move to send down Salazar.  I am keeping Salazar ranked because I see him up again sooner rather than later for someone, but huge hit.  Really deep league – I'd buy Salazar low.
My one night stand with McHugh gave me gonorrhea in that third start against the Mariners, but dude had a one-hitter through 5 before imploding against the White Sox last time out.  Don't like him against the Angels, but there's still something there.
Tyson Ross walks the bases loaded against the Reds in the first, then turns it around to somehow throw 7 one run innings.  So inconsistent, but yet the numbers are there.  Had to move him up even though I think it's a time bomb.
Are you singing us a Vogelsong, Mr. Razzball Man (or woman!)?  Want to throw tomatoes at me for these rankings?  Shoot em below!