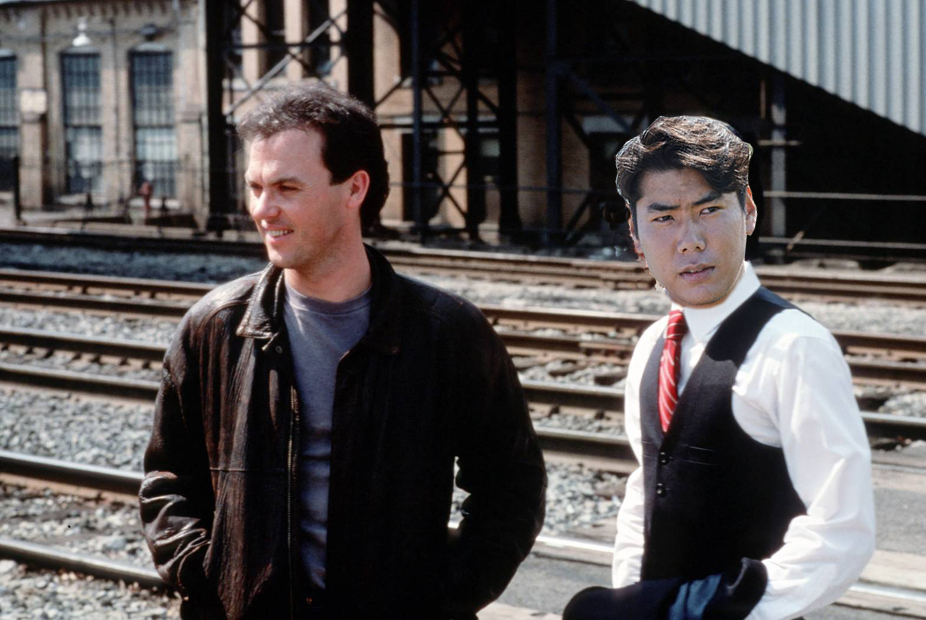 If you walk out that door, you're going to miss a great comeback. Hunt Stevenson kicked ass. And even though he didn't actually meet the goal of 15,000 cars So Yamamura was so impressed with Hunt's efforts that he declared his team successful. Just another example of a great 1980's movie. Modern technology be damned, the 80's was awesome. Speaking of awesome, let's talk about the third baseman you're going to wish you stashed on your DL if you don't own one of Manny Machado, Nolan Arenado or Josh Donaldson. I refer to them collectively as the "Big 3B". And no, there is no "Big 3A". There's the "Big 3A-holes". That would be Justin Upton.
Last year, which was his rookie season, in 126 games and 467 plate appearances Jung-ho Kang hit 15 home runs, scored 60 runs, drove in 58 and stole 5 bases. Extrapolating that across 162 games we are looking at 20 homers, 77 runs, 74 RBIs and 7 stolen bases. Due to the fact that he was recovering knee/leg injury, Kang's average draft position was about 172. That puts him well into the "late round flyer" category. Kang finished third in the NL Rookie of the Year voting behind Kris Bryant and Matt Duffy.
After missing the first 29 games of the season, Jung-ho has returned to the Pittsburgh Pirates. Since returning he has started six games. He appeared in two additional games as a pinch hitter with a plate appearance in each. During his six games Kang already has four home runs. He's batting .292 with 5 runs scored and 8 runs batted in. Six games is far from an adequate sample size, however, for shifts and giggles let's expand those stats over 162 games. Doing so we end up with 108 home runs, 135 runs and 216 RBIs. Now obviously that's just ridiculous. He's not going to maintain said pace. But again, for ships and giggles, let's try something else. The Pirates have 125 games remaining in the regular season. Let's say Kang plays four out of every five games. That comes to 100 games. At his current pace Jung-ho will end the season with 70 homers, cross the plate 88 times and drive in 141. Once again, this is NOT going to happen.
What if Kang could achieve just half of those numbers. Do the math. Divide them by two. If he manages 35 home runs, 44 runs and 70 RBIs, that would be quite the season for a guy quite possibly picked up off the waiver wire. I don't think he'll hit 35 long balls, but 25 is certainly within reach. I'm pretty glad I stashed him. Byung-ho Park who? Sounds like the name of a stadium in South Korea. Kang has yet to steal a base, and I wouldn't expect much from him in that department, but as the season moves on and perhaps he's feeling a little frisky or pumped up from a fresh remix of Gangnam Style he will probably swipe a few bags. Oppa Kangnam Style! Eh, sexy Pirate…
What do get when Jung-ho teams up with RZA, GZA, Method Man and a few other artists? The Wu-Kang Clan!
What is Jung-ho's favorite animal? The kangaroo!
Had enough? Ok, just one more. What do you get when Michael Keaton and Kang co-star in a movie from the 1980s about a car manufacturing factory? Jung Ho.
I've seen some posts on other less cool websites recently discussing the best DL stashes. Most of them include Yu Darvish, Michael Brantley and Carlos Carrasco. On what planet, let alone league, are those guys not already stashed. They were all drafted and they are all owned. Maybe in eight team leagues with rosters that include three players on the bench. But even then…
Here are some players that "might" be available that "might" be worth stashing. Do you like how I gave myself at least two outs in that last sentence with double usage of the word "might". The inning is still alive with just two outs. Mike Moustakas (78%) , Logan Forsythe (68%), Devon Travis (22%), Hyun-Jin Ryu (13%), Brad Boxberger (37%) and David Peralta (77%). Another guy that I have some mild interest in is Alex Cobb (7%). He's more of a long term stash with a lot less certainly surrounding him coming off of Tommy John surgery. There are definitely some other guys out there on the DL that could be worth a shot, but for today I will leave it at that.