Did you ever wonder why, back in your school days, that there was no "E" grade? What happened to "E"? The apparent reason for the lack of an "E" grade is because most systems are based on four passing grades. "A", "B", "C" and "D". After these passing grades come failure, and since failure starts with the letter "F", "F" is used to denote a failure. It's really quite simple. It just happens to be that "F" is the sixth letter, but had it been the tenth or even the last, an "F" would still be used to let you know that you just flunked. Someone who fails is a failure. Does that make someone that flunks a flunky? I actually had a teacher one year, I think it was the 7th grade, that incorporated "E" into his grading system. It was actually higher than an "A", if that makes sense, and stood for "excellent". I always thought that was an A+. I'm pretty sure that teacher was a major pothead. I liked him. I had an entirely different teacher that had a completely different set of grades that included an "E". In this class it stood for "exceeds expectations". There was no "A", "B", "C", "D" or "F". Instead we had "E", "M" and "N". The latter two standing for "meets expectations" and "needs improvement".
But that system is flawed. Although I guess it depends on how you look at it. Should expectations be the same for every person being graded? Technically I guess to be fair they would have to be. Why should one student be held to a higher standards. That's what honors classes are for, right? But when it comes to grading a player's performance, I don't think you can employ a standard set of expectations for every player. For example, if Mike Trout hits 30 homers, drives in 90 runs and steals 15 bases I would say he has met his expectations. However if those stats belonged to Ben Zobrist, we'd have to give him an "exceeds expectations" right? Trout would need to hit 40 dongs, drive in 100+ and steal 30 bases to earn an "E".
Well that's enough of that. Let's stop beating around the bush, which sounds like a name of a 70's porno, and get to the point. Winning points league championships requires a fair amount of luck. A lot more than I like, but I'll save that rant (and solution) for another day. Seriously though, I have the solution. Another key ingredient in championship pie is having players that have well outplayed their projections (expectations) and ADP (average draft position). These players are vital to success.
Let's take a look at some of these players so far in 2015. The criteria for making my list are the following:
Minimum 300 plate appearances
Currently at least 50 points ahead of projections
A current rank of at least 50 spots ahead of their ADP
A current rank in the top 75 amongst batters
And the winners are…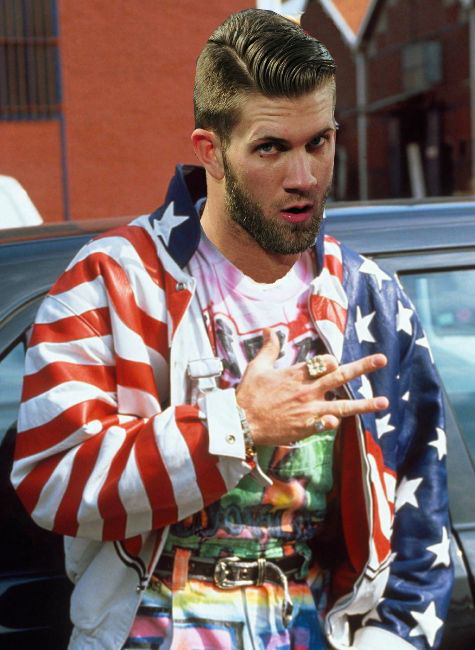 Vanilla Bryce Bryce baby Vanilla Bryce Bryce baby. With 421 points, Vanilla Bryce trails only Paul Goldschmidt and Josh Donaldson. He is currently outpointing his projections by 118 points and as the 3rd ranked batter he is easily exceeding his 5th round average selection. Harper will be a first round pick next year in redraft leagues. In keeper leagues, he will be kept. And that's me donning my Captain Obvious cape and stating the obvious. When I asked Borat what he thought of Harper, he said "Very Bryce! High Five" as he gave me two thumbs up. (ADP: 53, Rank: 3)
It seems the Bible might have it all wrong. According to the Bible, Adam and Eve had two sons. Cain and Able. Cain is described as a crop farmer who killed his own brother. Nowhere does it speak of his impending 15/30 season. Blasphemy I say! Lorenzo Cain went undrafted in many points leagues. Mine was one of them. I grabbed him off the waiver wire back in week 2 and traded him for Kipnis seven weeks later. Aside from Harper, Cain is the only other player ahead of his projections by more than 100 points. His 12 home runs, 24 stolen bases and .310 batting average have him ranked inside the top 35. (ADP: 232, Rank: 31)
I guess it was only a matter of time until Teixeira got hurt. At least he had the decency to hit 31 home runs before he did. It's like 2012-2014 never happened. Only it did, and his current injury reminds us of that. Tex is another player that went undrafted in many leagues. Despite that, he is currently ranked inside the top 25 batters and is beating his projections by 91 points. Mark my words, if Teixeira can shake off this leg injury, he's gonna give 40 homers a run for its money. (ADP: 238, Rank: 21)
Does A.J. stand for "Another Jackson"? Get it. He's an artist painting a picture of a fantasy stud in the making. I'm guessing it stands for Allen Junior, but I couldn't find his father's name, so I could be mistaken. At this point, A.J. is the 9th ranked batter in points leagues with 378 points. That's 88 points ahead of schedule. He was drafted, on average, in the 14th round. I took him in the 12th. Next year he'll be gone by the 4th. How many Pollock's does it take to score 378 points. Just one. Incidentally, pollock is the common name of two species of North Atlantic marine fish in the Pollachius genus. (ADP: 166, Rank: 9)
Gerardo Parra is having a career year. With 14 homers and 10 base swipes, he's already rocking the baseball version of the double-double. Lest we forget to mention his .314 batting average. It's pretty safe to say that Parra went undrafted in nearly every points league, but with 294 points, he has 87 more points than I thought he would at this point (pun intended). Gerard-imo! (ADP: undrafted, Rank: 42)
I must admit, I was one of the Nelson Cruz skeptics coming into the season. I fully expected his production to take a nose dive in Seattle, ala Robinson Cano. Looks like I was proven wrong. Cruz leads the Majors with 39 home runs and is rocking a .320 batting average. The dude is legit. He is 86 points ahead of expectations with 380 points. As a 7th rounder, he was a steal. A giant Nelson Cruz missile sized steal. What do you get when you combine an injured cheese head with a slugging Mariner? Jordy Nelson Cruz. And that's me turning on the Cruz control when it comes to writing awful jokes. I do love me some before and afters. (ADP: 75, Rank: 8)
Unlike the All-Star Game, there was no way I was snubbing AROD and leaving him off this list. Drafted in the 18th round, no one expected him to hit 26 home runs. Only 13 batters have more homers, and 10 of them have more at bats than him. Alex currently has 320 points and is on pace to flirt with a 400-point season. Spare the AROD, spoil your team. (ADP: 212, Rank: 35)
And the top shortstop in points leagues is… Brandon Crawford. With 19 home runs he's actually tied for the lead at shortstop with Hanley Ramirez, but Hanley is really an outfielder. Crawford's 277 points are 75 better than projections, and as an undrafted player, he has certainly been a valuable asset to every team that snagged him from the waiver wire. I heard that Carl Crawford's kids wear Brandon Crawford jerseys. Ouch! (ADP: undrafted, Rank: 53)
Logan who? You know how many people had the Forsythe to draft this guy? None. He's currently on pace for 18 dingers and 11 stolen bases. I like anyone who achieves double digits in both of those categories while maintaining a solid batting average. His 264 points have him in the top ten second basemen. I wonder if he flies free when he flies out of Boston. (ADP: undrafted, Rank: 67)
I wonder how things would have been different had Kendrys never broken his leg jumping on home plate after hitting a walk off grand slam back in 2010. The year before said injury he hit 34 homers. That season he was on his way to another 30. While he may no longer have quite the power, he is on pace for 18 homers, 113 RBIs and a .284 average. That's a heck of a stat line for a player that was largely undrafted. (ADP: 233, Rank: 33)
Here are some other players that made the list:
David Peralta (ADP: undrafted, Rank: 66)
Cameron Maybin (ADP: undrafted, Rank: 74)
Joe Panik (ADP: 232, Rank: 71)
DJ LeMahieu (ADP: undrafted, Rank: 62)
Eric Hosmer (ADP: 165, Rank: 18)
Manny Machado (ADP: 116, Rank: 15)
Honorable Mentions:
Mike Moustakas (ADP: 246, Rank: 48)
Joey Votto (ADP: 54, Rank: 6)
Mitch Moreland (ADP: undrafted, Rank: 99)
Dee Gordon (ADP: 109, Rank: 59)
Starling Marte (ADP: 121, Rank: 45)
Josh Reddick (ADP: 243, Rank: 40)
Yoenis Cespedes (ADP: 103, Rank: 20)
Brett Gardner (ADP: 183, Rank: 43)
Charlie Blackmon (ADP: 140, Rank: 29)
Curtis Granderson (ADP: 168, Rank: 46)
Jhonny Peralta (ADP: 189, Rank: 56)
Prince Fielder (ADP: 64, Rank: 14)
Albert Pujols (ADP: 48, Rank 13)
Mookie Betts (ADP: 144, Rank: 36)
Matt Carpenter (ADP: 92, Rank: 39)
Matt Duffy (ADP: undrafted, Rank: 78)
David Ortiz (ADP: 93, Rank: 17)
Take a look at the teams that are winning your league and see how many of these players are their rosters.