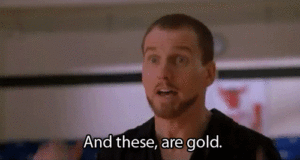 Look, on the one hand, I'm ashamed that I'm quoting Not Another Teen Movie.  On the other, I'm surprised this wasn't a Keenan Ivory Wayans joint.  On the third, more interesting hand that's simply a cut out of the hamburger helper off my beefaroni box, it allows me to reference back to one of the best teen comedy movies of all time: Bring It On.  Or better put, this movie has four minutes worth of Sparky Polastri, and that's never enough and yet more than enough all at the same time.  With all this said, my call today is Steven Brault or as I like to call him, 'the guy who gets to pitch against the Phillies'.  If you've read anything I've written – or wrotten, if you wanna keep with title theme – you'll know that I love picking on Phillies.  It's September and this should be clear to you but just in case it's not, here's a simple flowchart for you to think about.  If you're not convinced by my conciseness, let's consider some other facts.  The Phils have the worst wRC+, the fifth worst K%, and the second worst BB% in the majors this year.  The fact they've been on a K tear of late – second worst K% over the last 30 and worst over the last 14 and 7 – makes this call even nicer.  But the real kicker here?  Brault is a mere $4,500 so he's in punt territory with 20 point upside.  Seriously, this intro is AmPm: too much good stuff.  But guess what, I have some even potentially greater takes down the road.  So follow me past the italics, would you?  Here's my 'y'all ready for this' hot taeks for this Wednesday, DK slate…follow me or perish, sweater monkeys!
New to DraftKings? Scared of feeling like a small fish in a big pond? Well reserve your spot in the 25 Team Razzball Exclusive League set to run Monday September 19th to wet your DK whistle. Just remember to sign up through us before you do. Wanna know what the best part is about signing up with us? The free subscription for the rest of the season to our DFSBot, that's what! For details on the how to, please visit our Razzball Subscriptions page.
Jose Fernandez, SP: $13,000 – Admittedly, the Braves haven't been so bad in the second half but since we're talking cash, all eyes are gonna be on that Jo-Fer prize so yours might as well be, too.
Carlos Rodon, SP: $8,700 – It seems that Carlos has been thinking about walks of late and has decided a very important thing: they're bad.  Rodon hasn't allowed more than two walks in a start since August 12th and has a 29:5 K to BB ratio over a 31.2 inning, five game span.  Admittedly, the Indians aren't the worst against lefties on the year but given they're 5th overall in wRC+ on the year but merely 19th in it against lefties, it's safe to say they don't get their bread buttered vs southpaws.  I love Rodon in all formats tonight and would willingly roll with him as my SP1 in cash.
Hisashi Iwakuma, SP: $7,100 – At this price in a pitcher friendly ballpark, Iwakuma as my SP2 in cash or my SP1 in tourneys is just a thing that's going to happen.  He'll more than likely to give up a gopher ball or perhaps two, but likely won't have anyone on when it happens.  So just K 7, and give up two solo jobs and we're good, 'Kuma!
Anibal Sanchez, SP: $5,200 – We are scraping the bottom of the bowels here.  No, I didn't misspell 'barrel'.  Sanchez has been dirty this year, and not the kind of dirty you pay per view on the naughty channels for.  That said, the Twins are the worst team in baseball by their record for a very good reason: they're not very good.  When you consider they've been one of the worst teams in baseball over their last seven and a recent drumming of 11 Ks by Daniel Norris can attest to that, it's not a bad plan to trash the Twinkies today.
Jorge Alfaro, C: $2,900 – What's the deal, right?  First I suggest the Pirates pitcher and now I'm here suggesting a Phillies hitter?  Well, really I'm just suggesting a catcher; let's not kid ourselves into thinking they're actually hitters, too.  The truth bomb of this suggestion is I simply want a cheap catcher.  The fact that Alfaro is a highly regarded prospect is just reese's peanut butter chips in my no bake cookies.  As always, keep your eyes peeled for a cheap catcher in a good spot.  Yes, even the 8th spot in a lineup can be a good spot for a catcher.
Jose Abreu, 1B: $5,300 – I'm writing this down before I go and check Josh Tomlin's crazy reverse splits…hold on, let me confirm…hold on, still getting there…jeez, seriously, if you'd just let me go and research this and stop making me type this, it would go faster…ellipses…ah, there it is!  Sources can confirm that Tomlin for his career has been bad against righties and that has held true for this year as well.  Though the HR/9 has normalized against lefties by comparison to righties, they're both high (1.96 vs 2.25, respectively).  But when you throw in the wOBA being .371 to RHBs vs .300 to those LHBs, you catch my Tokyo style drift.  I wouldn't go full stack against Tomlin, but a hot Avisail Garcia and a cheap Todd Frazier could be a nice .
Justin Bour, 1B: $3,600 – So there's something weird with Julio Teheran this year and something has to normalize about it or my OCD is gonna go into high, super saiyan gear.  Though the wOBA splits suggest there's not much going on for lefties vs Teheran, you dive a little deeper and you see some sorcery.  He's only has a 6.11 K/9 vs a 3.30 BB/9 against LHBs to go along with a 1.47 HR/9 and – here's the freakout moment – a 5.56 xFIP.  Considering the ERA against them on the year is a mere 3.78, you can understand my need for regression here.  Bour hasn't done much since his return from the DL, but that doesn't mean the power we all saw from him disappeared.  If you're looking for a cheap, one-off 1B tourney play, I'd personally go full Bour here.  For the price, Christien Yelich is also a good play, methinks.
Jose Altuve, 2B: $4,500 – Relatively spendy, it's true, but since Yu Darvish was supposed to start and instead it's Derek Holland, we're gonna party like Derek did with the weather.  There are plenty of repressed prices today to focus on but for the most bang for your Astros stack buck, let's mention George Springer, Alex Bregman, Carlos Correa, Evan Gattis, and Yulieski Gurriel.
Robinson Cano, 2B: $3,900 – Another 2B mention, another pitching scratch.  I had myself a whole Mariners stack lined up in this space.  Thankfully with Jhoulys Chacin taking the place of Tyler Skaggs means moving off Cano would be kinda dumb.  Chacin is no stud against righties but against lefties is where he shines…like the bad kind of shines.  This all means that a Mariners stack is still in play…yay!  But it means it's not the same guys I would've suggested…boo!  But it also means they're actually cheaper…yay!  Gimme Leonys Martin, Kyle Seager, Seth Smith, and Daniel Vogelbach.
Joe Wendle, 2B: $2,800 – Nothing says H2H 2B like a .281 average that goes with a .575 OPS.  Wendle is just cheap trash for cash, baby.
Jonathan Villar, 3B/SS: $4,800 – Apparently tired of people thinking he is all speed and no stick, Villar has decided to show some pop of late, with five HRs in his last 10 games with only two steals in that time.  Basically, I think Villar is gunning for 20 bombs this year and I want in on this ride.
Ryon Healy, 3B: $3,500 – Ryon and not Ryan?  Really?  Fine, I'm Sky with a Q.  The Q is silent…and invisible…neverthewho!  I'm not suggesting an Athletics stack but their bats are cheap and Ventura isn't the most intimidating force on the mound; feel free to backfill your LUs with A's today if you need some discounts.
Daniel Descalso, 1B/SS: $3,200 – As much as I still root for Rubby, I realize his flaws lie with pitching to lefties.  When you factor in that we have a game in Coors South, getting in on the cheap makes too much sense.  Which means I probably makes no sense, but yeah I'm still gonna do it, Descalso it is!
Roman Quinn, OF: $2,900 – Yes, yes, another bat vs the pitcher I made the lead.  It all comes down to price.  Brault can still have a good day with a couple of hits from Quinn and Alfaro and that's exactly how I could see playing it.  Of course, you don't need a cheap bat like Alfaro and/or Quinn if you start Brault so there shouldn't be any situation where you feel like you're eating your own head.
I'm Only Happy When It Rains
Just as we like it, nothing looks overly worrisome as of right now.  Do make sure to look at the STLvsCHC game as there are storm threats, though not extremely high chances.
Doing Lines In Vegas
Just because the morning games don't exist in my write up don't mean their heavy lines don't.  Madison Bumgarner and his Giants come as no surprise as being the big dogs on the day, hanging a -280 on the hapless Padres.  Meanwhile, Clayton Kershaw and his Dodgers ride into Yankees stadium with a -195 line.  If you were expecting Jon Lester and the Cubs to have the upper hand, however, you're in for a surprise.  Lester only sits at -136 so it could be a good day to look Carlos Martinez' way.  If you're looking for runs, today will be a bit more stingy than normal.  The obvious, not so shocking top line of the day belongs to Coors south as ARZvsCOL sits at 10.5 and I expect every one of those runs and more.  Meanwhile, DETvsMIN sits at 9.5 and is followed by four other 9 spots (WASvsNYM, CINvsMIL, TORvsTB, BOSvsBAL).  A surprising line move is seeing the LAAvsSEA game go from 8 to 8.5 and have the line move from slightly to SEA to slightly for LAA.  I'll keep my peepers peeled on it if I'm thinking Iwakuma around lock.  Also not good to see is the line from 6.5 to 7 on the ATLvsMIA game, with Jo-Fer being a mere -136 lead.  But since we're only playing him in cash, we're not concerned, are we?