After assessing starting pitching the last couple of weeks (ERA, WHIP), today I turn my attention towards the hitting side. There are so many unknowns right now about the length of the upcoming season; possibilities include everything from no games, to a full 162-game season stretching until Christmas. With at bats & counting stats completely up in the air, evaluating hitters with rate stats makes sense. What are the best ones to use?
Generally speaking, wOBA is a good all-around statistic to measure overall offensive contributions. Of particular note, this does not include stolen bases, and therefore is better used to evaluate sluggers than rabbits for fantasy purposes.
Of the new Statcast data, Barrels have been proven to have the best correlation to traditional power categories. Specifically, this post from the great Alex Chamberlain demonstrates that Barrels:
Correlates to wOBA in-season better than any other Statcast measure
Stabilizes pretty quickly in-season
Correlates year-to-year ("stickiness") far better than wOBA itself
So: Barrels (on a rate basis: Barrels per batted ball event, or Brls/BBE%) are quick to stabilize, correlate with stats we care about, and can be carried over season-to-season better than most other stats.
With all that in mind, I wanted to look at players' 2020 projections compared to their barrel rate from last year. Who was strong in barrels but has a poor projection? Who achieved a strong wOBA last year despite a below-average barrel rate? etc. Most projection systems aren't fully including Statcast numbers, and so there's room for profit when the two disagree. Without further ado, this week's chart: 2019 Brls/BBE% compared to 2020 projected wOBA (ATC projections):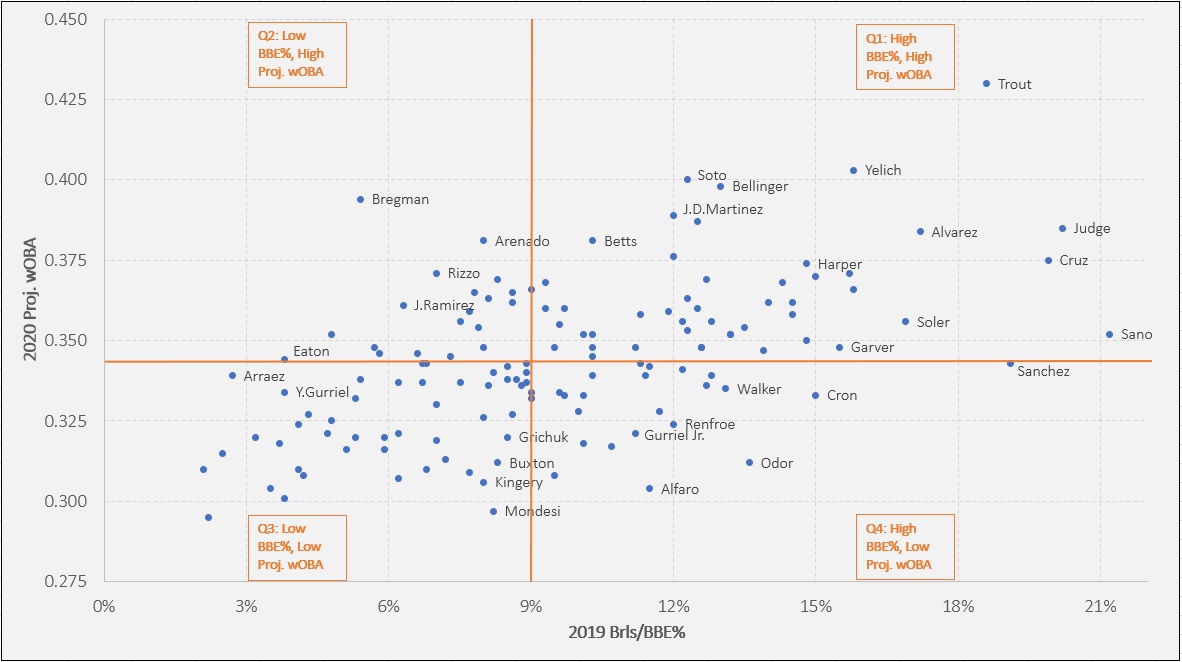 Click to enlarge. I've only labeled the players whose projections don't line up with 2019 barrels performance, and only graphed the top-250 by ADP. Minimum BBE = 200. You can see the full data set here.
The chart has been divided into four quadrants, based on the averages in this sample; let's look at each in turn.
Q1: High Barrel Rate, High Projected woBA
Generally speaking, these are the top-of-the-draft-board players. Trout, Yelich, Bellinger, Harper, Yordan, Judge… no surprises. There are a few, though, worth discussing.
Miguel Sano had the best barrel rate in baseball last year (min 200 BBE). In only 105 games, he hit 34 HR and 79 RBI; pro-rated over just 150 games, we're looking at 49 HR and 113 RBI. And the barrel rate backs it up. At a current ADP of 116, there won't be a bigger buy recommendation in this post.
Gary Sanchez has projections that make sense – even with an outlandishly high barrel rate, his wOBA last year was merely average (.346).
Nelson Cruz shows has strong projections, backed up by the #3 barrel rate in the league last year. You can still get him at pick 74 on average.
Jorge Soler had a breakout that the projections don't fully buy, but is backed up by a top-10 barrel rate.
Mitch Garver absolutely crushed the ball in 2019 (#11 in barrel rate), finished the year with a .404 wOBA, but is being projected back down at 0.348 and picked at ADP of 114.
Q2: Low Barrel Rate, High Projected wOBA
Some interesting names here, where projected wOBA is significantly outpacing underlying barrel rate.
Alex Bregman is way out on an island, with a 5% barrel rate in 2019 (and 7.5% in 2018). The last two years, he's produced .396 and .418 wOBA, so his projections aren't out of line. He seems to have a knack for making the most of his non-barrels hits; for that matter, most of the Astros do. Curious, no? I'd bet the base rate and fade Bregman at his price.
As long as he's in Colorado, I won't be expecting Nolan Arenado to drop off.
Quick, what's the career-high HR mark for Anthony Rizzo? Somehow, Rizzo has never hit more than 32 HR, including a mere 25 and 27 in the last two rabbit-ball seasons. While his wOBA has held up, the well-below-average barrel rate is telling an accurate story.
Q3: Low Barrel Rate, Low Projected wOBA
The least interesting players are those who 1) didn't hit many barrels last year, and 2) aren't projected for an above-average wOBA this year. In other words: trust the projections. A few interesting names here:
Adalberto Mondesi, Scott Kingery, Byron Buxton, and Randal Grichuk are all near-league-average in barrel rate, but projected well below average in wOBA. Buxton, in particular, appeals; if he keeps his improved barrel rate, with elite speed, you're looking at a huge bargain at pick 157.
Luis Arraez and Adam Eaton hit far fewer barrels than average, but projections have them with solid wOBAs. Neither brings elite speed to the table; mostly, these are Runs & BA contributors.
Q4: High Barrel Rate, Low Projected wOBA
Here's our pile of sleepers, guys who mashed the ball in 2019 but aren't projected for high wOBAs this year.