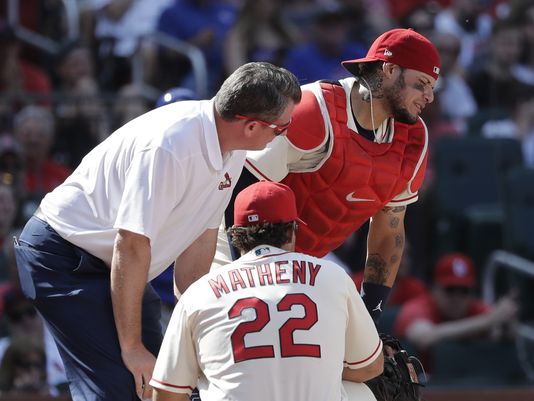 Bad news for the St. Louis Cardinals: Predictions are that Yadier Molina will miss a month of playing time. Good news for the St. Louis Men's Choir: They just got themselves a new soprano! Stash or Trash: Molina is a professional hitter — he'll come back and should be the same old Yadier. A little bit wiser, a little bit lighter and a little bit more likely to wear a cup. Stash. Fill In: I've grabbed James McCann in a few leagues after Chris Iannetta proved HE WAS WHO I THOUGHT HE WAS. We've all been hoping McCann would be our breakout catcher and maybe we're seeing a bit of that right now. Since April 13th he's been the hottest hitting catcher  hitting .338 with an .871 OPS. You can obviously do worse at a position where only 6 players have above a 2.00 on ESPN's Player Rater.
Miguel Cabrera, 1B, Hamstring Strain
Look, we all knew this wasn't going to be smooth sailing for the husky 35 year old, right? Between hamstrings and his balky back you knew you were going to be missing your first basemen for at least 30 games this season. I just hope you had contingency plans. Stash or Trash: Stash. While there's no set timetable, Miggy did workout on Monday and can return from the DL for the start of your match-up next week. Fill In: Logan Morrison (16.5%.) There is a very high likelihood that he was dropped in your league since his batting average didn't reach .100 until April 23rd. But he's been warming up since April 23rd cracking 13 hits in 14 games with 3 HR and 9 RBI. This is an obvious buy low opportunity for a guy who has never been a great average booster — but did break-out for 38 HR in 2017. Expect him to positively regress to his mean of a .240ish average.
Yu Darvish, SP, Human Parainfluenza Virus
HPIV (not to be confused with HPV which he also might have, but it's none of my business though men have no symptoms even if they do so go talk to your doctor) is not the flu that we all know and loathe, but it sucks just the same. Stash or Trash: He'll be back after a couple bowls of chicken noodle soup with a soda on the side. Stash. Fill In: Trevor Cahill? (16.2%.) Like — THAT Trevor Cahill? If you say so. He's had 4 solid starts so far only allowing 6 runs over 24 innings but it's those 31 K's that got me feeling like it's 2010 again! I'm even eating KFC Double Down's and worrying about the direction of our country after the Republican Presidential Candidate front-runners were Mitt Romney, Rick Santorum, Mike Huckabee and Newt Gingrich. What a simpler time… Cahill's faced three "meh" lineups (Rangers, Orioles, White Sox) but did hold the Astros to 3 ERs in 6 IP. He gets the Yankees on May 11th which is audition day for adding him to your team. Follow every inning to see how he does against Murderer's Row 2.0 and if he's solid through 6? Grab him fast, quick and in a hurry.
Jacob deGrom, SP, Hyperextended Right Elbow
deGrom and the disabled list had a bit of a Jack and Diane thing going on for a while after some reports said he'd be starting Monday, some reports said he'd be out four weeks and some reports said he was actually on the lam because he is the Zodiac Killer. What? The National Enquirer is isn't where you get all your best fantasy baseball news and info? Stash or Trash: Stash. He's expected to start Sunday, May 13th. Fill In: Rookie phenom Michael Soroka (33.7%) is a good spot start addition if you need it. His first start against deGrom's Mets was fantastic (6 IP,1  ER, 5 Ks, 6 baserunners) while his second wasn't as great (4 IP, 4 ER, 3 Ks, 10 baserunners.) However, his next start comes on May 12th against the Marlins. In case you couldn't predict it — the Marlins are dead last in the MLB in team OPS.
Clayton Kershaw, SP, Left Biceps Tendinitis
Man this really bites. Kershaw should be our generation's version of Sandy Koufax, but he just can't seem to stay on the field. There is no structural damage and Kershaw thinks he'll be throwing again soon — but for now you're without the starting pitcher you probably took a chance on in round 1. Stash or Trash: Stash. Fill In: Ian Kennedy (16.6%.) You know the deal with Kennedy by now — against good teams he's awful. Against bad teams: he's not AS awful.. Well guess what? His next start is against Baltimore (second worst OPS in MLB against righties) and then Tampa Bay (21st in OPS in MLB against righties.) Two opportunities for him to be not as awful..
Yoan Moncada, 2B, Hamstring Tightness
Like the kid covered in vacuum dust in The Sandlot: I blame myself. A short while after moving him up in my Top 100 article on April 29th Moncada injured his hamstring running the bases on May 2nd. It seems like more of an investment protection DL stint for the White Sox star player so I can imagine him being back to help you next week. Stash or Trash: Stash. Fill In: Academy Award nominee and Washington Nationals second baseman Wilmer Difo (15.5%) is a solid replacement option for Moncada. On May 2nd, Daniel Murphy said he was still feeling pain in his knee while running so file that one under "U" for "Uh-oh." Difo is guaranteed playing time all over the Nationals infield and has really been fantastic in that role (.378 OBP, 16 runs.) He's never been a prolific power hitter but does have a 49 steal season albeit way back in Single-A and stole 10 in reduced time last season. (I say "way back," but it was only 2014.) At best, Difo is going to help with your ratios while scoring runs and stealing the occasional base and having triple position eligibility. What more can you ask from a low-owned replacement option?
Jordan Montgomery, SP, Left Elbow Flexor Strain
Right now he doesn't need Tommy John surgery, but he's still going to miss two months. Stash or Trash: Honestly, 2 months is a long time for an average MLB pitcher — I'd strongly consider trashing if you need pitching help now. Replacement: Alex Cobb (12.4%.) "If you ever take a trip down to Cobb County, Georgia | You better read the signs | Respect the law and order." Boy, if Grey ever needs someone to write a WWE article…I will have a field day! 20 Razzball points if you guess the wrestler who used that theme song! Anywho, as you'll see by the tweet below from Orioles beat reporter Jon Meoli of the Baltimore Sun, I think Cobb has been more unlucky than bad. Especially when you look at that .405 BABIP.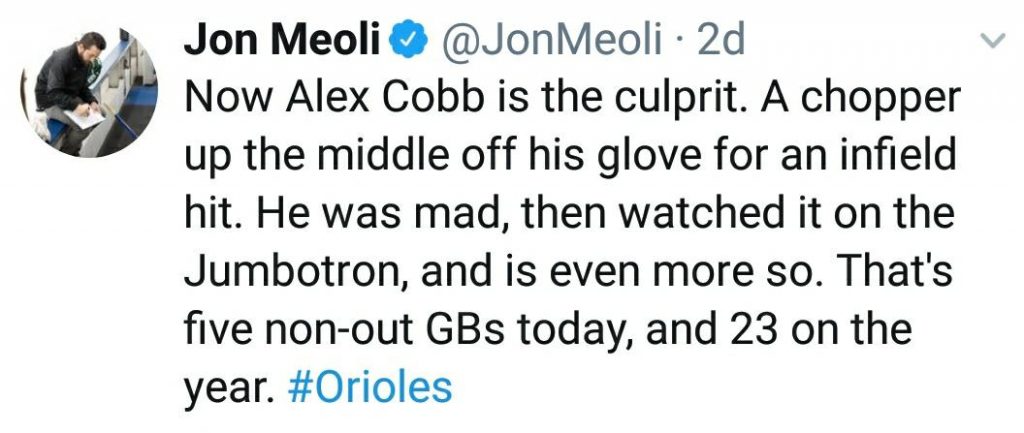 23 non-out ground balls on the year? Come on! Okay, his first three starts were bad. Awful even. But his last two? Not bad. Not awful even! He's gone 6 innings in each of his last two starts allowing 2 and 1 ER respectively. Is old Cobb back? Maybe. Is old Cobb good? Maybe! Peak Alex Cobb is a ground ball machine who won't strikeout a ton of guys but also isn't going to kill your ratios. His last two starts have seen him inducing 29 ground ball outs to 12 fly balls. Cobb's fastball velocity has also ticked up to his usual numbers in those two starts.  Might just be a good buy low opportunity in deeper leagues if you trust that Cobb has turned a corner after missing all of spring training.
Hyun-Jin Ryu, SP, Groin Strain
"He actually tore the muscle completely off the bone." Oh good. Thanks Rotoworld. I'm not eating dinner right now or anything. Stash or Trash: Trash. This is going to be a long one because, ahem, "he actually tore the muscle completely off the bone." Replacement: I'm obviously always nervous about recommending Rockies pitchers, but Tyler Anderson (11.6%) has been pretty solid so far this season. If you take out his 2.1 inning/7 ER debut on March 30th — Anderson only has a 2.03 ERA in 31 IP with 34 K's. 12 of those innings were even at Coors Field against the Padres and Cubs. He'll face the Angels next at home (17th in OPS vs. lefties) and then will face the Padres in San Diego for the start after that (23rd in OPS against lefties.) I'd honestly consider starting him in both games.
Dansby Swanson, SS, Left Wrist Inflammation
Early reports out of Atlanta are that Donald Glover is a national treasure. Also that Dansby might not return when eligible on May 14th. It's a real shame because he's been flashing some of the skills that made him the #1 overall pick in 2015. Stash or Trash: Stash. While he might not be back next week — I don't think he'll miss more than 2-3 weeks. Fill In: Brandon Crawford (12.2%) now! He always seems to go on crazy hot streaks and we're in the midst of one right now! Since the calendar has flipped to May he's hitting .462 with 4 runs and 7 RBI. Don't be afraid to ride him. Hard.
As always — ask your league-specific injury questions down below or any questions for that matter!