Has there been anyone more frustrating at SP than Alex Wood?
Well, sure there's been a few – Stephen Strasburg and his myriad of minor injuries come to mind.  But for a guy drafted as an SP 3 or 4, none have seemed to toe the line of "drop or hold" as much as Wood.  Enter all the obligatory Wood euphemisms you can think of – he's been half-mast!  He needs to bring the Viagra!  We need more swinging strikes!  Wait, well, I guess that could work both ways…
So with Wood being a wet noodle of inconsistency, I decided to watch his last start against the Padres to see if you can rely on him the rest of the season.  I hope everyone is having a great Labor Day Holiday!
First Inning: Wood's first pitch is an 87 MPH fastball in there to Yangervis Solarte for strike one.  Fastball again fouled off, then a curveball burying low and in gets Solarte swinging over it for a three-pitch K to start the day.  Not a bad start!  Curve hangs high to Jedd Gyorko, 88 MPH heater in there, then a backdoor curve hits the outside corner:
Then 89 MPH paints the inside corner as it looks like Wood has complete command of the zone: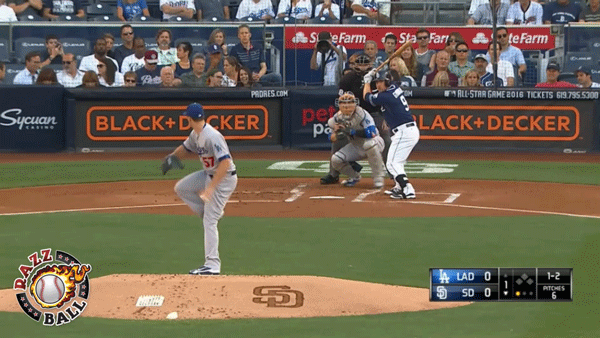 Nice to see him hitting both sides early!  Matt Kemp takes a fastball barely outside, 87 then hits the outside black, then Wood's first change-up hangs a tad on the outside edge and Kemp shoots it through the shift for a single.  Routine grounder to short without the shift…  Justin Upton takes 87 MPH outside – velo seems a little low for Wood – 82 MPH change-up barely misses, 2-0.  First time really behind and Wood throws a change-up again for a squib grounder to second to end the inning.
Second Inning: Still a scoreless game after the Dodgers loaded the bases, and Wood misses to lefty-killer Derek Norris, change-up is in there, heater fouled off, then 88 MPH on the outside edge is roped to center, but it hangs up in the air just long enough for Joc Pederson to make the catch.  A beautiful curveball sweeps into the zone on Wil Myers, fastball outside, heater again outside, then Wood makes Myers look silly with another beautiful curve dropping to the dirt, 2-2: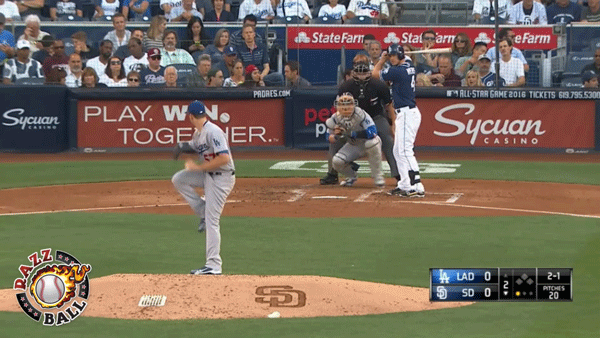 Then Wood decides to go with a fastball which I didn't really get, and it's hit to the warning track to right.  Thank you Mr. Petco!  I think he should've gone curve again… So two down, and Wood is in there Austin Hedges, then a change-up on the outside edge is flared to right, and Andre Ethier is there again for a sliding catch on the pop fly.  Some hard contact and good fielding this frame, not exactly what you'd like to see in a 1-2-3 inning.
Third Inning: Fastball just low to Clint Barmes, fastball again with some sink gets an excuse me tap foul to go 1-1, then a change-up perfectly placed on the outside edge gets Barmes to roll over it to third for an easy first out.  Wood misses outside to opposing pitcher Tyson Ross, hits the outside corner, then a curveball stays in the zone too long and is roped opposite field, but Ethier on the run at the foul line makes the snag, two outs.  Another hard hit out.  Great first-pitch curveball gets Solarte to swing over it, then fastball on the hands is hit sharply to center for a two-out single.  What looked like a perfect backdoor breaking ball is called low to Gyorko, then curve again dipping low is dribbled to third, and the easy play is made to end the inning.
Fourth Inning: Finally getting some support, Wood finds himself up 1-0 and misses for ball one to Kemp.  Fastball again misses outside 2-0, change-up dips way low, quickly 3-0.  Fastball is in there, then heater again on the outside corner is rolled to Chase Utley on the shift for the first out.  Nice bounce back there for Wood that AB.  Curveball skips in the dirt to Upton, fastball in there, curve misses, fastball high, 3-1.  Then Wood loses him on a fastball outside.  First walk for Wood, an issue for him all year.  But a first-pitch change-up to Norris gets him to roll it over for a routine DP ball, but Utley drops it at second before picking it up and making a very late throw to first.  Eesh, Upton slid hard into Utley, could've been a bad injury there.  The play is reviewed but upheld…  So lead runner is out, still a man on first with two outs, and Wood starts Myers with a change-up dipping low.  1-0 is a curve hanging outside, fastball misses, then 3-0 fastball again misses inside for a 4-pitch walk.  Yikes.  Maybe that delay on the review threw him off.  Broadcast makes a great point – no 3-ball counts in the first 3 innings, now 3 in this inning alone.  So runners at first and second, two outs, and Hedges takes outside.  1-0 is a fastball just outside, yet again behind 2-0.  Over comes Adrian Gonzalez for a pep talk, but it's yet another 3-ball count with a fastball outside making it 3-0.  Fastball finally gets in there 3-1, fastball on the outside edge fouled off, then the payoff pitch is a fastball on the low outside edge again, and it's flown routinely to center to get Wood out of a long, laborious inning.
Fifth Inning: Needing a fast inning to bounce back, Wood misses outside to Barmes, fastball hits the outside corner, curve dips low, then fastball is chopped right to Wood who makes the nice play for the first out.  Fastball is in there to Ross – nice to see a first-pitch strike! – fastball flared way foul, curveball stays outside, then curve again breaks way too far inside and hits Ross's foot.  Yikes, HBP on a 1-2 pitch on the opposing pitcher…  This start is a great microcosm for Wood's season!  So up is Solarte who takes a fastball in there, then one of Wood's best change-ups gets Solarte well in front for strike two.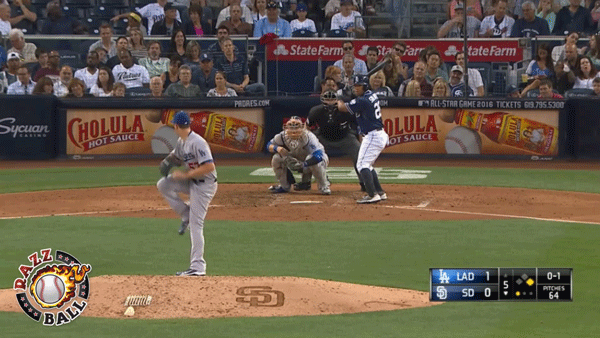 That's the change-up I like to see!  As I'll mention in the analysis, that's the pitch that I thought made him who he was in Atlanta last year.  Then 0-2 he goes change again, and gets a lazy grounder to short to get Ross out at second.  Too slow for a double play.  Two outs, and Gyorko takes strike one on the fastball, then that change-up again works wonders, with it staying on the outside edge and dying for a lazy grounder again to short to end the inning.  Right after the awful HBP, he finds his best change-ups!
Sixth Inning: Still a 1-0 lead, and Wood misses outside to Kemp on his 69th pitch.  Fastball outside gets a swing-and-miss, change dips low, fastball barely misses the outside edge, then a backdoor curveball hangs up on the outside edge a bit too long and it's pulled to left for a leadoff single.  Upton takes 88 MPH outside, fastball again fouled off – that one at 89 which seems to be his max today – 1-1 change-up fouled off, 1-2 then hits 90 MPH on the gun –there's the max – but it's just outside, then the 2-2 pitch is held up by a few checks at first, and on the second one A Gon runs the ball back to Wood to try and fire him up again.  Interesting…  Finally the pitch and it's a change outside, then a quick fire to first almost picks off a lackadaisical Kemp.  The pickoff is reviewed and Kemp is out!  Didn't even slide…  So now bases clean, then Wood throws a fastball pretty much right down the middle on 3-2 and gets Upton looking.  Upton drops some curses, and then Norris pops up the first pitch fastball to get three quick outs on a pickoff and two pitches.  Wow.
Seventh Inning: At 81 pitches, Wood misses to Myers, curveball breaking into the zone is rolled foul, curve dips low, change-up stays way outside and Wood gets frustrated at himself, then fastball is outside for a leadoff walk.  Then first pitch bunting is Hedges, who sacrifices beautifully to move Myers to second.  Padres Hedges-ing their bets!  One down, and Barmes fouls back a first-pitch curveball, then another curveball gets a nasty swing-and-miss, 0-2.  And unlike that AB to Myers in the second inning, Wood stays with the curveball which has worked the first two pitches, and gets Barmes to swing over it in the dirt for a huge 3-pitch K.  Up is pinch hitter Melvin Upton Jr. who takes a fastball just outside, change-up barely stays outside, 2-0 is another change-up that misses, yikes 3-0.  Change-up again hits the outside corner, but the 3-1 is I think another change-up which he yanks well low for another walk.  Runners at first and second, and I'm a little surprised they leave Wood out there even with two outs.  Solarte takes a fastball way outside, but a 1-0 fastball on the outside edge is hit a few feet in front of the warning track to right for a routine fly out.  And Wood's shutout is just enough to hold onto a 1-0 lead which eventually became a 2-0 win.
Final Line:  W  7.0 IP  97 Pitches (54 Strikes)  0 ER  3 Hits  4 Walks  4 K  Gamescore: 71  Gamescore+: 66.0
Final Analysis: A nice outing on the surface – but whoa look at that Gamescore+ valuation!  I think it's the biggest difference I've seen a Gamescore+ being lower than a Gamescore, as Wood pitched deep with low Ks and had a few lucky outs – mainly in that 2nd inning.  There isn't a positive score for the pickoff, but then again there wasn't a detraction for a HBP either, so those balanced out.
I watched a good bit of Wood last year in Atlanta as an owner in several leagues, and thought he brought it over 90 MPH a good bit.  He hit 90 MPH on the dot only once, usually sitting 87-88 MPH with the fastball.  His velocity on the year is 89.1 MPH (down from 89.8 last year), so he was noticeably a few ticks down this start.  Eesh, Fangraphs has his avg velocity this start at 87.4…  That's scurry.  Fortunately the curveball was working well, featuring good bite down-and-in to righties and able to hit the backdoor.  As I mentioned in the 5th inning, what I remember from the "good" Alex Wood from last year was a great change-up.  It was decent this start, but it didn't have quite the same bite.  Given 2013 was a smaller sample, but the change-up has decreased in usage from 21.5% to 17.8% to 15.5% the past three years.  I wonder if he's losing that pitch.
I came into this start thinking I was ready to be gung-ho for Wood to have a strong finish, but he did not look as good as the line indicated.  Velo was down, I'm still not seeing that good change-up, and the Gamescore+ also indicated he got a little lucky.  On the broadcast, the Dodgers reporters talked about managing the rotation's innings down the stretch by maybe skipping a start or two or giving some guys an extra day of rest, so it's hard to pinpoint exactly what Wood's matchups will be.  But it looks like either @LAA/@ARI, COL, @COL, then maybe @SF.  Man, I don't really like any of those matchups…  In a 10 or 12er, I think Wood is a streamer at best, and with that projected schedule, I'd let him go.
Thoughts on Wood and his weekend performance?  Sorry no more SP ROS ranks, but with every SP, it's now on a start-to-start, week-to-week basis.  You can always reference my final ranks from last week as well.  So if you have question of which pitcher to own, shoot your comments below!  Happy September push, Razzball Nation!