With all the innings totals I wish I could accurately project for 2017, two that carry some of the most weight in drafts come from the same team. To say the Dodgers have a plethora of starting pitching would be an understatement. One of the many divergences between baseball and fantasy baseball is the value of depth. The Dodgers have roughly 10 viable starting pitchers from which they can construct their opening day rotation, yet that only creates headaches for fantasy owners trying to figure out projections for arms like the two I'm curious about, Julio Urias and Rich Hill.
Razzball Commenter Leagues are open! Play against our contributors and your fellow readers for prizes. Join here!
With 16 years and about 26 percentage points of curveball usage separating the two, in the process of finalizing my own fantasy baseball rankings, ranking Urias and Hill has been a bear.
Hill's blister susceptibility, that limited him to 110 innings in 2016 due to his excessive curveball usage, is extremely high. The leading projections in the industry agree, with our very own Razzball slotting in at the low end of the spectrum with 125 innings pitched. Hill is also one of the few players that the fans are actually more pessimistic about than projections in terms of innings. Fangraphs allows for anybody with an account to take a guess at some of the key metrics for players, Rich Hill may be the first player I've seen where the fans are predicting less innings than their Steamer projection system (137 IP versus 145 IP).
For some perspective, Razzball has Cole Hamels one spot above Hill, which hints that the 200 innings we're projecting Hamels to throw will be just as valuable as the 125 from Hill. In the unlikely scenario Hill amasses 170+ innings, this implies he will be terrifyingly good.
I'm not as optimistic in expecting the sub 3.00 ERA and elite WHIP near 1.00 as Razzball estimates. That's a strong endorsement for the abnormally low HR/9 (.33) to stick as well as Hill's strand rate to stay near 80%. Hill feels like a stretched out Dellin Betances, which makes top 100 value fine on a potential 90+ win team like the Dodgers. This may be the last time I extend a bit of trust to a 36 year old, but I'll give it a whirl in roto leagues. Give me a 3.20 ERA with a 10 K/9 and 1.15 WHIP. The innings total? Let me go get my crystal ball.
Urias on the other hand piqued my interest due to a Razzball tweet about prospect arm projections and it really put the 20 year old's inning total in perspective.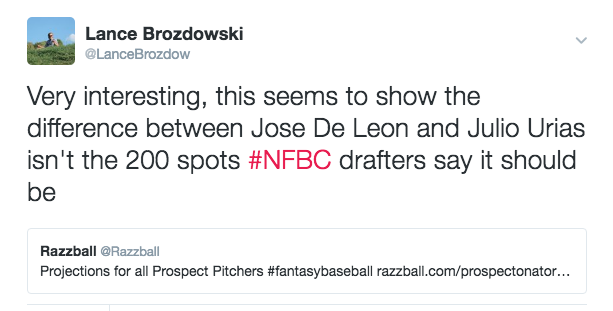 I think one of the bigger misvalues presently occurring in drafts is between Urias and the former Dodger, Jose De Leon. While some sites like ESPN have Urias past 200 overall, NFBC leagues have the young lefty going off the board around 170 overall, before Sean Manaea and Lance McCullers.
Of all the prospect arms (Tyler Glasnow, Josh Hader, etc) De Leon seems to have the clearest path to playing time and 100+ IP, yet the aura of his season likely starting in AAA has suppressed his draft stock to the 30th round.
Surface stats showing Urias with a 9.82 K/9 and a 3.39 ERA compared to the lackluster 7.94 K/9 and 6.35 ERA that De Leon is sitting on, really drives the 200 spot NFBC ADP variance between these two arms. If you jump back to 2016's AAA season, Urias and De Leon had comparable levels of dominance.

With rumors Urias may be kept at extended spring to start the year, and the strong likelihood that the Dodgers will have to consider whether they want some of the lefty youth for the postseason, that comes with owning Urias can quietly offset the upside he comes with. Anything more than 140 innings at the major league level, especially with all the options the Dodgers have, would be a treat. The thought that De Leon has a chance to out pitch Urias, innings-wise, may come off as initially brash, but it's not at all a bold statement. I see the two ending up with similar lines. 3.5 ERA, 9+ K/9, 3 BB/9, and a 1.20 WHIP.
Urias has the nod for upside and track record – even though he's four years younger – but is that really really worth nearly 200 spots on NFBC draft days and roughly 100 spots elsewhere? I'd say far from it.
Spring Impressions
Even with Grey conditioning himself for the eventual uptick in daily notes come Opening Day, I'm happy to provide fantasy perspective on my rolling Spring Training observations, and starting next weekend, my thoughts on any fantasy impact of the WBC as well (Team USA plays this coming Friday, Saturday, and Sunday, which I'll be watching the closest).
This Sunday I tuned in specifically to watch two high profile bounce-back candidates, and often debated arms, Matt Harvey and Garrett Richards.
Starting with Harvey, I wasn't too impressed. The immediate thing I noticed was that according to the radar gun on the SNY broadcast (Mets), Harvey sat 92-93 MPH. Sure, this was his first spring start and I wouldn't be shocked if he was holding back a bit, but you realize how ineffective he becomes when the velocity difference between his hard and breaking pitches starts to shrink. From a hitters perspective, this makes his changeup less effective and his other pitches easier to wait on. Simply put, Harvey is easier to solve when everything he throws sits in a 10 MPH window instead of a 12 MPH window. These may be incremental differences, but pitching is an extremely detailed art, as we all know.
Last year Harvey's velocity wasn't even down a full MPH, and we saw putrid results, not all coming from that velocity drop. If his average fastball velocity for this season ticks below 94, I'm worried for his overall effectiveness. Is it impossible to solve? I'm sure not, Justin Verlander went through a velocity drop and is now dating Kate Upton. I would call that a win.
Keep an eye on Harvey and his velocity going forward (Harvey did have a stiff neck heading into the start, if that is any solace). I know it's just spring, but I'm in agreement with Grey on Yahoo being out of their minds when ranking Harvey 114 overall. Something more in the 15th round sounds reasonable for the time being. My ceiling on his draft stock will probably be somewhere in the 150s, and that's only if we see 94+ MPH again for a few starts.
Projection for Harvey from me sit somewhere in the 3.8 ERA range, with 8 K/9, and a 1.2 WHIP. The range for his projections are justifiably all over the place when you venture outside of the Razzball universe, as many have no idea what to expect health-wise once the season starts.
Garret Richards on the other hand is making me think that we'll being seeing a lot more non-surgery shut downs as players who have UCLs in good enough shape to undergo a PRP (platelet rich plasma) injection.
Richards velocity was not an issue and his slider had the bite I remember it did when we were salivating for him back in 2014. While I have a feeling I'll be owning more shares of Richards than Harvey at their current prices, I'm starting to put a cap on the potential return for Richards due to the inevitable hard pitch count caps he will be on early in the season. His walk rate has never been elite, and I foresee a good amount of starts early where Mike Scioscia will pull back on the righty after less than six innings of work, when Richards has problems working deep into games.
The value at 247 overall (NFBC leagues) is good enough where we'll be able to tolerate the lack of win opportunities early on for this very reason, especially because the K rate shouldn't fluctuate too much if his arm is right.
I'm going to peg Richards for a 3.7 ERA with an 8.5-9 K/9 and a 1.2-1.25 WHIP. His workload management will obviously be something to keep an eye, and will have an impact on this impact on this overall return.
You can follow Lance on Twitter, @LanceBrozdow, if you prefer to act like a proper millennial.