How do you quantify the pure power of you, yes you, the loyal Razzball Nation commenter?
How about with an 82 ranking as if from nowhere!
I've actually seen Nate Karns pitch in AAA, and I remember not being too impressed…  Then again I was balls deep in craft beer and a footlong hot dog with BBQ and slaw on it, so there's that…
I really haven't seen too much of Karns this year, but what I have seen heading into yesterday's start is a pretty good fastball with a solid knucke-curve.  Nothing "blow you away", but enough to keep hitters honest.  And with a garbage-ish pool of pitchers to stream in a couple of leagues where I'm behind in my innings quota, Karns was my stream of choice against a struggling White Sox offense yesterday.  Boy was I happy with the result!  So I decided to go back and watch this start complete with all of the Pitcher Profile bells and whistles to see if there's something a little deeper here than just a 10 or 12-team matchup streamer:
First Inning: Karns' first pitch is a fastball high and outside to Adam Eaton, fastball in there on the inside corner, 1-1.  Another fastball is fouled off, but a hanging 1-2 curve that stayed in the zone is laced into right for a leadoff single.  No radar gun for either broadcast so far (FX on the player not showing it either), but Karns looks like he's in his usual 91-92 range.  Fastball paints the inside corner on Alexei Ramirez, then another fastball is absolutely rocketed to left field, but Joey Butler is right there for the first out.  Both with very hard contact so far.  Hanging breaking ball is inside to Jose Abreu, fastball outside, breaking ball low, 3-0.  Karns then misses by a millimeter on the inside edge with a fastball and loses him on 4 pitches.  Not a great start.  Fastball way outside to Adam LaRoche, and this isn't going too well, surprised he didn't get a visit after that pitch.  Change-up barely gets the zone to even it up – might have been outside – fastball with some cutter-movement backdooring the outside is slashed foul 1-2, then Karns paints the outside corner with a perfect fastball to get LaRoche looking for a big K.  Two outs, and Avisail Garcia takes a first-pitch knuckle-curve for strike one that is Karns' best pitch so far: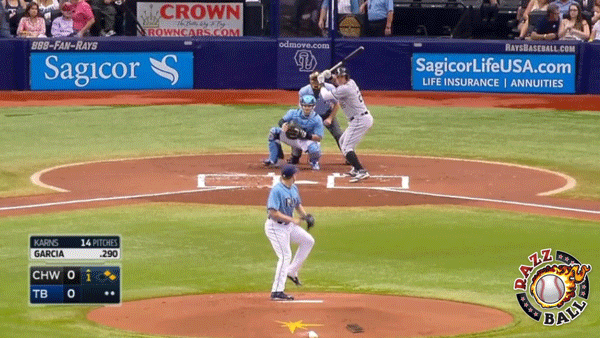 Maybe getting a little confidence after the big K. although Garcia is 2-3 with 2 homers vs. Karns before this start.  Then knuckle-curve goes straight down instead of sweeping across and gets a big swing-and-miss, 1-2: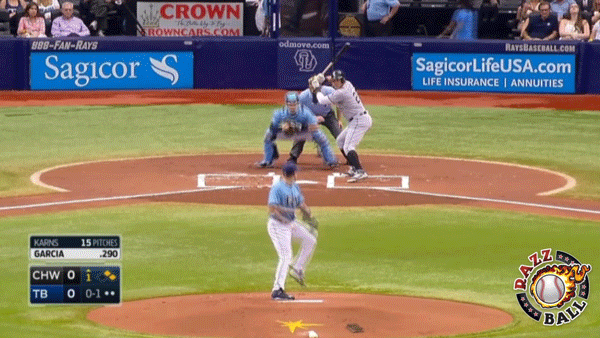 Wow, great ability to change the movement on the knuckle-curve.  Then another curveball that stayed in the zone is flared to right, and it's caught for an easy out to get Karns out of the inning.  Just looked like a different pitcher after striking out LaRoche.
Second Inning: Melky Cabrera takes a first pitch fastball in there for strike one, then a hanging change-up is laced to third, but Evan Longoria makes the pick and gets him out.  Another loud out though…  Gordon Beckham takes strike one, fastball is outside, another heater fouled back, fastball way upstairs taken, elevated heater again gets Beckham reaching to foul it off, Beckham lays off the curveball dipping low, then a fastball on the hands doesn't tie him up and Beckham gets his hands around on it for a double down the left field line.  The Rays broadcast and I agree – amazing at bat right there from Beckham.  Karns is outside to Carlos Sanchez, fastball blows him away, then another fastball is barely past Jake Elmore at first diving for it and through second base for a single, Beckham is able to score but Sanchez is cut down at second.  A little bit of a lucky RBI, but at least Karns gets the out for the bases clear.  Curveball gets strike one on Tyler Flowers, another curveball stays on the inside edge, but Flowers can only top it to third for an easy groundout, inning over.
Third Inning: Change-up is taken for strike one by Eaton as we return to the top, inside fastball eats him up for a flare foul, outside change-up gets him reaching fouling it off, still 0-2.  Fastball high and outside, fastball fouled off, curve is low, then a nice 2-2 change-up gets Eaton out in front for his 2nd K.  Replay shows that nice circle-change grip.  Karns then goes right after Alexei with a curveball in the zone that's swung over and missed, curve again skips low, change-up gets a big swing over top it for a whiff, change-up is working wonders right now.  Then a high fastball doesn't quite get high enough, and Ramirez flares it into no man's land for a bloop single.  Unlucky stuff there, but the off-speed was working so good that at bat I'm surprised he went to a fastball.  Abreu takes ball one, fastball gets a big swing but it's fouled off, fastball is low and Alexei steals second.  2-1 high curveball drops into the zone, curve is barely tipped foul, fastball low, then a change-up on the hands absolutely eats him up for a routine grounder to third for a huge out.  Surprised to see a change there for a big 3-2 pitch righty-to-righty.  Fastball gets strike one looking on LaRoche, big curveball gets swung over top, change-up is tipped foul, then the 0-2 fastball maybe just off the plate is cut on late for a huge strikeout to get through the inning: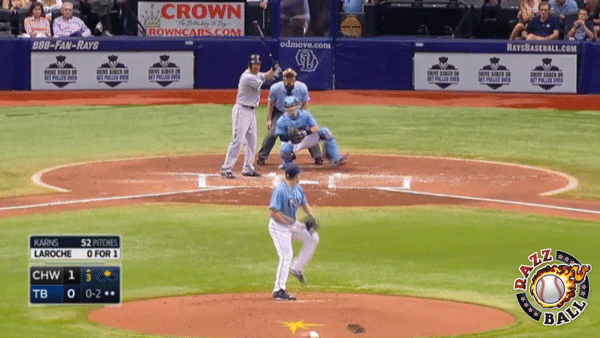 Fourth Inning: Karns opens the 4th with a fastball way high to Garcia, curveball is tipped foul, fastball inside eats him up for another tip foul, then Karns climbs the ladder with a heater for a reaching, waving swing for the first out.  Fastball fouled off by Cabrera, curveball in the dirt, fastball high, then I think a hanging change-up on the outside corner is slashed to left for a single.  Cabrera slashed the last one too, really waiting back and swinging hard.  Then whoa, a curveball that went about only 50 feet is spiked and gets to the backstop for a wild pitch.  As in – wildest you'll see.  So runner at second and a fastball paints the outside corner on Beckham 1-1, fastball on the hands popped foul, then again heater on the hands absolutely ties him up for another K.  Change is outside to Sanchez, fastball in there, then change-up that looked outside gets the call, 1-2.  Karns has been getting a pretty nice zone today.  And why not stay out there?  Outside fastball likely another strike is cut on late and missed, and Karns gets around a single to strike out the side.
Fifth Inning: Fastball in there to Flowers for strike one is Karns' 70th pitch, curveball tapped foul, curveball barely missed and barely has Flowers holding up 1-2, then a high fastball I thought had Flowers offering but he barely holds up again, curve hit foul, fastball an inch or two low, then a 3-2 fastball gets Flowers swinging with the bat flying into the stands for Karns' third straight K.  Good to see the fans OK with the bat flying in there with what happened last week.  Eaton fouls the first one off, change low, perfect change-up gets Eaton to swing over it 1-2, then a fastball on the outside edge is pounded into the gap for a single.  It wasn't hit too hard, but made it through.  Fastball somehow misses the outside corner to Alexei as the strike zone seems to be off-center with a big outside edge to lefties, but tiny on righties.  Fastball just low, 2-0, curveball sweeps into the zone, fastball painting the outside edge is barely low again, 3-1.  Fastball again is roped the other way just foul by 5-6 feet down the right field line, then the payoff pitch is fouled off his foot, one more time is a fastball hit very hard to second, Eaton was running so he is safe easily to only get the one out at first.  Big at bat here with Abreu with a man in scoring position and a curve is high, curve sweeps outside, curve gets the zone 2-1, then another change-up I think – maybe a hanging curve – on the inside edge absolutely saws Abreu off for a flare caught at first to end the inning.
Sixth Inning: At 91 pitches, Karns is outside to LaRoche, curveball gets a big swing over the top it 1-1, then maybe his best change-up on the day gets LaRoche way in front, 1-2: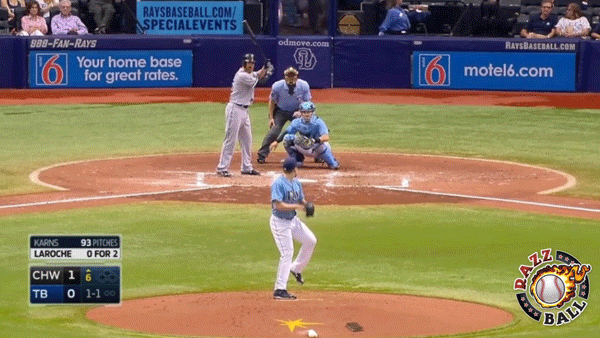 Then a fastball paints the low outside corner for a nasty K.  Awesome stuff there.  Then Garcia chops the first pitch curveball to third for a quick second out.  Whoa, a curveball hanging outside somehow gets strike one on Cabrera, seeing that big zone again, then a hanging curve staying in the zone is flared to left, Joey Butler lays out for it on the line but it gets past him for a bloop double.  A better outfielder makes that play though, and really should've been limited to a single either way.  So runner at second, two outs, and a heater is in there to Beckham, heater looked good again but is called low 1-1, interesting pitch dips low 2-1, that looked like a slider or cutter – different movement there – maybe just a curveball that was a little odd.  Hanging curve is high, fastball gets a very late swing and is tipped back, and the payoff pitch is a curveball on the inside edge that is dribbled to third, and Longo makes the play to get Karns out of the inning.  And Karns exits down 1-0 so he gets the no decision, but pitched a hell of a game.
Final Line:  ND  6.0 IP  104 Pitches (70 Strikes)  1 ER  7 Hits  1 Walk  8 K  Gamescore: 61  Gamescore+: 65.2
Final Analysis: Pretty surprising start when I broke it down, as I watched the first inning and Karns had a few loud outs to open it up, but he really looked sharp from there on out.  I'm a little surprised his Gamescore+ came out so much higher than his Gamescore with some "lucky" outs and mostly hard contact hits, but with the big Ks and the fact he only went 6 deep (Gamescore adds additional points for later innings pitched) makes the disparity explainable.
It was really annoying not having the radar gun this game, but Fangraphs has his fastball averaging 91.5 MPH on the season and that seemed about right.  Fastball command was on point in this start, with really none of them left in the heart of the zone.  The big off-speed offering is the kunckle-curve that Karns can both sweep laterally and drop vertically as seen in those first two GIFs.  But I was really surprised with the change-up, which Fangraphs lists as only used 8.4% of the time on the season.  It was keeping lefties off-balance all afternoon with a great off-speed action.  Easily the biggest positive I took out of this start.
While Karns' line was solid, this was a dream matchup against a bumpy White Sox offense at home in the Trop.  And of the hits he allowed, five were to lefties with only two hits against from righties.  So far his splits aren't too scary with some really low BAA (.234 v. L .210 v. R), but even with that solid change-up it seemed lefties could spot the ball better.  I should note though, that on the year lefties have a much higher BABIP (.337 before yesterday) then righties (.195), so maybe my concern is unwarranted (small sample still applies though).  It also helped the strike zone had a huge outside corner on lefties all afternoon.  It was consistent, but certainly to Karns' advantage.
I think Karns is solid, but I'm not leaping him up into the upper edge of streamers/must-own in deepers.  Love the home park and will like him against righty-heavy line-ups, but I worry some clunkers could be ahead if that change-up isn't working for him.  His next outing at Cleveland with their solid lefties is likely a start I'll avoid.
JB's Updated Top 100 SP
(rankings for ROS based on 12-team Roto, green for risers, red for fallers)
| RANK | SP, Team |
| --- | --- |
| 1 | Clayton Kershaw, LAD |
| 2 | Max Scherzer, WAS |
| 3 | Chris Sale, CWS |
| 4 | Felix Hernandez, SEA |
| 5 | Corey Kluber, CLE |
| 6 | Madison Bumgarner, SF |
| 7 | David Price, DET |
| 8 | Johnny Cueto, CIN |
| 9 | Gerrit Cole, PIT |
| 10 | Zack Greinke, LAD |
| 11 | Cole Hamels, PHI |
| 12 | Matt Harvey, NYM |
| 13 | Chris Archer, TB |
| 14 | Jake Arrieta, CHC |
| 15 | Sonny Gray, OAK |
| 16 | Jacob deGrom, NYM |
| 17 | Carlos Carrasco, CLE |
| 18 | Jon Lester, CHC |
| 19 | James Shields, SD |
| 20 | Michael Pineda, NYY |
| 21 | Garrett Richards, LAA |
| 22 | Danny Salazar, CLE |
| 23 | Dallas Keuchel, HOU |
| 24 | Francisco Liriano, PIT |
| 25 | Michael Wacha, STL |
| 26 | Masahiro Tanaka, NYY |
| 27 | Jordan Zimmermann, WAS |
| 28 | Jeff Samardzija, CWS |
| 29 | Stephen Strasburg, WAS |
| 30 | Jose Fernandez, MIA |
| 31 | Jason Hammel, CHC |
| 32 | Carlos Martinez, STL |
| 33 | Tyson Ross, SD |
| 34 | Trevor Bauer, CLE |
| 35 | Andrew Cashner, SD |
| 36 | Alex Wood, ATL |
| 37 | Gio Gonzalez, WAS |
| 38 | A.J. Burnett, PIT |
| 39 | Scott Kazmir, OAK |
| 40 | Lance McCullers, HOU |
| 41 | Taijuan Walker, SEA |
| 42 | Clay Buchholz, BOS |
| 43 | Jose Quintana, CWS |
| 44 | Shelby Miller, ATL |
| 45 | Jesse Chavez, OAK |
| 46 | Noah Syndergaard, NYM |
| 47 | Vincent Velasquez, HOU |
| 48 | Mike Fiers, MIL |
| 49 | Collin McHugh, HOU |
| 50 | John Lackey, STL |
| 51 | Carlos Rodon, CWS |
| 52 | Julio Teheran, ATL |
| 53 | Yordano Ventura, KC |
| 54 | Kyle Hendricks, CHC |
| 55 | Jake Odorizzi, TB |
| 56 | Drew Hutchison, TOR |
| 57 | Chase Anderson, ARI |
| 58 | Jesse Hahn, OAK |
| 59 | Mat Latos, MIA |
| 60 | Trevor May, MIN |
| 61 | Justin Verlander, DET |
| 62 | Rubby De La Rosa, ARI |
| 63 | Eduardo Rodriguez, BOS |
| 64 | Patrick Corbin, ARI |
| 65 | Jimmy Nelson, MIL |
| 66 | Mike Foltynewicz, ATL |
| 67 | Aaron Harang, PHI |
| 68 | Jered Weaver, LAA |
| 69 | Rick Porcello, BOS |
| 70 | Edinson Volquez, KC |
| 71 | Phil Hughes, MIN |
| 72 | J.A. Happ, SEA |
| 73 | Kevin Gausman, BAL |
| 74 | Ian Kennedy, SD |
| 75 | Wei-Yin Chen, BAL |
| 76 | Alfredo Simon, DET |
| 77 | Ubaldo Jimenez, BAL |
| 78 | Chris Heston, SF |
| 79 | Lance Lynn, STL |
| 80 | Matt Shoemaker, LAA |
| 81 | Bartolo Colon, NYM |
| 82 | Nate Karns, TB |
| 83 | Anibal Sanchez, DET |
| 84 | Dan Haren, MIA |
| 85 | Jaime Garcia, STL |
| 86 | Jake Peavy, SF |
| 87 | Nathan Eovaldi, NYY |
| 88 | Tim Lincecum, SF |
| 89 | C.J. Wilson, LAA |
| 90 | Hector Santiago, LAA |
| 91 | Mike Leake, CIN |
| 92 | Hisashi Iwakuma, SEA |
| 93 | Aaron Sanchez, TOR |
| 94 | Matt Moore, TB |
| 95 | Danny Duffy, KC |
| 96 | Mike Bolsinger, LAD |
| 97 | Kyle Gibson, MIN |
| 98 | Chi Chi Gonzalez, TEX |
| 99 | Michael Montgomery, SEA |
| 100 | Charlie Morton, PIT |
Dropped Out: James Paxton, SEA (making no progress with his finger injury), Miguel Gonzalez, BAL (DL – groin), Tim Hudson, SF (meh, hovered in the 90s all year; nothing inspiring), CC Sabathia, NYY (was #100 last week, had to move him out for new blood)
Thoughts on the ranks?  And what make you of The Wrath of Karns?  Shoot your thoughts below, and happy pitching Razzball Nation!