(NOTE: THIS POST WAS RELEASED EARLY YESTERDAY ON OUR PATREON. IT'S $5/MONTH.)
The following happened last weekend: Bryce Harper laid on the hotel bed, on his stomach, feet up behind him, as he whispered into the hotel phone, "Tell me another story." From the other side of the line, "I've told you all my stories," replied the Phanatic. Bang! Bang! Against the hotel window, something loudly rapped. The Phanatic asked Bryce, "What's that?" "Oh, Phillies fans have been standing outside the hotel throwing batteries at my window." Bang! Bang! Another loud rapping. Finally, Bryce went to the window to politely ask the fans to cut him some slack. Bryce slid the window open and hanging from the side of the balcony was, "…Oh, hey, Spencer Howard? What are you doing?" "They told me I was pitching this weekend, and no one was allowed in and out of the hotel." "No games, man. I'm just flirting–um, talking to the Phanatic." With that Bryce closed the window, and moments later, a muffled, "Uh, could you let me in?" And Bryce shut his window's curtains. So, Spencer Howard is being called up any day now. Prospect Hobbs gave us about 1200 words about him in his Spencer Howard fantasy, but here's a juicy bit of tid, "Across rookie-level (just 5 1/3 innings), High-A and Double-A in 2019, Spencer Howard churned out 71 frames with 94 strikeouts to achieve a 2.03 ERA/0.83 WHIP/2.62 FIP. In producing those numbers, he cut down on his BB/9 from 3.2 in 2018 to 2.6, also finishing with a 11.2 K/9 in 2019. 30 2/3 of those innings came at the Double-A level, where he produced an equally impressive 2.35 ERA backed up closely by a 2.66 xFIP. For the complete picture, Howard pitched 211 1/3 innings across parts of three seasons in the Minors with a 3.28 ERA/1.14 WHIP, 12.0 K/9, 3.2 BB/9 and 0.4 HR/9. That's as good as Grey is bad." Okay, not cool, but I'm in love with Spencer, and would grab him in all leagues. By the way, regarding the title: You've seen one New Jersey joke, you've seen a mall. Anyway, here's some more players to Buy or Sell this week in fantasy baseball:
BUY
Chadwick Tromp – Setting up my Tromp/H. Pence 2020 campaign signs on the front lawn. Credit to our very talented graphic designer and writer, Coolwhip: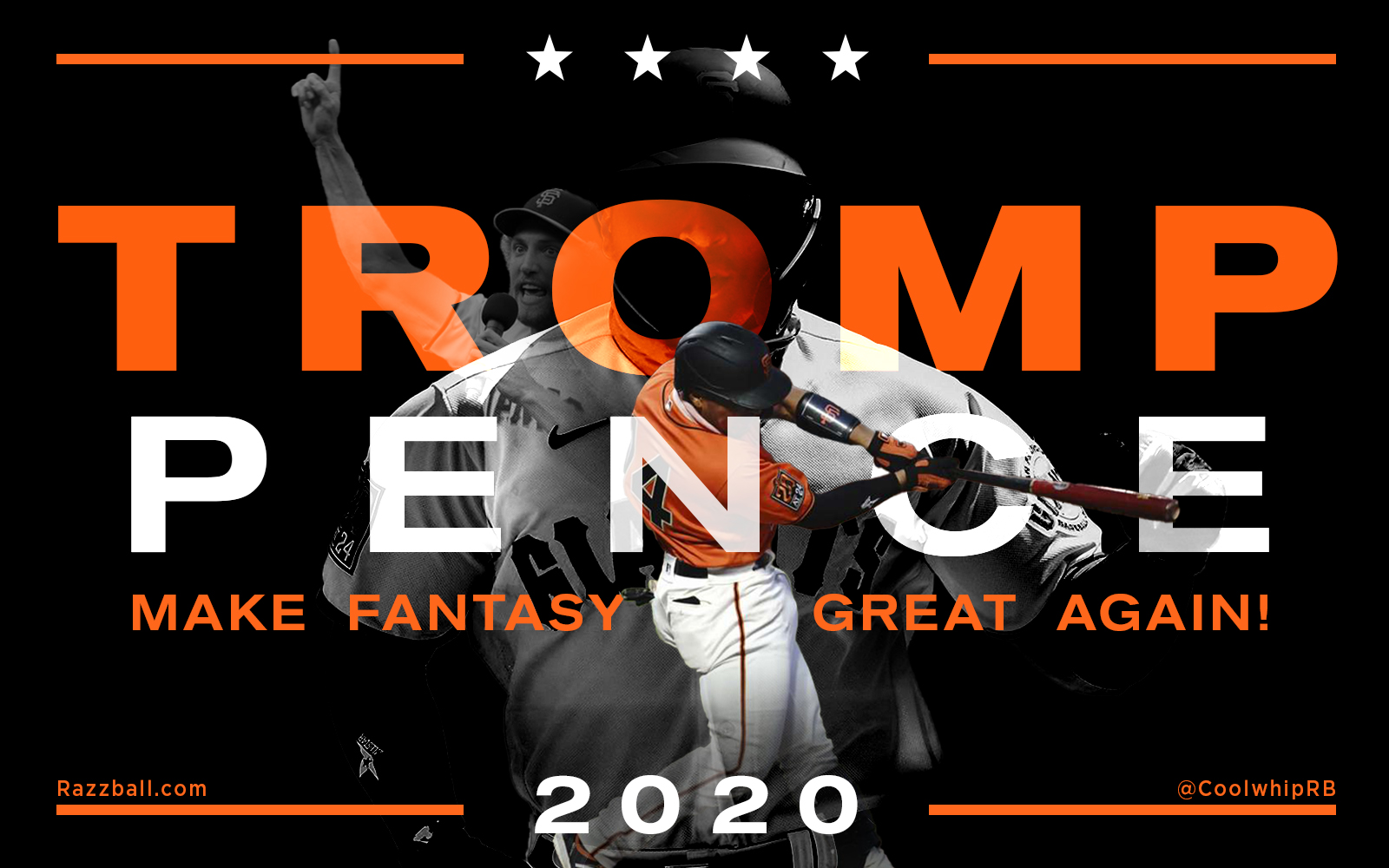 Travis d'Arnaud – The French Terminator is eating Celeste pizza, saying c'est la vie and taking nom de plumes.
Max Stassi – Usually leave catcher pickups to two at the most, but I'm being instructed–ordered–Sorry, yes, sir! I'm sorry, Stassi! No, I can't speak German! I'm sorry! Please, I said I'd pick you up!
Jesus Aguilar – Yo, 1st basemen suck so far this year. Absolute garbage. Travis d'Arnaud is one of the best 1st basemen, and he's a catcher. ACKSUALLY, there's two catchers in the top 10 1st basemen for the last week with d'Arnaud and Grandal. More like yucksually.
Shed Long Jr. – You hear about the Brewers' fan who was accidentally watching the wrong game? He kept asking where's Houser, when it was really a Shed Long.
Joey Wendle – Mr. Wendle ain't no bum, but he is a platoon player.
Andres Gimenez – Hesitant about throwing the full weight of my considerable influence on picking up And-Gim/And-Gim number 9 hitter, but he does have speed if he gets playing time.
Maikel Franco – His early start has not received enough attention. He's…Um…Well…Guess he's been hot. That's enough attention for now.
JaCoby Jones – If you pick him up, he can be a hot bat and file your tax extension.
Kole Calhoun – I see a hot schmotato risin' from his glorious ginger head.
Monte Harrison – Already gave you my Monte Harrison fantasy. It was written half-cocked out of my mind.
Wil Myers – Two travelers were lost in the desert for months. They survived by eating cacti and drinking anything they could find. Eventually, they stumbled, dehydrated and near-death, into a small town in Arizona. The first thing they saw was Wil Myers had won the NL MVP. "I think we're dead." "I hope so, since the alternative is I drank your urine for this."
Jo Adell – Just gave you my Jo Adell fantasy. It was written while jet-skiing in a rather large hot tub.
A.J. Pollock – Who needs Mookie?! *every Mookie Betts fantasy owner raises their hand, some raise both their hands* Im struggin 2 finnnish typeing blurb wit hands n air.
Brett Gardner – As I sow my garden for hot schmotatoes, I turnip Gardner.
Matt Kemp – The flavor of the month at Culver's is brain custard with the mix-ins of crackers and dumb, and Bud Black is ordering extra helpings. Yet, Kemp is hitting, so there's that.
Luis Patino – Just gave you my Luis Patino fantasy. It was written while climbing up the side of Teddy Roosevelt's nose
David Peterson – This is a Streamonator call, like the call it makes to mask manufacturers to find out if they have masks that cover whole faces if a robot wanted to look like a human.
Austin Voth – Sunday's streamers are kinda meh, so I reached a little for Voth, but this is also a Streamonator call (barely). "Maybe something that could make me look like Antonio Banderas?"
Andre Scrubb – The Astros would go to Pressly if he's healthy. "If he's healthy" has its own IRA and wants to travel the country in an RV. I currently own Andre Scrubb, who's better than his name indicates, and Blake Taylor.
Jairo Diaz – Show me a Jairo named Buster! No one? Kind of an obscure rap lyric, it's okay. Sorta like Diaz. Okay. When you get excited about pitchers in Coors, it's when it all goes wrong. O?ekávání, that's expectations in Czech.
Daniel Hudson – Him being available in more than 50% of leagues makes no sense. He's the Nats' closer. Ya know, the Nats. They won the World Series last year. Ya know, Daniel Hudson, who is good.
Brandon Kintzler – Could've also listed Seth Lugo, Dan Altavilla, Juan Coalsteinez, Carl Edwards Jr., and many more without even making up fake names, well, besides Juan Coalsteinez.
Ty Buttrey – In the Angels' holding pen pecking order, which sounds like a euphemism for purgatory, Buttrey then Pena would be my guess. There's so much possible SAGNOF and so little ulcer medicine.
Ryan Helsley – Cards ditched Kim quicker than Eminem, and now it's either Helsley or Gallegos or about seven other guys, but prolly Helsley.
Rowan Wick – Going into the season, there was maybe five iffy closer shituations. Think we're up to about 15 now.
Keone Kela – He's from Hawaii, and considered a Pacific Islander, and Magnum P.I. was in Hawaii and…is P.I. a Pacific Islander? No, but the Pirates last locked-in closer was a privates investigator. *walks out of that stream of consciousness, towels off hair*
SELL
Corey Seager – Haha, I hate Corey Seager. Why is this a recurring theme of my life? Was I spanked at a fancy restaurant while Bob Seger played and accidentally farted on my father's hand? "Daddy, your hand was Against the Wind." Why was Bob Seger being played at a fancy restaurant? So many questions, and I'm not sure we have time for the answers. To find Corey Seager's name for this sell, I went to the Player Rater to see who was overperforming. Saw Trent Grisham, but what are you getting in a trade for him? Saw Dansby, but same-same, right? Saw Luis Robert and slapped my own butt for even thinking about selling him high. Then, Seager caught my eye, and thought about whether he was different or Still The Same? His Ks are way down (good), and his walks (less good). His BABIP is a little goofy high and so is his HR/FB%. In a short season, there's gonna be some weird overperformers, so I'm not saying sell Seager for a ticket to an escape room that is just a locked closet and is really a Shakedown, but I would go to our fantasy baseball trade analyzer and explore options.