Jose Altuve was the clear cut number two coming into the 2018 season. As a matter of fact, there were some "experts" that even dared to put him ahead of Mike Trout. Personally I though that was about as silly as drafting the oft injured James Paxton in the earlier rounds. Fool me once James. I guess that's why I put the word expert in quotes when referring to those of us that write down our thoughts and call it advice. Altuve has averaged about 512 points a season over the last four seasons with 0.738 points per plate appearance. That's pretty damn good. However, my preseason rankings had him as the fourth hitter behind Mike Trout, Nolan Arenado and Mookie Betts. Overall I also had Max Scherzer, Chris Sale and Corey Kluber ahead of Altuve. Regardless, he was an obvious first round pick.
Fast forward about five and half month and Altuve has let down everyone that drafted him. All that's left is for him to knock on your door and kick you in the shins. I would have said nuts, but he's not tall enough. Jose Altuve might even be the biggest bust of the season considering his draft position. When your first round pick performs like an 8th round pick it's going to put you in a bit of a hole. Hopefully those of you that drafted him also, drafted Matt Carpenter, Javier Baez and Nick Markakis. I should write a post called "How Matt Carpenter, Javier Baez and Nick Markakis Won Me My League".
Altuve has just 12 home runs and 16 stolen bases. I guess we don't really care about that. What we do care about are his 355 points. Do you know what Scooter Gennett, Jed Lowrie and Jose Peraza all have in common? Let me answer that for you. They all have more points than Altuve and they are all eligible at second base. That's right, there are two players on the Cincinnati Reds that you can put at 2B that have outperformed the consensus number two hitter pick. In fact, there are seven second basemen that are having a better 2018 season than Altuve! In case you were curious, in addition to the three I've already mentioned, the remaining four are Jose Ramirez, Javier Baez, Whit Merrifield and Ozzie Albies. That means Altuve isn't even the best 2B named Jose. There are two other 2B named Jose that have tallied more fantasy points. Big league chew on that for a moment.
It goes without saying that all seven of those 2B were drafted after Altuve. Here are their average draft positions.
Jose Ramirez: 22 (round 2), 576 points (0.90 PPPA)
Javier Baez: 179 (round 15), 407 points (0.69 PPPA)
Ozzie Albies: 136 (round 12), 381 points (0.060 PPPA)
Whit Merrifield: 88 (round 8), 379 points (0.59 PPPA)
Scooter Gennett: 154 (round 13), 369 points (0.62 PPPA)
Jed Lowrie: Mostly undrafted, 363 points (0.57 PPPA)
Jose Peraza: Mostly undrafted, 362 points (0.58 PPPA)
Jose Altuve: 3 (round 1), 355 points (0.63 PPPA)
Altuve owners in non-keeper leagues have to be kicking themselves. Instead of drafting Altuve in the first round they could have taken anyone not named Mike Trout. You didn't even have to draft a second baseman. Lowrie and Peraza were waiver wire pickups. Ain't that some shit!
Let's take a quick look at Jose Peraza for a moment. Peraza has more home runs, stolen bases and fantasy points than Altuve. Did I mention he's also four years younger? Perhaps instead of making this post all about Altuve's 2018 shortcomings, I should have been hyping up Peraza. I realize that Peraza has had more plate appearances that Altuve, but I just don't care. We are comparing a first rounder to a waiver wire guy and they are practically even in terms of stats. That puts the waiver wire guy leagues ahead. Is Jose Peraza having a mini breakout season? Could we be looking at a 15/30 season in 2019?
With Brian Dozier also being a giant disappointment this season, it seems that 2B was a dangerous position to draft early in 2018. Landmine!
One more 2B note while I'm discussing 2B. In the last three weeks no 2B has more fantasy points than Adalberto Mondesi. During that span he has 67 points. In 63 games he has 9 home runs and 25 stolen bases. That's a 25/50 pace! Are we looking at another player that will soon outshine Altuve. He's only 23 years young and with 2B/SS eligibility he's looking like a sleeper pick in 2019.
One more one more thing. I think this is the equivalent of a P.P.S. Another second baseman named Robinson Cano missed half the season due to being a bad boy. But in the time he has played, his fantasy point production has been on par with Altuve.
P.P.P.S. Ben Zobrist (0.65 PPPA) is averaging more points every time he steps into the batters box than Jose Altuve. So is Travis Shaw (0.64 PPPA).
I have now named at least ten 2B that are/have been more valuable at 2B than the little guy from Houston. Well, one thing's for certain. Jose Altuve is looking up to a lot of players this season. Literally and figuratively.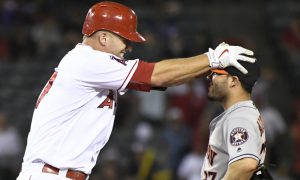 Follow malamoney on Twitter at @malamoney