Einhorn is Finkel. Finkel is Einhorn. Einhorn is a man! You know who else is a man. Dick Lovelady. Who? Richard Lovelady. If you find yourself wondering who the you-know-what is Richard Lovelady, it's a perfectly normal response. About two weeks back or so I was watching a random Spring Training game and the guy on the mound for the Royals had on jersey with the name Lovelady across the back. I made a quick voice note using Google Home to remind myself to somehow wedge his name in one of my posts. Today is the day I decided to shoehorn that bad boy in. To be honest, Lovelady sounds like something Hyun-jin Ryu claims to be very good at. Moving on.

Maybe it's just me, but I need to see George Kontos and Gerrit Cole in the same place at the same time. I astutely put two and two together after seeing Cole's Fantrax profile picture and Kontos's CBS profile picture. Perhaps it's because I was two beers deep and those beers were ironically Tree House Dopplegangers, but any time I get the chance to make two plus two equal five, I jump at the opportunity.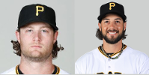 Here's what I'm going to say about Kontos. I think he's going to end the season with ten saves. It's a bit of a stretch, but I think he's got a shot at it and any time Felipe Rivero pitches two days in a row, I'd be looking to grab Kontos off the wire for a 24-hour loan. As for Cole, what was there not to like about his first start. It seems orange and navy are a good look for him. Eleven strikeouts, one earned run and a win in seven innings. Yes please. I'll take another beer to go with those 31 fantasy points. While I'd like to see less than three walks, this outing was awesome. It almost made be forget about Jon Gray's disaster of a start.
What else did I see in the first couple of days of the 2018 season?
Freddie Freeman has picked up right where he left off in 2017. With 39 points he leads all hitters not named Bryce Harper. If Harper doesn't get hurt (stop laughing), he is going to have a season for the record books. Then he will sign with the Yankees in the offseason.
If you're league doesn't penalize for strikeouts Matt Davidson might be worth a flier, but I wouldn't go getting all crazy over him. He's had ONE good game.
I like what I've seen so far from Mitch Haniger. Don't sleep on him. Literally, not unless you are Mrs. Haniger. I believe her name is Amanda.
Is Miguel Cabrera back? Yes, but only until he get's hurt.
How long can Adam Eaton remain a top ten bat in points leagues? If he stays healthy I'd say all season.
Charlie Blackmon got very little love coming into this season given how awesome his 2017 season was. All I heard was how he was destined to regress. Since 2014 he has done nothing but improve his points totals. They look like this: 391, 410, 472 and 580. He's currently on pace for 1033 points. Ok, fine I realize it's not fair to calculate "on pace" value after just a few games, but my point is that Blackmon is still kicking ass and taking names. Do you know what Charlie has in common with Chili Davis and Devon White? They've all been referred to as "black mons".
If you can find a dummy in your league that is willing to believe that 2017 was a fluke and that Francisco Lindor is about to come back down to earth and what we're seeing now is proof, then offer him/her a trade. Maybe some sort of deal that sends red hot Gregory Polanco their way.
Same goes for Paul Goldschmidt. If you can find a Goldy owner that can be convinced that the humidor is clearly the cause of his zero home runs and .071 batting average, you should absolutely pretend you're a contestant on Let's Make a Deal. This might sound ridiculous, but you'd be surprised at how many fantasy owners are not very smart and easily manipulated.
Anyone else kicking themselves for letting Shohei Ohtani be selected in the 10th round or so and passing on him so many times? I remember thinking when he first signed that he was going to end up being a very early round pick. Damn you Spring Training. Given his ADP he could very well end up being a fantasy MVP.
I realize it's much too early to be patting myself on the back, but I did say Didi Gregorius was going to be top shortstop this season and give his ADP he was going to be a steal. I see a future post coming entitled "Greglorius".
Both Justin Smoak and Mike Trout has 28 points. Seems like an even trade.
Daniel Descalso, Chad Pinder and Manny Pina all have more home runs than Aaron Judge. Speaking of Pina, I actually own that jabrony in both of my two-catcher points leagues.
We're not even a week into the season. The best advice I can give you is to not overreact. It's as simple as that. I don't really feel like analyzing player stats at this point is going to be very helpful. Next week I take a closer look at the numbers and try to give you something with more substance.
Follow me on Twitter at @malamoney