I'm not sure how the average fan watches baseball. I assume most have a team they follow, sticking to that squad on a daily basis, regardless of continual misery or delight coming as the product of the entertainment. My strong fandom with for one team tends to win out, but I often watch games particularly with a focus on starting pitchers. This is how I plan out my days and nights. Apple TV's multi-view feature is a godsend for this and my recent realization that MLB.tv's desktop version has eliminated the ability to watch multiple games at once is a travesty. But I'll survive, especially as this will help me focus my watching to fewer games in the hopes of digesting more nuanced points of interest from starter to starter.
Balance is key! Well… not when we're talking about Dylan Bundy's slider.
7 IP, 5 H, 1 BB, 7 K
If it feels like my byline and Dylan Bundy's name have been associated before, it's because they have. Almost exactly one year ago, I wrote about Dylan Bundy in a manner that (spoiler alert) had such a positive tone I can tell I'll have a hard time duplicating my enthusiasm. I was younger then; more naive. Even with this qualification, the substance of that column carries into this blurb on the 25-year-old.
His slider has been, and always will be, a fantastic pitch. The use of that slider is one of the main reasons for his resurgence at the end of last season and his dominance in this start as well (on top of the Twins' tendency to strikeout). You have surely heard this before. Below is a plot from Fangraphs looking at how his slider use and FIP have lined up (including this first start of 2018).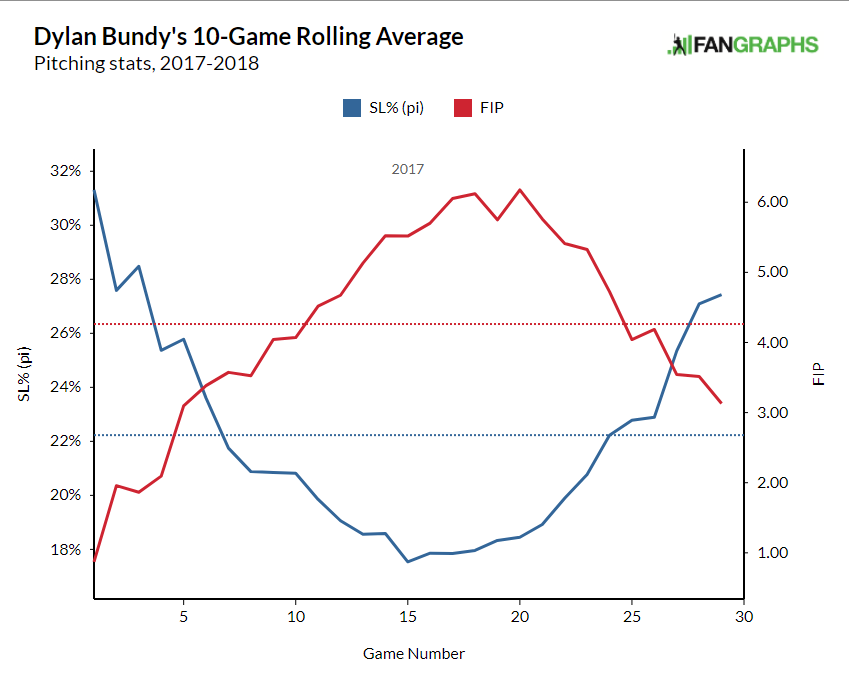 Yeah, that's pretty telling.
The pitch succeeds because of how well Bundy tunnels it with his fastball, resulting in a high-than-average amount of post-tunnel-point break. (Tunneling is something I laid a primer for a few weeks ago an plan on revisiting periodically, so that column will be a continual reference for me.) This gives Bundy's slider the aesthetic characteristic of late break, which accounted for all seven of Bundy's strikeouts in his start on Thursday.
By far the most interesting tidbit from this outing is the velocity of Bundy's slider, down from 83 mph to 82 mph compared to his average velocity from 2017. Normally this is too small of a sample to do anything with, but pitch velocity actually stabilizes quickly, only needing a few starts before becoming predictive of in-season, aggregate velocity. This could very well tick up to average in Bundy's next start, and because of that I don't want overreact, but let's entertain one scenario.
Sustaining the effectiveness of this pitch and taking off some velocity makes me irrationally hopeful that a decrease in arm stress occurs. This pitch's impact on Bundy's health has been long chronicled and with our knowledge that velocity brings injury, a decrease Bundy's slider velocity may lead to a decrease in injury. In more applicable fantasy terms, this velocity decrease might mean less of a dip midseason on his slider usage seen in the graph above, if that happens, in the aggregate we're looking at a substantially more consistent pitcher.
As with most breakouts, we'll need a little bit more time before jumping to conclusions. For now, we can watch each of Bundy's strikeouts from Thursday in this fancy GIF I made…
I would own and target Bundy everywhere I could and pray slider usage sustains above 24 percent and the baseball gods put a proverbial bubble of health around his elbow. If so, he's a fringe SP2.
Bundy takes on the Astros in Houston on Tuesday.
5 2/3 7 H, 2 ER, 1 BB, 8 K
Grey is high on Corbin, I'm high on Corbin, so it was only fitting that I ran to MLB.tv after Ralph and I finished recording our Phillies Prospect Podcast and fixed my eyes to his matchup with Jon Gray. I was very pleased with what I saw, particularly because his slider usage ticked above 45 percent, a trend that seems to have sustained from the prior year (small sample). If this continues, like with Bundy's potential slider velocity alteration, then I'm confident in a strikeout rate to above 9 K/9. Corbin's control may suffer, even if it was superb in this outing, but sacrificing some WHIP for a potential 9.5-10 K/9 arm with a potent offense behind him easily makes him an arm worth targeting.
So how is my proposition that Corbin fade his sinker usage to right-handed hitters looking? Not particularly great, but it might not matter. The effect of Corbin's slider seemed to elevate slightly when preceded by his four-seamer rather than his two seamer, but comfort with offerings is something that I likely overlooked. Corbin used his two-seamer 37 percent of the time to right-handed bat (his kryptonite) on Thursday, almost identical to last season's aggregate total. But his slider usage to right-handers nearly doubled within this small sample (from 23 percent to 50 percent) and it's clear what his plan of attack was…
Back-foot sliders, two-seamers on the outer half, elevated four-seamers. While the two runs of damage came from right-handed bats, and seeing a 30 percent strikeout rate against right-handers makes me cautiously optimistic that even if he can't completely right the ship against right-handed hitters this year, the could be higher if he's leaning on this slider usage more.
Corbin is ownable in any league, combining his talents with Bundy on my board of players that intriguing me very early in the season.
4 2/3 IP, 7 H, 3 ER, 1 K
I have battled a roller coaster of emotions with Lucchesi since the end of Spring Training. I began to think of him modestly, as he was featured as my deepest sleeper in my final post before Opening Day. I saw a pair of his spring starts, becoming particularly intrigued with how his curveball and its location faired against hitters. Unknown to me, however, was that Lucchesi would fill in for Dinelson Lamet (another player I've written about recently) on Friday night. This news kicked my intrigue north simply because I expected him to be a late-season addition to the rotation. Then Lucchesi actually pitched and the results brought my bullish undertones south.
His mix of secondaries, even if all only average pitches, helped me envision a higher floor. But when his fastball command wavered on Friday, it suppressed the effect his curveball had. The result of the mediocre start has me holding out some hope for late-season potential. Prospect fatigue happens in these scenarios: young arm comes up, produces unimpressive results, gets sent down, and is eventually recalled to substantially less fanfare.
We're left with three things in a very small sample size that perpetuate my interest. First is Lucchesi's ability to keep the ball in the park. Second is his overall control (ability to throw strikes, not necessarily locate where he wants). Third was the amount of swinging strikes (12%) in this extremely small, four-inning sample.
This isn't MacKenzie Gore (although the athleticism is both Gore and Lucchesi's delivery are eerily similar), but when the Padres re-roll the dice later in the season, in the deepest of leagues, Lucchesi is worth a look, especially as this prospect fatigue sets in.
Twitter – @LanceBrozdow
More of my work… BigThreeSports.com