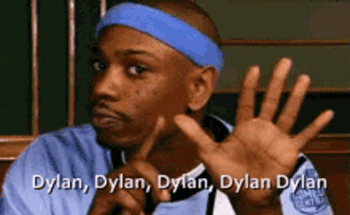 Dylan Bundy was a particularly hard asset to value on draft day.
We had just over 100 innings with a 4.70 FIP and a swinging strike rate of 10.5% that didn't really turn any heads. Tales of the prospect he once was lingered in broadcasts as announcers imagined a day when the highly talented righty would emerge from the darkness of his injury-plagued past and blossom into the Orioles' ace.
That day was Wednesday…
The issue was simple. The skill set we'd been exposed to with Bundy was assessed without his best pitch. Give me any pitcher in the game, knock off their best pitch, and you're looking at an ERA north of 4, or higher for most.
Inefficiency in the 'Bundy market' was an understandable one. We should have been more in tune with the disclosure by Buck Showalter and the Orioles' front office that Bundy would go back to throwing the slider during the 2017 season. The problem is, even if we were salient of that point, projecting how a player would do with a pitch we've never really seen at the Major League level is nearly impossible. The only evidence you had to back up a wild claim in March that Bundy could be a top 20 SP this year was gut feeling with a sprinkling of his past prospect days. It is possible to convince some of that logic, but the goal is to generate buzz and momentum among owners in the fantasy universe. That is much harder to do when the case for this potential success isn't one rooted in strong tangible evidence.
Back to Bundy's start Wednesday, this slider of his is for real.
He threw it 31% of the time, which sits in between the usage rates of Noah Syndergaard's (21% in 2016) and Chris Archer's (40% in 2016) respective sliders.
Bundy also generated 14 whiffs on his slider. To put that in perspective, Syndergaard got a total of 15 whiffs in his entire Opening Day start. Burying the pitch out of the strike zone and keeping the swinging strikes at such an elite level is a recipe for continued success. Bundy was able to do both in superb fashion. Below is his zone profile for the 31 sliders he threw.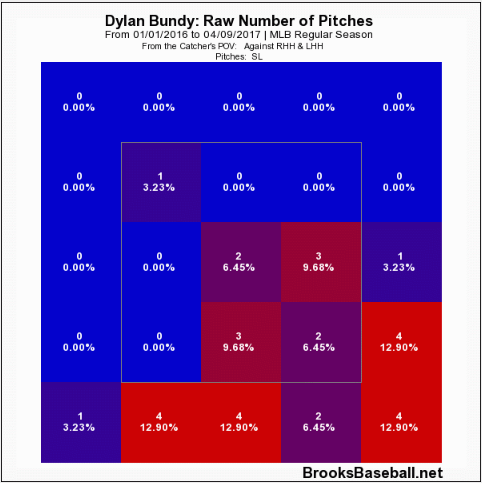 It's also important to note that this slider is the 'go-to' offering against righties, but was also effective versus left handed bats. Bundy mixed in his curve to lefties at almost as equal rate to his slider, and didn't see a staunch difference in results. I'm a big fan of the effectiveness versus both sides of the plate and am interested to see how his splits versus lefties and righties look come a larger sample size. At the moment it's very hard to find something one doesn't like from this first start.
The massive elephant in the room, which seems to be a recurring factor with a lot of my starting pitching loves (James Paxton – so far, so good!), is how Bundy's arm holds up. I'm encouraged by the lack of use in his slider in 2016, as many believe it was the main reason for the need of Tommy John. Strengthening his arm is vital for his ability to stay on the mound, so this can only be a positive in hindsight. I do acknowledge that the injury risk is still present, and probably to a high level. If Bundy feels any bit of soreness, I wouldn't be shocked if there is a shutdown for the sake of caution. Skipping starts will likely come into the picture too if the Orioles see themselves as contenders. There are a lot of paths to 150 innings, but it could be a bit rocky.
The overall effectiveness is why I'm willing to hop on that rocky road
It's easy to overreact to one start, but as we all know in fantasy baseball, if you don't react, somebody else will. With the stats this outing gave us, I would've supported a plethora of moves to acquire Bundy off waivers or via your FAAB bidding process. With two good starts this coming week, we could be looking at some Trevor Story, circa 2016, trade values as well. Damped a little because of the inherent risk in trading for a starter.
Those two good starts will have to be earned in the trenches. Bundy is projected to face the Red Sox in Fenway on Tuesday, followed up by the Blue Jays in Toronto on Sunday. If you ever wanted a barometer for how good a breakout pitcher is, this is a fantastic fire to be thrown into.
I will be watching closely, and starting Bundy in both matchups.
Here at Razzball, the projection for Bundy was 130 Ks over 141 innings, with a 3.91 ERA and a 1.35 WHIP. This has to be reassessed to some extent come a week or two down the road and continued success. Pre season, this was very reasonable, and even maybe a bit optimistic. Now I see it as the floor if his innings total holds up. Armed with this slider, Bundy is going to be a 9+ K/9 pitcher, with a WHIP that will fall more in the 1.20 area, or lower if this control is the new norm.
I'm in the process of moving Bundy into the top 200 overall on my rankings after I had him 218 during draft season. I currently would take him over Drew Smyly, Taijuan Walker, and Garrett Richards. Once you hit the tier inside the top 150, I'd probably have to stick it out and see a few more starts to confirm the greatness. Incremental moves with each start will probably be my path to my developing love for a pitcher with sky-high potential.