I know, I know.  Terrible title pun and Vance Worley isn't exactly the most exciting Pitcher Profile.  CALL UP ANDREW HEANEY ALREADY!  Just needed to get that out of my system…
I thought about a Danny Duffy.  Maybe Daisuke Matsuzaka. Mostly because that would be an inning-long Pitcher Profile and I could play more Call of Duty.  He shoulda laid off the Steak "n Shake!  Over/under on amount of times you see that joke today…
But back to Worley.  I think it's easily forgotten just how good a run he had for the 2011 Phillies.  3.01 ERA?  119 Ks in 131.2 IP?  11 Wins?  Really surprising looking back on those… Then he was terrible in his follow-up with the Phils, followed by getting absolutely crushed in 10 starts for the Twins last year.  Starting 2014 in AAA, Worley was meh in 7 starts with a 4.30 ERA, but an encouraging 43 Ks in 46 innings.  Which nobody would ever care about, except he had as good a debut anyone could've expected yesterday at Miami.  And actually – and I didn't even think to look until the broadcast showed his Minors numbers – 43:4 K:BB in AAA.  Wowzer!  So I decided to take a look at the spectacled SP and if there's anything there for you to care about in your fantasy leagues:
First Inning: Worley's first pitch of the 2014 season is an 87 MPH fastball just low to Rafael Furcal shortening up for a supposed bunt.  88 heater fouled back, then 89 on the outer edge is bunted to the mound for an easy out.  Furcal might be the worst leadoff hitter in the Majors… Anyway, up is Reed Johnson who takes 89 in the zone, a nice sinking 89 MPH two-seamer is foul-tipped in the mitt for an 0-2 count.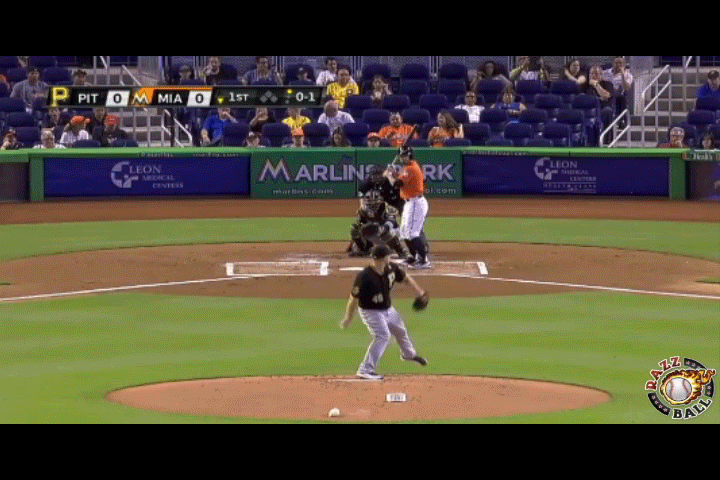 Another two-seam is fouled off, then Worley's first off-speed is slider at 83 tapped foul, then 90 MPH on the hands and low is a very weak flyout, two down.  5 strikes that at-bat, and all on the edges.  Another painter at 90 MPH to start Giancarlo Stanton gets Worley up 0-1, but a slider across the zone is muscled up the middle for a single.  Casey McGehee takes a two-seamer low, four-seam is a tad inside, two-seam bends inside, gets a fastball in there, another fastball on the hands fouled back, then the 3-2 slider is popped up right to the bag at first in foul territory for an easy out.
Second Inning: Garrett Jones is first-pitch swinging, and hits a lazy flyball for a quick out.  Fastball at 90 is high and outside – virtually all fastballs thus far – he's just inside to Marcel Ozuna 2-0, a perfect front door slider at 85 starts in then bends into the zone, 2-1.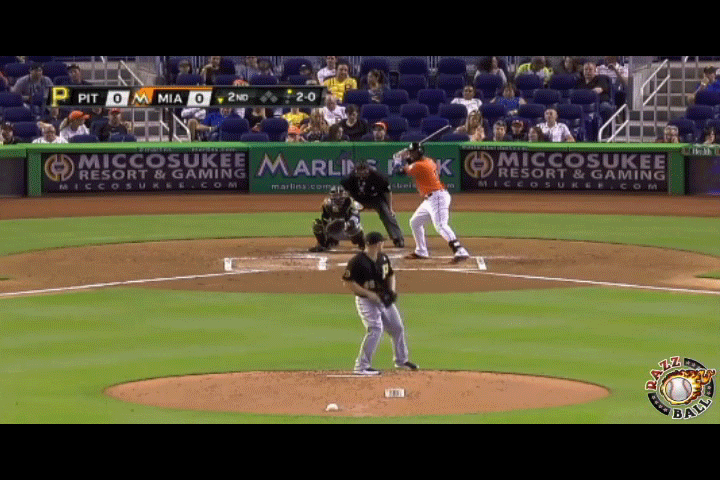 Then Worley follows it up with a curveball at 77 and bends that one in as well.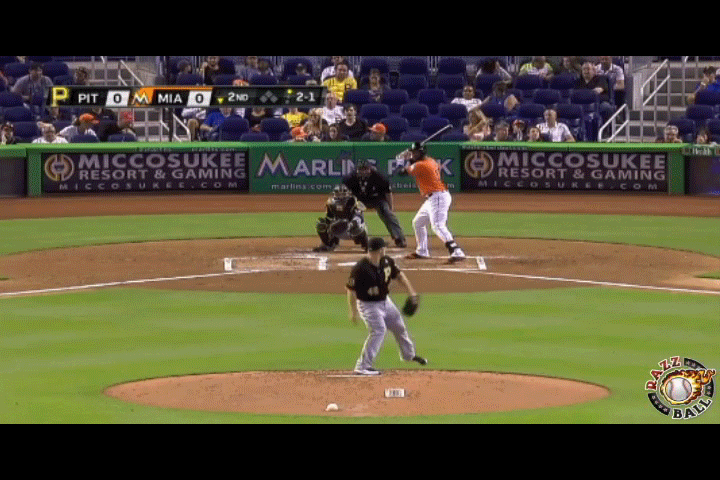 Wow, if he can throw those for strikes, he'll be good to go.  Another slider over the plate is tapped to short, and the easy play is made, two down.  Slider is poured in there for a strike to Adeiny Hechavarria, then a curveball in the inner lower half is crushed to the right field gap for a double.  That wasn't a bad pitch, Hechavarria was just able to wait back on it and tracked it for a great swing.  But it doesn't cost anything as Jeff Mathis pops up the first-pitch slider to shallow left to end the inning.
Third Inning: The Buccos pick up a run, and Worley starts opposing pitcher Henderson Alvarez with a fastball low, cutter is in there, a slider gets Alvarez almost to fall over swinging, then another slower slider with a more downward break is swung over for Worley's first K.  Gotta love pitching in the NL!  Maybe that's what the issue was in Minnesota… Fastball is in there to Furcal, goes inside with it, then a cutter is tapped weakly to third, but Pedro Alvarez throws it in the dirt and Ike Davis can't make the pick for an error.  15 errors for Alvarez now – yikes!  Cutter at 87 hits the inner black to Johnson, slider low, another slider tapped foul, then a third straight slider is hit to center for an easy out.  Slider bends into the zone for strike one to Stanton, fastball inside, another slider hits the outer black bending across the zone, then a fastball on the outer edge gets a ton of the plate and locked Stanton up.  Not sure what Stanton was looking for there, I guess he thought it was a slider about to bend out of the zone.  Two Ks for Worley.
Fourth Inning: Now protecting a 2-0 lead, Worley starts McGehee with a fastball strike, then another in the same spot is rocketed to center for a hard hit single.  From the stretch, Worley gets a first-pitch curveball strike in there to Jones.  Good stuff there.  Fastball is in and low, another fastball outside, and another cut fastball on the hands is muscled to right for a single.  It jammed Jones, but it looped over the infield for a solid hit.  So Worley in some trouble with runners on first and second and no outs, and is just outside with a slider to Ozuna.  Another slider is hit hard to the opposite field, but it's foul by about ten feet over the fence.  Man, just missed a three run shot there.  Fastball is inside, another fastball is called high that was close, slider front doors Ozuna – good faith there after one was almost hit out – then the payoff pitch gets a swing-and-miss at 89 on the higher outside black.  Ozuna was looking off speed and was late – proof you can throw slow and still get guys to miss fastballs.  3 Ks and a huge one for Worley, and he starts Hechavarria with a slider low.  90 MPH fastball is in there, slider fouled off, another slider nipped foul, then a 91 MPH two-seamer is hit right to second, and Worley is out of the mess with a huge double play.
Fifth Inning: Still up 2-0, Worley starts Mathis with a cutter, then goes a little lower on the outside edge with a heater and gets a whiff, slider is just outside, then a slider that ends up down the middle is a lazy flyout to center.  A slider is in there to Alvarez, whose late swing is up there with Pablo Sandoval for the worst swing we've seen this year.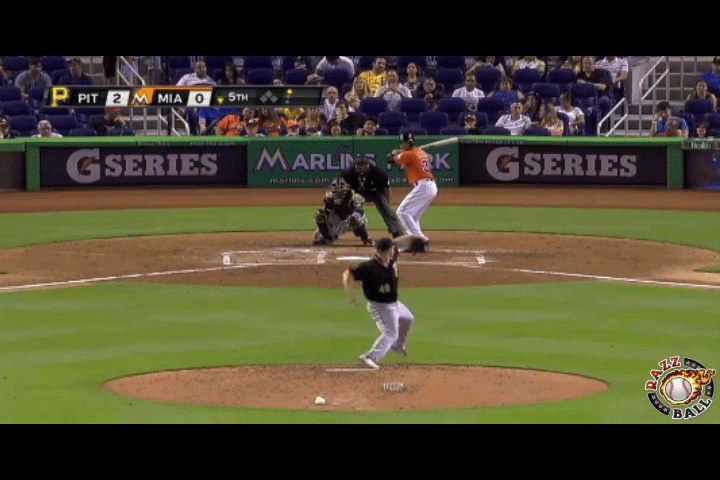 0-1 is an 88 MPH fastball and it's hit hard on a line, but right to Josh Harrison at second.  Two down quickly, and cutter is low to Furcal, another gets the outside black, two-seamer is perfect on the outside lower corner, 90 MPH heater slapped foul, curveball stays outside, then the 2-2 91 MPH four-seamer is hit to Harrison to end the inning.
Sixth Inning: Worley opens the 6th with a two-seam in there, another heater is fouled off Johnson's foot, then a 90 MPH fastball that looked way low and a shade outside gets the call.  Johnson is mad, it certainly looked like a ball, but it's Worley's 4th K.  Really no complaints about the zone today until now… but it's strike three.  Stanton takes a fastball low and in, takes one in there, fastball again low and in, with the 2-1 heater dribbled to third for an easy groundout.  Two quick outs, and fastball is low to McGehee, 88 MPH two-seamer smacked foul, Worley goes inside again with a fastball, but McGehee turns on this one for his second single.  Quick hands there by McGehee.  Fastball low and in to Jones, cutter is way outside, fastball on the outer black is swung through, another heater on the inside black is called a strike, slider on the hands pulled weakly foul, fastball is high, and the payoff pitch is popped up for an easy catch by Russell Martin to end the inning.
Seventh Inning: Worley is cruising at 86 pitches, and is inside with the fastball to Ozuna.  Cutter stays high, 2-0 fastball is in there 2-1, a slider is perfectly placed in the lower inside corner, Worley then paints the same spot with a fastball for his 5th K looking.  That was some serious paint – on both those pitches.  Hechavarria is first-pitch swinging and pops up a high and tight fastball in the infield, two outs.  Mathis takes a fastball in there, four-seam low and inside is tapped foul, quickly 0-2.  And Worley's final pitch is a 77 MPH curveball, reached for and floated out to center for yet another easy out.  What an outing.
Final Line:  W  7 IP  95 Pitches (68 Strikes)  0 ER  5 Hits  0 Walks  5 K  Gamescore: 72    Gamescore+: 73.8
Final Analysis: As I mentioned in the open – and want to reiterate – Worley had an unreal 43:4 K:BB in AAA.  And he kept it up in this one, with 5 punchouts and no walks.  What I really like about that ratio, is Worley was all over the paint in this start showing some incredible control and command.  Even though the Marlins probably game-planned for Worley coming after them, they had a ton of weakly hit outs contributing to a Gamescore+ ahead of his Gamescore.
Worley throws a lot of fastballs, but can do a ton with them.  Four-seam topped out at 91, two-seamer 88-90, then cutter usually at 87.  All three had good movement to keep Marlins' barrels from really connecting.  Worley's main off-speed is the slider, which ranged wildly from 79-85.  He could break it horizontal with a 2-8 break, or almost straight down with a little less speed.  He also mixed in a few curveballs around 77 MPH.  The broadcast talked up a change-up he had developed this year, but I don't think he threw a single one in this start.  I don't think he necessarily needs it, but if it works it will mix up his speeds even more.  Stuff wise, he kinda reminds me of Phil Hughes, with maybe not quite as good a cutter but slightly better off-speed.  He doesn't throw as hard as Hughes either, but he's the best comp I can think of.
Since I'm not a huge Hughes fan to boot, Worley is going to stay outside my top 100 – for now.  It's worth mentioning the Marlins line-up without Christian Yelich is very blah (even though I know they've had a good year scoring this far) and Ozuna just missed taking him deep for a three-run homer.  But if this K:BB stays this legit in the Majors, he could find himself surging in my ranks.  It's interesting Worley has developed such impeccable control, because his walk rate in the Philly years – the big 2011 and underwhelming 2012 – was over 3.  I will mention his BABIP in 2012 and 2013 was .340 and .401 respectively, so it looks like Worley was a little unlucky there.  With all the weak contact he racked up yesterday, this could really turn out to be someone to watch.  We've seen pitching coach Ray Searage turn some scrub pitchers around, and in the NL in a good ballpark is about as good as it gets.  Might actually end up with a decent WAR[ly]!  And in the short-term, his next start is at the Cubs, so he may be worth a spot start there if you need some innings.
JB's Updated Top 100 SP
(rankings based on 12-team Roto – green for risers, red for fallers)
| | |
| --- | --- |
| RANK | SP, TEAM |
| 1 | Clayton Kershaw, Los Angeles Dodgers |
| 2 | Yu Darvish, Texas Rangers |
| 3 | Adam Wainwright, St. Louis Cardinals |
| 4 | Stephen Strasburg, Washington Nationals |
| 5 | Felix Hernandez, Seattle Mariners |
| 6 | Chris Sale, Chicago White Sox |
| 7 | Masahiro Tanaka, New York Yankees |
| 8 | Johnny Cueto, Cincinnati Reds |
| 9 | Madison Bumgarner, San Francisco Giants |
| 10 | Max Scherzer, Detroit Tigers |
| 11 | Zack Greinke, Los Angeles Dodgers |
| 12 | Cole Hamels, Philadelphia Phillies |
| 13 | Julio Teheran, Atlanta Braves |
| 14 | Hisashi Iwakuma, Seattle Mariners |
| 15 | Anibal Sanchez, Detroit Tigers |
| 16 | David Price, Tampa Bay Rays |
| 17 | Mat Latos, Cincinnati Reds |
| 18 | Michael Wacha, St. Louis Cardinals |
| 19 | James Shields, Kansas City Royals |
| 20 | Mike Minor, Atlanta Braves |
| 21 | Corey Kluber, Cleveland Indians |
| 22 | Scott Kazmir, Oakland Athletics |
| 23 | Jordan Zimmermann, Washington Nationals |
| 24 | Jeff Samardzija, Chicago Cubs |
| 25 | Homer Bailey, Cincinnati Reds |
| 26 | Gio Gonzalez, Washington Nationals |
| 27 | Jon Lester, Boston Red Sox |
| 28 | Sonny Gray, Oakland Athletics |
| 29 | Andrew Cashner, San Diego Padres |
| 30 | Alex Cobb, Tampa Bay Rays |
| 31 | Tim Hudson, San Francisco Giants |
| 32 | Matt Cain, San Francisco Giants |
| 33 | Chris Archer, Tamp Bay Rays |
| 34 | Hyun-Jin Ryu, Los Angeles Dodgers |
| 35 | Yordano Ventura, Kansas City Royals |
| 36 | Dallas Keuchel, Houston Astros |
| 37 | Jered Weaver, Los Angeles Angels |
| 38 | Shelby Miller, St. Louis Cardinals |
| 39 | Gerrit Cole, Pittsburgh Pirates |
| 40 | Nathan Eovaldi, Miami Marlins |
| 41 | Justin Verlander, Detroit Tigers |
| 42 | Rick Porcello, Detroit Tigers |
| 43 | Ian Kennedy, San Diego Padres |
| 44 | C.J. Wilson, Los Angeles Angels |
| 45 | Andrew Heaney, Miami Marlins |
| 46 | Garrett Richards, Los Angeles Angels |
| 47 | Wily Peralta, Milwaukee Brewers |
| 48 | Cliff Lee, Philadelphia Phillies |
| 49 | Lance Lynn, St. Louis Cardinals |
| 50 | Ervin Santana, Atlanta Braves |
| 51 | Doug Fister, Washington Nationals |
| 52 | John Lackey, Boston Red Sox |
| 53 | Jon Niese, New York Mets |
| 54 | Jason Hammel, Chicago Cubs |
| 55 | Kyle Lohse, Milwaukee Brewers |
| 56 | Zach Wheeler, New York Mets |
| 57 | Jesse Chavez, Oakland Athletics |
| 58 | Danny Duffy, Kansas City Royals |
| 59 | Drew Pomeranz, Oakland Athletics |
| 60 | Tyson Ross, San Diego Padres |
| 61 | Josh Beckett, Los Angeles Dodgers |
| 62 | Tanner Roark, Washington Nationals |
| 63 | Alex Wood, Atlanta Braves |
| 64 | Ryan Vogelsong, San Francisco Giants |
| 65 | Tyler Skaggs, Los Angeles Angels |
| 66 | Trevor Bauer, Cleveland Indians |
| 67 | Hiroki Kuroda, New York Yankees |
| 68 | Yovani Gallardo, Milwaukee Brewers |
| 69 | Mike Leake, Cincinnati Reds |
| 70 | Aaron Harang, Atlanta Braves |
| 71 | Mark Buehrle, Toronto Blue Jays |
| 72 | Taijuan Walker, Seattle Mariners |
| 73 | Justin Masterson, Cleveland Indians |
| 74 | Jake Odorizzi, Tampa Bay Rays |
| 75 | Jaime Garcia, St. Louis Cardinals |
| 76 | Bartolo Colon, New York Mets |
| 77 | Travis Wood, Chicago Cubs |
| 78 | Kevin Gausman, Baltimore Orioles |
| 79 | Roenis Elias, Seattle Mariners |
| 80 | Alfredo Simon, Cincinnati Reds |
| 81 | Tom Koehler, Miami Marlins |
| 82 | R.A. Dickey, Toronto Blue Jays |
| 83 | Marco Estrada, Milwaukee Brewers |
| 84 | Drew Smyly, Detroit Tigers |
| 85 | Collin McHugh, Houston Astros |
| 86 | Henderson Alvarez, Miami Marlins |
| 87 | Phil Hughes, Minnesota Twins |
| 88 | Francisco Liriano, Pittsburgh Pirates |
| 89 | Chase Anderson, Arizona Diamondbacks |
| 90 | Chase Whitley, New York Yankees |
| 91 | Matt Garza, Milwaukee Brewers |
| 92 | Drew Hutchison, Toronto Blue Jays |
| 93 | Jake Peavy, Boston Red Sox |
| 94 | Tim Lincecum, San Francisco Giants |
| 95 | Dan Haren, Los Angeles Dodgers |
| 96 | Rubby De La Rosa, Boston Red Sox |
| 97 | Jose Quintana, Chicago White Sox |
| 98 | Jorge De La Rosa, Colorado Rockies |
| 99 | A.J. Burnett, Philadelphia Phillies |
| 100 | Jason Vargas, Kansas City Royals |
Dropped Out: Tony Cingrani, Cincinnati Reds (had to really work hard to lose that job), Ubaldo Jimenez, Baltimore Orioles (is just so bad, and I didn't like him much to begin with…), Archie Bradley, Arizona Diamondbacks (getting less and less faith he's up before August on a Dbacks team still not improving too much)
Slight shake-up up top, with Waino moving from 1 to 3.  As I've said the past few weeks, those top 3 guys are so close to me.  The elbow issue doesn't seem to be serious, but it's an elbow for a SP that's logged a ton of innings with a prior TJ.
Man, Mat Latos looked goooooood.
I'm not that concerned with Wacha, but the strikeout drought is annoying.  Only moved him down 5, but any decent movement that high in my ranks I like to highlight.
Not moving Minor – I actually think he's one of the best buy-low targets if you're looking to improve your rotation.  Stuff and velocity looked good in primetime last night, but the Angels were locked in.
Tough to not be all-in on Keuchel at this point.  After yet another gem, I imitate the voice of Kevin from The Office and merely say, "That's Dallas!"
Apparently Rick Porcello has become my main whipping target.  He looked good against the Twins yesterday, having one rough inning that had a lot of bad luck.  Hard hit RBI double by Josh Willingham, lucky weak grounder by Kendrys Morales for an RBI single, then a solid single by Kurt Suzuki and they had Morales dead to rights at home but Alex Avila bobbled and dropped the throw, scoring the third run.  Very easily could've been 7 or 8 innings of one-run ball and a win.  Of course I'm biased though.  I think he's gonna be pretty good moving on – enjoy disagreeing with me in the comments per usual!
I thought Cliff Lee would progress faster.  Damn my decision to forgo medical school!
Done with Marco Estrada.  I think he just up another 16 homers.  Can he pitch the home run derby?!  Sorry Brad Radke, there's a new clown on the mound!
I'm all in on Duffy.  As I mentioned in the open, thought about doing today's Profile on him – his stuff looks nasty.
After that collapse at Oakland, Garrett Richards has been redonkulous.
Some of the best pitching news this week was Alex Wood's demotion to get stretched back out.  With a doubleheader coming at the end of the month, it could be pretty quick before Wood is back in the rotation.
It was mentioned last week in the comments and something I've monitored – Drew Hutchison has the craziest splits baseball has ever seen (ease down hyperbole police!).  8.72 ERA 1.89 WHIP at home, 1.79/0.94 on the road.  Another good one is 3 day starts 11.81/2.16 to 2.40/1.05 at night.  Next time Hutch pitches at home in a day game, the universe might implode.
Thoughts on Worley?  Beef with the rankings?  Got a new Porcello joke for me?  Shoot below and happy pitching!