As this is our final Monday of the regular season, I was about to go out all silly with the last Pitcher Profile of the season, but the pitching world – and the sports world as a whole – woke up Sunday morning to the news of the heartbreaking passing of Jose Fernandez.  The young phenom was such a pleasure to watch; not only for his youthful exuberance, but his pure pitching stuff seemed to somehow reflect that personality.  Monster fastball, video game slider, and he could hit the ball too!  Fantasy, and well sports in general, brings people together in the sense that we can just share something intangible – the spirit of a team, momentum of a game, the thrill of winning…  Or just experiencing, together, the personality of one of the game's greats.  So instead of merely reflecting on a life taken from us too soon, I felt we should take this slice of time we spend together talking about pitching/fantasy baseball/sports and celebrate Jose Fernandez with a pitcher profile on his last start.  Unsurprisingly, it was another absolute gem.  Here's how JoFer looked the final game he toed the rubber:
First Inning: JoFer's first pitch is a fastball on the outside edge that Trea Turner tries to inside-out, but he breaks his bat and it flares just foul.  96 misses the outside corner, that sick slider at 84 gets a whiff, 1-2 fastball at 97 is just off the edge, then slider is hit routinely to short, one down.  Fastball outside to Stephen Drew, fastball fouled off, change-up stays outside, then fastball is hammered to right, and a leaping Giancarlo Stanton can't quite nab it as it bounces off the fence for a double.  Man, a healthy right fielder out there might come up with it – Stanton still iffy with the groin.  95 in there to Bryce Harper, high fastball fouled back, 96 high and away, 96 high and jams him fouled off, then slider bending into the backdoor is flied to left routinely for the second out.  Slider hits the inside black, 0-1 to Anthony Rendon, slider again low, fastball just off the outside edge and JoFer didn't like the call, then 2-1 slider in the zone gets a pop to third for an easy third out.  Instead of whining about that call he didn't get confrontationally, here's what happened when JoFer approached Phil Cuzzi at the end of the inning: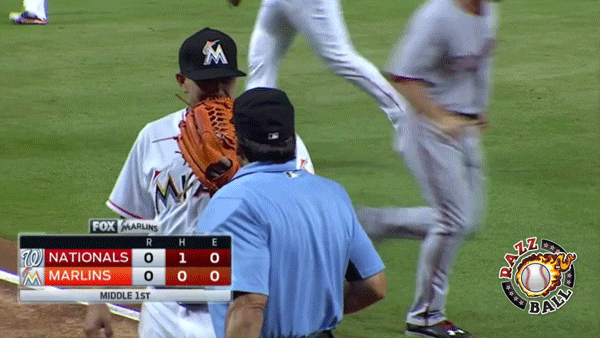 That's just… awesome.
Second Inning: Hard slider low and in starts off Clint Robinson, fastball outside, then fastball in there flied to left routinely, one down.  Slider misses outside to Wilson Ramos, slider again is hung a tad and stays inside, 2-0 for another batter is a fastball fouled off, big sweeping slider is in there 2-2, 98 (!!!) pounds the inside edge and is sawed off foul, then slider at 85 gets Ramos swinging for his first K.  Brian Goodwin takes 96 in there, then nasssssty 89 change-up does this: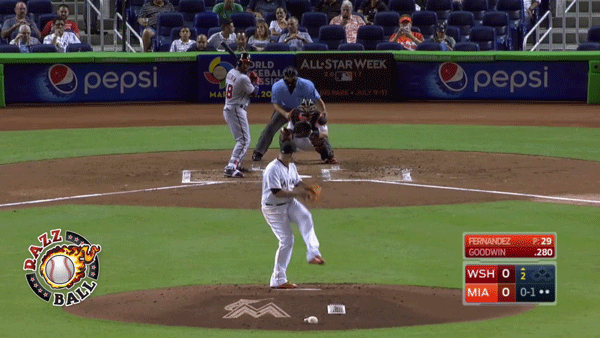 97 misses just high out there, then a 91 MPH change-up that can still work if it has monster sink gets Goodwin swinging for JoFer's 2nd K.
Third Inning: Fastball in there to Danny Espinosa 0-1, change-up flutters outside, change-up again gets a whiff, then 96 upstairs gets him swinging for JoFer's 3rd straight K.  95 high gets a check-swing foul from opposing pitcher Tanner Roark, fastball again is well high, then 94 on the outside corner gets a weak grounder to short, two down.  High 96 fouled back by Turner going back to the top of the order, slider tipped foul, 98 gets a late swing foul and JoFer reacts to a hard foul ball going into the crowd, fastball again fouled still 0-2, and fastball one more time at 98 MPH gets a weak grounder to second, another 3 up 3 down.
Fourth Inning: Still a tie game, but it was a long layover as the Fish almost got to Roark stranding the bases loaded, and a change-up is outside to Drew, 1-0.  Change again is in there, big slider doesn't quite bend to the outside corner 2-1, fastball fouled off, fastball again fouled, big slider barely has Drew holding as it's in the dirt, then 3-2 change-up at 88 gets him swinging over it for another K.  95 fouled back by Harper, 97 stays outside, 98 is in there, 89 MPH change-up stays low, then change again is hit pretty hard to center, but Christian Yelich is able to ease back and nab it, two down.  97 foul tipped back by Rendon, 97 again fouled back, then 98 a smidge higher absolutely blows him away for his 5th K: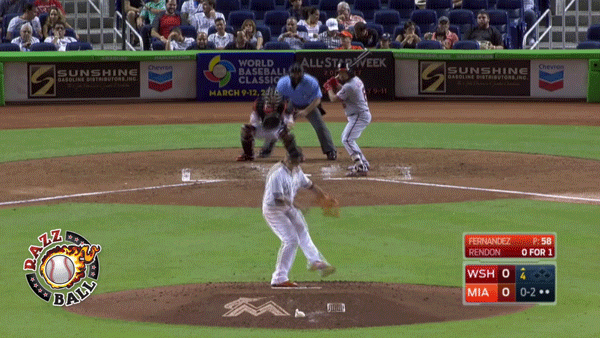 Fifth Inning: Fastball stays outside to Robinson, fastball misses again, then that change-up on the outside edge is flared to right for another easy flyout.  96 inside to Ramos, 97 blows him away high and tight, 1-1 change-up foul tipped back, JoFer slings a fastball a little overthrown at 98 outside, 98 right in there fouled off the fists, then 98 paints the outside black for a backwards K.  Sharp slider low to Goodwin, change-up tipped back, 97 that looked outside gets a call 1-2, then 98 paints the corner out there and Goodwin can't catch up, unbelievable.  7 Ks.

Sixth Inning: Still a deadlock 0-0 game and Espinosa tries to bunt a first-pitch change-up, but it doesn't go very far and J.T. Realmuto makes the play, one down on one pitch.  95 outside to Roark, fastball misses again, 92 MPH is in there just getting it over, 94 outside fouled off, nasty whiffleball slider almost catches the inside corner but misses, then slider again gets the call this time for his 8th K.  I mean, c'mon Turner, you're not hitting this!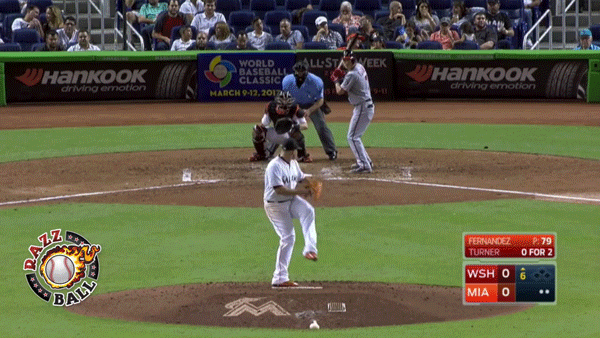 After the slider, then this change-up!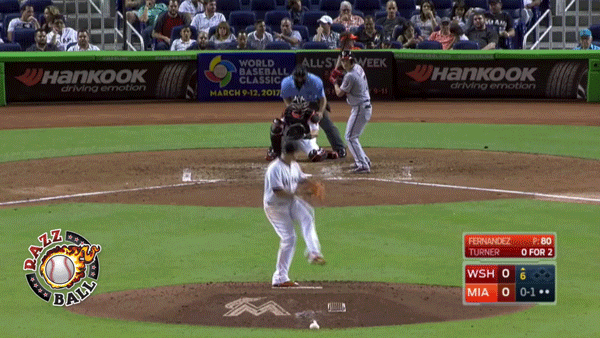 Slider again drops low, then slider again just like that first GIF gets Turner swinging for his 9th K.
Seventh Inning: Giancarlo Stanton breaks open the deadlock with a 2-out HR to make it 1-0, and JoFer gets 95 in there to Drew, slider drops low, change-up gets Drew out in front, change-up again drops low, then 95 paints the low, inside corner that Foxtrax indeed has nipping the zone despite Drew being unhappy.  10 Ks!  95 outside to Harper, then nasty slider bends in the zone, I mean what can Harper do with that?!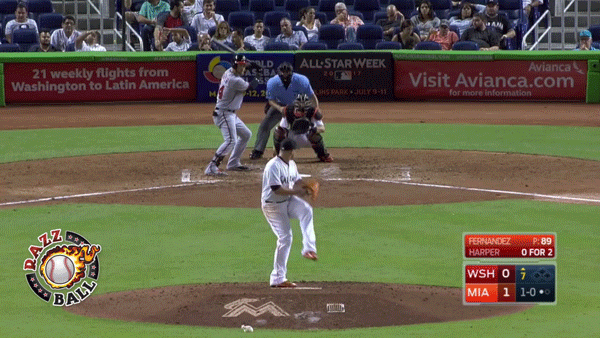 Fastball fouled off, fastball is low, 98 upstairs gets fouled back, then slider is lined to center, but it hangs up in the air for Yelich to run it down for the second out.  Then first-pitch slider is hit weakly to short by Rendon for the third out, 20 in a row sat down now!
Eighth Inning: 96 in there to Robinson to open the 8th, 95 fouled off, change-up stays outside, slider hangs outside, then big slider at 84 gets Robinson swinging wayyyyy over it for his 11th K.  Then first-pitch slider completely saws off Ramos and it dumps into no-man's land in very shallow center for a single.  21 straight sat down gets snapped…   Goodwin whiffs over a change-up as he's completely overmatched, then change again is a weak little chopper, but the bounce carried it over first just over Miguel Rojas for another weak single.  Mannnn.  So runners on first and third, one out, and Espinosa pops back a fastball, 0-1.  95 eats him up on the hands for a flare foul, 96 sails way high and away, then nasssssty 91 MPH change-up with sink and tailing movement has Espinosa way in front and over the top for his 12th K.  Then what a moment, 1-0 game, two runners on, two outs, and Daniel Murphy – one of the best hitters in the NL this year – comes up to pinch hit.  Fastball is in there 0-1, 95 goes a little low and in, high 96 MPH fastball fouled off, then Jose Fernandez's final pitch is a broken bat change-up served right to second for an easy third out.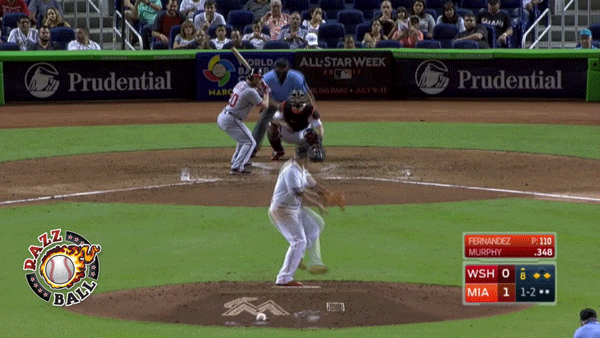 Crowd goes wild, standing ovation, high fives in the dugout…  It's almost movie-like that this would be his last start against the NL East leaders.
Final Line:  W  8.0 IP  111 Pitches (74 Strikes)  0 ER  3 Hits  0 Walks  12 K  Gamescore: 88  Gamescore+: 93.6
Final Analysis: 12 Ks, no walks, a 1-0 win in a pitcher's duel, and to go out in a big moment…  I just don't have the best words for this.  He had 17 swinging strikes, a ton of weak foul balls, and two of the three singles he gave up were lucky (a bloop and a chop in the 8th) that yielded a much higher Gamescore+.  21 in a row sat down at one point.  Dominance.

I was going to rank Fernandez as my #2 SP next year behind Clayton Kershaw.  He had a chance to win the strikeout title this year in well under 200 innings, with 253 Ks in only 182.1 IP for an absurd 12.49 K/9.  This season was clearly a launching point into a decade-long run of Cy Young contention.  He might even get the award this season – he's more than deserving.  Farewell JoFer, you will be missed.
Sorry to end the Pitcher Profiles this season on such a somber note.  But there was really no other pitcher I could break down without thinking of Fernandez's stuff.
As I do every season, I will have a full 2016 recap reviewing Grey and I's (grammar police!) ranks and the final SP rankings, sometime in late October (2015 recap here).  I hope everyone out there in Razzball Nation had a strong season on the pitching mound in 2016, and let's look forward to making pitching great again in 2017!  Stop juicing the balls, MLB!