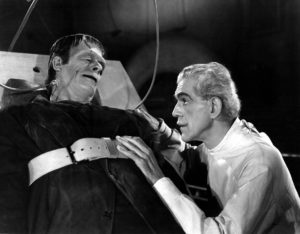 You're the monster preparing for your fantasy draft, and I'm Dr. Frankenstein telling you it's all going to be OKAY.
If you are one of our beloved loyal Razzball readers, you know by now that this site tends to discourage you from taking catchers early in fantasy drafts. The argument is simple: the difference between a top 5 catcher and a 5-15 range catcher is negligible. At other positions, the difference is much more significant. Plus, there are always surprises who end up either getting drafted later or picked up on waivers who put up top 10 catcher numbers.
Some years ago, a younger Grey with what we can only assume was a less prominent mustache wrote about his draft strategy for punting catchers. I'll wait here while you give it a look. Go ahead. It's the same website, so I won't get in trouble. I might even get some kind of bonus for encouraging clicks or something.
Razzball Commenter Leagues are open! Play against our contributors and your fellow readers for prizes. Join here!
The concept is simple. In most leagues, the difference between a top 5 catcher— one who might get taken in the top 25 to top 50 of your league— and a waiver wire catcher pickup is minuscule compared to other positions. You can get away with punting the catcher position because even the best catchers don't have huge impacts on their teams.
I have a big CBS league draft coming up this weekend, so I looked at CBS Fantasy points for 2016, and 15 different first basemen outscored Buster Posey, the top catcher. Also, 21 outfielders, 11 second basemen, 13 third basemen, and 8 shortstops outscored Posey. That is nearly 70 players who outscored the absolute BEST option available at catcher, and we are not even including the 30 or so starting pitchers who outscored the BEST catcher, which would put the top option at catcher out of the top 100 players.
Buster Posey's ADP right now is around number 43. In our Razzball Writers League that drafted last week, he went at 97. Be more like the Razzball Writers in that league and less like the schmos who are overpaying for catchers.
Last season, I took J.T. Realmuto somewhere around the 20th round, hoped for the best, but also figured I might be streaming catchers at some point in the season. Instead, Realmuto rewarded me with a top 5 season at his position. Did I get lucky? Yes. Will that always happen? No. Would I have been fine if Realmuto didn't work out and I had to do some catcher streaming? Absolutely.
If you read the Frankencatcher Reports I wrote last year, you already know that. There was a period where Jarrod Saltalamacchia was the hottest hitting catcher in the league. Remember that? It happened. I was there and we talked about it at the time. We knew it wouldn't last, but we did get a few fun weeks out of it.
Now that we're about 450 words into this, let's at least include some Frankencatcher substance here…
Sandy Leon
A lot of people are looking at Sandy Leon's slash line last year and getting giddy while projecting those numbers out over a full season instead of the 252 ABs he had last year. I beg you, do not be so foolish. Allow me to scare you away from making such a mistake.
Exhibit A. Let's take a stroll through Splitsville:
| | |
| --- | --- |
| Month | Batting Average |
| June | .467 |
| July | .355 |
| August | .306 |
| September/October | .213 |
Now, for a while there, he was an unstoppable force at the plate, as his June and July indicate. But those numbers demonstrate how he came back to earth over the course of the season. Did he wear down from being overworked? Sure. Maybe. But was his career average heading into last season below .250? Yup.
Not enough to scare you away yet? Ok, how about this:
Farrell isn't sure if 2016 was an outlier for Leon. We shall see, but.. pic.twitter.com/pxQI0gGEVc

— Red Sox Stats (@redsoxstats) March 14, 2017
Still not convinced? Ok. His BABIP last year was .392. Three. Freaking. Nine. Tee. Two. I'm going to go out on a limb and predict he doesn't repeat that number. And while Spring Training does not mean much of anything, I will point out that he is hitting .143 so far this Spring, just because that evidence supports my claims above.
Oh, and one last thing. He is competing with a young prospect who the Red Sox love for playing time and for the starting spot. And even if he ultimately wins the job, Christian Vazquez is probably going to start three times a week.
Injury Update
Just as the Ian Desmond news was settling in for the Colorado Rockies, their fans, and those of us who drafted Ian Desmond in early draft leagues, Tom Murphy went down:
#Rockies catcher Tom Murphy out 4-6 weeks after suffering fracture in his right forearm: https://t.co/znPmZ7Vjee

— FanRag Sports MLB (@FanRagMLB) March 14, 2017
Bummers all around. It is never a good day in fantasy when a Rockies hitter goes down. Just last week, Grey went over Tom Murphy in his Catchers to Target, 2017 Fantasy Baseball piece, which focuses on, you guessed it, catchers to target later in the draft, after the "top guys" are all taken.
Now, losing Murphy for 4-6 weeks (but, if we are being honest with each other, probably longer) is not like losing Buster Posey for the entire season, so everyone relax. But it still stings for those of us who were going to try and be savvy and take a flyer on Murphy in the 24th round. Plus, the good news is that now we get to talk about Murphy in a future Frankencatcher post, when Sandy Leon is hitting .220 and you are looking to go streaming.
Catcher Rankings
For those interested in my rankings, here are my top 25 catchers as of right now:
If you want to talk fantasy football or have players you want Mike to feature, hit him up on Twitter at @mikeMaher or post a comment below!