This is easily my favorite week of streamers so far and I'm going to be pedaling harder than ever right down the stream. What I really love is all of the two-start pitchers available. We actually have five two-start streamers that we're going to recommend, which is a new record for this article! I'm pedaling so furiously that there's going to be a hole in my kayak!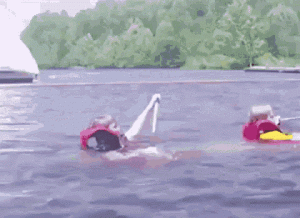 Two-Start Pitchers: 
Yonny Chirinos, TB (at KC, at BAL) 
Chirinos is creeping up in ownership percentage but you guys need to get out there and add him to get him out of these articles! Outside of one terrible start, Chirinos has been one of the best pitchers in the AL. In fact, if you take out that one nightmare start against the Blue Jays, Chirinos owns a 1.57 ERA and a 0.61 WHIP in the other four starts he's made. That alone makes him hard to overlook but these matchups are downright brilliant. Not only does Kansas City rank 23rd in xBA, but they also rank 21st in scoring. That's actually the inferior matchup of the two, with Baltimore ranking 24th in xwOBA, with one of the worst lineups in baseball. That's why the Streamonator has him projected to provide $14.7 worth of value in those two starts.   
Mike Soroka/Julio Teheran, ATL (vs. SD, at MIA) 
While Soroka is the cream of the crop here, it's worth throwing both of these guys out there in a two-start week. Soroka actually has the highest projection of any two-start streamer we've recommended all season long, as he's projected to provide nearly $30 worth of value. The Streamonator actually has him projected to throw 11.5 innings, en route to a 3.42 ERA and 1.11 WHIP while striking out nearly 11 batters. That's monster production from a streamer and it's no surprise when considering these matchups. Miami currently ranks 27th in xwOBA while San Diego ranks 25th, with both clubs sitting bottom-four in runs per game. Teheran is obviously a riskier option but he's hard to fade in the exact same matchups with his 36 Ks in 31.2 innings.  
Jakob Junis/Brad Keller, KC (vs. TB, at DET) 
Both of these Kansas City pitchers have been solid this season and they could have success in these matchups. While the Tampa Bay matchup is worrisome, the fact that it comes at home lowers the risk. The Rays actually rank just 19th in total runs this season and could struggle to put runs on the board in a pitcher's park like Kauffman Stadium. The Tigers matchup is why we really like these guys though, with Detroit ranking 22nd in wOBA and 26th in both slugging percentage and K-rate. These two pitchers have been solid this season too, with Keller posting a 3.41 ERA and 1.24 WHIP while Junis has a 32 Ks across 32.1 innings en route to a 3.77 xFIP.   
Also Consider Spencer Turnbull at Philadelphia and versus Kansas City. Turnbull has been a pleasant surprise with his 2.77 ERA and 26 Ks across 26 innings so far this season. In addition, Tanner Roark could have success against the Giants and Mets with his recent success.  
One-Start Streamers: 
Vince Velasquez, PHI (vs. DET) 
I've always had a mini-man crush on Velasquez and it's nice to see him finally pitching up to his potential. In four starts this season, Velasquez has collected a 1.99 ERA and 1.01 WHIP, striking out 22 batters across 22.2 innings. That's obviously brilliant and one of those starts even came in Coors Field! While he undoubtedly has some regression headed his way, Velasquez 25.4 percent career K-rate is hard to argue with, especially in this tasty matchup. Not only does Detroit rank 26th in runs scored and 27th in wOBA, but they also own the fifth-worst strikeout rate in the majors. That's why the Streamonator has Velasquez projected to provide $22.1 worth of value, which is easily the highest number of any one-start streamer this week.  
Sonny Gray, CIN (vs. SF) 
While we don't know yet what Gray has done on Sunday, he's had a spectacular season up to this point. Since a weak start in the opener, Gray has posted a 3.27 ERA and 0.68 WHIP across his last four starts, striking out 31 batters across 22 innings of action. Those are bonkers numbers and that WHIP and K-rate are simply hard to argue with.
What makes him such an intriguing option this week is his matchup though, as any pitcher will be excited to face this Giants lineup. In fact, San Francisco ranks 28th in scoring, 29th in AVG, 30th in OBP, 29th in OPS, 30th in wOBA and 28th in xwOBA. That says a lot about just how bad this lineup is and Gray should cruise right through them with his recent stellar form. The Streamonator has Gray projected to provide close to $14 worth of value, as he's projected to post a 1.17 WHIp in this game while striking out more than a batter per inning.
Mike Minor, TEX (vs. TOR)
Minor appears to be one of those post-hype breakouts that fantasy owners get so excited about and he should be more widely owned.  Not only does he own a 3.21 ERA and 0.98 WHIP, that actually includes an ugly start in the opener. Since then, Minor has posted a 1.86 ERA and 0.90 WHIP across his last four starts. Throwing 29 innings in those four starts shows just how much he's improved, as there aren't many pitchers these days even smelling the seventh inning. That doesn't even include a gem that he threw Saturday night, in which he struck out 13 batters across seven one-run innings, allowing just four base runners against the scorching-hot Mariners. All that makes Minor worth considering against anyone but Toronto is a fantastic matchup. Not only does Toronto rank 24th in wOBA and 25th in OPS, but they also own the fifth-worst strikeout rate in the majors.  
Felix Pena, Tyler Skaggs and Griffin Canning pop up highly in the Streamonator, as they could have success against this weak Toronto lineup.  
If you have any comments or questions, hit me up here or reach me on Twitter @BartilottaJoel.