To all you dads out there, I salute you.  You're raising your families, keeping your wives happy and you've got a holiday dedicated to you and what are you gonna get from it?  Socks?  Maybe a few nice ties?  At best, you're hoping for some quiet Sunday time to yourself.  Maybe you'll go play golf but you're probably not getting what March 14th is supposed to bring, I'm assuming.  The definition of Rage Quit should have an addendum attached specifically marked for Father's Day and all the tripe that goes with it from what I've heard.  My heart goes out to you.  So in lieu of knowing you're gonna get some weird smelling Eau de toilette in your little basket of daddy goodies, I figured I'd have you open my gift first.  Sure, it actually probably smells worse than what you'll get on Sunday but I can assure you this new fresh scent from Flushing, Bartolo Colon, will leave you irresistible to the ladies.  Ok, I'm not gonna lie, it's gonna smell real bad.  I mean, seriously, a cologne that smells like Bartolo?  Have you seen this man?  I'm not even gonna quote it, I'm just gonna link to it.  But you wanna know what all the ladies can't resist?  The fat stacks he'll earn you over on DraftKings since he's only $7,300 on the day and gets the Padres.  Not sure why that's a good thing?  Well let me enlighten you.  The Pads have the worst team road wOBA in the MLB.  Heck, they have the worst team wOBA period.  And the even bestier part?  They strike out at a 22.8% clip as a team as well.  That's 5th best – if by best we mean worst – in the league.  I'm not one for guessing end lines for games but if Big Bartolo Colon doesn't go 7 IP with at least 6 K and max 2 runs, I'm gonna be extremely disappointed and surprised.  He's priced right to help you succeed today, Razzballians.  So spritz on some Bartolo and let the smell of success singe your nostrils.  No wait, that's just the Bartolo smell.  You might need an oatmeal bath to get that off to be honest so my apologies.  To make up for this, I'll show you an image that will probably make the HOF even if Bartolo doesn't…but you gotta click the read more to get it!  So roll on to see the pic and more Razzball picks for Friday DK contests for 2014 Fantasy baseball…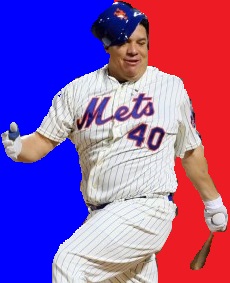 Andrew Cashner, SP: $9,500 – Look, we can't all be the face of MLB like Bartolo, ok?  But we can pitch in the same pitcher's park against a mediocre offense that strikes out a lot.  Not as cheap but I could see plenty of people cash on Cashner today since he's a few hairs below the cream of the crop.  Heck, you could go Colon and Cashner if you wanted to while we're at it and be just fine.  Which is like ebony and ivory but the ebony is just a BBC.  Yeah, that stands for Big Bartolo Colon.  Close that extra tab you have open that gave you that idea.  You know which one.
Alex Cobb, SP: $8,000 – I officially want no part of him today.  It has nothing to do with recent pitching woes, it has all to do with the Astros somehow resembling a major league ball club of late.  If I'm picking a pitcher from this game, it'll be Collin McHugh but he's like $10,500 which is like $3K more than Bartolo.  Totes not worth it, girlfriend!  Sorry, slipped into Valleynese for a second there.  I knew I shouldn't have fallen asleep to the movie Clueless.
Drew Hutchison, SP: $8,300 – Want a contrarian play that may pay off big?  Hutchison's home/road splits are about as extreme as you can get.  Just go check his player page, yo.  Fine, you want a taste I see.  How about an 8.72 ERA in Toronto and a 2.03 outside of those not so friendly confines?  Pass the D-Hutch to the road split side…
Jose Quintana, SP: $7,600 – The matchup based on the numbers screams he should be good to go but his own numbers have been pretty blahtastic.  If he's trumpeted everywhere fade him but if not, consider him a nice GPP play.
Tim Lincecum, SP: $8,100 – I'm leery of Lincy, yo.  Just want that up front.  But the Rockies have been fairly banged up by injuries of late and are obviously not the same offense on the road.  For the season, they have the 20th ranked road wOBA for teams and that doesn't account for no CarGo and Arenado much.  I'd obviously not suggest him if he were pitching in Coors.  Pot's legal in Colorado.  Duh.
C.J. Wilson, SP: $10, 700 – CJ?  Over 10K?  Exqueeze me?  Baking Powder?  You're loco, DK.  Yeah, ain't no reason you want in on Wilson unless you're contractually obligated by Head & Shoulders to do so.
Evan Gattis, C/OF: $4,500 – Evan seriously has the best nickname in baseball: El Oso Blanco.  He earned that while playing Venezuelan winter ball back in 2012…*Looks up at CJ blurb, wonders what else needs to be written*.  Oh and he mashes lefties.  There, knew I was leaving something out.  If he's to spendy and trendy for you, Salvador Perez and John Jaso at $3,800 look mighty enticing.
Jose Abreu, 1B: $5,100 – Would it surprise you that Abreu leads the MLB in ABs per HR at 10.9?  It does?  Well then that's why you don't get this call and I can't help you.  He gets Guthrie who has a sweet shoe collection but an even sweeter pitch selection.  As in he selects really hittable pitches.  I don't mind me a mini-ChiSox stack and Abreu gets top billing for me there.
Brandon Moss, 1B/OF: $4,700 – If Abreu doesn't price right for your team, you could slide down and save a few bones on Moss who's 6th in AB/HR on the year and gets David Phelps for the day.  Did you know if you remove the 'p' and the 's' from his last name you get 'help'?  That's what he'll need to not get completely blitzed by the A's attack.  Consider this a Josh Donaldson endorsement while we're at it.
Albert Pujols, 1B: $5,000 – If you believe in the powers of BvP, Pujols has a career .961 OPS vs the Harangutan in 76 ABs to go with 5 HRs.  Maybe a trip around the senior circuit will spark him out of a recent slump.  Definitely not a well priced play but I'd feel like a terrible person if I didn't point it out.  If you'd like a cheaper BvP play, how about Paul Konerko who has 4 jacks against Guthrie in 52 career ABs and is going for a measly $2,700.  Talk about a senior discount.
Daniel Santana, OF/SS: $4,200 – I remember way back when when little 'ole Danny cost me a mere $2,700.  But after 95 PAs hitting .372 with 2 HRs and 4 SBs, I guess we can't be all that surprised.  Plus the Twins as a team have the second best wOBA over the last 14 days.  Small sample size, I know, but unless you have diabetes, a mini-Twinkie stack wouldn't be a bad idea.  I'm saying Josh is Willing to go HAM and Over the walldo Arcia are definitely in play, folks.
Ian Kinsler, 2B: $4,700 – I'll just say it now so I don't have to say it later: I'll take the over in Detroit.  Kinsler isn't the best-priced option but even the DFSBot is smitten with Ian with Kyle Gibson on the bump.  Gibson has turned into a reasonable home start but his away numbers should make others stay far away…unless you're doing a hitters stack against him, of course.
Christian Yelich, OF: $4,100 – He's been a top 10 player over the last 7 days according to ESPN's player rater and has some reverse split action going on as he's hitting .315 against LHP.  Left on left crime is a very overlooked problem in our society.  Until it's resolved, take advantage.
James Jones, OF: $3,400 – Need to fill an OF spot and are stuck with not so much moola to do it with?  JJ probably leads off and gets an unimposing opposing pitcher, in Tepesch.  A couple of runs, a couple of hits and a steal are what you're hoping for here.  It's the Mariners, ok?
Justin Upton, OF: $5,000 – The Braves in general eat lefties for breakfast which I'd assume would taste like me if I were wrapped in a breakfast burrito.  That's a hint I'm a lefty, btw.  I guess I'm also letting you know I self-loathe and am willing to pick on my own dear south-pawed brethren but it's hard to say no to an ATL stack tonight featuring El Oso and El Upton.
I'm Only Happy When It Rains
Looks like the East coast thinks it's the Pacific Northwest.  Stop watching Portlandia and maybe the rain will die down.  Until then, drink your Starbucks and listen to some Leonard Cohen because there's over a 50% chance of rain as of this typing for the PHIvsCHC, BALvsTOR, BOSvsCLE, and NYMvsSD games.  If Bartolo's start gets rained out, it's official: God has moved on from us and the world is over.  But just for Friday.
Doing Lines In Vegas
Should we be surprised that three of the four games that are in major weather jeopardy are currently the games that Vegas loves for offense?  BALvsTOR leads the pack at o/u 9 while PHIvsCHC and BOSvsCLE is at 8 1/2.  I could see the under in the last game given Masterson's recent turns but I wouldn't be surprised with eight lefties put in the lineup to kill him either.  I didn't talk about this game for a reason kids.  Much like that one time I…ahem…'you know'ed' with lidocaine, I don't really have a feel for it.  And for a contrarian mini-stack, I'll take the over in SEAvsTEX with Nick Tepesch on the mound as the song 'Under Pressure' pumps in his ears playing opposite King Felix.