Ever had one of those years where everything that could conceivably go wrong, does? I can tell you all, 100 percent honesty, that this has never happened to me before, and much like Lindsay Lohan, I am feeling lost, lonely, and pretty damn confused about my embarrassing fall from grace. It all began when I was invited to participate in the #1 RCL league, which includes Grey, Rudy, and countless other fantasy legends (like not-Jay). I was beyond ecstatic at the opportunity to prove I was best in the business at this fantasy sh*t, and after the draft, there was no doubt in my mind I would compete for the title. My team seemingly had it all; A dynamic mix of power and speed, a wondrous collection of power arms who played for winning organizations, and unquestionably more upside than any other team. I had it all, baby!
As I now look at the standings and witness my team falling all the way to 11th place,  my dreams have been utterly demolished. Finally, an opportunity to play with the big dogs, and I totally disgrace myself. I feel like Christian Slater attempting to get into an A-list Hollywood party. The rejection is too much to bear, and I'm having thoughts about going back to doing solo porn jack-off videos. Let's analyze the team that keeps me up at night. What went wrong? To me, this was a championship contending team, without question. It's become a bottom feeding bum-fest, and I'm strongly considering throwing in the towel.
Shall we meet the team?
Beddict's Disgraceful Players
Matt Adams– If you had told me, Tehol Beddict, that Adams would be batting cleanup for the NL Champion Cardinals, playing everyday and hitting a robust .327 a month into the season, I would've thought I'd be dancing, singing, and praising the Elder Gods for influencing my decision to draft him in each and EVERY single league I'm involved in. Our biggest worry was that Adams wouldn't play everyday, correct? This is our dream scenario! Wait, what? Billy Hamilton, possibly the most weakly player in all of Major League Baseball, is tied with Fatt Adams in jacks and has surpassed him in RBIs!? Yes, Adams has five RBIs. FIVE!! If someone could explain how it's humanly possibly to hit a pathetic 5 RBIs while batting cleanup, all while hitting .327, your boy would greatly appreciate it. Fatt makes John Olerud look like Mark McGwire in his chemically enhanced prime. Is the weight loss to blame? Would Chris Farley (RIP) still have been legendarily hilarious if he weighed 200 LBs less? Would John Candy (RIP) been as delightful in hood classics like, Uncle Buck, The Great Outdoors and Canadian Bacon (just kidding) if he wasn't extremely obese? Would we even know Melissa McCarthy existed if her weight wasn't insanely out of hand? The answer to all these questions, my friends, is a resounding no. Farley would have been just as inconsequential as his toothpick brothers, Candy would probably have made it on Sitcoms, but not been a major film star, and McCarthy would be selling carnations off some desolate highway. Sometimes it's just more beneficial to just be extremely overweight. Sure, it led to the deaths of Farley and Candy, but coupling obesity with mass quantities of pure Colombian cocaine is never good for one's body or soul. I say it's time that Adams starts wolfing down about 2 1/2 deep dish Chicago-style pizzas every night, right before he goes to sleep (that's what makes you the fattest). He owes it to us. (Beddict's note: Fatt just parked a 3-run homer after this was written. Have the Elder Gods answered my prayers or will he fade back into obscurity like Edward Norton after numerous poor movie choices?)
Evan Longoria– The Devil Rays, as a whole, have been a disgrace thus far. Longo hasn't been "terrible", but he's mos' def' not making the coveted "delight" section, so he's got to be placed somewhere. 3 homers and 15 RBIs simply aren't enough, and it's costing myself and many others who spent a 2nd or 3rd round pick on him dearly. This guy should be like De Niro in his prime, instead he's more like John Cusack, putting out watchable films but nothing that ever blows our minds. I still have faith, but I need a hot streak like Donald Sterling needs a new mistress.
Everth Cabrera– 4 steals!? E-Cab is batting lead-off and hitting nearly .300, yet only has a pathetic 10 runs and 4 steals to show for it? Part of the blame goes to the predictably disgraceful Padres lineup, but the lack of stolen bases is truly disheartening, causing me to want to reach for that bottle of NyQuil that sits upon my desk, so that I may drift into a dream world where this isn't really happening to me.
Xander Bogaerts– Shame on me for believing that Bogomil would quickly join the elite shortstop ranks, falling in directly behind Tulo and Han-Ram, and lead me to glory. With one bomb and 5 RBIs, Bogaerts fits perfectly on my pathetically inept roster. Only the Elder Gods know if this young ARUBIAN will quickly heat up and reward my decision to reach on him in the majority of my leagues. Or maybe Grey was correct in predicting his breakout wouldn't occur until next season. Taking into account all the hot-garbage Grey has touched and turned into diamonds and gold in this league, has me leaning more towards the ladder. No, I didn't misspell "latter", in referring to the sentence previous to the last; I meant that I'm seriously considering climbing a 4-story ladder and triple-lindy'ing to the pavement, due to the ungodly underachieving of my entire team.
Jason Heyward– Every year I think to myself, "Beddict, this is the year Heyward hits 30-plus bombs and 100 RBIS along with 15 or so steals, and by the way, you are really, really, good looking." Each and every single year, I want to lay my nuts on a dresser and bang them sh*t's with a spiked bat! PUNISH ME, OH WISE ELDER GODS!!! PUNISH ME, FOR I HAVE FAILED YOU, YET AGAIN! Heyward is below the Mendoza line and has a paltry 2 home runs to go with it. Even a wizardly Co*ksmith (wordsmith?) like myself couldn't possibly begin to put into words, the portrayal of immense agony and distress that the seemingly inept Heyward causes me and no doubt, countless others.
Domonic Brown– I refuse to except the fact that Brown isn't an elite baseball player. "Sir" Domonic was born to hit in the 3-hole, instead he's hitting no higher than 6th and sometimes 7th, in a lineup filled with ancient has-beens. What, may I ask, are the Phillies actually trying to accomplish this season? After Lee and Hamels, their pitching staff is a tragic combination of bummery and ineptitude, and yes, I'm going to hit on this again, THEY ARE BATTING THEIR BEST PLAYER 6TH or 7TH EVERY EFing DAY!!!!! We are conversing about an All-Star who carried them last season. I feel like I'm snorting crazy pills. How about bumping Ryan Howard down? How about putting Rollins elsewhere, so the bottom section of your lineup card isn't laughed at like every Pauly Shore comeback attempt? Brown simply has no protection in the order. Why would you give Brown anything to hit if you have Jayson Nix or Cody Asche hitting behind him? Ryne Sandberg should be reprimanded and publicly admonished for his disgraceful managerial skills. Why another team hasn't swooped in to save Brown from his current hellacious situation astounds me. Other teams should be lining up to to steal this graceful beast, and I'm sure the Phillies could use another veteran presence in the lineup. There' a solid chance that if Cleveland called today and offered Jason Giambi, Phillies management would bite, and honestly nothing would please me more. I am absolutely mortified with what's going on here. ENOUGH!!!!!
Bryce Harper– Gods, please inform me I'm just hallucinating of the absinth and peyote, and that I didn't really draft Harper in all but one of my fantasy leagues, as well as advise others to act in similar fashion…… If the rest of my team was performing anywhere close to their capabilities, an injury like this wouldn't kill me……..buuuuuuuut, as you are witnessing, that just isn't the case. While I usually enjoy bashing players in the disgrace section, this particular player/injury has left me so heartbroken, that I am for once, at a loss for words. I swear on my honor, I just shed a tear.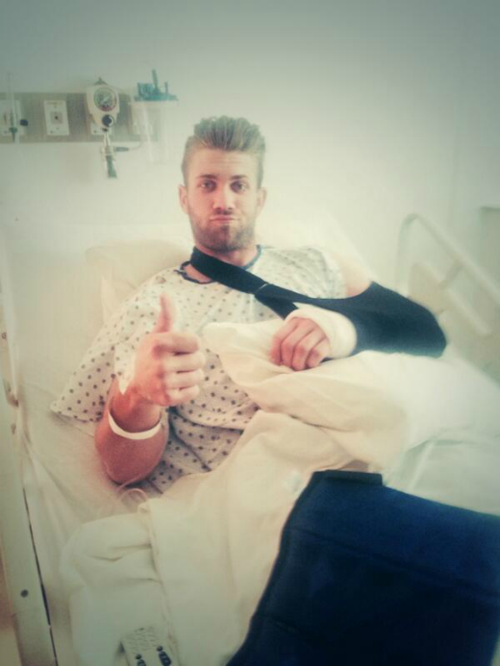 Whyyyyyyyyyyyyyyyyyyyyyyyyyyyyyyy!?
David Price– My plan was to draft Jose Fernandez a round or two earlier, but he was deftly plucked with the selection right before me, so I reached on Heyward or some other bum (I'm too scared to look it up). Still, I believed Price to be a decent number one starter and a possible Cy Young candidate. A 4.75 ERA is not quite what I was hoping for. Price has been routinely bent over like Miley Cyrus after a couple salvia bong rips, and I for one, am getting sick of it.
Matt Moore– Moore was drafted to be my high-upside number four starter, and has since been lost for the year with a torn elbow ligament. I understand that most "experts" were down on Moore this season, but I'll take him every day of the week and twice on Sunday as my four. Are you beginning to sense a pattern here? Yes, everything short of my genitals falling off has gone wrong for me this season, yet here I stand, determined to ascend back to the top of the rankings……. Who am I kidding? I'M FINISHED!!!!!!
Matt Garza– This bum has since been removed from my roster, but I just thought he was worth a mention in the disgrace column. After taking a look back at Garza's career, I'm puzzled as to why I ever believed he was even ownable in 12-team leagues. I suppose it could have been his sterling 2011 season, where he had a 2.95 ERA and 197 Ks, but those days are long gone. If my memory serves me correct, Garza was also the top pitching target at the trade deadline last season, so maybe that's why I had it in my head he was an all-star caliber pitcher. Someone told me Garza was a star… that somebody lied.
Grant Balfour– I've had multiple Rays fans step-up to me when I drop the hammer on Balfour on Twitter. The responses only come after the loud-mouthed Aussie, Harry Houdini's his way out of a jam. Those responses where quickly deleted  for eternity when Balfour gave up a walk off grand slam to the Elder God chosen, Jose Abreu (I WOULD GIVE MY LEFT NUT FOR THIS GUY). [Ed. Note– Who has two thumbs and Jose Abreu? This guy.] Though those were the first runs Balfour allowed all season, one can just tell when someone is extremely hittable, and Balfour is just that. When teams would rather sign Jim Johnson or insert Tommy Hunter, rather than go with you, I think it's time to start looking for a new line of work. I'd recommend soft-core Cinemax porn, but frankly his monstrous Adams apple is a major turn off. Can you imagine trying to flog the dolphin to Balfour laying the wood? I wouldn't be able to take my eyes off that throbbing bone, and yes I'm still talking about his Adams apple. Reminds me of THIS scene.
Josh Fields– Being that Grey and Rudy swoop-up newly named closers faster than Leo DiCaprio switches out models, I was forced to insert this peon, and after he threw 5 scoreless innings with a decent amount of Ks, I felt maybe I'd struck fantasy gold. Okay, maybe not gold, but copper rather. Remember the aforementioned comment about Balfour getting lit up like a Christmas tree by Abreu? Well Fields second implosion in a row came on that very same day. You know, the one where he gave up 5 earned runs on 4 hits, without recording a single out? Balfour + Fields= The infamous #DoubleWhammy. I felt like I ran naked, backwards through a corn field at the conclusion of that particular day. Ahhhh, memories.
Other Disgraceful Things I Witnessed This Week:
Donald Sterling- What can I say that hasn't already been said?! I still find it hard to believe a forced sale can come from a private conversation. I'm sure there's many an owner or person of power who's said deplorable things, things that would change everyone's view point on them. The problem here is that everyone already knew what kind of man Sterling was and that's the main reason he has almost ZERO support. I know that I, personally, have said things amongst friends or directed at people I despised, that if heard in the wrong context would make me look like an absolute scumbag (possibly even on these posts), so I think we should all take this moment in history, as a time to reflect on our behavior and what kind of people we are and what kind of people we want to be. I thought Sterling would fight this to the end, and he still might, but with seemingly the entire country against him, it may be in his best interests to simply walk away. Kind of feel bad for the old coot, considering the Clippers are probably the thing he loves most on this earth. [Ed Note– Even though, you know, the team is like 70% African-American…] The fact is, many old, white people still have these viewpoints, and sadly we just have to wait for them to die out. Sad situation in general.
Let's get positive!!!! This is obviously going to be extremely brief, being that it is that I'm in 11th place.
Beddict's Delightful Players

Evan Gattis– You can't ask for much more than what El Oso Blanco has done thus far. He seems to be sitting a tad more often than expected, but I'm guessing when Beej Upton's average drops back below .180, Blanco will be seeing more time in the outfield. Gattis is one of the few men on my team to produce any kind of power numbers whatsoever, and for that, I thank him.
Giancarlo Stanton– The Yardfather is my favorite player in all of baseball and has produced about what I expected thus far. Stanton was falling as far as the 3rd round in some fantasy drafts and that's simply unacceptable drafting (Who am I to talk??!). The fact is, Stanton has superior power to anyone in baseball and if he's given the chance to swing the bat, 40 plus homers is a guarantee. That ridiculous ball park will cost him a handful no doubt, along with the fact that he's protected by two middle-aged, washed up bums, in Garrett Jones and Casey McGehee, but he shall overcome. Witness. P.S. If Stanton is ever traded to a team with a respectable lineup, he immediately become a top-5 overall pick.
Adam Eaton– I can't begin to tell you how shocked I was when the Diamondbacks traded away this treasure. Oh wait, I wasn't shocked whatsoever, considering this is the same team that disgracefully traded Max Scherzer for nothing, gave away Trevor Bauer for nothing a year after drafting him, and grabbed their ankles on the Justin Upton trade. Kirk Gibson wanted to mold this team after himself, and guess what? We have an absolute tragedy on our hands. I wouldn't have traded Eaton straight up for Trumbo, let alone throw in Skaggs, who was also a big time prospect of theirs. I expected a few more steals out of Eaton, but other than that, he's right on schedule in becoming an All-Star caliber player. Love this guy.
Rajai Davis– In owning Davis last year, I wondered why he didn't play every day, for he produced seemingly every time he was inserted into the lineup. As per usual, Davis has been a cheap speed option (and a SAGNOF favorite of Mike's) and when you consider Billy Hamilton was going in the 4th round, that's what we call value playas!!! Kudos if you drafted him late.
Greg Holland– Nothing to see here. Doing what he's supposed to for one of the most boring teams in baseball. Couldn't put him in the disgrace section for he hasn't fallen apart like Nicholas Cage after he was forced to sell all his castles to pay off the IRS. Wish the Royals would win some more games though.
Gio Gonzalez– Another guy on my roster doing about what I expected. I'm beginning to despise the Washington Nationals in general, but Gio always comes to play. He is what he is, and that's a not terrible 2nd or 3rd starter.
Jeff Samardzija– RUN SUPPORT PLEASE!!!! How much longer can Cubs fans continue to support this pathetic franchise? Now, they're talking about trading Smadge? You know, their only quality starting pitcher? I don't care what anyone says, this man is an absolute beast. I fully expect him to continue pitching well and for his k's per nine to rise as he loosens up. All-star talent here, no doubt.
Non-MLB Delights This Week:
The NBA Playoffs– Yes, I'm going to continue mentioning it until you start to watch. This has been the greatest first round in NBA history, as I've never witnessed so many down to the wire games. Can I be honest with you? I watch 1 million times more NBA than I watch baseball. I'm too A.D.D. to sit and watch an entire baseball game. I hardly watch the playoffs. I need action! Join the movement or get left behind. Donald Sterling probably loves baseball.
Rihanna nude shots– That nipple piercing tho. Those tan lines tho. Never thought she was THAT hot, but hey, anytime I get to see a celeb naked, I'm going for it. Jay said he'd fire me if I posted the link so just Google it.
I thank you for joining me for another week of Disgrace/Delight and make sure you tune back in next week as we go back to the Game of Thrones theme. This season has been the greatest television in our worlds history, and I can say that with confidence. No?  [Ed. Note– Eh, started strong… but not much going on right now. Season three is still much better. There's time though.] Maybe you're more into VEEP. Cute show, but seriously GOT is official like a referee whistle and you need to do whatever it takes to witness it.
As per usual, your questions and comments our greatly appreciated and will be responded to with the quickness. I'd also like to cordially invite you to follow my journey on Twitter at @TeholBeddict47. I'm starting a daily fantasy picks show soon from my home so feel free to throw your ideas to me on that as well. Have a fabulous weekend and don't be racist!