As I scrolled through the under-owned players yesterday, I kept trying to find a guy that was a one week rental, but all I saw was Yugo's on the lot. Then I saw something I had overlooked because I own him and he wasn't in the free agent pool. Kennys Vargas has been swinging a solid stick since his call up, and I like what he brings to the table over the next 7 days and beyond. For this week's title, I was inspired by the San Diego tour stop this past Thursday and the circus type atmosphere we had going. I  had a blast hanging with Nick "the voice" Capozzi, Master Lothario Grey Albright, Frequent Commenter Royce, and the great group of guys that trekked down to San Diego and drafted live with us at the Player's Sports Bar.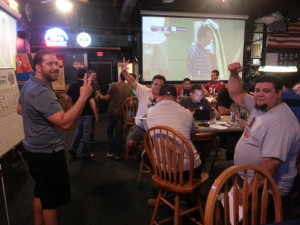 So why are you talking about this J-FOH? Because I write for both football and baseball, and I want you all to try and make it out to one of the tour stops. Nick is one of the nicest people you will ever meet, and it's great being around other fantasy players to talk shop and have a drink with. Yes this is a plug and yes I want you all to play football with us too. (Join one of our RCL Leagues today! New to fantasy football, but still want a try at prizes? Jay was happy to make a Beginners Guide, just for you. They call him… philanthropist.) Now back to our regularly scheduled program.
Kennys Vargas is a giant out there on the diamond. He stands 6'5″ and 275lbs, that's bigger than Ryan Howard and almost everyone else. He's a switch hitter, who in AA this year, hit 17 bombs with a .281 BA and a .63 K/BB rate. Since his call up, he's put up a line of 5/1/7/.310 in 7 games, has hit safely in all of them but one and has 3 multi-hit contests. His K/BB so far is not great (10/1) by any stretch but the sample is so small and honestly, I feel he is being aggressive as he tries to prove himself. This week he begins with three games against the Houston Astros at hitter friendly Minute Maid Park facing two right handers and to lefties. He follows this series with 4 games against the Royals at home where he gets two right handers and two lefties. I'm pointing out the arms because he's a switch-hitter, so we should expect him to be in the lineup. In AA this year he had a wOBA of .404 vs. southpaws and a .361 against right handers. For those of you new to wOBA, anything above .400 is a good thing. So far in his small sample size, he has hit both sides well and you shouldn't worry about who is on the hill. Against Chris Sale last week he went 1-for-3 with a double and 2 RBI's and this week his toughest match-ups are Yordano Ventura or Danny Duffy. We love our Hot Schmotato's here, and he's on that road right now. He's an add for this week and longer, and might be that sneaky grab that helps you with a struggling CI or a batty called disaster in the Utility spot.
Bonus Creepers
I'm still promoting the addition of A.J. Pollock and Avisail Garcia before they come off the DL. So DO IT! Dayan Viciedo (10.4%) has been swinging a hot stick, hitting 4 home runs the last week and is a grab until the counting stats stop coming in. J.P. Arencibia (10.5%) has been on fire the last two weeks. With a line of 6/4/17/.302 makes me wonder why people are staying away from the spicy pasta sauce. David Peralta (4%), Oswaldo Arcia (1.4%) and Logan Morrison (0.4%) have been heating up and are worthy of an add if you need help in 5 OF and deeper leagues. This time of year, when you're hot your on my roster and when you're not then show them the door. Keep this in mind, but also keep in mind that September prospect call ups are right around the corner. Keep an eye on this as you make your moves.