As I scrolled through the under-owned players yesterday, I kept trying to find a guy that was a one week rental, but all I saw was Yugo's on the lot. Then I saw something I had overlooked because I own him and he wasn't in the free agent pool. Kennys Vargas has been swinging a solid stick since his call up, and I like what he brings to the table over the next 7 days and beyond. For this week's title, I was inspired by the San Diego tour stop this past Thursday and the circus type atmosphere we had going. I  had a blast hanging with Nick "the voice" Capozzi, Master Lothario Grey Albright, Frequent Commenter Royce, and the great group of guys that trekked down to San Diego and drafted live with us atthe  Player's Sports Bar.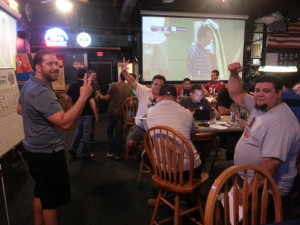 So why are you talking about this J-FOH? Because I write for both football and baseball, and I want you all to try and make it out to one of the tour stops. Nick is one of the nicest people you will ever meet, and it's great being around other fantasy players to talk shop and have a drink with. Yes this is a plug and yes I want you all to play football with us too. (Join one of our RCL Leagues today! New to fantasy football, but still want a try at prizes? Jay was happy to make a Beiginners Guide, just for you. They call him… philanthropist.) Now back to our regularly scheduled program.
Please, blog, may I have some more?