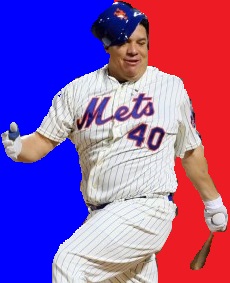 The night slate is…hrm, how best to put this? Not good for pitching. Like uglier than the dude in the pic above this sentence ugly. If you're in the eleven game grouping tonight, you're gonna wonder where the safe arms are. Well, from what I see you ain't got none and for that reasoning, I'm out here looking for something that feels safe. Plushy, soft, and supple. Something that makes me feel like I could curl up and fall asleep on it's giant Buddha belly. Admittedly, I don't like the idea of going to the well over and over against the Phillies because you know it's eventually got to have a regression to the positive which would be negative for us, but here I am looking at Bartolo Colon for the night. Fluffy, stay puft marshmallow man that he is, Colon is 42 years young and rarely walks hitters. And why would you when your fastball sits at 89.8? All jokes aside, the reality is Colon throws strikes and spots his pitches well…except when he doesn't. Then he looks like he's pitching BP. Obvi I'm hoping for the good Bartolo and not the bad one tonight but with a slate full of nasty, his 5.5K price tag makes him appealing as a cash relief so you can pay up for big bats. You get peak Bartolo, you're getting about 22 points which more than offsets the memory you rostered this. So on this night, realize you only live once and roster a guy who looks like he should've keeled over and died ten times at this point. But enough about that, let's talk about this. Here's my triple coronary bypass hot taeks for this Wednesday DK slate…
New to DraftKings? Scared of feeling like a small fish in a big pond? Well try out this 10 teamer of Razzball writers and friends to wet your DK whistle. Just remember to sign up through us before you do. It's how we know you care! If you still feel helpless and lonely, be sure to subscribe to the DFSBot for your daily baseball plays.
Please, blog, may I have some more?