Oh, the Dirty South! After breaking down some lackluster NL West teams in my first three previews, we finally get a legitimate contender in the Braves. After posting an impressive 97-win season last year, this club looks fully ready to rock-and-roll again behind Ronald Acuna Jr. This dude has established himself as one of the best players in the Majors and it's scary just how good this order looks with him up top. The one thing they need to clean up is their mascot game though.
The 2020 Razzball Commenter Leagues are now open! Free to join!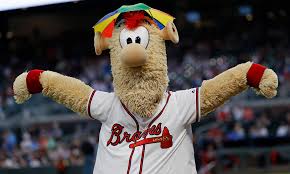 I mean, what is this damn thing? Its name is Blooper and that's certainly a proper name for such a weird-looking thing. Hopefully, it's not a representation of what the Braves are going to do on the field because whoever chose this mascot is hopefully not making decisions that will impact this roster. Anyway, let's get into it!
If you have any comments or questions, reach me here or on Twitter @Bartilottajoel
Also, if you want to see some other team previews or my bust picks, click here!
2019 Braves Recap
Record: 97-65 
Runs Scored: 855 (7th) 
Runs Allowed:  743 (12th) 
Stolen Bases: 89 (9th) 
ERA: 4.19 (10th) 
WHIP: 1.36 (18th) 
Saves: 44 (11th) 
2020 Win Total Projection: 90.5 wins 
Strengths
Top of the Order
Man, this Top-4 is absolutely dominant for the Braves. Acuna, Albies, Freeman and Ozuna has shelling written all over it for opposing pitchers and it could obliterate a lot of opponent's ERA's and WHIP's throughout the year. These four guys combined for 132 homers, 397 RBI and 70 steals last season while posting an OBP in the .360-range. There are simply not many teams in the league who can match up with that and it has all of these guys being drafted in the Top-100. It's not like the bottom of the order is terrible either, with Dansby Swanson and Travis d'Arnaud having breakout seasons last year. If they can carry that over and complement this top-half of the order, this could be the best lineup in the NL.
Weaknesses
Top-End Starters
Mike Soroka certainly pitched like an ace last season but regression is inevitably headed his way when looking at his peripherals. That's scary with Cole Hamels injured and it appears that the youngsters are going to have to carry the load. Mike Foltynewicz, Max Fried and Sean Newcomb have been extremely volatile throughout their short careers and it would be hard to imagine all three of these guys pitching to their potential. With that said, all of these arms have shown flashes of brilliance and it could be a dominant rotation if everything works out. That's rarely how things happen though and if the Braves have a downfall, it'll surely be because of this rotation or injuries.
Starting Lineup
Starting Rotation  
Bullpen 
Bench
Sleeper
Marcel Ozuna (OF)
Why the hell is Ozuna being drafted right around pick 100? He had 29 homers, 89 RBI and 12 steals in a "down" year last season and one has to believe that he's going to go nuts in the heart of this stupendous lineup. While many do consider those to be subpar numbers from Ozuna, the advanced statistics tell us that he's due for some positive regression. Despite finishing with a .241 AVG, .472 SLG and .336 wOBA, he actually had a .288 xBA, .548 xSLG and .382 xwOBA.
That tells us that he was one of the most unlucky hitters in the league last season and he'd probably be a top-50 pick if his averages matched those expected numbers. If he even flirts with those expected averages, he should have 30-plus homers and 120 RBIs in the clean-up spot of this lineup, making him one of the best values in fantasy baseball drafts. Not to mention, he signed a one-year deal and will surely be motivated to land a long-term contract next season with some inspired play.
Bust
Max Fried (SP)
Fried was in a bust column that I wrote a few weeks ago and we're just going to reiterate what I said there. This southpaw cannot limit hard contact, despite his ability to get strikeouts. We're talking about a dude who had a 1.33 WHIP last season while allowing a .268 BA against him. That's really no surprise when you see that he's allowing a hard-hit rate just shy of 40 percent while surrendering an 89 MPH velocity rate. That's why his WHIP and BAA allowed were so high last season and I truly believe that he's going to suffer a few shellings this year. The 17-6 record is also inflating his price tag in drafts and a win total like that is nearly impossible to sustain with such a poor WHIP.
2020 Outlook/Prediction
This is definitely one of the favorites in the NL. The only thing holding them back is their rotation but it has the ability to be special if everything works out as planned. Whenever you have a lineup with Freeman and Acuna, it's going to make you one of the most dangerous teams in baseball. That's why this club is projected for 91 wins and my favorite to win their division, despite the Nationals coming in to defend their title. The one thing that everyone will be watching is this rotation though and that's going to make or break the 2020 season for the Braves.