After breaking down my beloved Rockies last week, we're going to keep things rolling here with another NL West team in the Diamondbacks. While the Los Angeles Dodgers are obviously the cream of the crop in this division, Arizona is a fascinating team. Almost as fascinating as their mascot, Baxter the Bobcat. Why the hell is a snake not the mascot? I mean, they're the Diamondbacks, not the Arizona Bobcats. In any case, this is one of the most interesting teams this season (including their mysterious mascot), so, let's get into it.
If you have any comments or questions, reach me here or on Twitter @Bartilottajoel
Also, if you want to see some of my other team previews or my bust picks, click here!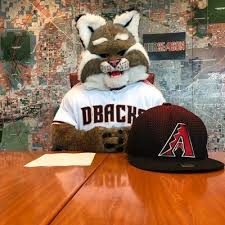 2019 Recap
Record: 85-77 
Runs Scored: 813 (11th) 
Runs Allowed: 743 (12th) 
Stolen Bases: 88 (10th) 
ERA: 4.25 (12th) 
WHIP: 1.31 (13th) 
Saves: 45 (9th) 
2020 Win Total Projection: 84.5 wins 
Strengths
Depth
The Diamondbacks have been wheeling and dealing the past few years to formulate this roster and it's actually quite impressive. They've turned Paul Goldschmidt, A.J. Pollock and Zack Greinke into a much deeper roster. Players like Carson Kelly, Eduardo Escobar, Luke Weaver, Zac Gallen and the Marte's were all direct beneficiaries to those moves and it's sneakily made this a really deep team. Having a backstop like Kelly take up the eight-spot in the lineup is a huge boost with how many crappy catchers there are and this rotation has the potential to be great too.
Inning eaters like Madison Bumgarner and Mike Leake make for a nice veteran presence while Zac Gallen and Luke Weaver both have huge upsides as the young guns in the Diamondbacks rotation. That doesn't even take into consideration southpaws like Robbie Ray and Alex Young, making them dangerous on both sides of the ball. Having Hector Rondon and Archie Bradley for the late innings isn't too shabby either and a healthy season could have Diamondbacks fans looking like this guy!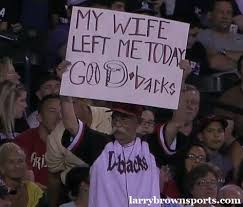 Don't forget about the pitcher's ability to hit too. This is probably the best group of hitting-pitchers in the league with MadBum and Leake which is sneakily a big bonus with so many pitchers out there incapable of even tying their shoes at the plate. While that doesn't affect fantasy, it's something you shouldn't necessarily forget about.
Weaknesses
Superstar Presence
That depth that we just discussed can paint some issues in terms of leadership and superstar presence. We already mentioned that they lost Goldy, Pollock and Greinke, replacing them with a bunch of young guys to fill out this roster They're hopeful that Bumgarner will come in and be the leader of this team but that's tricky with him pitching in the back-nine of his career and just joining this team. It's not like they have any big boppers that scare opposing pitchers either. David Peralta and Christian Walker form one of their worst hearts of the order in the NL and they need both guys to reach their ceilings if they are to reach the postseason.
One other weakness the Diamondbacks have is their bullpen depth. Outside of Bradley and Rondon, this bullpen is crap. If one of those guys get injured, the sixth, seven and eighth innings could become a nightmare. Merrill Kelly, and Taylor Clarke are tough guys to trust with their lackluster numbers from last season and there could be some ugly bullpen games from this Diamondbacks team.
Starting Lineup
Starting Rotation

 

 
Bullpen 
Bench
| | | | | | | |
| --- | --- | --- | --- | --- | --- | --- |
| Player | Position | R | HR | RBI | SB | AVG/OBP/SLG |
| Jake Lamb | 3B | 26 | 6 | 30 | 1 | .193/.323/.353 |
| Tim LoCastro | OF | 38 | 1 | 17 | 17 | .257/.350/.340 |
| Kevin Cron | 1B | 12 | 6 | 16 | 0 | .211/.269/.521 |
Sleeper
Robbie Ray (SP) 
Ray has always been a favorite of mine for fantasy purposes and he's a huge value this season after a down 2018-19 campaign. He finished last season with a 4.34 ERA and 1.34 WHIP but struck out 235 batters across 174.1 innings of action. That equates to a 31.5 percent K rate which is actually below his 32 percent K rate dating back to 2017. That looks even better when you see his 3.74 xFIP from last season which is on par with his career averages. Ray is currently the 57th pitcher taken and 153rd player off the board in total. That's a criminally low price tag for a guy with a strike rate like this, particularly one who had a 3.34 ERA and 1.24 WHIP across the two years prior.
Bust
Ketel Marte (2B)
It just feels crazy that we're taking this guy in the fourth-round. He earned every bit of that price tag last season with a .329 AVG,.592 SLG and .405 wOBA but it's just too much for my liking. His expected numbers tell us a different tale, finishing with a .299 xBA, .521 SLG and .370 xwOBA. That tells us that he outperformed his numbers by quite some margin and we haven't even discussed his super high .342 BABIP.  While he surely did make some changes, Marte had a .263 AVG, .324 OBP, .389 SLG and .712 OPS in his first four seasons. That's a ridiculous jump and I expect him to land in between those career averages and his 2018-19 numbers which would not equate to a fourth-round player.
2020 Outlook/Prediction
I like this team. Many people will pick San Diego to finish second in this division behind the Los Angeles Dodgers but don't count out the Diamondbacks. If they can get Ray and Bumgarner to throw 150-plus innings atop the rotation while getting solid years from young arms like Zac Gallen and Luke Weaver, they should be just fine behind the Marte's. If Ketel starts whistling his pot like he did last season, this could be a sneaky threat to reach the postseason as long as that rotation comes together and this bullpen holds its marbles.