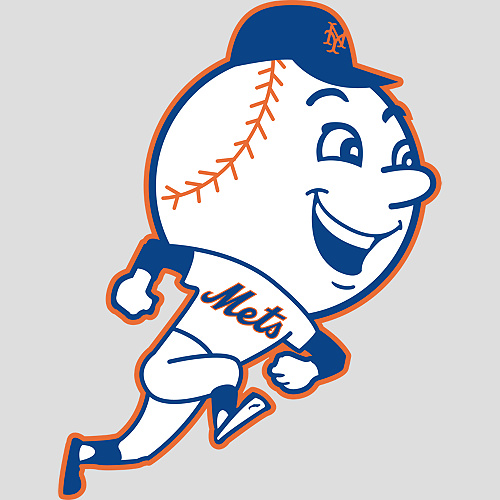 Welcome to Razzball's 2018 team previews. Over the next couple of months, we'll be previewing all of the teams and talking to writers who represent those teams around the web. We want to provide the best and most in-depth fantasy projections to go along with the asking the most useful questions to those who know their teams best. We want to talk about the players in the first half of your draft and also the deep sleepers that make you log into google and start watching Midwest Single-A ball for hours. Just kidding, don't do that, hopefully we don't go that far…
The New York Mets are just two full seasons removed from a World Series appearance. There are still a lot of the same pieces in the clubhouse that were apart of the World Series run. After the two disaster seasons that followed, Terry Collins is out and former Cleveland Indians Pitching coach, Mickey Callaway, is in. Perhaps Callaway can right the ship for a rotation that has the potential to be among the best in the majors. The Mets also brought back Jay Bruce and Michael Conforto is due back in May. I get Steve Sypa's thoughts on Conforto and Bruce and much more. You can find Steve's work at Amazin' Avenue.
MB: Getting Jay Bruce back is a pretty big deal. Do you presume that you will have confidence in this batting order when Michael Conforto supposedly returns in May?
Sypa: Jay Bruce had a solid offensive season with the Mets last season, hitting .256/.321/.520 in 103 games, and maintained that level of production in Cleveland, hitting .248/.331/.477 in 43 games. Barring injury, there's no reason to think that he won't be able to do that in 2018. Conforto returning to the lineup and hitting the ground running is a very big if, but if he can, that would give the Mets a very potent outfield. I don't know how confident I am that all the stars will align, but if the Mets want to be competitive in 2018, everything has to work out just right.
MB: Matt Harvey had a nightmare return to the starting rotation in 2017. His 20.6 HR/FB ratio didn't do him any favors, but what else do you think needs to happen for Harvey to maybe split the difference between last year and his peak seasons a few years back? If he's able to stay healthy, can he be an above average starting pitcher again?
Sypa: Thanks to a combination of Tommy John surgery, Thoracic Outlet Surgery, and a shoulder "stress reaction", Matt Harvey was pitching with a shoulder that, to quote former pitching coach Dan Warthen, was "totally atrophied." If Harvey wants to be a serviceable pitcher in 2018, building up his arm strength is important. His fastball velocity was down last season, and his slider was less effective. Being primarily a fastball/slider pitcher, you can understand why this was problematic. Whether or not Harvey will be able to regain the zip on his fastball and bite on his slider remains to be seen. Thoracic Outlet Surgery is a pretty big deal. It basically ended the careers of Josh Beckett, Chris Carpenter, Luke Hochevar, Phil Hughes, Noah Lowry, and Shaun Marcum. Luckily for Harvey, it's not an automatic death sentence. A few pitchers have had the surgery and were able to have varying degrees of success after returning to the mound: Mike Foltynewicz, Jamie Garcia, Matt Harrison, Clayton Richard, and Chris Young. Matt Harvey will most likely never pitch at an All-Star level ever again, but there is at least hope that he can be a back-end starter.
MB: Steven Matz is just one season removed from over 130 innings pitched and a 3.40 ERA. Health-permitting, can we expect him to compete for the 4th or 5th spot in the rotation with Zack Wheeler and Seth Lugo?
Sypa: All three have had injuries limiting their time on the field over the last two years, but I feel that Matz still has the highest upside of the group, perhaps the most upside of any Mets pitcher not named Noah Syndergaard or Jacob deGrom. His stuff looked diminished thanks to the elbow inflammation and irritation that cost him playing time, but he at least retained his control, walking only 19 batters in 66.2 innings pitched. Wheeler, meanwhile, continued exhibiting the command problems that have always plagued him at the major league level, and Lugo showed stuff that looked inferior to Matz'.
MB: Amed Rosario had his struggles at the plate last year. If he is able to turn it around and start getting on base, can we expect him to move to the top of the batting order? If he does, is 15-20 steals a reasonable goal?
Sypa: Though he didn't show it in his 170 plate appearances last season, Rosario generally has shown solid plate discipline in the upper levels of the Mets' minor league system, limiting his swing-and-misses and drawing a fair share of walks. His swing gets long thanks to an unusual hand path caused by how high he holds his hands, but it shouldn't prevent Rosario from being able to become a league average hitter, especially since he shows excellent barrel control. If Amed Rosario is able to become a league average hitter, there is no reason that he won't be batting at the top of the Mets lineup. Rosario stole 19 bases in 94 games with AAA-Las Vegas and 7 in 46 games with the Mets, with a success rate of roughly 75%. With his plus speed, there's no reason to think that 15-20 steals at the major league level aren't possible, let alone more.
MB: If Dominic Smith has a good spring at the plate, does he beat out Adrian Gonzalez for the starting job at 1B?
Sypa: I don't think that Gonzalez has much left, but he is only a season removed from being an above-average hitter, so anything is possible. That said, I think Gonzalez was acquired because the Mets feel that Smith isn't ready for prime time, and nothing that he showed me makes me think they're wrong. Even if Dom has a strong spring, I'd send him down to AAA to work on his approach. He looked overmatched against MLB pitchers, and his only response was to seemingly sell out for power, taking an all-or-nothing approach. For me to be comfortable with Dom manning first base, he's going to show a blend of the ability to hit for average that he has shown in the minors along with an approach that maximizes his power.
MB: Does Familia or Ramos win the closer role?
Sypa: Assuming Familia is healthy, he's the Mets closer. Not only is he a better pitcher than Ramos, but if the Mets plan on trading him at the trade deadline, they're going to want him to rack up those saves and increase his perceived value.
Projected Starting Lineup
Projected Rotation
Projected Bullpen
| Order | Player | Pos | IP | W | SV | K/9 | ERA | WHIP | BB/9 |
| --- | --- | --- | --- | --- | --- | --- | --- | --- | --- |
| Closer | Jeurys Familia | RP | 65 | 3 | 24 | 9.05 | 3.60 | 1.34 | 3.77 |
| Setup | A.J. Ramos | RP | 55 | 3 | 4 | 10.02 | 4.03 | 1.37 | 4.46 |
*All Projections are courtesy of Steamer.
Want some arrow with that Bowe? (Pronounced Bo-wee, killing the whole pun here, but whatevs.) Explore his content over on the Football side of Razz! And you can also follow him on Twitter.