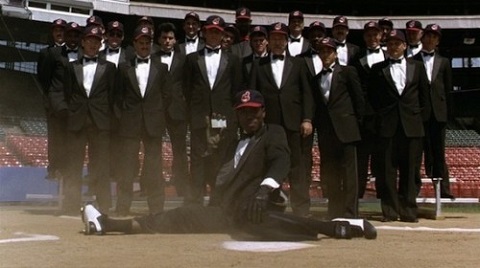 Welcome to the 2016 Razzball Team Previews! You'll find everything you need to know about each team to get yourself ready for the upcoming fantasy baseball season. And I mean everything, folks. We've got line-ups, charts, Slurpees, lube, a guide for beginner electricians, and even a cactus! Well, that's a lie. That's what Jay had last year sitting in front of him. This year? Um…a little less lube? Take that as you will. But hey, we've got teams to preview and questions to ask, so let's hop to it. We a very special guest for this post…Matt Lyons, to provide his take on what the team has in store this season. Now enough rambling, let's see what 2016 holds for the Cleveland Indians!
2016 Cleveland Indians Depth Chart & Projections
Starting Lineup
*Out until late April-early May. Rajai Davis projected to fill spot.
Bench
Starting Rotation
Bullpen
Note: Projections provided by Steamer.
And now we specifically want to get to the specifics. So, let's bring in Matt Lyons from Let's Go Tribe to give us the low down on Cleveland in 2016.
Let's get things going by talking about the perceived savior of Cleveland sports: Francisco Lindor! What? You think I was gonna say LeBron? Alright, so Lindor may not have a following of witnesses hanging on his every play, but the hype is mounting for the 22 year old SS after his .345/44/10/42/11 line after the All-Star Break in 2015. Even though his ISO took a huge jump from his track record in the minors, should we expect similar salvific numbers in 2016 from Lindor?
Matt Lyons: I don't think Lindor is going to be quite as good offensively as he was in 2015. Everyone is going to yell "sophomore slump!" but in reality, he just played way above his head last season. Obviously, I would love to be proven wrong, but Lindor's value is always going to come from defense. Whatever offense he can provide is icing as far as I am concerned.
I tend to agree, but the rankings may not. Another player that's intriguing in the rankings is one of the most consistently valuable names that I always target from the Indians: Michael Brantley. What started as a career with middling numbers has developed into a top-flight OF. Well, that's my opinion, at least, but Brantley's stock seems to be slipping. His line last year, albeit in only 137 games, was actually in line with his emergence in 2014, if not better. However, coming off shoulder surgery, he's primed to miss a chunk of time this season (and shoulder injuries scare the bejeezus out of me for the potential sap of power). Can Brantley still provide elite-level production once he returns? Or, do you see him regressing to a 10-12 HR player moving forward?
Matt Lyons: Oh boy, do I wish I had the answer to this. Unfortunately, I do not. The good news is that Brantley's shoulder injury was on his non-throwing arm so hopefully it will not be too big of an issue once he gets up to speed. The other thing, though, is that most of his offensive ability comes from a phenomenal approach at the plate. The guy just doesn't swing and miss. Unless that shoulder injury was worse than we thought and it messes with his mechanics, I don't see why he couldn't keep up the same power output we've seen in recent years — Brantley is the real deal.
Could be a bright season for the Indians once he returns, but perhaps the primary bright spot for the Indians in 2016 is that rotation. Last season the promise of the starting 5 led many to believe the Indians were a darkhorse playoff contender, but a banged up lineup limited their ability to get there. 2014 Cy Young Winner Corey Kluber is still the bonafide ace of the staff, but there are two guys behind him that could just as good. Carlos Carrasco has a little more track record, and seems to be a little less volatile, but Danny Salazar may have the better stuff and higher ceiling. Which of these two guys do you prefer in 2016? And, can either of them reach Kluber's level?
Matt Lyons: Carrasco for sure. A lot of people seem to forget that Salazar has a history of being extremely inconsistent and he even started 2015 in Triple-A to work on his issues. I also don't necessarily agree that Salazar has a higher ceiling; Carrasco is a borderline ace and could reach Kluber's level easily, if he has not already.
Not that he can become an ace, but the next SP in line for an ascension seems to be Trevor Bauer. The #3 overall pick of the 2011 draft, Bauer has the pedigree and repertoire to put together a stellar season, but he's yet to put it all together. In 2015 he flashed an 8.69 K/9 across 176 IP; nothing to frown at, but that 4.55 ERA sours the sweet potential of his performance. His walk rate is too high (4.04 per 9 IP) and he doesn't shy from giving up the long ball (23 HR surrendered in 2015). Can he fix these glaring problems, drop his ERA under 4.00 and prove he can be a dominant SP in 2016?
Matt Lyons: My hope is that Bauer is taking the Carlos Carrasco path to success: Struggle as a starter, spend some time in the bullpen, come back as an ace. The biggest problem I have noticed with Bauer, at least anecdotally, is that when things start to go wrong in a game he never recovers. Batters figure him out too easily the first time through the rotation and then he falls apart like clockwork every game. When he has a great game from start to finish he looks like a frontline starter, but he needs to get better at getting through rough patches.
Alright, now for the doozy. There's no shortage of content written about the much-maligned Cleveland sports fan. It's been basically two generations since the city had it's last major sports championship (1964 – Indians), leading ESPN to even call Cleveland 'the most tortured sports city' a decade ago. But let's get real, you have LeBron, and Johnny Manziel will be a memory soon. This may simply come from a downtrodden Atlanta fan that hasn't seen a trophy in 20 years (when our teams crossed paths), but do you really buy into the moniker that Cleveland fans have it the worst? And, if so, let's bring some hope back into the picture: what's the earliest the Indians could reverse the curse and win a WS?
Matt Lyons: There is no reason to believe the Indians will not at least compete for a playoff spot this season, and if they get one it's a crap shoot to the World Series anyway. Because of that, I have no problem saying they could win one this year. However, this is not their best shot if even a couple of their top prospects such as Bradley Zimmer or Clint Frazier pan out in the next couple years. The Indians window to win is wide open, and it will be for a while. I'll start to worry if we are looking at 2019 and the Indians have not knocked on the World Series door at least once or twice.
Sounds a little optimistic for the 2016 season, but hey, that just means you've overcome the drab feelings of depression I'm stuck in as an Atlanta fan (can we blow up the Hawks next?). Well done, sir. And thank you for the conversation about the Cleveland Indians in 2016!
You can read more of Matt's writings and updates about the Indians at Let's Go Tribe!
What team is next? Keep checking back for more 2016 Team Previews!