So I did a little Google of "pine tar brands" and everything is this Grandpa's brand!  Talk about cornering the market.  And their new spokesman should be Michael Pineda!  "Those other brands, they dirt, it's dirt…"
I used to be the biggest Big Mike fan.  I was all in on him in the Mariners rookie season, and went gaga watching his starts over anyone else.  Of course he faltered down the stretch, got traded, blew up his shoulder, and now is a little bit of a parody based on the ridiculous double-down of pine tarring and feathering himself.
While he might be a punchline, and finding a little bit of humor for the open was easy, he's still been good while healthy this year.  And not just good, but Grandpa's good!  ERA barely over 2, WHIP under 1, 30:4 K-ta-walk.  And still owned in only 51% of Yahoo leagues!  I haven't seen Pineda pitch since the April oil slick days, so I decided to break down his Saturday start north of the border to see how he's looking:
First Inning: Pineda's first pitch is a good sinking 91 MPH fastball to leadoff man Jose Reyes.  Right off the bat his delivery looked more over the top.  But maybe it was just that pitch, because the next one at 92 looked like the arm slot I'm used to and Reyes laces it to right for a hard hit single.  Quick work there.  93 misses barely high to the always fun Munenori Kawasaki, 1-0 is that sinking fastball with the over the top delivery, heater hits the inside corner, slider at 82 hangs way high, fastball in the zone Kawasaki fouls off his foot, 2-2 slider is a good one with great downward bite but Kawasaki gets a piece, still 2-2.  Pineda then elevates the fastball at 93 just high and outside with Kawasaki chasing, first K.  Former Yank Melky Cabrera fouls off a fastball, fastball labelled a cutter is outside, then a perfect 86 MPH change-up gets a swing with Reyes successfully stealing second.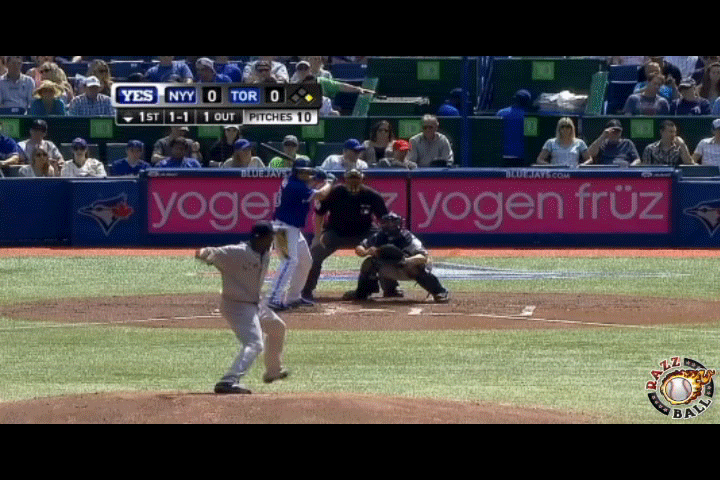 All the replays show the steal, but let's focus on that pitch!  First change-up we've seen, and that was a brutal one!  A good slider is tapped down the first base line foul, another change-up is fouled, 1-2 again is a fastball high, 2-2 slider fouled, 94 heater is outside, and Melky works it full.  9th pitch of the AB is cutter on the outside edge that Melky slaps hard to third, but a diving Chase Headley makes the great play for the out.  Definitely saved a run there – and a lucky out for Gamescore+ – but Reyes moves to third.  The red hot Jose Bautista takes a good 84 MPH slider in the zone while backing out of the way, good buckler there 0-1.  Then a good slider again working to the outside lower black gets the call, 0-2.  Slider again is fouled back, that one hung a tad, then 0-2 slider again is pummeled to left for a laser home run.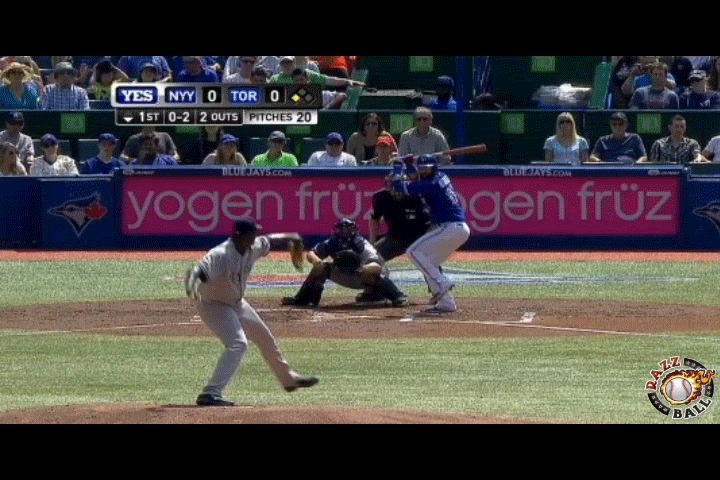 Poor pitch selection there, first two sliders get called strikes, Bautista barely missed the third fouling it off, then Pineda stubbornly uses it again – and in the zone at that!  Not a fan.  Collecting himself, Pineda is just high at 94 to Adam Lind, then an outside slider is crushed to right, but Ichiro Suzuki catches it on the run on the track to mercifully end the inning.  Long at bats, two great defensive plays, and a two run shot.  Buzz's girlfriend, woof!
Second Inning: After that 23 pitch inning, Edwin Encarnacion breaks his bat and flares out to Ichiro for the first out.  One pitch out sorely needed!  Dioner Navarro takes 94 at the letters for a called strike, then an 88 MPH either cutter or hanging change-up in the lower part of the zone is grounded to first, three pitches for two outs.  94 high again gets Pineda up 0-1 on Danny Valencia, 94 again is cut on late and fouled off, then 0-2 slider stayed in the zone and is hit hard to left, with Martin Prado deciding to play it off the hop.  A good OF makes the catch there.  So two outs, one on, and before he gets one pitch off, Valencia takes off for second.  It throws off Pineda starting to deliver the ball, he turns to second and it's a balk.  Weird balk there, a pitcher not totally with it.  Fastball just outside, then 84 MPH slider is fouled off by Kevin Pillar, a flailing swing at a slider is nipped foul 1-2, 95 on the hands gets another awkward swing and tipped back, still 1-2 with Pillar completely overmatched.  And high fastball again is popped up to end the inning.
Third Inning: Back to the top with Reyes taking 95 on the outside edge, then again out there with the cutter at 89 is popped out and caught by Derek Jeter.  Good sinking fastball at 95 is in there – still think he has a slightly different arm slot for that.  Cutter at 89 hits the bottom of the zone, a great slider at 88 going toward Kawasaki's feet is nipped foul, 96 – fastest velo on the day – stays outside, then 89 cutter again, and an absolutely nasty one, gets the lower third of the zone for strikeout number two – both on Kawasaki.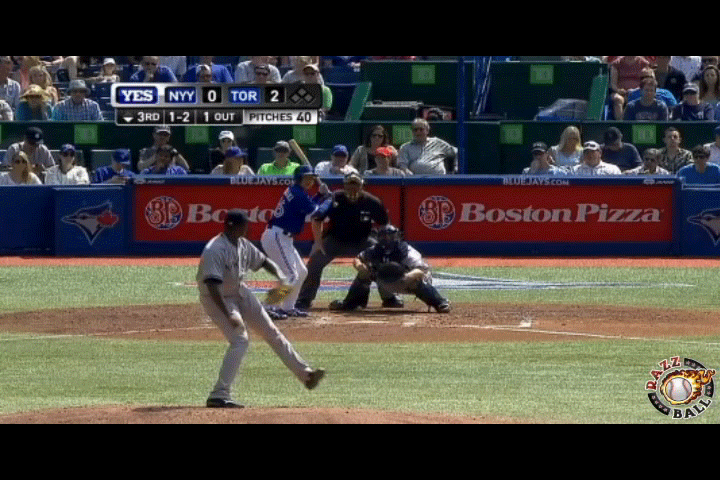 Great pitch there, maybe a two-seamer, but I think it was a cutter.  95 is outside to Cabrera, high slider that hung a tad on the letters is ripped foul, much better slider is tipped foul, 96 outside is cut on late and slashed foul, low fastball again is hit foul, then that 89 MPH cutter that keeps getting labeled just "fastball" is hit routinely to second for an easy out.  Much better inning.
Fourth Inning: Even after a good inning, the first and second have worn into his pitch count at 47 – but 38 strikes!  48th pitch to Bautista is high and outside, slider is in there – ballsy to stick with a slider there – then that good sinking fastball at 95 is in there, 1-2.  And he stays with it, another slider without too much break hangs in the bottom of the zone, but gets popped out to center.  Perfect slider gets strike one on Lind, cutter dips low, but fastball again on the outside edge is slashed to left for a double.  Good swing there, locked in on the fastball, and that's two rockets off the bat of Lind.  E5 takes a fastball outside, then 93 MPH cutter at the letters blows him away, 1-1.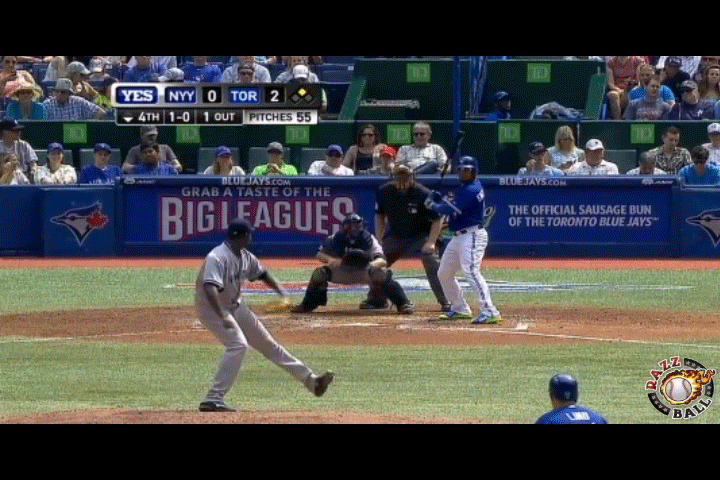 You don't see 93 blowing Encarnacion away like that very often!  96 is outside, then 83 MPH slider on the inside edge is swung over, 2-2.  Fastball fouled off, 95 just off the plate gets a very close check swing but he held up, 3-2 cutter fouled, then 96 is grounded down the third base line, with Headley hugging the line and making the long throw for the out.  Two down, runner still at second, and Navarro fouls off an inside fastball, 85 MPH slider dives into the dirt, slider on the outside edge fouled off, cutter is buried in the dirt, then a 2-2 slider just off the outside edge gets a defensive slap swing and an easy groundout to Headley to end the inning.
Fifth Inning: Still down 0-2, and Pineda gets Valencia to whiff on a fastball, 0-1.  Slider dives low, then a lot and inside cutter is flied out pretty routinely to right, one down.  Fastball at 94 gets strike one on PIllar, 94 in the same spot is fouled off, slider hangs high but almost nipped the top edge 1-2, then a big slider on the outside edge diving low gets him gone gone chasin' waterfalls!  Pillar has not looked good in the box.  Good 85 MPH slider gets strike one called on Reyes, almost the same exact pitch is grooved in there 0-2, then again slider that dips low is nipped foul, still 0-2.  That was the progression Pineda needed that we didn't see against Bautista in the first – working progressively lower in then out of the zone.  Then 95 MPH heat on the outside third is hit right to Pineda who fields it well and gets the out.  Nice, clean inning.
Sixth Inning: Fastball is inside on Kawasaki, heater again dips low, 93 is in the top inside corner, fastball again is low, 3-1.  And heater one more time at 93 right down the middle is grounded to second, one out.  Pineda had K-ed Kawasaki twice, but threw all fastballs at 93 or slower there, might be fading.  84th pitch is a 94 MPH fastball in there to Melky, then a slider that was a pretty good one and broke low in the zone is lined to right for a single.  That was hit hard and credit Melky.  Bautista chases a fastball just outside at 94 0-1, then a rare change-up even though he threw a great one in that first GIF is just low out of the zone – Bautista squares it up and hits it on a line, but it's caught in center.  Hard contact, but an out.  Two down and up is Lind who has hit him hard, but he takes a 95 MPH fastball in there for strike one.  Then a slider on the outside lower edge gets a slow roller to second, and Pineda gets Lind for an easy out.
Seventh Inning: Pineda's back out there at 89 pitches, and number 90 is a great slider that gets E5 to swing and miss, 0-1.  But a fastball down the middle is hit hard towards short and Jeter can only knock it down for an infield single.  Even when Jeter was good that would've been a really tough play.  S0 a leadoff single, and Navarro accidentally foul tips the first pitch heater, then another fastball at 94 and again right down the middle is crushed to right and off the wall for a double.  Runners at second and third with no outs, and that'll do it for Pineda, who comes out and hits the lottery that neither baserunner would end up scoring.  He owes reliever Shawn Kelley a basket of mini muffins!
Final Line:  L  6 IP  93 Pitches (72 Strikes)  2 ER  7 Hits  0 Walks  3 K  Gamescore: 53  Gamescore+: 53.6
Final Analysis: Solid outing.  If not a little unspectacular.  I loved the control, no walks is awesome and the fact he has 4 ON THE YEAR (!!) is pretty amazing.  That said, he had a lot of pitches fouled off, and of his 3 Ks, two were Kawasaki who I love as a person – but camon – and one on Pillar who looked equally overmatched.  A lot of balls were hit really hard, the HR to Bautista was a horrible sequence of four consecutive sliders, and the balk in the second was really weird.  His Gamescore+ came out to be about even, but I think this start could've been a whole hell of a lot worse.
While his heater still isn't quite to the Mariners days, it did get up to 96 and was peppering 95-96 often.  I was shocked to see his overall fastball velocity on the season at 92.5.  Pine tar was slowing it down!  Although I don't see any distinction on Fangraphs with the cutter, that sat 89ish.  As always with cutters, sometimes they're tough to distinguish pitch-to-pitch.  I feel like he threw ~15 this start, while also having a little different arm slot on some sinking fastballs – so it's a mixed bag.  The off-speed is all about the slider, which he threw early and often.  The homer to Bautista I've talked about enough, but it generated foul ball after foul ball.  Then he also mixed in a few change-ups, which I hope he can use more and more this year and into next season.
Pineda is probably a must-start in almost all leagues right now.  This outing wasn't perfect, and he still doesn't pitch too deep into games, but he's not going to walk anyone and can keep hitters off balance.  While his size, demeanor, and delivery are completely different, the stuff on its own is a little reminiscent of my boyfriend Corey Kluber's.  That said, Kluber's cutter is probably the best in the Majors and he has a lot more break on it and the slider.  Could Pineda develop into the next Kluber next year?  I think it's possible, although health is obviously a major concern.  He'll be very buzzy heading into next year, and I think I'll be towards the front end of the hype.
JB's Updated Top 100 SP
(rankings based on 12-team Roto, and from this point to the end of season – green for risers, red for fallers.  New indexing key – IL = innings limit concern, WD = wear down concern)
**Sadly, this will be my final ROS re-ranks.  With only a month left, now remaining schedules play a big factor, and the big board will make giant shifts every week.  But at the end of the year I'll do a 2015 Top 100 SP for the offseason!**
| | |
| --- | --- |
| RANK | SP, TEAM |
| 1 | Clayton Kershaw, Los Angeles Dodgers |
| 2 | Felix Hernandez, Seattle Mariners |
| 3 | Chris Sale, Chicago White Sox |
| 4 | David Price, Detroit Tigers |
| 5 | Madison Bumgarner, San Francisco Giants |
| 6 | Corey Kluber, Cleveland Indians |
| 7 | Cole Hamels, Philadelphia Phillies |
| 8 | Johnny Cueto, Cincinnati Reds |
| 9 | Max Scherzer, Detroit Tigers |
| 10 | Adam Wainwright, St. Louis Cardinals |
| 11 | Zack Greinke, Los Angeles Dodgers |
| 12 | Jon Lester, Oakland Athletics |
| 13 | Hisashi Iwakuma, Seattle Mariners |
| 14 | Stephen Strasburg, Washington Nationals |
| 15 | Jordan Zimmermann, Washington Nationals |
| 16 | Alex Cobb, Tampa Bay Rays |
| 17 | Julio Teheran, Atlanta Braves |
| 18 | Jeff Samardzija, Oakland Athletics |
| 19 | Alex Wood, Atlanta Braves |
| 20 | Jake Arrieta, Chicago Cubs (IL) |
| 21 | Doug Fister, Washington Nationals |
| 22 | Tyson Ross, San Diego Padres (WD) |
| 23 | Sonny Gray, Oakland Athletics (WD) |
| 24 | James Shields, Kansas City Royals |
| 25 | Mat Latos, Cincinnati Reds |
| 26 | Gio Gonzalez, Washington Nationals |
| 27 | Lance Lynn, St. Louis Cardinals |
| 28 | James Paxton, Seattle Mariners |
| 29 | Rick Porcello, Detroit Tigers |
| 30 | Mike Fiers, Milwaukee Brewers |
| 31 | Gerrit Cole, Pittsburgh Pirates |
| 32 | Francisco Liriano, Pittsburgh Pirates |
| 33 | Jered Weaver, Los Angeles Angels |
| 34 | Ervin Santana, Atlanta Braves |
| 35 | Drew Smyly, Tampa Bay Rays |
| 36 | Hyun-Jin Ryu, Los Angeles Dodgers |
| 37 | Collin McHugh, Houston Astros |
| 38 | Tanner Roark, Washington Nationals |
| 39 | Scott Kazmir, Oakland Athletics (WD) |
| 40 | Dallas Keuchel, Houston Astros |
| 41 | Andrew Cashner, San Diego Padres |
| 42 | Jake Odorizzi, Tampa Bay Rays (WD) |
| 43 | Zack Wheeler, New York Mets |
| 44 | Chris Archer, Tampa Bay Rays |
| 45 | Danny Duffy, Kansas City Royals (IL/WD) |
| 46 | Phil Hughes, Minnesota Twins |
| 47 | Matt Shoemaker, Los Angeles Angels |
| 48 | Carlos Carrasco, Cleveland Indians |
| 49 | Mike Minor, Atlanta Braves |
| 50 | Ian Kennedy, San Diego Padres |
| 51 | Tim Hudson, San Francisco Giants |
| 52 | Michael Pineda, New York Yankees |
| 53 | Yordano Ventura, Kansas City Royals (IL/WD) |
| 54 | Jose Quintana, Chicago White Sox |
| 55 | Brandon McCarthy, New York Yankees |
| 56 | Wade Miley, Arizona Diamondbacks |
| 57 | Jacob deGrom, New York Mets (IL) |
| 58 | Marcus Stroman, Toronto Blue Jays (IL) |
| 59 | Shane Greene, New York Yankees |
| 60 | Michael Wacha, St. Louis Cardinals |
| 61 | Chris Tillman, Baltimore Orioles |
| 62 | Ryan Vogelsong, San Francisco Giants |
| 63 | Mike Leake, Cincinnati Reds |
| 64 | Jake Peavy, San Francisco Giants |
| 65 | Justin Verlander, Detroit Tigers |
| 66 | Wily Peralta, Milwaukee Brewers |
| 67 | Kevin Gausman, Baltimore Orioles (IL) |
| 68 | Kyle Hendricks, Chicago Cubs |
| 69 | Yovani Gallardo, Milwaukee Brewers |
| 70 | Henderson Alvarez, Miami Marlins |
| 71 | Kyle Lohse, Milwaukee Brewers |
| 72 | Trevor Bauer, Cleveland Indians |
| 73 | Tsuyoshi Wada, Chicago Cubs |
| 74 | Hiroki Kuroda, New York Yankees |
| 75 | John Lackey, St. Louis Cardinals |
| 76 | Masahiro Tanaka, New York Yankees |
| 77 | Danny Salazar, Cleveland Indians |
| 78 | Aaron Harang, Atlanta Braves |
| 79 | R.A. Dickey, Toronto Blue Jays |
| 80 | Mark Buehrle, Toronto Blue Jays |
| 81 | Shelby Miller, St. Louis Cardinals |
| 82 | Matt Garza, Milwaukee Brewers |
| 83 | Bartolo Colon, New York Mets |
| 84 | Rubby De La Rosa, Boston Red Sox (IL) |
| 85 | Drew Hutchison, Toronto Blue Jays (IL) |
| 86 | Jason Hammel, Oakland Athletics |
| 87 | Yusmeiro Petit, San Francisco Giants |
| 88 | Clay Buchholz, Boston Red Sox |
| 89 | Dillon Gee, New York Mets |
| 90 | Tom Koehler, Miami Marlins |
| 91 | Jon Niese, New York Mets |
| 92 | C.J. Wilson, Los Angeles Angels |
| 93 | Chase Anderson, Arizona Diamondbacks (IL/WD) |
| 94 | Alfredo Simon, Cincinnati Reds |
| 95 | Nathan Eovaldi, Miami Marlins |
| 96 | Jason Vargas, Kansas City Royals |
| 97 | Vance Worley, Pittsburgh Pirates |
| 98 | Jarred Cosart, Miami Marlins |
| 99 | A.J. Burnett, Philadelphia Phillies |
| 100 | Chris Young, Seattle Mariners |
Dropped Out: Yu Darvish, Texas Rangers (conventional wisdom prevailed with Texas likely shutting him down ROS), Garrett Richards, Los Angeles Angels (patella, so unfortunate), Jesse Hahn, San Diego Padres (moving to the bullpen to save innings), Jimmy Nelson, Milwaukee Brewers (it's a 6-man rotation for now, but I think Nelson is going to the pen), Anibal Sanchez, Detroit Tigers (seems his pec is going to keep him out most of September, if not the whole year), Tim Lincecum, San Francisco Giants (I really wanted to leave him out and hope no one noticed I had him in the 90s two weeks ago…), Roenis Elias, Seattle Mariners (could lose his spot, more below), Jeff Locke, Pittsburgh Pirates (eh, I mean he's been OK, but right around 100 and needed one more spot)
I know opposing pitcher Drew Hutchison threw a one-hitter, but I can't buy his consistency.  Not going to rank him very high to close out the year.
Well, I give in to the Phil Hughes supporters.  Even after a kinda bleh start.  Sorry about not believing!  I hope you accept my apology.  Or "except".  As my neighborhood Chipotle once had on their front door, "No longer excepting gift cards."  True story.
Smyly is super smiley after moving to Florida.  Buying all in.
I'm all in on Carlos Carrasco as well.  Throwing hard, always had good stuff, 29:4 K:BB last 5.
I never would've bought into Brandon McCarthy, especially moving to the Yanks, but this new cutter is killin' it.  Cutty Sark!
Taijuan Walker has had some big Ks lately in AAA and might take Elias' spot.  Erasmo Ramirez is awful and Chris Young had a start skipped, lots of opportunity, but until he's officially up, I dunno.
Dear [unnamed] angry commenter hating on Mike Minor.  Told you a late turnaround could happen!
What did you think of Pineda's outing?  Thoughts on the final ROS ranks?  I hope everyone is having a happy Labor Day and enjoy the long weekend!