I been up, I been down. Take my word, my way around. I ain't askin' for much. I said, Lord, take me downtown. I'm just lookin' for some Tauch. I been bad, I been good. Dallas, Texas, Hollywood. I ain't askin' for much, I said, Lord, take me downtown. I'm just lookin' for some Tauch. Take me back way back home. Not by myself, not alone. I ain't askin' for much. I said, Lord, take me downtown. I'm just lookin' for some Tauch. In the last month Mike Tauchman has been the most profitable bat in points leagues. During that span he has eight home runs and twenty-four runs batted in. That all equates to 103 fantasy points for you points league purists. Did I mention he's batting over .400 as well. Not that we care about batting average in points leagues, but there is certainly a correlation between a higher average and more points. Tauchman's 1.3 points per plate appearances is the stuff studs are made of. In the words on MC Hammer, can't Tauch this!
From one Yankee to another. At the time I started writing this post Gio Urshela had 100 points, but he did go one for three with a two-run homer and two strikeouts today. That would give him another five points, putting him slightly ahead of Tauchman. But if I'm counting Urshela's stats from today's game then I have to do the same for Tauch. He went one for one with a double and three walks. In nearly all points leagues I know of that's good for five points of his own, boosting him up to 108 and helping him retain his edge on Gio. Urshela's points per plate appearances is at 1.21. Who needs Stanton and Encarnacion when you have Tauchman and Urshela. Those poor unfortunate souls.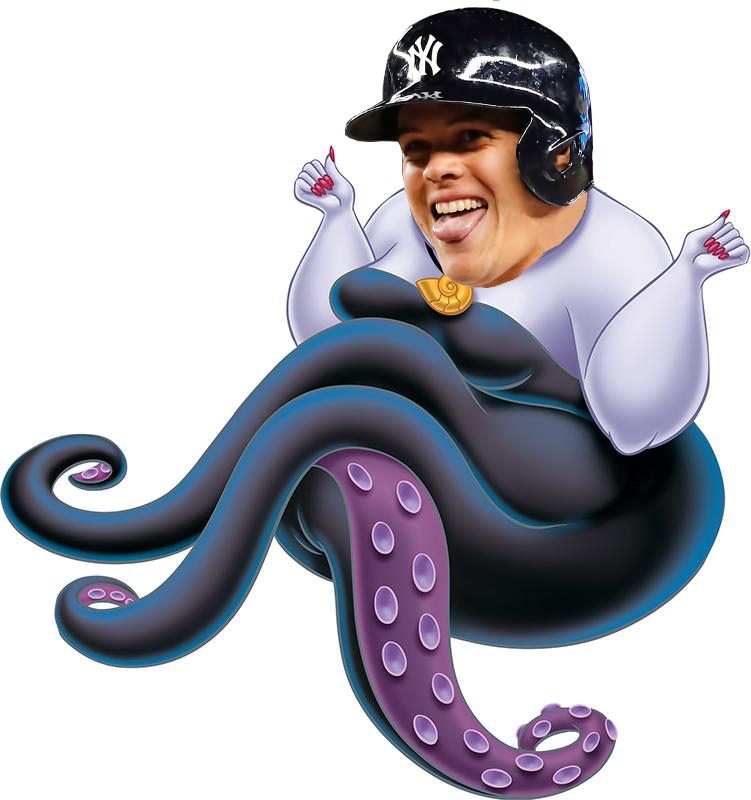 Before his recent wrist injury that has the rest of his season in jeopardy, Nelson Cruz was hitting home runs like he was playing Baseball Stars with the "When isn't it" cheat code. In 86 at bats Cruz hit 15 missiles. With 116 points he was Cruzin' to give a bruisin. We'll have to wait and see what the specialist says, but I'm not optimistic that he will be able to play with a torn tendon in his wrist. It's ironic, he was on a tear and now he has a tear. Someone should call Alanis Morissette. Don't you think?
No one has scored more points than Jose Ramirez in the last month. His 125 points (1.11 PPPA) have fantasy owners that have hung onto him all season rejoicing. Since the All Star Break the Indians have gone 20-8. Is that because Ramirez has rounded into form or is his success a byproduct of the team's success as a whole? In the last four weeks here are Jose's weekly point totals: 33, 45, 2 and 37. That two point week should stand as a reminder of Ramirez's first half struggles.
Only Cruz and Ramirez (29) have had more RBIs than Yuli Gurriel (28). More importantly his 98 points (1.03 PPPA) have made Yuli the most productive bat in the Houston lineup in the last 28 days, and considering the Astros lineup that's quite the accomplishment.
I guess an argument could be made that Jose Altuve (105 points, 1 PPPA) has been the most productive Astro. That's a fair point. He's had more points than Gurriel, but he's also had more plate appearances. How about we call it a draw.
I guess it wouldn't be fair if I didn't mention Anthony Rendon (108 points, 1 PPPA) and Starling Marte (102 points, 0.96 PPPA). There. Mentioned.
Aristedes Aquino has a 1.32 points per plate appearance stat line. Just saying. Can't hurt to take a flier, if it's not already too late. Double A – M – C – Go!
There's no doubting that the Mets have been, well, amazin, having won 20 of their last 26 games (excluding Saturday night). Guess which Met has been the top points league performer during that run. That would be Michael Conforto and his 93 points. Jeff McNeil is only one point behind him. However, Conforto is the guy I'd want to own. In fact, I do. I drafted him.
Keep an eye on Corey Dickerson. He's scoring at least one point every time he steps into the batters box in his last 70 plate appearances. C-Dick hit. C-Dick run. C-Dick score. Don't be a dick. Pick him up.
Following malamoney on Twitter at @malamoney