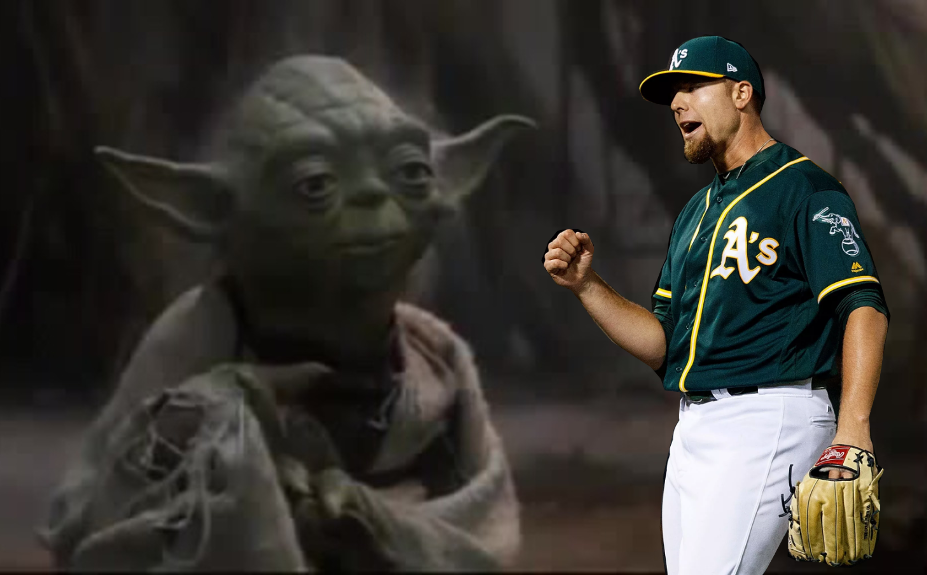 I rarely ever talk about relief pitchers, but since I'm on vacation and my time is limited I'm writing about whatever rolls off my fingers most easily. Blake Treinen is exactly the reason I do not draft a relief pitcher in the early or even early middle rounds. Because of this I will never own Craig Kimbrel, Aroldis Chapman or Kenley Jansen, and I am perfectly fine with that. Treinen's ADP this season was the 14th round. That gives you thirteen rounds to fill the more important roster spots. If I'm being honest, I probably wouldn't wait until the 14th round to pick a closer, but the point is that drafting closers is like navigating a mine field and using an early pick seems like a bad investment. Even the top closers are far from a guarantee. Consider Kenley Jansen. He's having a great season and now he's out with a heart condition. Let's not forget about the volatility of a closer and the number of eventual closers that go completely undrafted. Look at Keone Kela until he was traded. The bottom line is that by drafting a closer early I feel you are giving up too much value at other positions.
Treinen has been excellent this season, to the tune of 429 points. In fact he has the 14th most points among all pitchers, including starters. He has more points than James Paxton (417), Blake Snell (414), Carlos Carrasco (413) and Jose Berrios (403). That's correct, you read that right. Treinen has 32 saves in 36 attempts. His numbers, including five wins and a sub-one ERA, across the board are great. He's the second best closer in fantasy baseball. Second best?
As good as Treinen has been, Edwin Diaz has been better. Diaz's 508 points is fifth best amongst all pitchers. Only Max Scherzer (607), Chris Sale (551), Justin Verlander (527) and Trevor Bauer (520) have scored more points. Diaz has 46 saves and is on pace to break the 60 save mark. Can he beat Francisco Rodriguez's record of 62? Unfortunately for Edwin that's mostly out of his control as save situations are impossible to predict or control. Nonetheless, Diaz's ADP of 127 is another example of why there is no need to draft a closer early.
Did someone just say Ryan Zimmerman? Sure did. After an extended stay on the disabled list it seems he's healthy and ready to produce. After a 39 point week, he's someone I'd keep an eye on. Keep in mind that he hit 36 homers with 108 RBIs last year and a .303 average.
When did Bryce Harper become Chris Davis with less power?
Ronald Acuña chopped up 68 points in the last week. He is certainly living up to all of the preseason hype. It's just a shame he didn't start the season in Atlanta. However, as good as he's been, he might not even be the best rookie in the National League. It's going to be interesting to see if he can beat out Juan Soto for the rookie of the year award. Will we be having the same discussion next year between Vladimir Guerrero Jr. and Eloy Jimenez or will Vlad post a .400 season and runaway with it?
Just in case he wasn't having a good enough season Mookie Betts completed the first cycle of the 2018 season. For those that only speak points, that's good for at least 12 points. Mookie earned 13 points with an extra run scored. Some league give bonus points for feats such as a cycle meaning Betts' cycle was likely worth at least 20 points.
J.D. Martinez scored 50 points in the last seven days. He's on pace for 50 home runs, 140+ runs batted in and a .333 batting average. He fixing to finish as a top five batter in points leagues. At this point only Mookie Betts, his teammate, stands in his way of a triple crown.
Justin has been more Upton than Downton over the last few weeks.
Keep an eye on Kevin Gausman. As a two-start pitcher next week, with starts against the Pirates and Marlins, he might be exactly what you need to get a win.
Here comes Robinson Cano.
Ian Desmond. More like Ian's Deadman. He's averaged 6 points per week over the last five weeks. Not exactly what you want when making a playoff push.
Hands tied (not literally) I had to go to a family wedding out in East Bumblefunk, Pennsylvania this past weekend. And by East Bumblefunk I mean Coatesville. No offense to Amish readers, but I have no patience driving behind them in their horse and buggy. Pretty sure I whipped around Colby Rasmus at one point. No offense to Pennsylvania readers, but it feels like you are 30 years behind the rest of the world. The cool part was that their local Toys R Us hasn't gotten the memo yet that they are closed so I was able to be a Toys R Us kid once more. Pretty sure I saw a Crazy Eddie's out there too. Considering it was only 45 minutes away, while we were out there we made a trip to Hershey Park. To make a long, mostly unnecessary story somewhat short, in my first hour at the park I went on an awesome roller coaster called SkyRush. We got early entrance to the park because we were staying at the Hershey Lodge so there was literally no lines. I walked right onto the ride. Well the ride was awesome, but when I reached into my pocket afterwards I found that my wallet had flown out of my pocket mid-ride. Son of a beach. No cash, but it had my driver's license, credit cards and awesome dudes club membership card. While there were plenty of signs warning about emptying your pockets, I didn't see them because I literally walked right onto the ride. I was told to file a report with lost and found, but considering the ride is over a lot of water, not to get my hopes up. The next day they called to inform me that maintenance had actually found my wallet and they'd ship it to me for $12. Un-freaking-believable! The point of this story is that anything can happen. Get your lineup out there and let them do their thing.
Follow malamoney on Twitter at @malamoney