Shameless cross-pollination!  Yes, just as shameless as Tony Parker cross-pollinating Brent Barry's wife, I'm hijacking the open of my post to let you know Fantasy Basketball rankings have begun!  I hope Grey doesn't suspend me for conduct detrimental to the team… I've got my top 50 up earlier than anywhere else (well, no one has recent rankings up!) and if you suffer fantasy depression through winter, and/or hate that Fantasy Football is nothing but pure luck, Fantasy Basketball is the rebound (womp womp) for you!  The mix of percentages and counting stats appeal the Fantasy Baseball-ist in everyone, so if you've thought about trying hoops, hop over to basketball and into an RCL when they open next month (I sense another hijack coming…)!
"Get back to the diamond JB, this is a friggin' baseball blog!"  Fine!  Has any pitcher in the initial top-50 (non-injured) had as tumultuous a season as Danny Salazar?!  Maybe Justin Verlander… But now he's injured too!  Salazar pitched like a gangbuster (…? can you be only one gang buster?  Ask Ness…) closing out last year, but lower velocity, control issues, and just overall ineffectiveness were so bad he went back down to AAA.  After two months in the Minors, Salazar has been pretty good in 4 of his 5 starts since the call up in late July, including a decent outing yesterday.  Just can't get deep into games!  To be honest, I haven't watched a single Salazar start this year (using all my Indians time on Corey Kluber, k?!), so I decided to break down his afternoon against the Orioles and if he needs to be scooped up in more leagues even if his rotation spot is non-guaranteed:
First Inning: And the afternoon begins with a 93 MPH fastball from Salazar to leadoff man Nick Markakis.  95 MPH heat misses a tad up, but Markakis pounds it to short for an easy groundout.  Good to see that velo.  95 again misses outside, 1-0 to Steve Pearce, fastball inside, 2-0 heater in the zone is chipped foul, then the 2-1 94 MPH fastball on the outer third is rocked to center, but Michael Bourn got a good read and gets it trotting towards the track.  That was absolutely laced, but mostly to dead center with Bourn playing relatively deep.  Two outs, and all fastballs thus far with another in the zone to Adam Jones 0-1, 95 MPH misses an inch outside, first non-heater is an 88 MPH slider in the dirt, then fastball just off the edge of the plate is lifted fairly deep to left, but that one is an easy catch out there to end the inning.
Second Inning: 10 pitches thus far, 9 fastballs, and make it 10 heaters with a four-seamer low to Nelson Cruz, 1-0.  And ohhh-weee!  A nasty slider gets Cruz to half-swing, 1-1.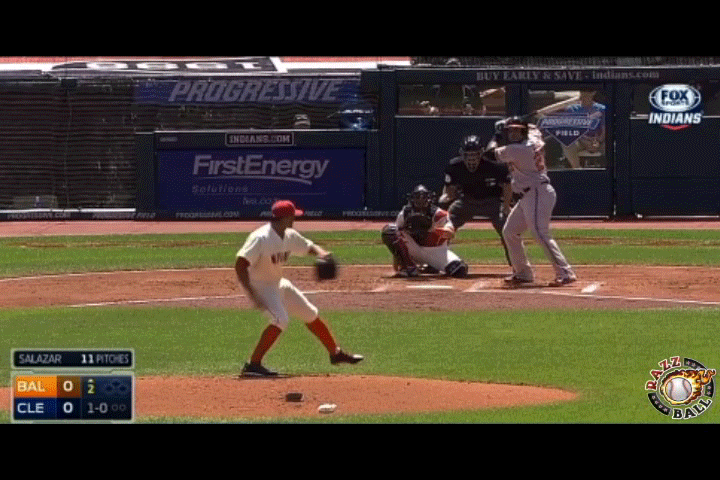 If Salazar gets em on that edge like that, he'll have a huge day.  Back to the heat which is low, then he elevates one at 95 on the hands to get another whiff, 2-2.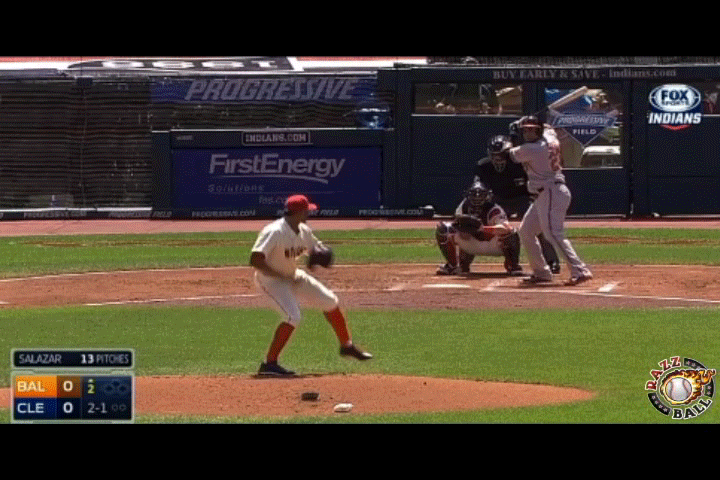 Dominating this AB against a tough hitter.  Two-seamer with some good tail on the fists is tipped foul, then 2-2  again is Salazar's first change-up at 85, and Cruz is down swinging.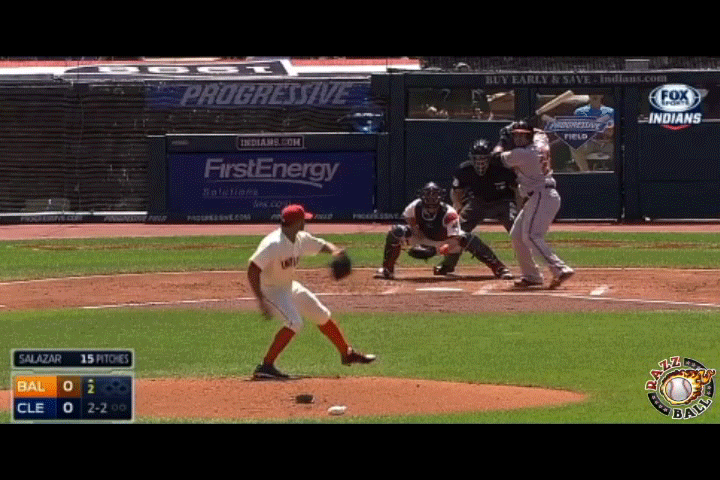 I usually vary up my GIFs through a start, but man, Salazar showed us all three pitches that at bat, getting swings-and-misses with each one.  Salazar hits the outside corner on Delmon Young 0-1, another slider just like that first GIF gets reached for and missed 0-2, Salazar climbs the ladder at 96 but it's taken, fastball on the outside edge is hit hard foul, high slider is fouled off as well, then Salazar buries his split-finger change-up at 85 and Young swings at it in the dirt, two gone.  Back-to-back Ks after a fast inning, and he's looking like an ace. Up is J.J. Hardy who takes 96 low in the zone for strike one, again low but outside, on the outside corner is fouled off, then up in the zone on the outside third at 96 is popped up to center for an easy flyout.  Kinda blown away with Salazar's first two innings.
Third Inning: Hoping to keep it going against the Orioles' 7-8-9, and Chris Davis is all over a first-pitch two-seamer at 91 MPH and oppo-fields it to left for an off the wall double.  91 MPH?  Don't know why Salazar threw a get-me-over.  Sure the two-seamer loses a little velocity, but don't like it.  Back to 94 MPH is in there for strike one on Nick Hundley, barely low with the fastball 1-1, then a slider that stayed in the bottom of the zone – a hanger there – gets lased towards right, but Jason Kipnis catches it full extension on an absolute web gem, and doubles Davis off at 2nd.  Davis had no chance to get back, and after two crushed balls, Salazar finds himself with two outs – very very lucky and an amazing play.  Jonathan Schoop takes 95 on the outside corner for strike one, Schoop whiffs on another fastball at 96 on the inside edge, fastball again fouled off, and after that amazing 2nd inning, only one off-speed pitch which was a hanger.  Yikes.  An 0-2 change-up is fouled off, finally an off-speed but it stayed in the bottom of the zone as well, then 94 on the inside corner is rocketed at Lonnie Chisenhell, but he can't make the play, it ricochets off him, and Schoop ends up at third.  I mean, that was a hard liner, and they gave Chisenhall an error?!  The official scorer must be in the Salazar family, that's kinda unreal.  Three crushed balls, and Salazar has two outs with a guy on from an error – just such a Dr. Jekyll Mr. Hyde after that amazing start… Back to the top of the order and fastball is low, 1-0 to Markakis, a decent get-me-over slider gets the outside corner 1-1, then fastball is way high with his shoulder flying open, 2-1.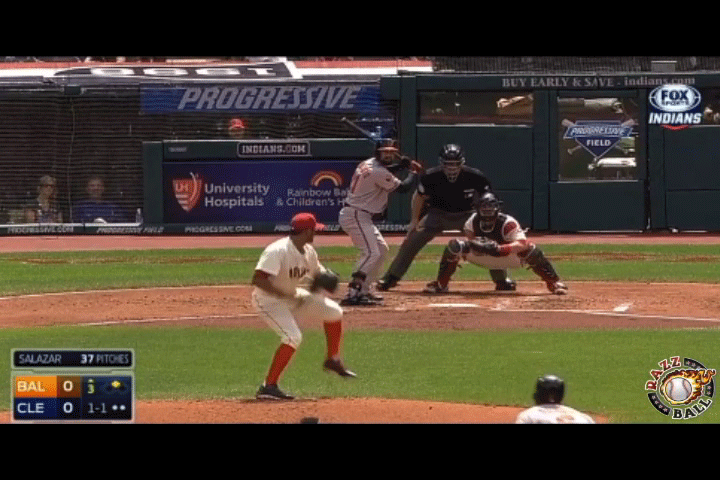 Losing his mechanics there.  I couldn't get a great GIF of it, but the arm seemed to be behind the shoulder and kind of slung in.  Much better mechanics with the fastball and it's barely inside, 3-1, fastball on the outside black fouled back, fastball letter high fouled off, then 3-2 slider is in the dirt for a walk.  Wow, that looked more like an 0-2 slider, not something in a full count.  Bizarre.  Runners on first and second and Pearce takes low, then there's the slider Salazar wanted 3-2 on Markakis – great bite at 87 MPH and barely went out of the zone for a hack and miss, 1-1.  That slider looked like a Kluber cutter.  94 is taken high, 95 inside on the hands is foul tipped 2-2, then fastball high is popped up and caught at first to end the inning.
Fourth Inning: Hoping to bounce back after that rough inning, Salazar is just outside at 93 to Adam Jones, fastball inside 2-0, then a 2-0 cookie in the inside third but in Jones' wheelhouse is crushed to left and caught right at the wall by Michael Brantley.  Man, that might've been gone in Camden.  First pitch 95 MPH fastball is swung on and missed by Cruz, fastball low, change-up is bounced in the dirt, 2-1.  Fastball way high, 3-1, and again, shoulder looked to fly open.  He obliterated Cruz in the 2nd inning too!  Fastball right down the middle is fouled off, and Cruz is mad he missed that one.  Full count, and fastball on the inside lower black is taken and it's K numero tres.  Great pitch there, wish he could throw those for strike one!  First pitch slider is cut on and missed by Young, slider again is way low and outside, slider for a third time dips low, fastball on the outside edge fouled off, then fastball again out there at 97 is hit hard right back at Salazar, he's able to duck out of the way and Young has a hard hit single.  Velocity topped out, but Young was on the pitch before so I would've liked to see him go with something else.  Hardy takes a fastball in the dirt, fastball gets in there, then fastball again on the hands is popped up and caught just out of the infield for an easy out.
Fifth Inning: Salazar picks up a run of support now up 1-0, and gets a fastball in there to Davis, 0-1.  Slider is low with Davis showing bunt then pulling it back, 1-1. Haha, never thought I'd see that from Chris Davis after last year!  Fastball high, again high but it's cut on and fouled back, then slider with good movement but ended up down the middle is grounded sharply into the shift, with Carlos Santana making a good pick and getting him out.  Another ball hit pretty hard for an out.  First pitch-swinging Hundley crushes a slider to left but it's just foul.  Almost pulled a homer there.  Salazar goes ballsy and throws slider again and gets it in the zone 0-2, fastball is slung way outside, and it looked like he didn't release it right.  Another weird failure in his mechanics.  Fastball at 96 is an iota low, that looked good, then 96 again is two iotas low but still close, 3-2.  Payoff pitch is a fastball fouled back, then fastball again in a perfect spot on the outside lower black gets a late swing and miss, fourth strikeout for Salazar.  Two down, and fastball is outside, high slider is cut on and missed by Schoop, then a fastball at 94 right down the middle is ripped to left, and it barely hits the top of the wall for a double.  That one definitely is a homer in Camden.  So a two out double, and a change-up is in there to Markakis, fastball misses up, fastball gets a generous call on the outside corner 1-2, slider stays a good bit outside and hangs, high fastball fouled off, then a change-up in a good spot on the outside lower black is reached for and fouled off to left for an easy out.
Sixth Inning: At 85 pitches, Salazar is hoping for a quick inning but hangs a slider way high, 1-0 to Pearce.  Fastball at 92 (?) is low, 93 is pulled foul, then a 2-1 fastball on the low outside corner at 94 MPH is driven to dead center, and it hits the base of the wall for a leadoff double.  Not a horrible pitch, but after hanging that slider, I think Pearce was sitting fastball the rest of the AB.  Jones fouls off a first-pitch 91 MPH fastball, and again, low 90s now.  Then fastball runs inside and hits Jones on the arm to put runners at first and second.  With the velocity dropping, Terry Francona makes the smart decision to pull him, but the bullpen does him no favors with both runners coming around to score.
Final Line:  L  5 IP  91 Pitches (57 Strikes)  2 ER  4 Hits  1 Walk  4 K  Gamescore: 54  Gamescore+: 53
Final Analysis: Sigh.  Those first two innings were just plain ace-worthy.  The long Pearce flyout was hit pretty well in the first, but it was a quick inning followed by a 2 K inning.  Then it all fell apart – inconsistency with all his pitches and prolonged innings.  If you followed the box score, you would've seen one inning extended due to an error, but giving Chisenhall the error was an absolute gift for Salazar.  Plus the line out double play very easily could've been an RBI double or triple.  Why I love having the time to break down starts, following the box score I would've seen the error and the only runs scored after he was yanked.  And I'm ecstatic to see my Gamescore+ get a lower score to reflect what my eyes saw, as all 4 hits were very hard hit and he didn't look quite as good as the box score indicated.
Salazar's heater for the most part was as-advertised, topping out at 97 and 94+ virtually the whole outing.  He did lose the velo in the 6th hence his early pull.  His overall fastball average velocity this year is 94.2, but has been 95+ his past four starts and I suspect would be right at that again in this one (speed data wasn't available at the time of this writing).  He leans on it heavily at 76.3% of his arsenal, with his main secondary pitch the slider with a power velocity usually 87-89.  It had good break with some decent control on it, but he tried one on 3-2 to Markakis and it went into the dirt for his only walk.  It could use more refinement.  Then the split-finger change-up at 85ish MPH got a big K of Cruz as in the third GIF, but it lacked consistency and he only threw four or five.  Wow, overall for the season he's actually used the change-up more at 13.7% vs. 9.8% for the slider.  I guess he felt better with the breaking ball this start.
No question, the upside is still there.  As I said before, those first two innings were dominant.  But will Salazar finally put it all together?  It actually reminds me of my analysis of Zack Wheeler last year.  He looked dominant in the first inning against the Nats, then first pitch of the second gave up a homer and was horrible.  Same with Salazar after two, first pitch of the third gives up a double to the sub-.200 Davis then lacked consistency.  Problem is, Wheeler still hasn't quite put it all together yet and maybe never will.  I didn't move Salazar much and am keeping him in the 90s.  I worry about the general inconsistency, the inability to pitch deep in games, and his tenuous at best hold on the #5 spot in the Indians rotation.  I actually think he could use more seasoning in the Minors.  We very well could see him sent back today (he was still up by late Sunday night).  He's worth spot starts against lesser opponents if he stays up, but I'm not seeing a dominant finish.  If he's still pitching late in the year against a terrible team with a lot of September call ups, that would be a money time for the streamboat.
JB's Updated Top 100 SP
(rankings based on 12-team Roto, and from this point to the end of season – green for risers, red for fallers.  New indexing key – IL = innings limit concern, WD = wear down concern)
| | |
| --- | --- |
| RANK | SP, TEAM |
| 1 | Clayton Kershaw, Los Angeles Dodgers |
| 2 | Felix Hernandez, Seattle Mariners |
| 3 | Chris Sale, Chicago White Sox |
| 4 | David Price, Detroit Tigers |
| 5 | Adam Wainwright, St. Louis Cardinals |
| 6 | Johnny Cueto, Cincinnati Reds |
| 7 | Madison Bumgarner, San Francisco Giants |
| 8 | Max Scherzer, Detroit Tigers |
| 9 | Cole Hamels, Philadelphia Phillies |
| 10 | Corey Kluber, Cleveland Indians |
| 11 | Zack Greinke, Los Angeles Dodgers |
| 12 | Stephen Strasburg, Washington Nationals |
| 13 | Jon Lester, Oakland Athletics |
| 14 | Hisashi Iwakuma, Seattle Mariners |
| 15 | Garrett Richards, Los Angeles Angels (WD) |
| 16 | Jordan Zimmermann, Washington Nationals |
| 17 | Jake Arrieta, Chicago Cubs (IL) |
| 18 | Alex Cobb, Tampa Bay Rays |
| 19 | Julio Teheran, Atlanta Braves |
| 20 | Jeff Samardzija, Oakland Athletics |
| 21 | Doug Fister, Washington Nationals |
| 22 | Scott Kazmir, Oakland Athletics (WD) |
| 23 | Sonny Gray, Oakland Athletics (WD) |
| 24 | Alex Wood, Atlanta Braves |
| 25 | James Shields, Kansas City Royals |
| 26 | Mat Latos, Cincinnati Reds |
| 27 | Tyson Ross, San Diego Padres (WD) |
| 28 | Yu Darvish, Texas Rangers |
| 29 | Gio Gonzalez, Washington Nationals |
| 30 | Francisco Liriano, Pittsburgh Pirates |
| 31 | Chris Archer, Tampa Bay Rays |
| 32 | Lance Lynn, St. Louis Cardinals |
| 33 | James Paxton, Seattle Mariners |
| 34 | Rick Porcello, Detroit Tigers |
| 35 | Jose Quintana, Chicago White Sox |
| 36 | Mike Fiers, Milwaukee Brewers |
| 37 | Jered Weaver, Los Angeles Angels |
| 38 | Yordano Ventura, Kansas City Royals (IL/WD) |
| 39 | Wily Peralta, Milwaukee Brewers |
| 40 | Ervin Santana, Atlanta Braves |
| 41 | Tanner Roark, Washington Nationals |
| 42 | Zach Wheeler, New York Mets |
| 43 | Collin McHugh, Houston Astros |
| 44 | Andrew Cashner, San Diego Padres |
| 45 | Danny Duffy, Kansas City Royals (IL/WD) |
| 46 | Jake Odorizzi, Tampa Bay Rays (WD) |
| 47 | Gerrit Cole, Pittsburgh Pirates |
| 48 | Dallas Keuchel, Houston Astros |
| 49 | Ian Kennedy, San Diego Padres |
| 50 | Henderson Alvarez, Miami Marlins |
| 51 | Wade Miley, Arizona Diamondbacks |
| 52 | Yovani Gallardo, Milwaukee Brewers |
| 53 | Jimmy Nelson, Milwaukee Brewers |
| 54 | Tim Hudson, San Francisco Giants |
| 55 | Drew Smyly, Tampa Bay Rays |
| 56 | Phil Hughes, Minnesota Twins |
| 57 | Marcus Stroman, Toronto Blue Jays (IL) |
| 58 | Ryan Vogelsong, San Francisco Giants |
| 59 | Mike Leake, Cincinnati Reds |
| 60 | Shelby Miller, St. Louis Cardinals |
| 61 | Nathan Eovaldi, Miami Marlins |
| 62 | Bartolo Colon, New York Mets |
| 63 | Mike Minor, Atlanta Braves |
| 64 | Jesse Hahn, San Diego Padres (IL) |
| 65 | Matt Shoemaker, Los Angeles Angels |
| 66 | Kevin Gausman, Baltimore Orioles (IL) |
| 67 | Michael Pineda, New York Yankees |
| 68 | Jacob deGrom, New York Mets (IL) |
| 69 | Kyle Hendricks, Chicago Cubs |
| 70 | Trevor Bauer, Cleveland Indians |
| 71 | Hiroki Kuroda, New York Yankees |
| 72 | Dillon Gee, New York Mets |
| 73 | Justin Verlander, Detroit Tigers |
| 74 | Masahiro Tanaka, New York Yankees |
| 75 | Aaron Harang, Atlanta Braves |
| 76 | R.A. Dickey, Toronto Blue Jays |
| 77 | Mark Buehrle, Toronto Blue Jays |
| 78 | Kyle Lohse, Milwaukee Brewers |
| 79 | John Lackey, St. Louis Cardinals |
| 80 | Rubby De La Rosa, Boston Red Sox (IL) |
| 81 | Drew Hutchison, Toronto Blue Jays (IL) |
| 82 | Jason Hammel, Oakland Athletics |
| 83 | Tom Koehler, Miami Marlins |
| 84 | Chase Anderson, Arizona Diamondbacks (IL) |
| 85 | Hyun-Jin Ryu, Los Angeles Dodgers |
| 86 | C.J. Wilson, Los Angeles Angels |
| 87 | Michael Wacha, St. Louis Cardinals |
| 88 | Alfredo Simon, Cincinnati Reds |
| 89 | Anibal Sanchez, Detroit Tigers |
| 90 | Chris Tillman, Baltimore Orioles |
| 91 | Jake Peavy, St. Louis Cardinals |
| 92 | Roenis Elias, Seattle Mariners |
| 93 | Jason Vargas, Kansas City Royals |
| 94 | Danny Salazar, Cleveland Indians |
| 95 | Jon Niese, New York Mets |
| 96 | Vance Worley, Pittsburgh Pirates |
| 97 | Tim Lincecum, San Francisco Giants |
| 98 | A.J. Burnett, Philadelphia Phillies |
| 99 | Clay Buchholz, Boston Red Sox |
| 100 | Jeff Locke, Pittsburgh Pirates |
Dropped Out: Matt Garza, Milwaukee Brewers (not enough upside to hold even in deep leagues in the top 100), Homer Bailey, Cincinnati Reds (if he gets back it'll be very late), J.A. Happ, Toronto Blue Jays (I got caught in the allure of a huge K game!  But Fiers is different!)
Whew, Mike Fiers!!!!  Man that was awesome to watch.  While he's an obvious add in probably all leagues, I still caution that he's not 100% guaranteed a spot when Matt Garza is back and had some struggles after his hot run in 2012.  The K numbers in AAA sure make it look legit though!
So this might sound uber lame, but sometimes I have dreams where sports numbers are way wrong, and I dreamt that Kazmir's velocity all the sudden spiked and he threw a pitch 102 MPH.  Hah!  But back in reality, my wear down label I've had on him seems to be coming true with only 11 Ks in his last 4 starts with middling results.
Even though I still have serious doubts, both Pineda and Tanaka worked their way back into the ranks with a return and a successful bullpen, respectively.
Kyle Hendricks has certainly pitched well enough to vault in the ranks, but I'm not the biggest fan long-term.  The Brewers got some good swings on him late before chasing him out, and he reminds me of Jered Weaver with a few less pitches.  Great change-up, but I still worry teams adjust – I certainly wouldn't start him against an opponent who has seen him before.
On the flip side, wasn't impressed by Tsuyoshi Wada.  He shut down the Crew, but they also started getting big contact include back-to-back homers off him.  He doesn't quite make it.
Along with Wada, this was the first week I really had a rankings crunch.  Carlos Carrasco, Shane Greene, Chris Young, and yes – even Roberto Hernandez – made it through 105.  All have merits with upside and stability, but couldn't drop anyone else.  Well maybe I should've dropped Lincecum haha.
Thoughts on Salazar?  Rankings still helping out?  Drop some comments below and happy pitching!  PS – I'm off next week, but I'll come back strong on September 1st after skipping a start.  Just general soreness, no major injury here!