We're so close to the finish line!  The marathon is nearing the final push; your legs are weakening, you're starting to feel incontinent… Well, Jonathan Papelbon sure was yesterday!  But we're looking at the starting pitchers here in the Pitcher Profile corner, and the emergence of Carlos Carrasco since re-inserted into the rotation has been carrying fantasy owners in tons of leagues.  C&C Pitching Factory!
In six starts from August 10th to September 7th, C&C has had the fastball dancing now, with a 0.70 ERA and 42 Ks in 38.2 IP.  The fastball averaged well over 96 MPH, easily his predominant pitch.  Unfortunately for Carrasco owners, he struggled a bit against the Tigers last Friday, giving up 4 runs with the fastball velocity down.  It's actually dipped under 96 MPH his past two starts, as well as a progressive trend of more-and-more sliders with less heaters in this late-season run.  So I decided to break down his start at Detroit and see if he's a guy I'm going to trust in down the stretch:
First Inning: Carrasco's first pitch is a 97 MPH fastball in there to Ian Kinsler.  Not too slow on the velo there!  98 is just below the knees, 1-1 and bringing that major heat.  Fastball with some tail – maybe a two-seamer even though it's called a four-seam – hits the outside corner at 98, then 1-2 is a slider way low and outside, 2-2.  Another slider stays in the zone and is pulled foul, fastball on the outside edge hit back foul, then a hanging slider staying in the top of the zone is ripped down the third base line, but Lonnie Chisenhall makes a solid pick and gets him out.  Torii Hunter is first pitch hacking and fouls off a 98 MPH fastball right down the middle, another heater he's late on again and fouls, big 0-2 slider gets Hunter to almost swing but he barely checks it, then slider again is hung in the zone and it's ripped on a line to short, two down.  Two hard hit outs though.  Up is the big boy, and Miguel Cabrera hacks at a high fastball but is late and fouls it, 0-1.  Another fastball at 98 is in there, and Miggy takes a horrible half swing, 0-2.
Won't see Miggy do that often!  0-2 is that tailing pseudo-two-seamer but it's outside, then the 1-2 big slider gets Miggy way out in front and over top it for his first K.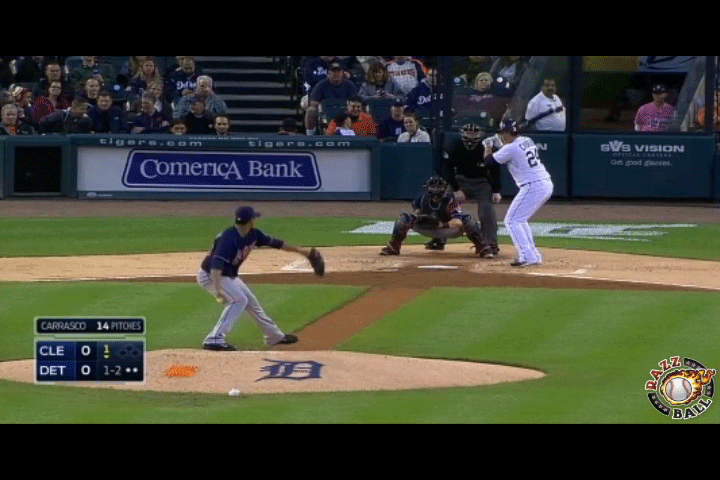 Nasty slider there.
Second Inning: Fresh off the big K, it's going to be tougher here against Victor Martinez who takes a fastball outside, 1-0.  Fastball is fouled off (apparently V-Mart hit an electronic panel and broke it), a nice slider is taken low, Carrasco's first change-up at 89 is taken off the outside edge and it's called a strike, but it was way off.  A gift from home plate ump Mike Estabrook.  Inside fastball is ripped foul, still 2-2, and a slider at the knees is grounded weakly into the shift, one out.  Fastball is high and tight on J.D. Martinez, then a slider that was decent on the knees is ripped to third, but Chisenhall snares it for a lineout.  Wow, yet another hard hit out.  Staying with the fastball first pitch, it's a tad low to Alex Avila, then Carrasco paints the outside lower corner 1-1, a high fastball is fouled off, then a nasty NASTY change-up at 88 is swung over and missed, inning over.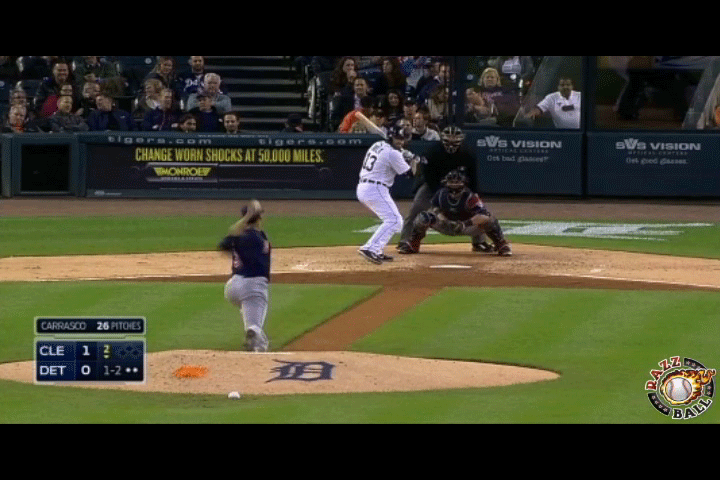 Third Inning: Carrasco's flashed great stuff but has survived three hard hit outs, and starts the third with 96 MPH fastball on the outside edge to Nick Castellanos, and he rockets it up the middle for a hard hit single.  First base runner, and Eugenio Suarez takes a fastball inside, 1-0.  Change-up at 86 is in there 1-1, 95 MPH on the hands is ripped foul down the first base line and breaks his bat 1-2, new bat and he barely checks his swing on a slider breaking outside, then slider again at 87 without too much break is swung on and missed, one down.  That K was on the change-of-pace, not the break.  Rajai Davis batting 9th takes 97 on the inner black for strike one, 95 MPH is just an inch or two too far inside, slider gets Davis to roll it foul out in front, 96 on the hands jams him fouling it back, then the 1-2 change-up at 90 MPH is dribbled towards third, and Chisenhall makes yet another fine defensive play to throw out Davis by a quarter of a step.  Wasn't hit hard, so needed the perfect play.  Castellanos at second with two outs, and Kinsler takes a great slider for strike one.  Now mixing in the off speed to keep hitters guessing first pitch.  95 on the hands ties him up for a foul back, but the 0-2 96 MPH fastball on the outside corner is lined to right, and it takes an odd hop to get past Ryan Raburn for an RBI double.  I wish Carrasco tried more of an out pitch rather than a fastball in the zone there.  Fastball is way inside on Hunter, slider is fouled off, another slider is barely nipped foul, 1-2.  Another slider fouled off, then one more is grounded weakly to third to end the inning.
Fourth Inning: A 1-1 tie game, Carrasco starts Miggy with a good first pitch slider for strike one, fastball at 94 is popped foul, then an 0-2 slider is hung and Miggy rockets it right to him – it almost hits Carrasco in the face but he's able to whack it down with his glove and throw to first, but it skips past Carlos Santana for an error.  So it's an infield single with an error, and Carrasco almost had it on a ridiculous catch – it was in and out of his glove – rough break.  Well, it could've hit him in the head so there's that… Runner on second, and V-Mart takes a hanging slider for strike one that looked off the plate.  Another gift call vs. V-Mart.  Then either a really bad 91 MPH change-up or slow 91 MPH fastball is slashed foul, 0-2.  Wow, Carrasco not looking sharp this inning at all since that first slider to Miggy.  Slider is bounced in the dirt 1-2, fastball way outside at 95 (not seeing that 97/98 like earlier), slider on the outside edge fouled off, and the same slider out there is grounded weakly in the shift again, first out.  Miggy moves to third, and J.D.-Mart swings over a great first pitch slider 0-1.  Loving that Carrasco is sticking with off speed this turn through the order.  But uh-oh, 93 MPH two-seam fastball right in J.D.'s wheelhouse in the lower inside corner is jacked for a two-run homer.  Slowest fastball of the day, didn't break at all, bad pitch.  So hoping to recover and he's outside to Avila, then a great change-up at 86 gets him to swing over it, 1-1.  Slider breaks inside, 94 MPH fastball is outside, a very hittable looking 3-1 93 MPH fastball is fouled off, full count.  I think Carrasco got away with that one, and the velocity has really fallen off.  Payoff pitch is 93 low for a walk.  Ever since that hard line drive from Miggy this inning, it hasn't looked good.  Slider is way low and outside to start Castellanos, and out comes Yan Gomes for a chat.  93 MPH fastball is in there, perfect change-up is swung over at 85 MPH, slider dips low 2-2, and change-up again at 86 is swung over and missed for his 4th K.  Needed that one there – this has been brutal.  Fastball at 94 on the outside lower edge gets strike one on Suarez, inside fastball pulled foul, slider breaks outside, a hanging slider in the zone is ripped foul, then hanging slider yet again is ripped between short and third for a hard hit single.  The rough inning continues.  Runners at first and second, and the first pitch slider is grounded to short by Davis to mercifully end the inning.
Fifth Inning: Very difficult fourth inning, and we'll never know how much that Miggy line drive close to Carrasco's head rattled him, but I'm hoping to see the velocity back and a little sharper stuff.  First pitch to Kinsler is a 93 MPH fastball just low, but a great slider at 85 evens it up.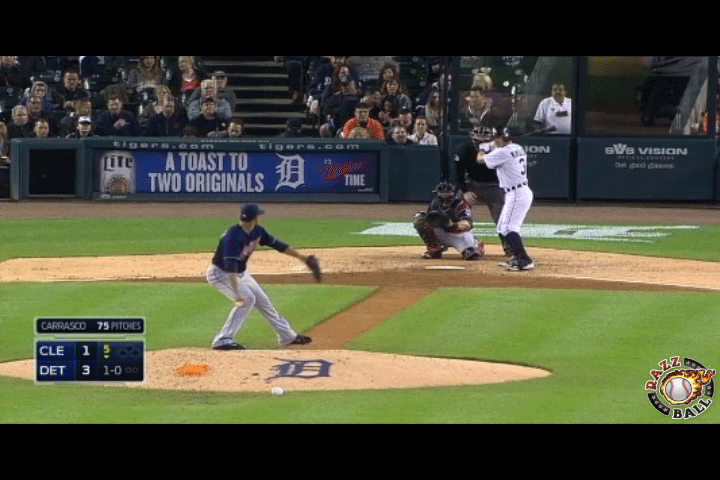 If the slider has bite like that and can get spotted in the zone, he'll get through a few more innings.  Next pitch is another slider off the plate and Kinsler flicks the bat at it for a weak groundout.  Slider is in there to Hunter, then fastball at 94 in there as well, quickly 0-2.  Then another slider breaking just off the outside corner is reached for for a second straight weak groundout.  And first pitch change-up jams Cabrera up-and-in for an easy groundout and easy 1-2-3 inning.
Sixth Inning: At 81 pitches, Carrasco's first pitch slider is taken the other way by V-Mart for a shift-beating single to left.  Routine groundball to short if the shift isn't on.  Runner at first and J.D.-Mart takes 93 off the outside edge, then a slider in the zone is tapped right to Carrasco – should've been an easy double play but Carrasco drops it out of his glove, and he has to take the out at first.  Still, good composure to take the sure out.  V-Mart at second, and 95 MPH fastball is outside to Avila, slider gets another gift call that looked outside, change-up is way outside, 94 MPH that again looked outside is a called strike two, 2-2.  Then a nasty tight slider at 87 gets a foul tip into the mitt for K numero cinco.  With V-Mart still at second and two outs, they decide to intentionally walk Castellanos to bring up Suarez.  And the first pitch is a slider that's grounded pretty hard to third, with Chisenhall making the play to get out of the inning.
Seventh Inning: With the pitch count now at 94, Davis inside-outs the first pitch fastball to right, but Raburn on the run makes the great sliding catch.  Saved by the D there!  First pitch fastball at 95 is flared foul just out of the reach of Santana, then a hanging slider is hit hard to center for a single.  And that's it for Carrasco, who unfortunately is tagged with one more run when Kinsler scores later in the inning.
Final Line:  L  6.1 IP  97 Pitches (68 Strikes)  4 ER  7 Hits  2 Walks  5 K  Gamescore: 46  Gamescore+: 47.6
Final Analysis: Man, a real mixed bag of thoughts on this start.  The good – the slider was biting almost the whole game, the change-up looked pretty good when he went to it, the pitch count was econimcal (4 pitches being an intentional walk – so really only 93 pitches), and his K:BB would've been solid without the IBB.  The bad – the velocity really fell off in the 4th inning and beyond and he had to throw a ton of those sliders, 4 outs were really hard hit, and he didn't mix in too many change-ups virtually being a two-pitch pitcher.  His Gamescore+ came out slightly ahead of his Gamescore with the decent Ks, but he certainly had some loud outs and all but V-Mart's single were hard hit base hits.
The power fastball is legit – but it certainly fell way off by the 4th inning.  Topping off at 98 and consistently 96-98 through 3, I don't think he hit over 95 once in the 4th-7th.  It averaged 95.5 this start, his lowest since a 95.3 average fastball velocity on August 5th against the Reds.  Not surprisingly, it was his only other bad start (since added into the starting rotation) right before 6 straight gems – all averaging over 96 MPH on the fastball except the last one on 9/7 vs. CWS (95.7).  I obviously don't think fastball velocity perfectly equates to success, but it's not encouraging.  Plus it's worth mentioning he was at 95+ then grooved his slowest fastball at that point at 93 to J.D. Martinez that ended up being a homer.  Carrasco's got great secondary stuff though, starting with a slider that he can throw for strikes then have huge breaks and bury (4th GIF vs. 2nd GIF).  It was working for the most part all night.  Then his change-up looked legit, but he only threw a handful.  Surprisingly, he had been using it well over 10% of the time in his successful stretch, but only 5.4% this game.  I guess he wasn't too confident with it, even though it got some whiffs like GIF #3.
In leagues where you're over an innings or starts limit, it's still really hard to pass on Carrasco.  Next two starts are at Houston then at Minnesota.  Dem some saucy matchups!  But I'm not exactly frothing at the mouth.  That 28-pitch 4th inning was really rough, and yes while he was buzzed by a Miggy line drive (who hits the ball at a higher MPH than anyone else, or at least did last year), the high-90s velocity disappeared.  His secondary stuff is good enough to get him past the easier matchups though (and it's worth noting he faced Detroit two starts ago, so they had seen him recently), so don't let this blip discourage you all that much.  And we'll all hope his velocity bounces back and he's not wearing down too much.
So what do you think of Carrasco?  With the season about over, this will be my final standard Pitcher Profile (ranks from the last PP can be found here), but right when the season is over I'm going to do a rankings recap, followed by a very early top 100 SP for 2015.  May your fantasy title runs bring you championships, Razzball Nation!