"I'm a prince, boy. Have you ever been with a prince? …Take off your clothes."
No, this isn't Tehol quoting Tehol, regurgitating the way I speak to my Thai boy handlers when I'm doing  thong shoots in Phuket. Very similar verbiage, but no, this fascinating quote comes from none other than the legendary, Prince Oberyn Martell of Dorne, a man I'm positive you will come to love throughout season four of HBO's Game of Thrones. Like a supreme vortex, "GOT" has sucked in the entire nation, and it's well past time it was brought forth into the wondrous world of fantasy baseball. [Ed. Note– Oh, you mean like here, and here, and, ahem, here? FIRST! Bwahahahah.] Some people say fantasy baseball is the equivalent of D&D for jocks. Well, I for one, want a piece of both worlds! The season four premier was a masterful work of art, as I'm fully reminded as to why I was so entranced by the novels. Let's have some fun and intertwine some of the premium quotes from the season premier with the annual Delight/Disgrace column. Will you allow me the pleasure of doing this? No? Too late, for I am already balls deep. and I'm on some Geno Auriemma/Charlie Sheen winning type-ish thing. So let us begin. [Warning, Game of Thrones Spoilers ahead!]
Players Who Delighted Me:
"My way." – Prince Oberyn when asked "Which way do you like it?" by one of Littlefinger's men
Jose Fernandez– When witnessing this scene, the first thing that popped into my mind was Fernandez. (Tehol, Fernandez is a human being not a thing!) I understand that but let's move on. Jo-Fer, as he's affectionally titled, is unmistakably the Prince of major league pitching. He's simply superior to any other pitcher in baseball. He does things "his way", and if that includes making passionate love to both the male and female sex (it doesn't, as far as I know) like Prince Oberyn, I'm all for it. With his 2-0 record, his microscopic 0.71 ERA, and his 17 punch outs through 2 starts, it's blatantly apparent that young Fernandez has been touched by the Elder Gods and is on a quest for greatness. I don't dare try and put into words the regret I feel deep in my bones for taking Strasburg ahead of Jo-Fer, for it would no doubt cause a mental breakdown, thus making it impossible for me to complete this epic post.
Tywin: "You'll have to train your left hand."
Jaime: "Any decent swordsman knows how to use both hands."
Tywin: "You'll never be as good."
Jaime: "No, but as long as I'm better than everyone else I suppose it doesn't matter."
Ryan Braun– It's demented to think that the man we once though of as an incestuous a-hole, is now one of the stories true good guys. Yes, he still bags on Brienne of Tarth, but it's done so out of love. Yes, he desperately wants to start banging his wildly hot sister, but who wouldn't?! In the quote above Jamie's father, Tywin Lannister, is referring to the fact that Jaime had his hand hacked off while captured, and must now learn to do battle with his left hand. By the way, could they have possibly picked a more perfect actor to play Lord Tywin? He's great. [Ed. Note– And was also the bad guy in Last Action Hero AND The Golden Child.] Anyway, the comparison here is that Jaime has to learn to fight without his right hand and Braun now has to learn to play baseball without the use of performance enhancing drugs. Both extremely challenging. Both possible. Braun answered the challenge by absolutely destroying three pitches Tuesday night, all leaving the yard. Twice is nice, but thrice is like a fantasy baseball player viagra (it makes women horny too I heard). Braun is back, now we wait to see if our favorite anti-hero gets his mojo back by making sweet love to his insanely arousing sister, or if he'll be the next surprise death on a series filled with them.
Jon Snow: "I wanted to hate him, but I never could."
Matt Wieters– Every evening for this past Winter, I would drop to my knees and ask the Elder Gods to grant me the ability to hate Wieters. You see, every year I've drafted Wieters, fully believing he would harness the ability he showed at Georgia Tech where he was known simply as "God." Every season, I've reached on him, my heartfelt passion towards his abilities bubbling in my veins, and each year he lets me down. The quote from GOT favorite, Jon Snow, is him referring to his murdered half-brother Robb. We all recall the shocking Red Wedding, yes? He wanted to hate his brother for being better at everything than he was, for being next in-line as "Lord of Winterfell", for not being known as a "bastard" as he was. Robb Stark was too exceptional a man to fully hate and Snow excepted that, and just when I thought I'd moved on from Wieters, here he was dropping to me insanely late in fantasy drafts. Did I dare I take him yet again? But of course! Thus far Wieters has rewarded owners with a .367 average, 2 moon shots, and 6 RBIs. You know something, Jon Snow.
The Hound: "I'm not a thief."
Arya: "You fight with murdering little boys, but thieving is beneath you."
The Hound: "Mans got to have a code."
Brandon Belt– Belt lives by a code, and that code is "being awesome". My boy, "The Hound" is the same way. Since he dropped King Joffrey like a bad bag of dope, he's traveling the countryside and he's not taking guff from anyone, getting medieval on whoever steps to him. Speaking of getting medieval on that ass, Belt is absolutely annihilating everything the opposition throws at him right now, and 30 homers isn't a possibility, it's a certainty (barring injury, I'm obligated to say).
Sam to Jon Snow : "You're better than me at everything. Except reading."
Jacoby Ellsbury– Ellsbury is just a supremely talented individual and now he's being asked to hit 3rd for an ailing Yankees lineup. Yes, he will knock in runs. No, he won't stop swiping bags with the frequency Nicolas Cage drops duds at the box office. This quote comes from Jon Snow's friend Sam, who wasn't able to hate Snow, the same way Snow wasn't able to hate Robb, even though he was superior to him in every way imaginable… other than reading. Jon Snow is just un-hateable, and hey guys/gals, being a an advanced reader is an exceptional quality to own. I was a highly advanced reader in 1st grade and look where it got me: greasing myself up with baby oil and selling my soul for a few shillings.
Jorah Mormont: "They can never be tamed…even by their mother."
Sir Mormont is of course speaking  to the lovely Daenerys Targaryen, about her adolescent dragons. What I wouldn't give to spend five minutes alone with Daenerys. All I ask for is that she's completely naked and coated in olive oil. I'm aroused, how about you? Like Ms. Targaryen and her dragons, we shall most likely never be able to tame any of these wild beasts mentioned below, but let's relish them while they're producing: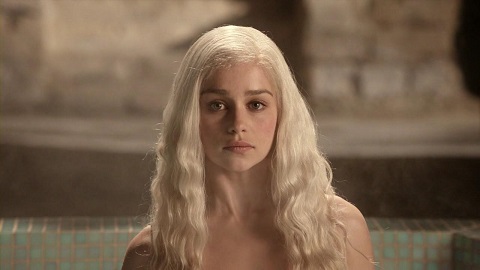 Chris Colabello– It's really quite rare for a 30 year old to seemingly come out of nowhere. Don't expect it to continue for long… because it won't if you still aren't following.
Dee Gordon– Should be an exciting fantasy ball player all year long… if he can continue to get on base. That's a big if, but I like his chances at continued success as much as anyone on this list other than Trumbo.
Yangervis Solarte– No way he keeps this up but he's a valuable add in dailies and I suggest you ride Solarte like Seabiscuit 'till the horseshoes fall off.
Emilio Bonifacio – Is this kid incredible or what? For now, yes. I must admit Bonifacio was nowhere near my radar before the season and I was caught asleep at the wheel and missed adding him in any leagues. Kudos to those of you who did so.
Mark Trumbo– This large man carries a gargantuan stick. This is not always the case. Trust me, for I have been in many a mens locker room.
Charlie Blackmon– There was a lot of love on Razzball for Blackmon's main competition, Dickerson. That love has been extinguished by the flaming hot Blackmon. He will cool off tho, and this won't be the last we've heard of young Dickerson.
Matt Kemp– Those two long balls the other night certainly excited Dodger Nation and fantasy baseball players alike. What does it mean? Nobody knows what it mean, but it's provocative! Get's the people going!
Starlin Castro– Re-read what I just said about Kemp. And watch the video again.
Trevor Bauer– I've had high hopes for this kid for years now and he finally showed why he was viewed as a possible Lincecum clone. No, not the horrific Lincecum we know today, but the one who won two Cy Youngs. Keep a close eye on this young man for he's known to get funky.
Other Delightful Thoughts For This Week:
Malazan Book of the Fallen– If you partake in the joys of reading as I do, and you love the "A Song of Fire and Ice (GOT)" series, then you will absolutely worship this book series. A television show/movies, and video game is necessary for this story and I for one can't wait.
Silicon Valley/T.J. Miller- The first episode was good enough to reel me for next week, but the show's highlight is unquestionably T.J. Miller. Miller has killed every role I've ever witnessed him in and this time was no different. Glad he's on HBO. Check him out.
P.S. I have to get the shirt Miller is seen sporting in part of the show. It reads; "I Know HTML: How to Meet Ladies." Awesome.
True Romance- At long last, I fulfilled a promise to my readers by viewing the cult classic, True Romance. It's definitely not one of my all time favorites, but I did enjoy it. Christian Slater has to look back at these times when he was headlining films and wonder what the hell happened. I imagine Slater and Chris O'Donnell having many a heart to heart late night convos. It huuuuurts.  My favorite quote from the film comes from the historically underrated Gary Oldman's character, Drexl, when he drops the classic, "He musta thought it was white boy day. It ain't white boy day, is it?" Absolutely priceless. The scene with Christopher Walken interrogating Dennis Hopper is also a gem, though, a tad on the racist side. All and all I'd recommend this to anyone who hasn't seen it. Pretty solid flick.
The Hans Zimmer track, "You're so Cool," that plays repeatedly throughout the movie is a beautiful creation that I remember listening to many years back, high as a kite, trying to figure out what to do with my life. Great song.
Alejandro, by Lady Gaga: Heard this jam at the gym the other day and I'm now fiercely back into it. It's simply not possible for you to argue the fact that this is Gaga's greatest song ever. YOU JUST CAN'T! [Ed Note.– Total Ace of Base ripoff. Telephone is light years ahead…]
Meaning in Masterpiece: Not only is this band awesome, but I am lucky to "assist" one of it's "members" with their fantasy baseball roster this season. If things keep going at this rate, I'll be fired shortly, but hey, it'll still be cool to say I worked with the guy when they blow up. When I say blow up, I mean selling millions of albums as these guys are already firmly established on the scene and have a large fan base. This "Tidal Wave" song brings out emotions in me I never knew existed. Maybe I should stop only listening to early 2000's hardcore rap. You may now refer to me as "Emo" Beddict. My main goal in this relationship is obviously to get in the next video and possibly bag a couple groupies. Rock on guys, keep up the great work and when you come to Seattle I want those backstage passes!!
The Secret of NIMH: Easily the most underrated animated film in history. If you haven't witnessed this masterpiece you need to download it ASAP! If not for you, do it for your kids. Don't make them suffer as you did. The evil Rat, Jenner, caused young Beddict countless sleepless nights but when I say it was worth it, you need to trust me. Many of this extraordinary world's most glorious creations came about in 1982….If this scene doesn't get you charged up, I'm not sure anything can. 

The Ultimate Warrior: RIP to my favorite wrestler of all time. I have mad move for "Mr. Perfect", "The British Bulldog", "Brutus The Barber Beefcake", "Bret the Hitman Hart", and countless others, but to me The Ultimate Warrior was the Ultimate champion.  His invincibility while doing his patented rope shake, which he would do after seemingly coming back from the dead, is one of the few things that charges up my soul with joy. I'm serious, tears are literally brought to my eyes when witnessing this. This man deserves a whole post dedicated to his memory and as of right now, I've decided that he will either be the focus of next weeks post, or the subject of a "bonus" post coming whenever Jay will allow it. [Ed. Note– Eh, sure, why not?] For the love of the Gods, this man legally changed his name to "Warrior"!!. Wrestlemania VI changed my life. Watch THIS video, for the Ultimate Warrior was undoubtedly blessed by the Elder Gods with a flair for the dramatic, and I for one, was enthralled each and every single time he entered the ring. RIP.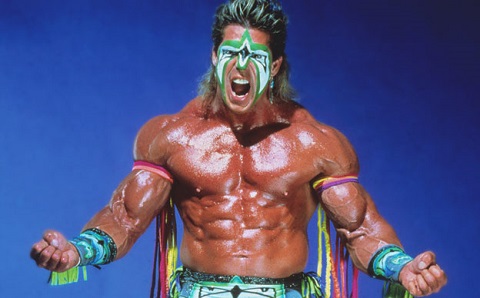 The Players who disgraced their or my honor: 
The Hound: "You're a talker. Listening to talkers makes me thirsty and hungry. Think I'll take two chickens."
Polliver: "You don't seem to understand the situation."
The Hound: "I understand that if any more words come pouring out your c*nt mouth, I'm going to have to eat every f*ck*ng chicken in this room."
Polliver: "You lived your life for the king. You're going to die for some chickens?"
The Hound: "Someone is."
Possibly the greatest scene in GOT history right here. Just some exquisite quotes laid down by the big dog, "The Hound," in this episode. Polliver doesn't seem to comprehend the seriousness of the conversation, and that would prove to be costly misinterpretation of the situation (Pulliver is ran through). It doesn't seem like Harper and Strasburg understand our situation either so let's delve into that.
Bryce Harper/Stephen Strasburg– I don't want these pathetic answers out of Harper as to why he can't figure it out. Call Daddy or Barry Bonds or whoever you need to make this right. I don't enjoy "listening to talkers." Ever since EYJ's rock hard knee to the cranium, Harper has looked like a lost puppy at the plate. Being that I invested a high first round pick on him in numerous leagues, I'm praying to the Elders that he picks it up a tad. He just looks robotical up there, not silky smooth like a Trout or Car-Go, and I'm concerned. Harper blasted a 3-run homer Wednesday, evening so maybe everything will be okay. I sure hope so, for I feel like the guy who caught an incurable STD after losing his virginity to a hooker in Tijuana on his 17th birthday…..
Another player I'm tired of hearing excuses for is Stephen Strasburg. This supposed "once in a generation prospect" has virtually no chance at capturing the glory that for him was once thought a virtual certainty. I believed this season to be his make or break year as far as blossoming into the best pitcher in the NL was concerned, and it just isn't in the cards for him. [Beddict Note: Strausy dropped a gem the day after this was written. It was the Marlins though.] It certainly doesn't help the situation when his defense seemingly produces multiple run scoring errors each and every time he takes the mound. We risked our fantasy lives drafting on upside. Are we going to die (fantasy wise) for drafting Strasburg in the 3rd round? Some of us are.
Margaery Tyrell: "Perhaps I should just let Joffrey choose it for me, end up with a string of dead sparrow heads around my neck."
Oh Margaery, how I long for thee in my waterbed, drenched in Mrs. Buttersworth syrup, begging for Tehol's Beddict. In this quote, my fantasy lover is speaking of her disgraceful beau Joffrey, and his disturbing behavior behind closed doors.
Jered Weaver /CC Sabathia – If you guys/gals keep throwing out these two bums, you're more than likely to end up with a string of dead sparrows around your neck. Metaphorically speaking of course, that is unless you're a nut job, in which case I don't think it's neither safe for you to view GOT or to read my articles. CC and J-Weaves just lack the dominant out pitches they used to deploy on the reg, and were're now forced to suffer immensely for it.
The Hound: "Of course you named your sword."
Arya: "Lots of people name their swords."
The Hound: "Lots of c*nts."

Mike Moustakas– I heard Moose names his bats, and according to my man, The Hound, that isn't cool. It's also quite possibly the reason for his non existent production.
Jaime: "I suppose you want the sword back."
Tywin: "Keep it. A one handed man with no family needs all the help he can get."
Chase Headley – If my man, Jaime Lannister, the sister humping charmer, was in my fantasy league, he would probably ask, "I suppose you want your pick back" when bringing up Headley. My response would be a resounding, YES. Things change though.
Tywin: "The war is over, the king is safe."
Jaime: "The king is never safe."
Clayton Kershaw/Matt Moore– Kershaw was just extended to the tune of seven years and $215 mill. Now he's injured. Kershaw's owners drafted him in the first round, firmly believing he would be their King . The King is never safe my friends. I suppose there's always Josh Beckett. Matt Moore was pitching more like a pauper at the time of this writing but it's looking like he's done for the year and I'm sure you drafted him fairly high. Woe is ya'll.
Shae: "If you want me to leave, just say it!"
This is Tyrion Lannister's lover becoming angry that TL won't give her the Dinklage anymore. Below is me becoming angry that these closers blow donkey D.
Matt Lindstrom– Leave.
Jose Valverde– Papa Grande, leave now please. 
Jim Johnson– Jimmy, GTF OUT OF MY LIFE!!! GO!!!!!
My overreaction to Domonic not starting 1 game: That being said, it's a true disgrace for Domonic to be batting sixth. Just an absolute joke. He is the 3-hole prototype. Now he's stuck wasting away with no protection in the lineup and with less opportunities to produce. Nothing could be more frustrating. I suppose being a eunuch could be more frustrating, but hopefully we shall never know.
 Non Baseball Disgrace of the Year:
Aspiring TV Producer Mistakenly Killed by Police Officers:  A longtime friend of mine, John Winkler, was killed by police officers after trying to escape a hostage situation in a West Hollywood apartment building. I'll let you read the story, for it's upsetting to write about and one of the biggest tragedies ever been brought forth to my attention. I'm not sure what's more disgraceful; The knife wielding, hostage holding gutter trash or the pathetic excuse giving, police officers who shot TWO innocent people. I've never met a soul who had a negative thing to say about John and he possessed one of the greatest senses of humor I've ever witnessed. John was a supporter of myself and Razzball and was one of my favorite people to discuss fantasy football with. I like to believe he would have enjoyed this post, therefore I will dedicate it to his memory. RIP buddy, you will be missed.  
As per usual your comments and questions will be responded in the comment section. Also, you should probably follow me on Twitter at @TeholBeddict47. Have a great weekend my friends and I shall see you next week.