We are almost there folks. Where is there? Draft time. BUT EVERYONE JUST HOLD UP FOR A SECOND. Remember that one time when I set 75 RCL's as my personal goal, and therefore, by mitosis, or photosynthesis, or osmosis, or dry-humping, it became your personal goal? Yeah. In this regard, we are not almost there. I mean, technically we are, only two more leagues… but drafts are right around the corner. It's gonna be close. WE'RE TOO CLOSE MAN. Just two more commissioners… look, how about this… if you go commish a league right now (yes, we can totally have more than 75, in fact, I prefer it), I promise to go over some of the leagues that are drafting this week, including the 2014 Razzball Writers League. And guess what? One RCL league has actually drafted (WOOO!) and, as a bonus, we'll take a look at their first round. Free shipping and handling too! Because boy do I know how to handle it. Whatever that means. Sure, even if you don't commish a league, you can still continue reading after the jump… I *can't* stop you per say. But I promise you there will be guilt. I WILL MAKE YOU FEEL LIKE A CATHOLIC. If you're already Catholic, well, you have enough guilt to deal with, so yeah. Take that, I guess.
So… thanks for jumping. If you want to be a commissioner or join a league, just scroll down to the bottom. Because we got some drafts to talk about around here. As promised, let's take a look at the first round of the first RCL draft first. Lotta first's, that's for sure. This first round is brought to you by the Bad News Bears RCL. Here's how it went down. (You can view the entire draft here.)
| | | |
| --- | --- | --- |
| Pk. | Player | Team |
| 1 | Mike Trout, OF LAA | Team L |
| 2 | Miguel Cabrera, 3B DET | Team Griffis |
| 3 | Paul Goldschmidt, 1B ARI | Brooklyn 99 |
| 4 | Andrew McCutchen, OF PIT | Olde England ex-Patriots |
| 5 | Carlos Gonzalez, OF COL | Team Rogers |
| 6 | David Wright, 3B NYM | NYC Captain*America |
| 7 | Ryan Braun, OF MIL | Mom's Basement Cellar Dwellers |
| 8 | Adam Jones, OF BAL | boston anarchy burger |
| 9 | Chris Davis, 1B BAL | Crazy SOB's Crazy |
| 10 | Jacoby Ellsbury, OF NYY | Carry on My Heyward Son |
| 11 | Edwin Encarnacion, 1B TOR | Winterfell Direwolves |
| 12 | Robinson Cano, 2B SEA | Kellys Heroes |
The first thing that comes to mind is… guys, when you have a team name that goes 'Team X', change that. You don't have to be creative or original with it, but don't make me think that you just joined a league and went auto-pilot on us. Etiquette. Your mother taught you better. Just like she taught me how to do that one thing better. ICE BURN.
The second thing that comes to mind is, David Wright? Really? CarGo, you can sorta of make a case for in a redraft, but I'm not even sure Wright is the best third basemen overall, much less a first round player. Also, Winterfell Direwolves… you read my mind. But the Starks man! They suck at this game, amiright?
Oh, and if you were curious, Clayton Kershaw went at pick 13 in round 2. Which I love, just for the mere fact that I can, once again, bring out my great creation…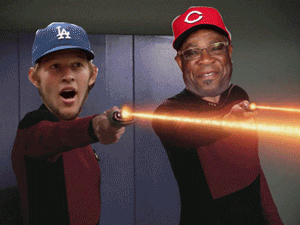 I promise to bring it out anytime Kershaw goes in the first or second round of any draft I'm focusing on. Hey, so you guys know that he pitched 259.0 innings last season, including play-offs, right? That may not scare you off in of itself, but it should be yet another reason in a gluttony of reasons why you should not waste a first or second round pick on any pitcher. Call it reason #4,689: Pitchers get injured. ALL OF THEM.
Regardless, good luck to these leagues- Razzball's In Her Mouth 3, GREYco Inc., Yeah Jeets!, Razzball (RCL), They Call Me Au Shizz!, and Bayside High Fantasy Ballers who all draft before the next RCL Update. And yes, if you were wondering, that was me going over them for you. What did you expect? Some kind of analysis on the xBABIP values of Razzball's In Her Mouth (3) and how it correlates with Yeah Jeets contact%? Actually, that does sound kind of interesting… RUDY! Make it happen bro.
Oh, and that's right. The Razzball Writer's RCL launches our season with a draft set for March 6th at 9:15 PM EST. (You can tune in here for the greatest of all circle-jerks.) We don't know the draft order yet, but whatever it is, I'm pretty sure Tehol will select Domonic Brown in the first round… right after I select Chase Headley. Other contributors will include Sky, Smokey, Tom Jacks, Mike, The Guru, Nick the Podcast Host, Dan Pants, Scott Evans, and J-FOH. Should be fun. Or, at the very least, exotic.
Until next time!
How to save the world and be a commissioner. OR how to be a champ and join a league:
(With me quoting Grey. Because he quotes himself way too much. Don't be such a Grey-hog!)
If you want to see how it worked last year, go here.  So we're going to fill up as many fantasy leagues as we can for the next seven weeks.  Each fantasy baseball league will be a mixed league, 12 team, snake draft, roto, 5×5, 5 OFs, one Middle Infielder, one Corner Infielder, one Utility, 9 pitchers, 20 game eligibility, 180 Games Started max, 1000 IP minimum.  Unlike previous years, we will be going with TWO DL SLOTS.  The only things you need to change from the default is the 180 Games Started and the TWO DL SLOTS.  Please be vigilant about having the exact same league rules and setup as everyone else.  The lineup is also known as:  C/1B/2B/SS/3B/CI/MI/5 OF/UTIL/9 P/3 BENCH/2 DL with 180 Games Started and 1000 IP minimum.  The fantasy leagues will be played in ESPN and they will be free to join.
TO JOIN A LEAGUE
Click the LINK in the 'League Link' column (see below grid) and enter the PASSWORD at ESPN.  Emails are there for some leagues, but you shouldn't need to email anyone.
TO START A LEAGUE
Please create a league in ESPN based on the league rules reference above.  Step by step:  Hit Create.  Then Create ESPN Custom (middle option), Name League, Change to 12 Teams, Restriction Type: None, Open to All Users, Access: change to Private, create Password, leave as Roto and Snake, Make Draft Date and Time, Create.  From Default settings all you have to do is change to TWO DL SLOTS and 180 Starts by pitchers.  So, you go to ROSTERS and Click "Edit Roster Settings."  There, change to 2 DL Slots and 180 Starts (the counter will change to 20.0 per slot).  Then SUBMIT Roster Settings.  Finally, Create Your League!  (Important Note: Make sure league is viewable to public but requiring a password to avoid non-Razzballers joining.)   When that's finished, click here. You will be permissioned shortly so you can add your league info to the Google Doc (the below grid cannot be edited from this page).  On that Google Doc, you will need to enter your name, league link, password and please UPDATE the number of openings as your league fills up.   That's it.  Oh, and don't use your bank account password.