George Springer ($3,600) has always had power. He can do things with a baseball that few can do. He's hit balls over 115 mph, hits balls over 460 feet and averages 31 homers per 162. He's pretty good. The best ball he's probably ever hit, however, is probably one just a few people have seen. He was 18, and it was on a June day in 2008 for his summer travel team at Baseball Heaven in Yaphank, NY. The pitcher (and I won't name names, to protect the innocent) threw him a pitch and he hit a tank to dead center, over the trees and onto the entrance way of the facility. According to Google Earth the bomb Springer hit, and the picture is below, was ~526 feet. A scout who was in attendance said, "I've scouted many thousands of baseball games in the past many years and I've never seen a home run hit harder or farther." Springer gets to face Jordan Montgomery, who is a fly ball pitcher (40.5% GB rate) who doesn't miss that many bats (7.68 projected K/9) and walks guys (projected 3.77 BB/9). Oh yeah, Springer is also likely to bat leadoff.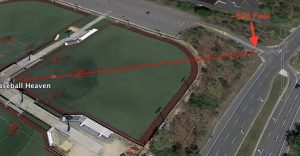 On to the picks as soon as that Springer bomb lands…
New to FanDuel? Scared of feeling like a small fish in a big pond?  Well be sure to read our content and subscribe to the DFSBot for your daily baseball plays.  Just remember to sign up through us before jumping into the fray. It's how we know you care!
PITCHERS
Matt Shoemaker, SP: $7,500 – The pitching on this slate is not fun, so we'll have to find some guys who have a shot to throw up some zeros somewhere. Shoemaker is a strike thrower who gets a ton of fly balls and misses some bats. Angel Stadium kills home runs and extra base hits, especially to right handers (which Detroit is chock full of), so Shoemaker should be a solid bet to return value even if he's not likely to crush. And if Kinsler is out of the lineup again, it's an added bonus.
Johnny Cueto, SP: $9,700 – Cueto is Matt Shoemaker with more ground balls and fewer walks. The Reds offense is decent, but they get a massive park downgrade going from Great American to Not Candlestick. Cueto doesn't have noticeable splits, so he should be able to get through the lineup a few times and because the Giants don't believe in having starters leave the game early, he'll get that extra inning to get a few extra points that you might need. Speaking of the Giants and their lack of bullpen use – seriously, what is going on there? Their starters have been awful this year (5.01 ERA, 3rd worst in the majors) and they still have pitched the 5th most innings per start. Most of the teams around them all have good starting pitching and the teams that have been as bad are at the bottom of innings per start. The lack of bullpen usage is not a one year thing – they were 3rd  in innings per start last year, but at least last year was understandable since they had good starting pitching. That said, this is a DFS column, so the important point is that the Giants are far more willing to give a starter that extra inning or two, and those extra points from either qualifying for the QS or picking up an extra IP or K can be the difference between cashing or just missing the line.
Tanner Roark, SP: $8,600 – Roark is one of those guys who you never want to roster. One never feels comfortable rostering a pitcher who doesn't strike guys out (18% K-rate last 3 years as a starter, which while not egregiously bad, is still below average) and is dependent on limiting hard contact (.273 BABIP). That being said, he's pretty solid vs righties with a 15.8% K-BB% and a 52.8% GB rate. But vs lefties, he goes with a different game plan and 6.8% K-BB% and a 37.9% GB rate, which helps limit his BABIP even further (.259). The Phillies don't have the left handed power to take advantage of this and thus should struggle to put together consistent offense. But, a guy who lives by limiting hard contact also dies by (not) limiting hard contact, so at any point the BABIP luck could go against him and you've got an ugly outing.
Clayton Kershaw, P: $9,800- So what happens when the unstoppable force (Clayton Kershaw) meets the immoveable object (Coors Field)? Technically, that's a paradox, as you can't have an unstoppable and an immovable object, but I digress. Normally you just fade Kershaw when he's in Coors, because no matter how good a pitcher is, you don't pay $11K (or more) for a pitcher in Coors. But FanDuel decided to make things very interesting today by pricing Kershaw at $9,800. So what to do? On the one hand, Kershaw hasn't been that great in Coors in his career (18 starts with a 4.71 ERA), but it's almost entirely because Coors is, well, Coors – he still has a good 24% K-rate and an above-average 7.4% BB-rate pitching in Coors. His overall ERA isn't that good because he gives up a few more hits on balls in play and a few more fly balls become home runs – that's what Coors does. On the other hand, this Rockies team has been unimpressive against left-handed pitching – they have the second lowest walk rate (5.5%) and third highest K-rate (25.5%). But, despite those pathetic walk and strikeout rates, they have the 9th best wOBA against lefties, thanks in large part to an entirely-Coors-created 4th best slugging against lefties (.486). Let me be clear – this is an absolutely pathetic offense against lefties (it's a pathetic offense in general, they have two good hitters in Blackmon and Arenado, and I guess you can squint and convince yourself Mark Reynolds is a third, and since Blackmon isn't that good against lefties, what you have left is Arenado and Reynolds and Coors mirages) but Coors Field is a magical place that turns utility infielders into batting champions (I'm looking at you, D.J. LeMahieu).  
So what to do? Well, you know things are serious when I devote a second paragraph to this player. First off, the other pitching on this slate isn't particularly impressive – if there was an elite option not in Coors, you could fade Kershaw and call it a day. But there's not. So where does that leave a DFS player? I think the fact that he still gets strikeouts (and the Rockies strike out a ton against lefties), and he still doesn't walk a lot of batters, means that he's playable, even in Coors, because of the lack of any elite options and the price being just too attractive. You can live with a random solo home-run or a random bloop RBI-double in DFS world if the pitcher still gets strikeouts. A pitcher who gives up 3 earned runs in 7 innings still puts up 40 or 46 FP (depending on whether he's getting the win, something Kershaw is likely to do) if he gets 8 Ks. So while 40-46 FP isn't enough for a $12,500 pitcher, it's more than sufficient for a $9,800 pitcher when there's no elite option. The tough call is what happens if he does something similar to his last start in Coors – 6IP, 6K, 4ER and no-win – good for 24 FP. One less earned run and he'd have put up 31 FP (since he'd get the QS), and if that's good enough for the win, it's 37 FP. Unfortunately, I don't have a final answer on whether or not to play Kershaw, but the best I can do is this – if you think he will be good enough to get the QS (at least 6IP and no more than 3 ER), he'll get plenty of Ks as he normally does and he'll likely be the best play of the slate at $9,800. If you don't think he'll get the QS, then you have to ask yourself two questions – first, will Cueto (the other "expensive" option on this slate) put up 30+ FP, and second, will Shoemaker or Roark get 25 FP? If the answer to either of those questions if yes, then you probably fade Kershaw. If the answer is no, then click on Kershaw and hope Coors doesn't use its magic and make guys like Lemahieu and Valiaka into elite bats.
HITTERS
Michael Conforto, OF: $4,200 – Conforto goes to Milwaukee, a pretty nice park for a power hitting lefty. He's facing Matt Garza, who has decent numbers this year, but in a third of his starts, he has faced a mostly dead Pittsburgh team and a below average Braves offense. Garza doesn't miss that many bats, his control isn't great, and he's around average at getting ground balls. In other words, all systems go for Conforto, who should bat leadoff and crushes righties to the tune of a .369 wOBA and .252 ISO.
Jay Bruce, OF: $4,100  – All of the above works for Bruce as well. Contrary to the rest of MLB, Bruce is on a 4 year trend of striking out less and this year he's back to his patient, pitch taking ways. He's also hitting more fly balls while keeping his HR/FB steady, all of which are good things.
Curtis Granderson, OF: $2,500 – If you want a Met punt, Curtis Granderson might work for you. At this point in his career, however, he's nowhere near the hitter the aforementioned pair are. But on a Coors Field slate, you're always looking for value plays, and Granderson only costs $2,500. Think of all the RBI opportunities he'll get with Bruce and Conforto on base. I am obligated to point out that so far this season, Granderson has been terrible (.139/.200/.270, "good" for a .204 wOBA), and whenever a 36-year old puts up those sort of numbers to start a season, you begin to question whether this is the end of the line for him (although, historically, people have been awful at telling when a player is done. Remember those few months in 2009 when David Ortiz hit .185/.284/.287 good for a .260 wOBA and then promptly retired? Yeah, me neither). But beggars can't be choosers, and if you need some value plays, he may be one of the best bets out there.
Milwaukee Brewers – After a solid start to his season, Matt Harvey has been awful the last 3 starts. He has walked 10 guys while striking out 5, while giving up 4 bombs. Suffice it to say, he's been awful. His start today is going to be in Milwaukee against a team that has a lot of power vs righties in a park that boosts left handed power. This doesn't even get into the rumored "I got drunk the previous night because I was jealous my ex-girlfriend was hanging out with Julian Edelman and my hangover was so bad I couldn't even get to the stadium that day" suspension narrative – the Brewers are great plays before even factoring in all of the Page Six gossip. Thames, Shaw and Villar are all in play in cash and GPPs and Broxton, Santana, Bandy and Hernan Perez are all solid GPP plays.
Oakland A's – Andrew Cashner used to throw really hard for a Major Leaguer – back in 2012 he averaged just below 99 mph. This year, he's throwing really hard… for a high schooler (unless you're talking Texas High School Baseball, where arms who throw 95mph are a dime-a-dozen) by averaging just under 93mph. Major League hitters are just slightly better than high school hitters, so if you're averaging just under 93mph, you better have something else amazing. Andrew Cashner does not. His swinging strike rate is down to 6.2% and has generally been atrocious this year. Cashner has had an interesting career, he was drafted 4 times (20th round, 18th, 29th and 1st Round) in 4 straight years, including twice by the Cubs. In 2012, after Padres GM Jed Hoyer went to join the Chicago Cubs super team under Theo Epstein, his replacement, Josh Byrnes, acquired Cashner essentially straight up for some guy named Anthony Rizzo. That 2nd year after the deal when the Padres turned him into a starter, Cashner was actually better by ~ a win (and amusingly, this year, they are roughly equal since Rizzo has been pretty bad to start the season). Anyway, play A's. And remember that this is probably the last time you'll be able to say Rizzo and Cashner have been roughly equally valuable in their careers.
A.J. Pollock, OF: $4,000 – Glasnow likely isn't ready for MLB (if he's a long term starter) due to his command and control issues. He just flat out walks too many and he's not striking out enough or generating enough ground balls for his walks. The Pirates may need to send him back down to the minors, but if their plan is to just let him figure things out in the majors, that means we've got a perfect target once every five days. Throw him in a hitters paradise of Arizona and we've got one of the juicier targets on the slate. The only downside is he's unlikely to get past the 5th, but the Pirates bullpen is nothing to be scared of. Pollock is not someone who's got an extreme split so playing him vs Glasnow is a solid play. That he gets a decent amount of steals (and Cervelli isn't particularly good at throwing out runners) is a nice bonus. And as one of my friends says, "play Pollock, he's always a cash play at home."
David Peralta, OF: $2,900 – As noted in this column twice before, in 2015 David Peralta smashed the baseball, and in 2016 he was hurt and did not smash the baseball. In 2017 he has been healthy, and while as of this writing he is not at the 2015-level of baseball-smashing, he has still put up a respectable .283/.342/.443 triple-slash line so far. Factor in some fairly extreme splits so far in his career (.371 wOBA versus righties, .275 versus lefties, and while it's doubtful that the splits will stay that extreme, they certainly suggest a significant split) and a very generous price and you've got a guy who can work in both cash and GPP lineups.
Jordy Mercer, SS: $2,300 – Mercer vs. a lefty and at the top of the lineup is too good a value at $2,300. As you may have heard, his .358 wOBA vs lefties is a dead ringer for Derek Jeter's career wOBA. He's facing Patrick Corbin, who is average-ish at everything and is someone solid to target, especially in Arizona (which is a massive upgrade compared to Pittsburgh). To fit in Kershaw and all the bats in this slate, Mercer is a great value play.
Manny Machado, 3B: $3,800 – Danny Duffy's reputation is good after last year. People think he's a 9 K/9 and a 2 BB/9 guy, but it's simply not true, unless you only count his 2016 statistics. Look at the last 4 years and see if you can spot the outlier:
| | | | | |
| --- | --- | --- | --- | --- |
| Year | K/9 | BB/9 | GB% | Average FB Velo |
| 2014 | 6.81 | 3.19 | 35.8% | 94.17 |
| 2015 | 6.72 | 3.49 | 38.8% | 94.51 |
| 2016 | 9.42 | 2.1 | 36.4% | 95.53 |
| 2017 | 5.98 | 3.3 | 43.2 | 93.5 |
Yeah, it's 2016. The rest of the numbers are pretty bad for a starter. Unless he's throwing 95+, he doesn't get strikeouts, walks guys and doesn't get ground balls (no matter how hard he throws). So far this year, not only is he failing to hit 95mph, he's not even throwing as hard as he was in 2014-2015. He's definitely worth attacking in DFS until he starts throwing 95+ again (and it's entirely possible that never happens and as a quick example, in April 2014 he averaged over 96.5 MPH and he struck out nearly 12 per 9). As for Machado, in his career he's had a slight reverse split, but historically, those tend not to exist as true talent. Machado also hits fly ball pitchers much better, so I'm still in on Machado as a very good play.
Joey Rickard, OF: $2,300 – Speaking of value plays, sometimes you just have to #RespectTheLeadoff. By that I mean, sometimes it's as simple as who is leading off for a team that has a good matchup. Is Joey Rickard a great baseball player? No. However, he has shown some lefty-masherness in his young career (.312/.359/.495, good for a .367 wOBA, although small sample size caveats apply), and as shown above in the Machado blurb, Danny Duffy isn't good, and the Orioles, an incredibly right-handed hitting team (on days Rickard plays and Seth Smith does not, they run 8 righties out there), have a 4.0 implied run total in Vegas – which is about average on the day and might be low.
Derek Dietrich, 2B: $2,500 – If he's batting leadoff vs a righty, he's a fantastic play. He sports a .340 wOBA vs righties and a lot of that is walks and power since he won't hit for a high average. Folty is worse vs lefties with a 10.5% K-BB%, and struggles to miss a lot of bats with 7.66 K/9 and a horrendous ground ball rate of 28.9%. Vegas has the Marlins at 4.5 as of this writing, which puts Dietrich as a great cash & GPP play, provided he's batting leadoff. Also, if Don Mattingly does Don Mattingly things and bats Steve Lombardozzi leadoff and Dietrich 7th, Dietrich is still a great GPP play and Lombardozzi becomes a borderline cash play.
Los Angeles Dodgers – This one really isn't that tough because, once again, FanDuel grossly misprices many players within the Dodgers organization. It's borderline comical at this point – the Dodgers are the team most egregiously mispriced day-in and day-out, with the only exception being the red-headed mountain man. The Dodgers have the fourth best wOBA in the league against righties, Tyler Chatwood is a fairly unimpressive starter, and oh yeah, the game is in Coors. Those facts, by itself, should make all Dodgers (but particularly left-handed hitting Dodgers) playable. But then you factor in that the Dodgers weren't given nearly the Coors price bump as other teams usually are, and it simply becomes a question of how many. Joc Pederson ($3600), Cody Bellinger ($4000), Corey Seager ($4300) and Yasmani Grandal ($3700) are simply too cheap given their talent level and the game being played in Coors. Which ones to use simply comes down to who you like value-wise at the same positions – if you're a fan of Mercer, then you fade Seager, but if you're leaning towards Rickard or other OFs, then don't pick Joc.
I'm Only Happy When It Rains
If used correctly, rain can provide a massive edge in DFS. Today, it looks like Washington is going to get a lot of rain early and it's not going to let up. Tanner Roark is a solid play, and the main Nationals bats are certainly playable, so monitor the rain up until lock there, and then enjoy the 2-3% of rosters who will either use players in a game already postponed, or enjoy getting to use severely unowned players as people faded the game even though the rain wasn't that imposing. Also, there may be some strong winds in San Francisco, blowing out to RF, but that ballpark is known for not being very sensitive to the winds, so while it's something to monitor, it's most likely not nearly as important as some DFS touts will claim it is.
Doing Lines In Vegas
Considering Duffy's historical crappiness vs righties (4.52 xFIP) and Baltimore throwing a ton of righties at him, that 4.0 implied total seems low – so if you're at a place that offers betting on team totals, I'd suggest hitting up the Orioles over. Along the same line – the Royals offense isn't good, so combined with the aforementioned Duffy's historical crappiness and Baltimore's righty-handed lineup, Baltimore being just -105 screams like a good bet.  Also, Arizona's currently at -134 against the Pirates. First, Glasnow still has significant command issues (and the Pirates bullpen isn't particularly impressive), and second, the Pirates offense isn't that good, Jordy Mercer lefty-mashing aside.