Don't look now, but the hottest dynasty baseball league in the game is back for another monthly update. We are the American Dream personified. A former colony of the REL, otherwise known as the Razzball Elite League, and the evil iron fist of King George JB. Much like our founding fathers, [email protected] and I, the league's John Adams, and Thomas Jefferson worked hard to redraft our constitution, and bring prosperity to all those affected by King George JB's extreme taxation. Through these wars waged by an army of rag tag farmers, a great general emerged. Who is this great general? Our George Washington, if you will. None other than the original smoothie himself, Captain of the clean gooch, one Nick The Dick. Under the courageous command of Nick, and his Captain Jaaaaaake, Razz30 has taken on all comers, and anyone looking to down our new found utopia. There is no 30 team league in the land where it's citizen's are better educated, better looking, or just plain better. Our gooches are hairless, but our faces are not. We trade like spice merchants in the ports of the Orient! We pillage the posts of our enemies! We chat like high school girls on social messaging apps. We're the league you wish you played in. It's the Razz30 Update for April in the year of our lord two thousand and seventeen. Claws Up for my Family!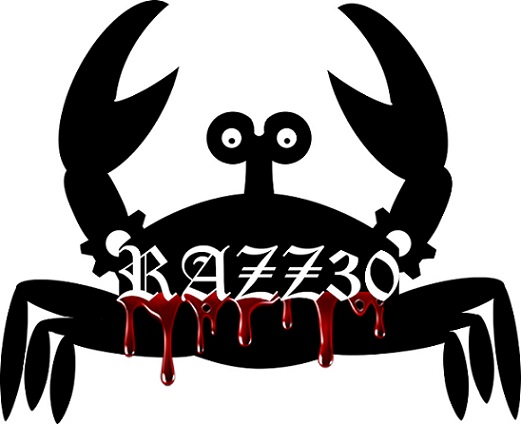 The Crab Army, Who Are They?
If you've stopped by any of those extremely verbose REL posts, and skipped ahead to the comments you might have noticed a few things; A. Wow, this post got more than 12 comments! B. The unrelenting attacks on the REL format, by citizens once under it's oppressive rule. FREEDOM!!! Is this post nationalistic? Are we the Alt-Right of Razzball? Probably, but I'll refuse to acknowledge any such heresy out of respect for my soldiers. This is what leaders do, deny, blame others, and keep their military might happy. As for the crab army, it's origins date back to the genesis of the league, as Jaaaake would respond to each, and every salty comment, or bold proclamation with a crab. It stuck, and has lived in Razz30 folklore ever since. We are led in battle by our aforementioned General Nick The "Smooth" Dick, even a mouth full of blood and ruptured vein in his gums can't keep our general off the battle field. He fought bravely in Tuesday night's chat to defend his home land's honor. Never has a man earned his stripes quite like Nick since the days of Gen. Patton. I could go through our list of soldiers, but I trust they will identify themselves in our congruous comment section. Violators beware. By the end of the year I fully expect to commission the first tattoo on my 6 day a week workout body. That of the Crab Army logo, seen above in all of it's glory. Who said I couldn't out Tehol, Tehol, amirite? Now to find a way to discuss Nicholas Cage….
Slack Chat, Our Clubhouse
While there are many parallels between us and our Revolutionary forefathers, we also share quite a bit of commonality with biker gangs like The Hell's Angels. Maybe we didn't have the same nasty reputation as our friends with the Local 81 heading into the season, but we have been gaining a head of steam, and it wouldn't shock me if we're now viewed the same way within fantasy circles. As a group of godless marauders, out for fame, fortune, and a good f-ing time. Our Altamont is the last REL post. Our clubhouse our Slack Chat, where we discuss clean gooches, the benefits of products like our sponsor Fresh Balls, and good old American Baseball talk.
Beard Of The Month
With the amount of testosterone, masculinity, and grown man stuff associated with the Razz30, there might not be anything more symbolic than our beards. Below you will see founding father [email protected]'s glorious majestic facial hair. Like a hipster Rasputin.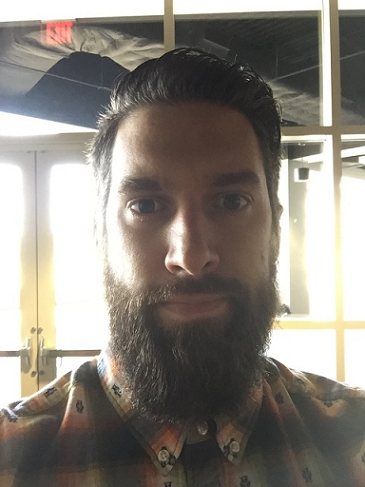 The Standings
If by this point you've forgotten that we actually play fantasy baseball when we're not trolling, comparing gooches, or discussing investment strategies, I wouldn't blame you. This league is so much more than just fantasy baseball, with that said I'd be remiss to not update you on the goings on of the best damn 30 team dynasty league in the known world. Much like with any league at this point in the season, the standings have been some what influx. Our league mirrors real baseball, and is comprised of an AL and NL similar to that "son of a motherless goat" league the REL. However, unlike those using archaic non-dynasty slanted sites, we use Fantrax, a site that allows a 30 team league to be broken into two 15's with separate scoring for each side. Instead of giving you a long diatribe about our rules, feel free to peruse our Constitution.
The NL: Here on the senior circuit, yours truly, Gen. Smooth Dick, and last year's NL champions The Nationals have battled it out a top the standings, with darkhorse, and worthy adversary the Diamondbacks in the mix. Led by hands down the strongest pitching staff in the NL the Nationals lead in 5 of 6 pitching categories, as well as batting average, and on base percentage. My Mets are strong in the power categories, but weak in our ratios, damn I need Joey Votto to wake up. The real sleeper in all this is the loaded Cubs, who managed to add both Nolan Arenado, George Springer, and James Paxton in the offseason, without giving up any of the core. How are you not in first? Anyway, here are the NL standings.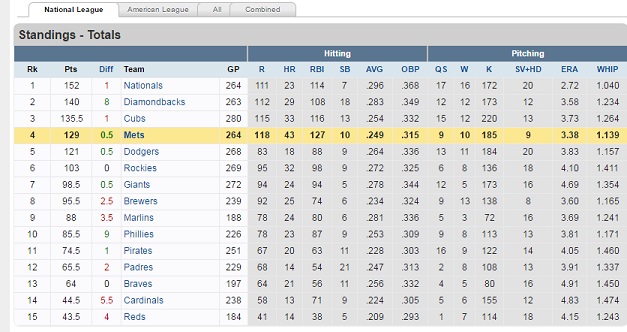 The AL: Last season the American League produced our eventual champion, the Boston Red Sox led by Colonel of the Crab Army Sheriff McRawDawg. The Sheriff has been slow to start the season, but has come on of late climbing all the way to third in the standings. However the runaway steam train Cleveland Indians led by native son of the Mistake By the Lake Jarod Miller, and the Rangers led by frequent commenter Old School Brother are neck in neck in the standings. Each strong in their own area, The Tribe leads in 4 of 6 offensive categories while slotting in 3rd in homers, and 10th in steals. While The Rangers led in 3 of 6 pitching categories (W's, QS, ERA), and slotting in the top five in both K's, and WHIP. Many battles a brewing in the top 6.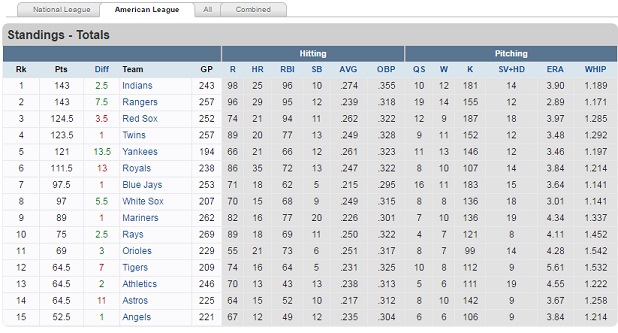 Trades
A large part of the Razz30 life is constant trading. Since the inception of the new format there have been 53 trades in total. Because discussing 53 trades would just be bananas, I'll focus on all those that took place in April. Take a look below, and feel free to ask questions in the comments. I'm sure our gracious league managers would be glad to discuss these trades with you. Except Charlie Morton for Tucker Barnhart, you can't explain that.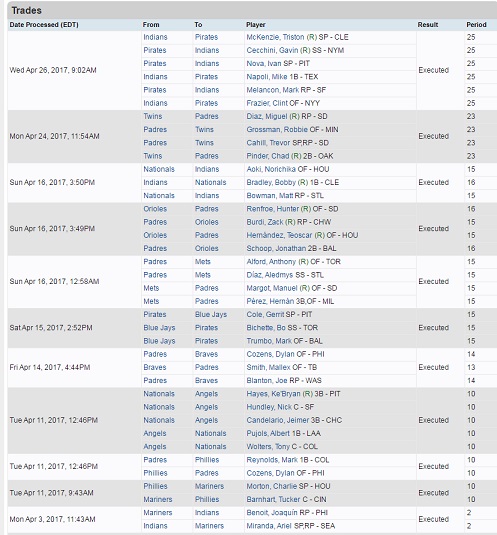 Weekly FAAB
I'd give you a wavier report, but there's literally been 171 adds and drops in the month of April. We're a wee bit active with our weekly FAAB setup. Instead I'll list a few, great pickups.
Blue Jays Claim (FA), Adam Rosales 2B,3B – OAK $3
Giants Claim (FA) Nick Pivetta, SP – PHI $5
White Sox Claim (FA) Tyler Motter, SS – SEA $10
Astros Claim (FA) Zack Efflin, SP – PHI $0
Twins Claim (FA) Juan Lagares, OF – NYM $0
Giants Claim (FA) Sandro Fabian, OF – SF $0
Athletics Claim (FA) Jose Osuna, OF – PIT $0
Giants Claim (FA) Adonis Medina, SP – PHI $0
Blue Jays Claim (FA) Jesse Hahn, SP – OAK $17
**Going to a minor league game? Get in on our crowdsourced scouting video project! Use your phone to shoot at bats, pitches, etc of some of the top prospects, and email them to me at [email protected]**
Follow me on Twitter @Ralphlifshtzbb and Tune on Tuesday's @ 9PM (EST) to my Live Baseball Show on Fantrax YouTube.  (and join the Crab Army in the chat)