The San Diego Padres just went on a scoring bender at Coors, putting up 32 runs over the past three days.  Their scoring barrage comes just two days after throwing up triple zeros for the first three games of the season.  In case you missed it, that's the WORST start to an MLB season ever.  Yep, you read that correctly, it's the WORST ever, like ever ever.  Obviously they couldn't go scoreless all season, but I doubt anyone expected them to average over 10 runs a game, especially after that hideous start.  I really hope Matt Kemp & Company enjoyed that offensive explosion, because as of 4PM yesterday, they're all out of that Rocky Mountain Kush……err…. Air.  Just like Hangover 2 and 3, this one is going to hurt quite a bit as today they're due to come crashing back down to reality in Philly.  Taking the bump for the Fightin Phil's is Aaron Nola, No-La, No-La Ay, rolling, rolling, rolling with Kid N Play now (Ear Worm!).  Nola looked sharp against Cincinnati on Wednesday throwing 7 innings, with 8 Ks & 1 ER.  With San Diego coming off that Rocky Mountain High and combined with his solid $8,500 price tag, look for Nola to keep it rolling (side note, Kid N Play had some great dance moves that even a white kid from the suburbs could pull off).  No-La, No-La Ay can easily be paired with Price or Quintana and still leave you with plenty of cash for those offensive options.  I don't know about the rest of you, but the weather has been wreaking havoc on me in DK!  I think that last weeks rainouts are about to push some of those chips back to us today with some solid match-ups.
New to DraftKings? Scared of feeling like a small fish in a big pond? Well try out this 10 teamer of Razzball writers and friends to wet your DK whistle.  Just remember to sign up through us before you do.  It's how we know you care!  If you still feel helpless and lonely, be sure to subscribe to the DFSBot for your daily baseball plays.
David Price, SP: $12,200 – The Price is a little high today, but it's Opening Day in Bean Town and he's facing a Baltimore team that was top ten in K's last year vs LHP.  His start got pushed back to today because of Thursday's rainout, so let's hope he makes it rain with some double digit Ks.
Jose Quintana, SP: $9,300 – I loved this match up vs Minnesota whether it was Q-Ball or Rodon. Minnesota was also in the top ten in K's last year vs LHP and as Sky said yesterday, "A full year of Sano's whiffs coupled with Park's approach should lead to plenty of offensive lulls for the Twinkies this year and I think we're experiencing an early one now."
Brandon Finnegan, SP: $5,900 – Discount Bargain Bin! He looked solid against Philly last week with 9k's and 2 ER in 6 innings of work.  I know Philly is straight weaksauce, but the Cubbies were another top ten K'ing team vs LHP and they only hit .238 at home last year.  There's definitely some risk involved, but you can match him up with Mad Max, $13,100, who gets to see Atlanta for the second time in a week and still have some dolo left for dem heavy hitters like Papi and Harper.
Wilson Ramos, C: $3,300 – He has a solid BVP 6/16 with a bomb against Norris and I don't see Norris duplicating his wizardry from last weeks matchup.
Cameron Rupp C: $2,700 – WPCARB, so it's not as catchy as SAGNOF, but if you don't know by now "We Punt Catchers At Razzball".  He sat yesterday, so he'll be in there today.
David Ortiz, 1B: $4,700 –Did I mention it was Opening Day in Boston?  In case you didn't know it's Papi's last Opening Day EVER, like EVER EVER!  He'll be good for at least 1 bomb today and he's facing Gallardo.
Ryan Zimmerman, 1B: $3,900 – I Love me some Washington hitters today!  Wait, what, what's that Lil' Homie?  Sorry for the interruption guys, but this sounds important, hold on a minute………….. OK, thanks for your patience, I had to check on my googly-eyed, black Pug Odie: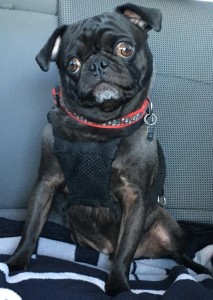 He was scratching the baby gate at the bottom of the stairs at a maddening rate. Usually he only gets that excited for the dog park or snackies, but apparently he had an urgent message for me.  Obviously he can't talk, nor does he know how to sign, but his eyes are like oracles and they said to green light all the Washington hitters today as they get to see Bud Norris for the second time in a week.  Zim is sporting a healthy BVP of 6/17 with 3 HR and 9RBI.
Rougned Odor, 2B: $3,600 – He's been a bit quiet to start the season, but he got a day off yesterday to get his head right and he's way overdue for a big game.
Robinson Cano, 2B: $4,400 – A little expensive for my taste, but he's been mashing and he's got Colby Lewis today.  I had a long conversation about Cano and Odor with my BF Shoe, he thought I was drunk on "The Odor" when we were rapping about stats, but I just don't see Cano mashing like this in Seattle.  Cano's not going to out perform Odor or is he?  We're trying to lay down a gentlemen's cash bet, but we can't come to terms on how to evaluate moving forward.  Please feel free to comment with any suggestions.
Kyle Seager, 3B, $4,200 – He's rocking a very healthy 10/29 with 2HR and 7 RBI vs Lewis.  He let loose on Opening Day, so today seems like a day for him to let 1 or 2 more fly out.
Nick Castellanos, 3B, $3,900 – He's gotten off to a nice start this year going 5/12 and last year he hit LHP at .351/.570/.970 clip.  Jonathan Niese is a mid-tier lefty that for some reason or another hasn't benefited from Megamind Ray Searage.  Maybe Juan Nicasio has been getting all the attention during BP workouts or maybe he's not happy with his nose job. Either way, Nasty Nick and the rest of Detroit's line up could feast on Niese.
Eugenio Suarez, SS, $3,600 – I'm not sold on any SS match ups today, but this dude has been En Fuego!!  Dude is hot as a pistol collecting 10 hits in the first 6 games, oh and he has 4 bombs to go with that.
JJ Hardy, SS, $2,500 – He's cheap and if he gets a few knocks off Price, I'm good with that.
Bryce Harper, OF, $4,900 – Bud Norris cannot contain the Harpernator!
Hanley Ramirez, OF, $4,700 – Boston stack on their home Opening Day against Gallardo, yep that sounds good.
Billy Hamilton, OF, $4,000 – Seems a little pricey, but he's facing Lester against whom he's 4/5 with 6 SB's.  We all know Lester can't hit or even throw over to first, so if Billy boy gets on he'll be burning up the base paths.  At least Montero doesn't have to see his defensive stats go in the tank each time Lester pitches.
Gregory Polanco, OF, $4,800 – He's making Unkie Grey very happy with his hot start! Starling Marte is also at $4,800 so flip a coin, cause I know you like to gamble.
Jeremy Hazelbaker, OF $2,500 – He's hitting second for St. Louis and as long as he's starting he's a great play at the price (be careful here because the rain has to stay away).  I don't know how the Cards do it, but here's another no name guy that just hits, he went 2/5 with 1R, 1RBI & 1SB yesterday.
Nomar Mazara, OF, $2,900 – I was pleasantly surprised to see him on the DK board and at a discount!  Dude only went 3/4 to go along with una bomba yesterday.  He's not going to be this cheap if he keeps hitting, so let's get him before the pitchers figure him out.  Please let someone else break out, cause I'm already tired of hearing the same old Story (seriously why do they keep pitching to this guy?)
I'm Only Happy When It Rains
Yeah, we might have to change the title, cause I've been anything but HAPPY this week because of all the effin rainouts.  Today looks favorable for most of the games except MIL vs STL, which has a 95% chance of rain.  SD vs PHI has a 40% chance, so keep an eye on that especially if you're doing the smart thing and rolling with No-La, No-La Ay. MIA vs NYM and TEX vs SEA have small chances of rain, but I think we're good.
Doing Lines In Vegas
No surprise to see Mad Max leading the charge: -283 here again for the second straight Monday. Vegas isn't feeling my Finnegan pick as they have CHI at -250, but big risk, big reward Brandon Finnegan begin again.
Hindsight is 20/20
Here's a look at my winning lineup from last Monday.  My picks didn't light the DK world on fire, but I ended up on the plus side of the money with a decent score of 155.65.  The OF tanked for the most part, but I was happy with the rest.
Max Scherzer – 22.75
Raisel Igelsias – 19.9
A.J. Ellis – 13
Jose Abreu – 13
Daniel Murphy – 25
Josh Donaldson – 16
Zack Cozart – 17
Bryce Harper – 23
Adam Duvall – 2