All hail his grace, Tehol of House Beddict and House Razzball, first of His Name, King of the Andals and the First Men, Lord of Fantasy Baseball, and Protector of the Realm.
Greetings! I come to you flaccid and weary after a five day boar hunting/brothel hopping excursion. A nice treat from my loyal subjects, celebrating the fact that Peter King, the first King of the Andals, wrote a blurb on how much he adores Razzball.com. Now, I'm guessing he's never read Beddict scripture, but who am I to turn down an opportunity to take down the same breed of beast that brought a heartbreaking end to my very dear friend, Robert Baratheon, not to mention unsheathing my long sword a time or two, all while being rip-roaringingly tanked? After Maester Sky closely inspected my unmentionables, giving me what looks like a years supply of penicillin and three anti-itch creams, I remembered I still had work to do! There were many disgraceful performances over this past week or two, the kind of disgraces that make Jorah Mormont's traitorous ways seem almost acceptable, and if you believe a few "possible" STDs are going to stop me from taking quill to parchment, then good sir's (and madam's), you are sadly mistaken. Let us not forget those who shined like a young Rhaegar Targaryen on the battlefield, and may their songs be hummed by children in the Godswood for hundreds of years… If you've visited me here before, you know how I do it… every two weeks I'll be mixing baseball and Game of Thrones. (Jay and I also dedicate a segment to the show on the Fantasy Football Podcast!) Interesting concept, eh? No? You must like the taste of ice cold Valaryian steel, ser! And as always, spoilers ahead!
I am Tehol Beddict, and this is Disgrace/Delight, GOT style! Take Heed!
If I may, I'd like to begin by memorializing Bryce, Son of the Harper's, graduation to manhood. Tis true, his balls finally dropped and rumor has it that when they did, it caused an earthquake so behemoth, that the King of the White Walkers is now having second thoughts about bringing Winter. The few of you here today, my chosen disciples, who have stuck with me through the good times and the bad, recall me writing that Bryce Harper was worthy of a top-5 overall selection in 2014… We all know the tale, as I ended up looking more foolish than Prince Oberyn, who allowed himself to be ankle grabbed and then brain squeezed by the villainous Gregor Clegaine. After that horrid injury and Matt Williams being injury plagued in the head, I took Bryce to the best brothel in town, ordered two flagons of Dorne's finest wine, and told him this:
 "Kill the boy, Bryce Harper. Spring is almost upon us. Kill the boy and let the man be born." 
In hitting seven of the kind of dongs that would make even the cold-hearted and relative-humping Cersei drop to her knees and "give praise" (in the last six days I might add), it's safe to say that boy we once knew… is no longer.
Players who Delighted
"A good mother never gives up on her children. She disicplines them if she must. But she does not give up on them." – Daenerys Targaryen.
Kris Bryant – Not since the father of my Dire Wolf puppies, have I witnessed a creature with such exquisite  power and grace. Not since Dragons flew rampantly in Valyria, have I seen a beast with this ruthlessness and killer instinct. Bryant has officially awoken from his power hibernation, clubbing three bombs with the kind of ferocity we haven't witnessed since Robb Stark's pregnant wife was stabbed to death at the "Red Wedding." By the way, how is our Khaleesi going to harness in these dragon children of hers? Drogon, the mightiest of the three, has already gone AWOL and the other two seem about as tame as Latrell Sprewell's pit bulls, hence their chaining in a dark hole. I'm extremely curious on how this all works out… Will she one day learn to make these savage creatures fully submit to her or will they one day rip her limb from limb like she was made of straw and devour her flawless shredded corpse? I suppose we'll have to keep viewing.
"Oberyn tossed his spear at my feet and said: girl or boy, we fight our battles, but the gods let us choose our weapons.' My father pointed to the spear and then to my mother's tears. I made my choice long ago. – Obara to Ellaria and her sisters.
Jimmy Paredes – After being released and getting passed through waivers unclaimed on multiple occasions, one wouldn't blame Jimmy the Jubilant for calling it a career. But no, not Jimmy. When Paredes's father threw a Louisville slugger at his eight-year-old son's feet, his path was clearer than the sky on mid summer's day in Dorne. Through Sunday, Paredes was batting a succulent .355 with 5 long dongs and more RBIs than I can count. Sure, his BAPIB is an astonishing .400, and that will surely drop like the sunset sea level of the Iron Islands when the tide goes out,  but "the Jubilant" is a man of conviction and I wouldn't put it past him to have an all-star season. (And how horrific was that "Sand Snakes" scene in Dorne? Muddled accents, detestable acting, and to top it off, none of them even managed to arouse me. Say one thing for Tehol Beddict, he's easily aroused. Let's hope they just cut them out of the show in the same fashion Jon Snow lopped off the detestable Janos Slynt's dome.)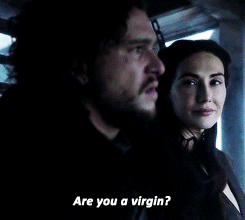 "There's power in you. You resist it and that's your mistake. Embrace it." – Melisandre to Jon Snow.
Stephen Vogt – Not since Ser Barriston the Bold (RIP) have I witnessed an old timer swing the stick like Vogt. Somehow, someway, at the ripe age of 30, Vogt has managed to match his career high in home runs through a minuscule 32 games, from the catcher position no less. I haven't even mentioned the fact his .337 average and 30 RBIS have brought all the finest ladies and gentleman of Westeros to their knees like they were one of Ser Loras's playthings. Will it continue? Absolutely not, but that doesn't mean the man shouldn't be given kudos for his perseverance and early season dominance. May the Gods be with you, Vogt of Visalia. I'd like to take away previous built up kudos points given to Jon Snow, for turning down the opportunity to lay sword to the titillating Melisandre. After all, her sexual advancements is a crime punishable by death in my Kingdom. Every time I witness that pale, full-mooned, voluptuous backside, I'm forced to ask my humble servant, Reek, to dump a bucket of ice cold water down my trousers. That cooky temptress has awakened fires inside me I never knew existed as she's jumped to number one on my power rankings for the "Sexiest women of GOT." You know nothing, Jon Snow.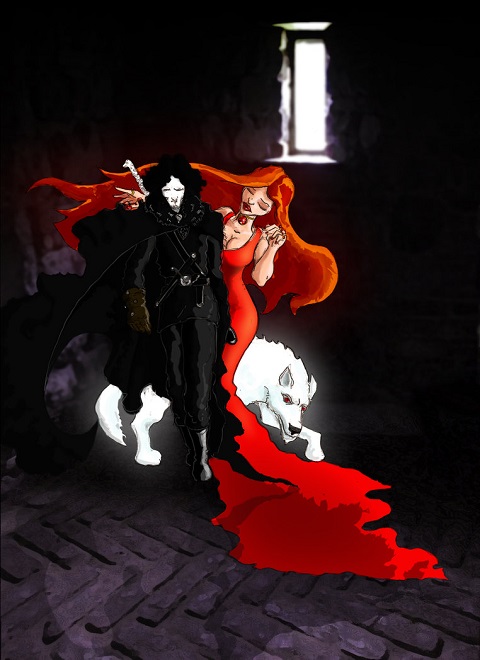 By the way, what are your thoughts on Jon Snow's parentage? The hints are clearly pointing to Snow being the son of Rhaegar Targaryen and Lyanna Stark, Ned's super hot sister. Is it that simple, or are we missing something?
"If I give everyone what they deserve, I'll have no one left to rule" – Danaerys Targaryen.
Craig Kimbrel  – With a hideous 5.64 ERA and a disturbing 1.34 WHIP, I haven't been this concerned about a man since the Mad King used to torch people alive, just for looking at him wrong. The Padres took on peasant, Beej Upton's salary in order to acquire this proven stallion so they better pray to the "seven" he turns it around, and quick-like. Odds are heavily in his favor of turning it on though, as Kimbrel is the greatest closer since Margaery Tyrell. It's not as if you can drop the man and it's not likely a swell idea to sell low. If I dropped every player who deserved dropping I'd have no one left to own. And why doesn't Khaleesi gather the unsullied and slaughter every former slave master in Mareen so that she may move on with her next conquest? Why show compassion for these trolls? What does she have to show for it? The ever loyal and legendary Ser Barristan Selmy, dead! The ever-present and leader of the unsullied, Greyworm, wounded and in love with a woman he can never bed… I suppose he could be legendary at giving fake chow though, so at least he has that going for him. Again, stop dealing with these insignificant peasants and move on to the next city, babe. You can't fix everyone. You've got to be realistic about these things.
Players who Disgraced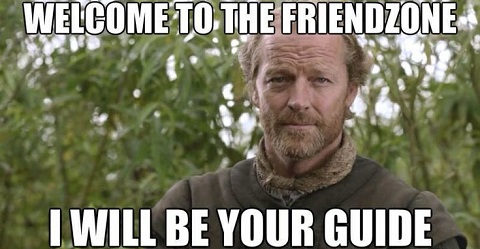 "Long sullen faces, and occasional punches to the face: The Mormont way." – Tyrion Lannister.
Stephen Strasburg – Long dismal faces, and occasional punches to the nuts: The Strasburg way. I wrote extensively about Stras last week, so I won't waste much more ink on this fantasy peon [Jay's Note: As I see an entire paragraph waiting for me…], but seriously, can one of you, my loyal subjects, give me an example of a more heralded star that let us down more often than Selsye, wife of Stannis Baratheon, who is unable to produce him a son… yet keeps their stillborn bodies in glass jars? Maybe someone's done that with Strasburg's unmentionables… it wouldn't take a very large jar, that's for certain. Yep, Wednesday night, Strasburg basically cost me WHIP and ERA for the week in my head-to-head money league, getting bent over for 7 earned in 3.1 innings pitched, causing his already putrid ERA to balloon to Bronn kill count levels. This man has drained the life from me, and I can't rule this kingdom with him under my roof. Begone, peasant! And don't return till you've become a man. KILL THE BOY!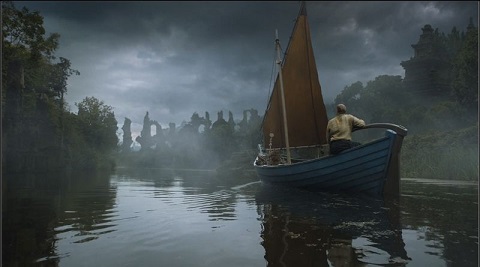 And what a cool scene with Tyrion and Mormont as they cruised through the rubble that was Valyria. I loved the cinematography and back and forth poetry between them. It all seemed so serene… until stone men started dropping from the sky like mounds of dragon dung. Now that Jorah has been touched with the Greyscale, how long will he survive? Will he seek treatment or keep it hidden for as long as possible, knowing if reveals it to Khaleesi, he will most likely be banished to the very place he contracted the disease. Only time will tell. I for one, am intrigued.
"Jealousy bores me. You remember what happens to people who bore me." – Ramsay Bolton to Myranda.
Corey Kluber – Ser Kluber is 0-5 with a titanically disgraceful 5.04 ERA. Is it time to strip him of all rank and titles, forcing him to prove himself all over again? Some would say it is so. It's possible he could be shipped off to join the Night's Watch with one more piss poor performance, and as King, I fully support that. I rule with an iron fist! I fully expected Klubes to dominate this season, instead he's come out limper than a eunuch at strip club. We can only pray to the "seven" for him, and hope he deciphers his multitude of issues. Great opening scene in "Kill the Boy" eh? I'm sure you thought the same thing as I, when witnessing that rump: Dude must be doing squat thrusts like a mad man! But seriously, Myranda is a flawless vixen, one I'd gladly accept onto my summer league roster.
How long will Ramsay be allowed to breathe? Will Reek slit his throat in the dark and geld him like he so dearly deserves? Will Jon Snow cut him down in the Godswood in an epic final showdown? Either way, I want him slaughtered, ASAP! And how hilarious was it when Ramsay clowned his father in asking him how he could possibly tell if his rotund wife was pregnant, or better yet, how he managed to find entry without two servants and a lantern.
"You and I both know how the world works. Too often the wicked are the wealthiest, beyond the reach of justice." – Cersei Lannister to the High Sparrow.
Clayton Kershaw – What is the issue with the only man in the Seven Kingdoms wealthy enough to make the Lannisters grit their teeth in envy (before they went broke, of course)? A pigeon carrier recently gave me the news that Kershaw was carrying a pathetic 4.26 ERA, and my Grand Maester says Tommy John may be coming shortly. This is somber news as Kershaw is the closest thing to royalty baseball has, other than my cousin, King Felix, of course. I'm concerned. What's up with these Sparrows? How battle tested and trained for combat can they possibly be? If Tommen ever hopes to enter the temple of his Margaery Tyrell again, he may want to have this rabble put to a quick extinction. Gods be merciful, I'd have all their throats cut like swine just for the honor of giving her a rim job. Oh, how I love thee, sweet, sweet Margaery.
Thank you for joining me for another edition of Disgrace/Delight, GOT edition. There's truly not much I enjoy than bantering with you in the comment section below so please, feel free to delight me with your questions and comments. If you'd like to witness Jay Wrong AKA Big Finger and myself discuss Game of Thrones and the recent NFL draft check out our biweekly podcast HERE. It's been an absolute pleasure and may the Seven bless you throughout the remainder of your days.
Want more Beddict? Follow him on Twitter at @Beddict143.