Who could forget our first visit over to Finnegan's?!  Grabbin' a pint, singin' some odes, and getting so sloshed we're coming back for mo'!
As we saw in his first career start last year, Brandon Finnegan looked kinda blah to me.  And after an early-season near no-hit bid against the Cubs, Finnegan's effectiveness was a range from blah-to-awful.  His walk rate was terrible especially next to an equally atrocious K-rate, and Finnegan could not be further off my radar.  But suddenly some Ks started popping up with equally sudden success, which beat writers reported could be contributed to learning a change-up from Dan Straily.  After heavily using what I'm assuming was a different change-up grip at the start of the season through his first 4 starts (close to 25% of the time), Finnegan then barely threw it 10% of the time over his next 21 starts .  As I mentioned in that pitcher profile from last year, his change-up looked pretty below average and I'm guessing he more-or-less scrapped it from his main arsenal.  But over his last 4 starts, he's got an insane 35:8 K:BB in 25.0 IP with a 2.16 ERA.  I obviously haven't watched too much Finnegan, but I have added him in several of my leagues due to glowing reports on this new change-up (and of course, recent result), so I decided to profile him to see how it's really looking.  Here's how he fared yesterday afternoon against the Bucs:
First Inning: Finnegan's first pitch is a – wouldn't ya know it – change-up that drops low to Jordy Mercer, 1-0.  Then fastball on the hands gets a routine fly to right center, quick first out.  Little slider gets the backdoor 0-1 to Josh Bell – no velocity readings so far, I'm not sure what's up with the gun…  Fastball misses, high fastball fouled off, then a high two-seam with some great tailing movement gets Bell reaching out of the zone for Finny's first K.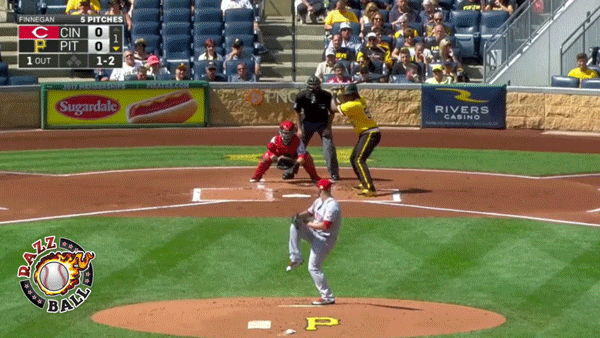 Two-seamer runs outside to Andrew McCutchen, carbon copy same pitch again is outside, that nasty change-up gets a foul-tip into the mitt 2-1, change-up again taken in the top of the zone for strike two, change-up again looked to have plenty of the plate but I guess called low, 3-2.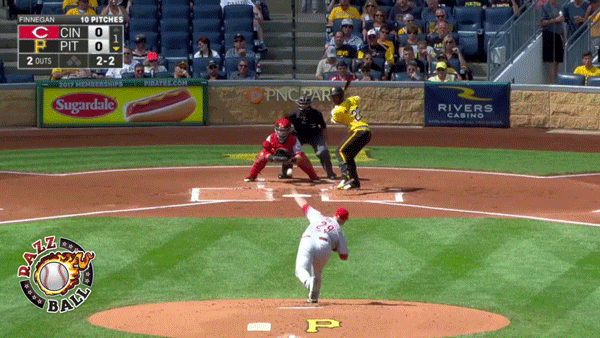 Then slider goes into the dirt for a walk.  Annoying walk there.  So two down, and high two-seamer gets a whiff from Jung Ho Kang, fastball sails high, beautiful change-up sticks on the inside black 1-2, then fastball on the hands gets an easy pop to second, and a pretty easy first inning.
Second Inning: Get your early drinks at Finnegan's mate, 5 runs put on the board for the Irishman!  So protecting a 5-0 lead, and Finny hangs an outside slider, 1-0 to David Freese.  Change-up drop in there – this pitch is unreal – but of course I curse it with an outside change-up oppo fielded to right for a leadoff single.  Hard two-seamer I think sinks low and in to Gregory Polanco, two-seamer again with nasty run breaks well inside again, then two-seamer yet again gets a whiff on the inside edge, change-up gets a whiff, slider in the dirt makes it full, hard two-seamer tipped foul, then two-seam again is just breaking too much and runs inside for a walk.  Yikes, so runners on first and second with no outs, and fastball is high to Sean Rodriguez, fastball again is low, fastball on the hands ties him up for a whiff, change barely tails inside, then sinking fastball is low, bases loaded – not outs.  Sheesh.  Change in there to Chris Stewart, fastball dips low, two-seamer runs outside, two-seam again fouled off, then an inside change-up ties him up for his second K.  Two-seamer gets a huge whiff from Ryan Vogelsong, change-up hits the inside black, two-seam runs outside, two-seam again fouled back, then change-up perfectly paints that inside black again for his 3rd K looking.  K-trax had it in the zone as well, nasty.  Change again stays high to Mercer, fastball fouled off, change falls low, fastball fouled off, change-up staying right down the middle luckily gets a foul, then change again right at the bottom black gets an easy pop to first and Finnegan wriggles his way out of it.  Tough inning!
Third Inning: Now a 6-0 lead, and slider hangs high, 1-0 to Bell.  At 48 pitches already, it might not be a long outing.  change misses, change again is high, the change one more time is barely high, 4 pitch walk.  Ugh.  Two-sermer gets the inside corner to McCutchen, change is low, then two-seam again is flied routinely to right center, one down.  Then first pitch to Kang is a fastball dribbled through the left gap for a weak single.  Weak!  Then again on the first pitch, a little slider is hit pretty hard to left, but it's caught out there without too much stress for the second out.  Two pitches, two outs in a row.  Sorely needed.  Slider drops low to Polanco, fastball fouled off Polanco's foot for some pain, 1-1 slider bounces in the dirt, two-seam sinks low and in, fastball right in there, then fastball paints the outside black for another K looking.  Polanco then whines his way to an ejection.  Womp womp!
Fourth Inning: At 62 pitches and still protecting a 6-0 lead, Finny drops a change in there to S-Rod, change-up gets a monster whiff – I'll be interested to see Finnegan's swinging strikes this game – slider drops low, damn, change-up looked to hit the outside corner but called a ball, but Finnegan stays out there and gets a lazy pop to center, one down.  Then fastball on the hands of Stewart is inside-outed to right for a single.  Fastball fouled back by pinch-hitter Jason Rogers, change hits the inside black, then 0-2 change-up gets Rogers reaching, and it's a routine double-play ball to get Finnegan through a quick inning. 

Fifth Inning: Now 7-0, and Finnegan opens it up low to Mercer, 1-0.  Fastball fouled off, nice tight slider pulled well foul, then holy crap – CHANGE-UP!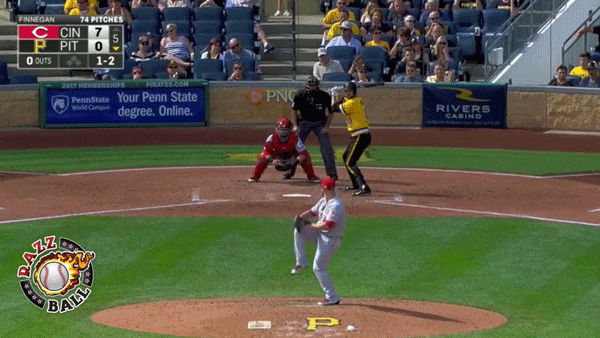 Strike three!  Change yet again gets a whiff from Bell, change again on the inside black, change drops low, then a high hanging slider gets a weak dribbler that's just outside the reach of a diving Brandon Phillips for a weak single.  Weak!  Oh just noticed we have radar readings now!  93 MPH is low to McCutchen, change at 82 hangs high, then that nasty two-seamer barely misses the inside black, two-seam again drops low, then 3-1 Finny sticks with the two-seamer which is in there, but hanging off-speed of some sort is inside for a walk, runners on first and second.  92 MPH fastball outside to Kang, 92 again inside, then 91 MPH two-seamer gets a weak flare to right for a single.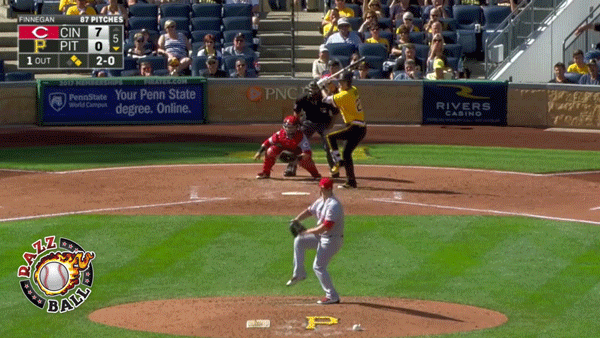 Look at the movement though!  And the third weak hit of his 5 singles allowed.  So bases loaded yet again with only one out, and change drops in there to Freese, 0-1.  Two-seam breaks outside, two-seam again dribbled just foul, then a monster change-up gets a huge whiff from Freese, 6th K from Finnegan.  Gnarly!  Two-seamer fouled off by Adam Frazier, 93 MPH heat again fouled off, then slider dropping in the dirt gets Frazier swinging for Finnegan's 7th K.  Nasty!
Final Line:  W  5.0 IP  95 Pitches (55 Strikes)  0 ER  5 Hits  5 Walks  7 K  Gamescore: 57  Gamescore+: 68
Final Analysis: I was having some beers while watching football and profiling Finnegan, so excuse any typos!  Stupid Cardinals offense playing like poo against the Pats…  Oh yeah, baseball!  And what a crazy disparity there for Finnegan with the Gamescore+.  7 Ks in 5 innings will skew to the +, and as mentioned in the 5th inning there, 3 of his 5 hits allowed (all 5 were singles) were weak contact, and only one in-play out did I score as anything other than the weakest out.
We didn't have radar readings most of this start, but Finnegan was at 92.5 MPH with the heater, about in line with what we saw last year.  Overall his fastball velo has been down a little bit in 2016 over 2015, but the two-seamer just looked nasty.  Yeah, I GIFfed one that was a hit, but it was showing Kang just guide a nasty-moving pitch – nothing was getting centered up on by the Pirates hitters.  I think even Finnegan was surprised by the two-seam movement, contributing to the walk issues.  But to the subject of pretty much this whole Profile – that new change-up was a beaut.  He threw it 25.3% of the time this start – the most he's utilized it since the former change-up he had in April.  And velocity readings confirm it's a completely different change-up then the beginning of the season.  Through the first 4 starts when he was using the old change-up, it was sitting well over 85 MPH.  This new stretch over the last 5 starts, it's going about 83.5 MPH, with no changes to the fastball velo.  If you looked at Finnegan's profile from last year that I linked in the intro, I mentioned I hated his change-up not having the velocity differentiation vs. the fastball – now he has it.  He was able to throw the new change for strikes, keep them on the edges of the zone, and get whiffs out of the zone.  Finnegan also mixed in his slider; it didn't quite have the usefulness of the two-seam or change, but his last pitch on the day was a swinging K with it, and it helped to round out his arsenal.
Wow, I thought this might just be a little flash in the pan to end 2016, but I think this new change-up will get Finnegan on my sleeper list next year.  Remember he's just learned it!  Imagine what he could do with a full offseason to prepare a 30% use rate with that pitch.  It's what he should do, and hopefully what the Reds have him prepare for as a starter heading into 2017.  For the final run this season, as long as Finnegan is in the rotation, I think I'm using him.  Yes the WHIP was high this start, but a chunk of that was BABIP.  We do have to be concerned they might innings-limit him, but it looks like he gets home at the Pirates again, @MIL then @STL to close out the year.  I have confidence using him in at least those first two.
Sorry I missed you guys last week, but I took Labor Day off from laboring!  Although, I did still labor through a Podcast with Grey…  So there's that!  As I mentioned in my last Profile, ranks are just impossible to maintain with very little action left – pitchers within even 30 or 40 spots of each other could change due to matchups or 6-man rotations.  But of course, any questions you have for spot starts or who to own the rest of the way, shoot them below!