So for a lot of these puppies I pump out here for Razzball (That makes sense in oldspeak terms right?!  You're not picturing me birthing a litter under Grey's desk at the Razzball office, right?!  RIGHT?!), I write the intro before a pitcher's start to unsully my biases so you can read how the pitcher looked in real-time.  Yeahhhh, football is on during Sundays now…  It's tough to multi-task watching the Panthers, RedZone, AND baseball!  Alas, for this week's installment of Pitcher Profiling, I had already known the outcome before breaking it down.  The title should give it away as well!
I lucked out and nabbed Ivan Nova in several leagues just on a streaming whim within his first few starts on the Pirates, and was reaping the rewards of a late-season pitching surge.  All hail Searage!  I actually read an interview with Frank Herbert that the planet Dune was actually being mined for "Magic Searage Dust", but it wasn't literary-sounding enough, so he just went with "Spice".  Authors are nothing but lazy bums!  Which speaking of, I picked a dude who got shellacked and didn't pitch too deep…  But I wanted to take a second look at how he… well, looked (lazy again!), to see if I should just cut bait and move on, or hold onto the most recent Searage reclamation project through the finish line.  Here's how Nova fared pitch-by-pitch, and hopefully a helpful treatises on if you should hold him as well:
First Inning: Nova's first pitch is a 91 MPH fastball a little high and tight to Jose Peraza, 1-0.  Man, so weird to hear Joe Block call Pirates games!  He was the Brewers radio voice alongside Bob Uecker for many years, we miss ya Joe!  You re-tweeted me once!  I felt famous…  Anyway, fastball in there 1-1, curve misses outside, then a fastball is laced pretty hard right over Nova, but the shift is on and Pedro Florimon makes the play right at second base for the first out.  Credit the shift for taking away a single there!  Sinking fastball a little low to Eugenio Suarez, fastball again is low, staying in the bottom of the zone is another low fastball but fouled off, then 2-1 fastball is literally a carbon copy of a liner right over Nova, but it's jusssssst out of Florimon's reach for a single.  Nice fastball on the outer edge slashed foul by Joey Votto, high fastball at 92 bareeeeeely misses the high black, another nice sinking fastball dotting the low outside black at 93 MPH is barely slashed foul, 93 a little inside, then 2-2 81 MPH curveball that was a pretty good pitch just gets a little serve swing with Votto choking up on the bat with two strikes for a lazy flare single to right.  Credit the hitter there.  Adam Duvall takes 93 in there, nice tailing fastball eating him up on the hands at 94 gets a dribbler foul, then an 83 MPH curveball that went about 58 feet gets an ugly swing from Duvall for a K.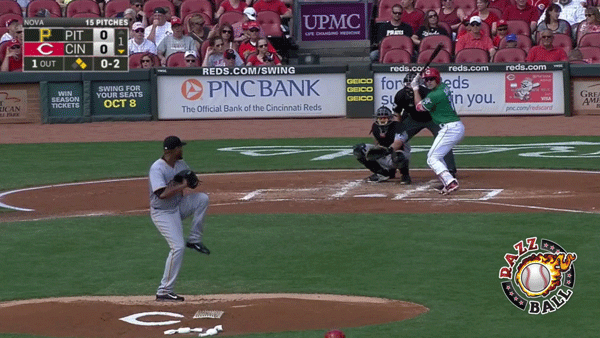 So runners still on first and second, two gone, and Brandon Phillips takes an outside curve, then nice two-seamer backdoors the outside corner at 94 1-1.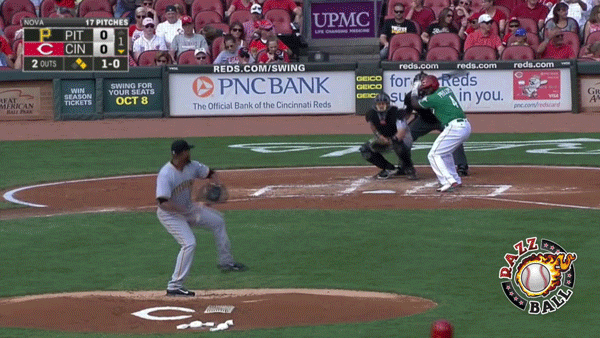 And a low-inside two-seamer again eats him up for a grounder to third to end the inning.
Second Inning: The Bucs give Nova two runs of support, and Scott Schebler tries to bunt the first pitch but fouls it, fastball is in there, hmmm a cutter I think (?) at 87 misses just low, then fastball in the bottom of the zone is ripped to center for a hard leadoff single.  Ivan De Jesus then tries to bunt his first pitch, and it's a hard bunt towards first, and Josh Bell whiffs trying to field it charging in and De Jesus makes it safe to first.  Lord, they score that an infield single…  You put a defensive liability at first in Bell, he can't scoop a bunt, and you credit the hitter…  The broadcast makes a good point that no one is at first, but it was hit hard enough that Bell may have been able to tag him on the way.  Anyway, this is all moot because a fastball at 94 right down the middle is crushed to the left field gap by Tucker Barnhart for a 2 RBI double.  2-2 game now; bad location with the sinking fastball that didn't sink and was a cookie.  So no outs still, and Dan Straily bunts, and sacrifices on the first pitch, Barnhart to third.  One out, and curve is outside to Peraza – back to the top of the order – 95 (nice) MPH in there, then high 93 MPH fastball is chopped to third and keeps the runner at third for the second out.  Big one there.  Curve misses outside and low to Suarez, then nice curve is in the zone at 81, 1-1.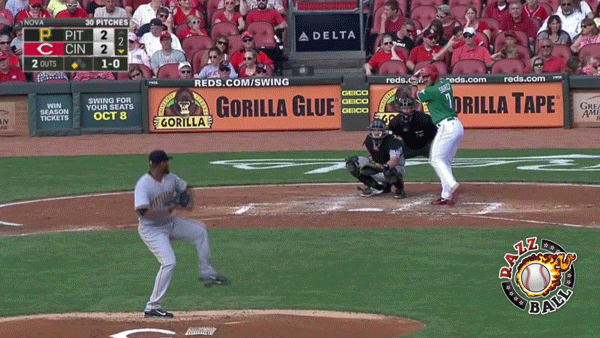 95 towards the top of the zone is fouled off, curveball almost gets Suarez to swing but he held up, curve that hung a little is fouled back, 95 high and tight is fouled off, 95 jusssst misses the outside corner – loving this velocity – then 95 on the inner third is flied to right routinely to get Nova out of a tough inning.
Third Inning: Nicccce first pitch curveball is in there to Votto to start the third, but then another one of those sinking fastballs that didn't sink enough and was right down the middle is hammered to right center for a double.  Votto was waiting for fastball there.  Duvall fouls off a fastball, change is barely nubbed foul, then curve is served to third for a groundout.  Then whew, 94 is low and outside in the dirt on a first pitch to Phillips, that didn't look right, but the curve is working a little better now as Phillips whiffs on a HR swing, 1-1.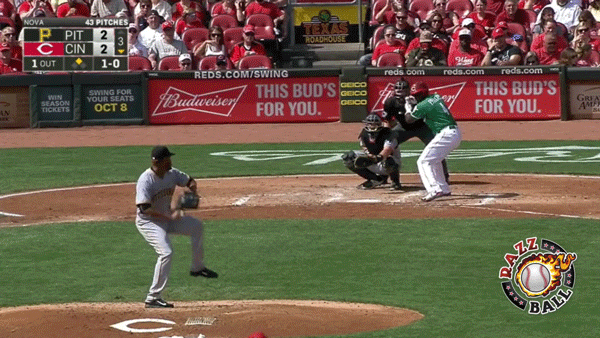 Fastball again misses by a ton, and Nova is giving some bad body language now.  Then a 94 MPH two-seamer, almost exactly the same one I GIFfed earlier to Phillips, leaks over the plate to be on the outer third and Phillips hits it to deep right center for a ground-rule double scoring Votto.  Nova not hitting his spots.  Out comes Searage for hopefully some magic Searage dust.  One out, runner at second, and Schebler swings through a high and outside cutter again I think, then 93 on the hands eats up Schebler, but he's able to muscle a flare to left just over the infield for an RBI single.  Had some crazy squib-spin on it – a little unlucky there.  92 nicely placed on the low inside black is fouled off by De Jesus – a little better fastball command now – 92 MPH is inside, then only 91 MPH at the letters is tomahawked to left for a single, with Adam Frazier bobbling the ball moving Schebler to third on a fielding error.  Yeah, this is all falling apart now.  Then first pitch change-up to Barnhart is golfed hard to center, Andrew McCutchen is there 5-10 feet in front of the track, but Schebler scores easily thanks to the error.  Then 92 just served up to Straily on the outer third is yanked through first and second for Dan Straily's first career hit.  Yeah, let that sink in, an NL pitcher who has been in the rotation all season and in the Majors for 5 seasons just got his first hit.  Ouch.  Curveball drops in to Peraza, curve again falls in there 0-2, then the inning ends mercifully with Peraza swinging through a curveball in the dirt, and thankfully Nova ends on a high note.
Final Line:  L  3.0 IP  56 Pitches (40 Strikes)  4 ER  10 Hits  0 Walks  2 K  Gamescore: 23  Gamescore+: 29.8
Final Analysis: Ewwwww.  Yeah, it's no fun doing these on bad starts where you can't really find too much "unluckiness".  While his Gamescore+ came out a good bit higher than the Gamescore, that's just due to the shorter outing which tends to yield higher Gamescore+ scores due to Gamescores giving bonuses to outs after the fifth inning.
Like Jan would say, "Fastball, fastball, FASTBALL!"  It's all about fastball location and consistency, which just wasn't there.  Nova started the outing with 92-93 MPH fastballs using a lot of his sinker, but he hung a few in the zone that were absolutely clobbered.  He flashed a nice two-seamer, but as things started collapsing around him, the command got worse and he showed some pretty bad body language out there in the top of the third.  The velocity was overall actually higher than most of his starts this year – he was hitting 95 consistently there at the end of the second – but the command was missing otherwise.  I was hoping that his line of 2 K and no BB meant he just got BABIPed pretty hard, but he was getting squared up pretty nice.  Nova's secondary stuff is all about the curveball, which is all I could really GIF.  It had good movement, but it didn't show the same dominance we've come to expect in this run with the Bucs – especially fresh off an 11 K game.  Then this is where I feel a little iffy with Nova moving forward – he really doesn't have much of a third pitch.  Fangraphs lists that he only threw one cutter at 91.0 MPH this start, and everything else was change-ups.  So the few times I had question marks on "cutters", they were actually blah change-ups that he throws in the 87ish MPH range on the season.  Season-long – 92.6 MPH fastball, 86.5 MPH change-up.  Not enough of a differentiation!  And he's only throwing the change 3.8% of the time anyway – but it's been used twice that much as a Pirate.
I know his fastball includes the sinker and two-seam variants, but I didn't realize Nova had become such a two-pitch guy, and that's pretty scary to me.  Looks like his next start is hosting the Nationals on Saturday.  Yeah, I don't think I'm going there.  The Reds were really squaring up on Nova, who was lacking both fastball command and curveabll control.  Yes – he threw a few nice benders that I GIFfed, but several missed by a ton, and Nova relies on getting curves over for strikes to make up for being a two-pitch guy.  With the season about over, I'm moving on for different streamers.  And if you're wondering about Nova in dynasties or deep keepers – he's a free agent next year, and the Pirates have ridiculous young pitching depth.  I highly doubt they bring him back, leaving him open to almost certainly a worse situation next season.  Some Magic Searage Dust might temporarily linger, but I don't see ranking Nova too favorably in 2017.
Am I overreacting to one bad start for Nova?  Or do you agree – with not much left to go, are you moving on?  And what other streaming quandaries do you have for the final stretch?  Shoot your comments below, and happy final two weeks, Razzball Nation!