What if I told you there was a pitcher on the Indians with a sub-3.00 ERA with a swinging strike rate above 12%. This mystery man has been a cog in the gears of Francona's first-place ballclub after some wondered whether their devastating loss in game seven of the World Series could be overcome simply by adding Edwin Encarnacion. What if I told you I'm not talking about Corey Kluber?
I get it. You don't want to watch a 30 for 30 on something relevant to Cleveland that isn't Lebron James. You psych yourself up to lay a bad Bill Simmons/30 for 30 joke on my unoriginal intro. You scramble to Fangraphs to rattle off Kluber's stats to put me to shame for talking him down. But instead of your desired destination, you accidentally misspell "Fangraphs"in your address bar and end up on the fantasy baseball website of your choosing (Fantrax!). Next thing you know Mike Clevinger appears on all of your rosters and you can't find your shirt (RotoWear!). Take a deep breath, it's merely the fantasy baseball gods controlling your mind… and your wallet.
Kluber has a sub-3.00 FIP with a godly 15.8% swinging strike rate, substantially better than the poster boy for this column, Clevinger the Cleaver. But that's beside the point; why on earth did the fantasy baseball gods want you to give Clevinger a longer look than you would have last season? I'm glad you asked.
Jeff Sullivan does a great job of diving into the details, so I'll do my best to add some original thoughts onto the Clevinger hype train, capped off with a fantasy twist. It'll feel like that Twisted Tea you definitely regret drinking last night, expect you can consume this twist without fear of losing your dignity. For one, Clevinger has two plus breaking balls, something few pitchers – let alone a 26-year-old – can execute effectively. Better yet, they've improved drastically from 2016.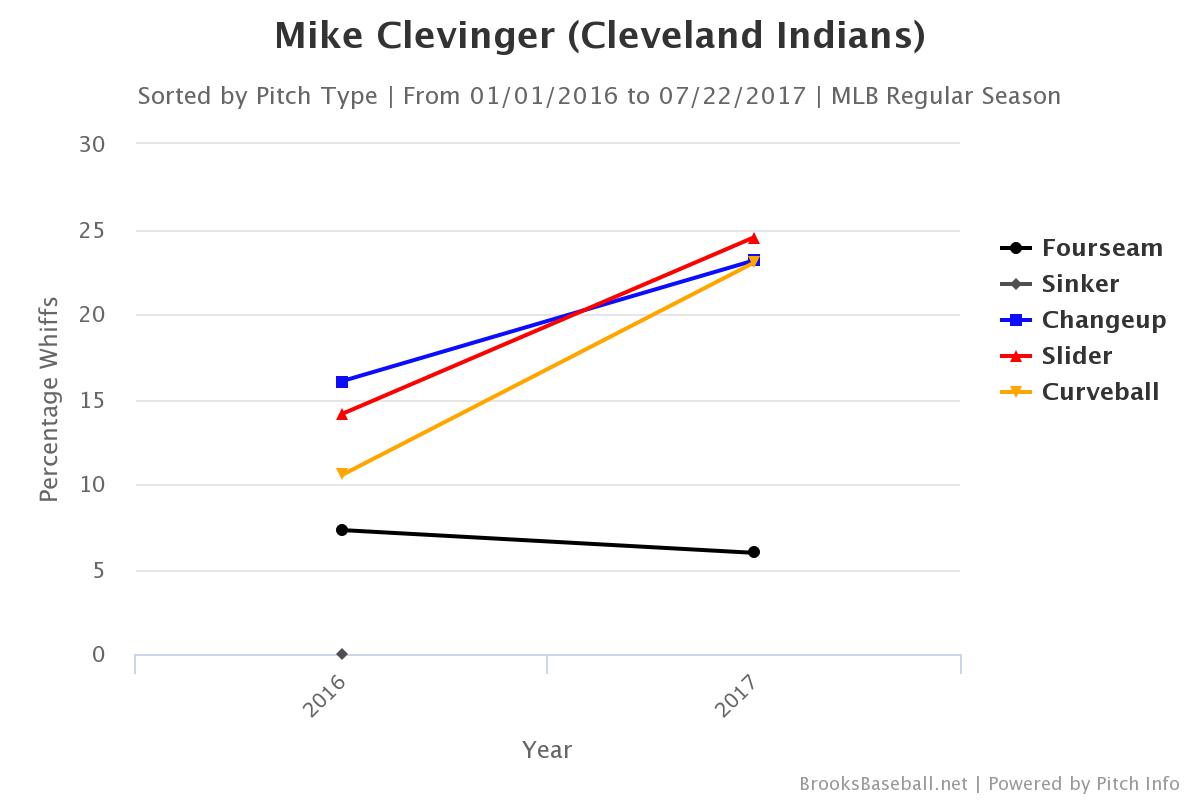 The reason for this spike among his breaking pitches is due to a variety of reasons stemming from a drop in velocity on his slider and curveball (down on average 3.5 mph and .5 mph respectively). Couple that with an uncanny ability to locate both down in the zone, and not end up like Andrew Moore did on this pitch to Aaron Judge, and your product is a lovely set of double digit increases in swinging strike rates.
I searched around for any tangible quotes or evidence that could back up why Clevinger is locating pitches better and was led to an article from an Indians fan site speculating Clevinger may just be figuring it out. In the baseball universe, that's really sometimes the answer. Pitching is heavily reliant upon mechanics, and to refine mechanics, one needs to be able to repeat those exact mechanics over and over… and over. Time has a strong correlation with repetition, and 53 innings at the major league level prior to 2017 is likely not enough for virtually any starter to show his true colors.
Failing to unearth a "This is how I changed my mechanics," quote from Clevinger, I ventured over to MLB.com and dug through some video. That trip has me echoing the silence that I found elsewhere on the web. Clevinger's motion is pretty defined, relying a lot on his arm speed to generate spin. His most distinct feature is an arm recoil and his trail leg's wide follow-through that takes a bit of a roundabout path to first base side of the rubber. To the naked eye, it seemed to me between these two videos (2016, 2017), he is completing his motion quicker (backed up marginally by Fangraphs citing his "pace" drop by about two seconds). Hogwash? Legitimate? I wish I had harder evidence to back up the resulting location improvement, but regardless of those positive trends and their origin, I'd gamble that Clevinger won't forget how to locate down on his off speed pitches in the aggregate.
In young, developing pitchers I love to see a year-over-year increase in zone percentage combined with a drop in contact rate. It's a simple way to try and associate a tangible improvement in what we often term call "stuff." It also helps to cite improved command for an uptick in the ever-valuable K-BB% metric. Clevinger has cut his overall contact rate to 68.8%, which is the fifth lowest among pitchers with at least 50 innings (Indians' SPs make up three of the top five; Kluber and Salazar). His offspeed location and resulting effectiveness is further backed up by the insane 18% drop in his out-of-zone contact rate from 2016. Better stuff, better results, and better fantasy value.
While I like the improvements from 2016, Clevinger is sitting on a 2.73 ERA that should inflate back to his 3.91 FIP; usable indeed, but not something to go koo-koo for cocoa puffs over. This will probably push him outside of the top 175 overall that he currently sits in, associated with pitchers like Sonny Gray, Zach Godley, and Michael Wacha. I will deviate from the all-mighty Streamonator and endorse his upcoming two-start week against the White Sox and Angels, which the projection system currently nixes as returning -$4 in value. Two-start pitchers in points leagues are often must-haves, and with a K rate above 27% on the season, his value in deeper roto leagues is better than some who hold richer name value.
In Ralph's most recent update of his top 100 starting pitchers, Clevinger slots in at 53rd overall. While I see some players that I would put Clevinger above rest of season, in totality, I'm a big fan of this rank from Ralph. It's fifth starter territory with the ability to push into SP4-land if the regression doesn't come as quickly as we expect.
The Player Rater holds Clevinger in a completely different light, expecting a 4.30 ERA and a 1.38 WHIP over another 41 innings, which nets to basically worthless production. While I often like the player rater for reference, I disagree with the majority of this projection aside from the assumed 9+ K/9 on the strikeout front. Most perplexing to me is the projected 1.38 WHIP, which I'm assuming focuses on the 12.6% walk rate. While I understand he is one of two pitchers this season with a walk rate north of 11% and a WHIP below 1.25, I'd be interested to see just how much of his elite contact rate this metric is considering when spitting back a number that 2017 Bronson Arroyo would die for.
Clevinger is young, and likely to run into lapses in control, but per Fangraphs, contact rate only needs 100 plate appearances to become reliable, and Clevinger is posting well above elite numbers in that department. It's one of the worst things imaginable to walk a batter, but because he mitigates that with very little contact, the net WHIP value, in theory, should only rise slightly above its current standing. I think something in the middle at 1.25 is feasible. Less assumed baserunners means the potential for less runs. And simply assuming my WHIP theory for Clevinger pushes him back to an ERA closer to an optimistic mark of 3.80-3.90. Couple that with his 10 K/9 rate and confidence that he starts for the rest of the season – which pushes his innings pitched total from the Player Rater's 41 to a more reasonable 60 – and you're looking at a higher variance version of the Player Rater's call for Steven Matz, or better overall production than Johnny Cueto.
Looking ahead to 2018, as Clevinger turns the page to his age 27 season, expecting any improvement in his control or fastball effectiveness immediately makes him a classic late round SP target. 10 K/9 would slot him into the top 30 strikeout pitchers in baseball, and a cut to 9-10% walk rate makes him look a lot like 2017 Rich Hill on the peripherals side. Strikeouts are there with flashes of dominance, and Clevinger finds himself on a team that won't drag down his win potential like the Giants or Padres.
I'm already penciling him in as a 2018 sleeper, with a keen eye on the results his next 60 innings spit out.
As always, follow me on Twitter (@LanceBrozdow) to flood your feed with lukewarm takes and great content from one of my many outlets! (Shoutout to BigThreeSports!)