In a typical season, after less than two weeks fantasy owners are (trying) to exercise patience. With a 6-month season stretching out in front of us, we have plenty of time to assess changing player skills, see roles slowly evolve, or react to injuries. In this 60-game sprint of a season, all that is out the window. The owner who can assess what's different today, and react the quickest, will win this season. That may mean cutting a high draft pick, or trading for an unexpected source of power. It all starts by assessing what's changed in just 12 days.
I'm analyzing Rudy's pre-season and rest-of-season projections (Razzball/Steamer), with custom dollar values based on a standard roster, 12-team mixed league. The specific dollar values aren't as important as the relative changes: who's value has gone up/down, in less than two weeks?
Below, I've charted all players who's value has changed by $2+ since the preseason: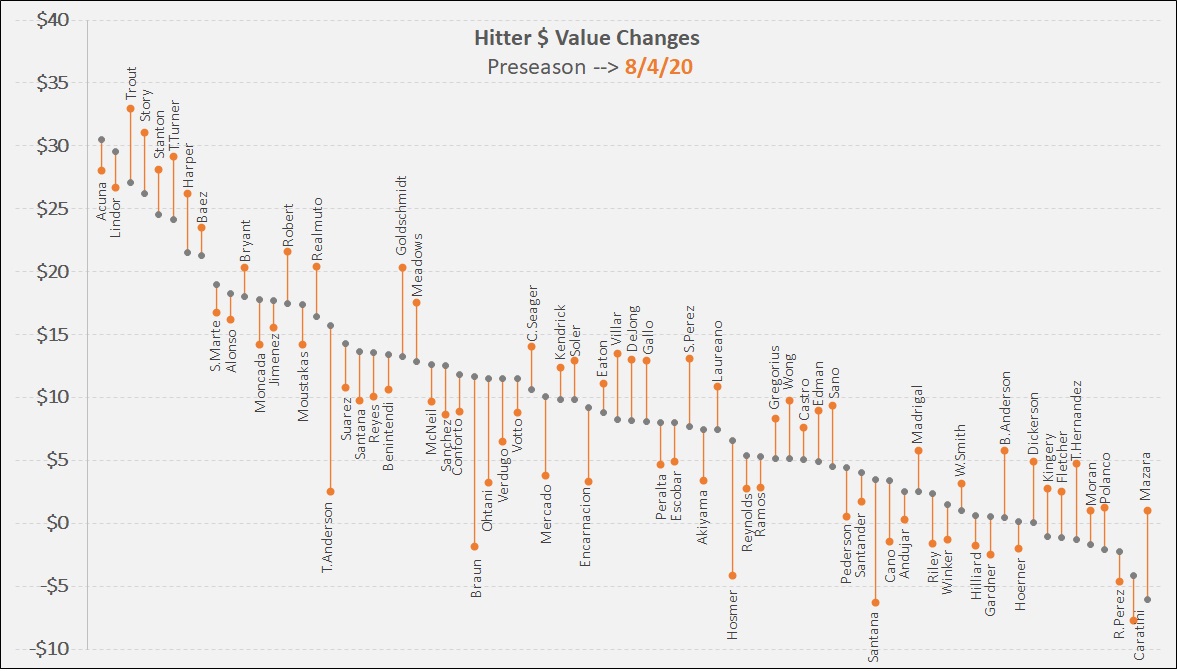 I won't go through each player, but let's dive in by looking at a few players in each of several groupings.
GROUP A: Injury Playing Time Downgrades
These are obvious: Tim Anderson, Ryan Braun, Shohei Ohtani, Eric Hosmer, etc. Don't play games with them, or anyone else who gets hurt. Be ruthless in maximizing your playing time.
GROUP B: Injury Playing Time Upgrades
First of all, you've got guys like Austin Meadows or Mike Trout, who are coming off of the IL/Paternity List. Their playing time for the rest of the season doesn't include the time off it did two weeks ago.
A more subtle (and thus, potentially, more profitable) group of players are those who had some projected injury time built into their pre-season projections. Giancarlo Stanton and Trea Turner head the list. The shorter the season, the higher likelihood these players make it through unscathed. Their per-game performance is always elite, and the chances they get hurt in the next 45 days is a lot closer to league average than over a full season. Fewer changes to get hurt means they're expected to play a higher percentage of their teams' games.
GROUP C: Skills Changes
Underlying skills changes are the hardest assessments to make in a small sample. Which players are off to a hot/cold start, and who may be a breakout star? In 60 games, a hot start can be the full season.
Skills changes take a while to filter into projection systems, so you won't see much of that reflected here. What you can pick out are players like Teoscar Hernandez. His value has jumped $6 since mid-July; underlying stats-per-plate appearance haven't changed significantly, but his projected games played and plate appearances-per-game have both increased. A hot start can cement your place in the rotation, which can be worth a lot of value.
GROUP D: Team Games Played
Finally, we get to potentially the most actionable set of players, because the value differences are the least obvious: How many games does the player potentially have left to play?
Consider teams that have played 12 games: 20% of their season is finished. This list includes Cleveland, KC, Seattle, Atlanta, NY Mets, LA Dodgers, SD Padres, and SF Giants; the maximum number of games remaining for any of their players is 48.
Meanwhile, the Marlins & Phillies have only played 4 games, and the Cardinals 5, which leaves 55-56 potential for their hitters. That's 17% more stats than the teams who have already knocked out 12 games.
This becomes obvious looking at the chart as well: the underlying skills for Ronald Acuna Jr. and Francisco Lindor haven't changed (from the projections' standpoint), but the number of games they have left to rack up stats has decreased faster than their peers. Meanwhile, Bryce Harper, J.T. Realmuto, Paul Goldschmidt, Jonathan Villar, and Paul DeJong are all significantly more valuable today than they were two weeks ago.
As an example of the potential: Pete Alonso has dropped $2 in value this season (mostly due to Mets playing 12 games already, not his slow start). Paul Goldschmidt has gained $7 in projected value. This nets you an expected $4 profit, and you could potentially get an additional piece in that trade because of their pre-season valuations.
TAKEAWAYS
Target playing time. If your guy isn't getting it (platoon, nagging injury, COVID, whatever), do what you have to do to get ABs in your lineup.
"Injury Prone" (but currently healthy) players are increasingly valuable the longer the season goes on.
Don't be afraid to make moves based on team games played.