No sleeping, 72 hours is nothing. Food isn't important. How much money did I lose? O well, just keep the drinks flowing. Wait, the sun isn't supposed to be up when you walk out of the club. What time is it? How did I get here? Where is here? Oooo, there's a craps table and a sports book…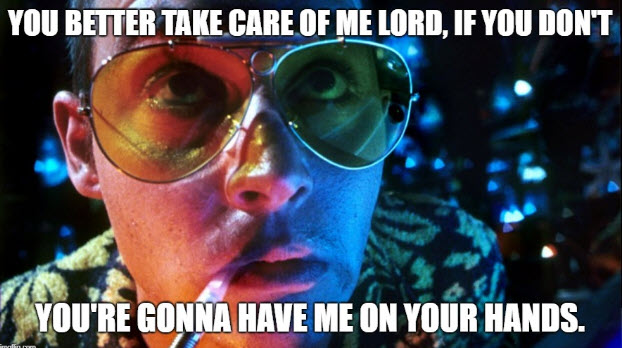 As I prepare to check another item off my bucket list with a visit to Las Vegas for the opening weekend of March Madness, I figure I can kill 2 birds with 1 stone, get an article out and start preparing for my wagers.
Remember that this is more for the payouts and odds than what I expect to happen in season. There's a reason that teams/players are favored, but they usually come with lackluster odds.

World Series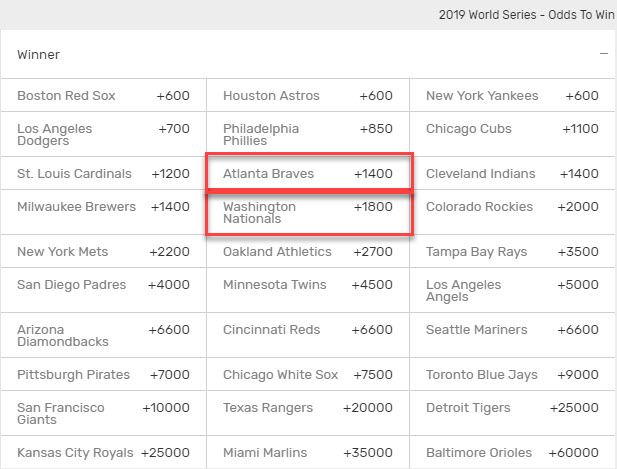 There are 3 teams that going off at +600 in the Red Sox, Astros, and Yankees. While these teams are great, I'm not laying money on any of them. 3 teams at the same payout, from the same league sounds like a sure fire way to lose money. For betting purposes, let's look further down the list and get some values. I like 2 NL East teams in the Braves (+1400) and the Nationals (+1800).
While the Dodgers are the favorites, the National League seems much more up for grabs. The Braves have a couple potential MVP candidates in Ronald Acuna Jr. and Freddie Freeman. Their pitching staff is a work in progress, but they have the pieces in the farm system to promote or trade for a more established guy.
The Nationals sans Bryce Harper still remain a solid option with the addition of Patrick Corbin behind Scherzer and Strasburg. Victor Robles slides in to fill the vacancy left from Harper with Juan Soto, Anthony Rendon, and Trea Turner providing a nice base of offense.


AL Champion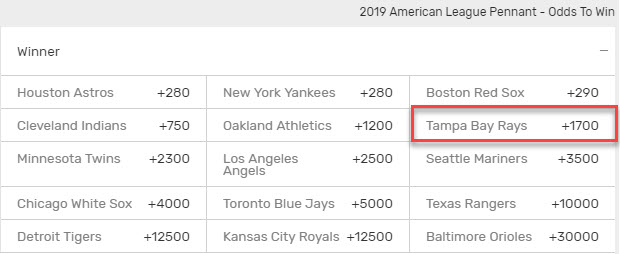 Pretty much the same situation for AL Champ as existed for World Series winner. 3 teams getting essentially the same odds from 1 league. While they are likely the 3 teams that should have that boost, it doesn't seem like much of a payout to take one of the three. With the same odds, you're essentially taking a 1 in 3 shot, so, why not play for a little more money?
You can bet on one of those 3 to win $280 off of a $100 bet, or take the added risk and go with the Indians or Rays at +750 and +1700 respectively. I will probably split up the money between the two, and…. maybe lay a little on the Astros as I believe they are the most complete team.

NL Champion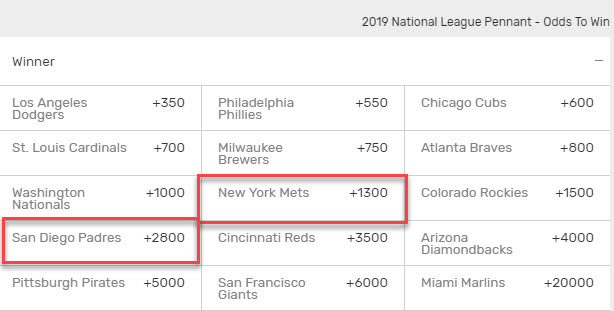 The NL Pennant race is a little more open as 6 teams get under the +1000 odds to win. Given the opportunity for any number of teams to win this pennant, I'm going with some higher payout options. The NL East is going to be a competitive division and 3 out of the 4 teams in the division could win it all.
I like the Nationals roster more, but give me the Mets at +1300 for the pennant win. If they can stay healthy, they've bolstered their offense with the addition of Robinson Cano. They are also getting a healthy Conforto along with a more experienced Brandon Nimmo, Jeff McNeil, and Amed Rosario. As we know, (standard Mets tagline, when healthy) the Mets pitching staff is one of the best in the league and this season they can turn their games over to the 1-2 punch of Jeurys Familia and Edwin Diaz.
If we want to look deeper options, I like the Padres given their depth of young talent and acquisition of Manny Machado. The pitching staff may be a little rough, but they have some upside guys that can take a spot this season like of Chris Paddack, Logan Allen, and Matt Strahm. As with the Braves mentioned above, they have plenty of depth in their farm system to make a move in season. Plus, there's the eventual call up of Fernando Tatis Jr.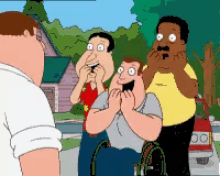 AL Central



If I'm being honest, I will probably avoid this division completely in my bets, but forced to take a team from this division, I'll go with the Twins at +300, which is still terrible odds, but better than paying money to take the Indians. The Twins offense could be better than people think, but can the pitching hold up? Probably not, but it's better than taking the Indians at -450 as the Tribe doesn't feel quite as much of the lock in the division as they did last year.

AL East



With everyone's focus on the Yankees and Red Sox, give me the Rays at +950. I may put some money on the Red Sox, but at +120, there's only so much room to gain there. They won 90 games last season and made moves this off season to create a stronger roster along with the amazing amount of depth in the minors.
Tampa has a solid 1-3 in the rotation with Blake Snell, Charlie Morton, and Tyler Glasnow. They will get a full season of Tommy Pham, Austin Meadows, and Tyler Glasnow as a starter. Some of their developing players, like Joey Wendle, Wily Adames, and Brandon Lowe, got time at the major league level last year and should be more comfortable.
At +950, they're the team to lay some money on in the division for payout purposes. If you absolutely must take one of the two pillars, might as well make it the reigning champs at +120 rather than paying to take the evil empire in pinstripes.

AL West



I'd imagine that Houston takes the division again, but at -700, why would you take them as your pick? I'd like to take the Angels given ability of Trout to carry a team, but with Ohtani not pitching, that rotation is brutal as it's looking like Matt Harvey could be the opening day starter.
So, give me the Athletics at +650 coming off their 97 win season. I don't really expect them to repeat the magic of last season, but they did add Profar in the offseason, brought back Mike Fiers, and we should see Jesus Luzardo at some point this year to boost that rotation. Plus, laying $100 to win $14.29 doesn't seem like much of a return if you take the Stros.

NL Central



I have to push down my desire to be a homer and take the Cubs here. I do believe they still have the most complete roster in the division, but the Cardinals, Brewers, and Reds are all showing some spunk. The Cardinals brought in Goldschmidt, the Brewers brought back Moustakas and signed Grandal, but can the rotation repeat at top 5 ERA finish like in 2018?
Then there's the Reds, who brought in Puig and Sonny Gray. While the Reds offense may be stronger than most are giving them credit for, the pitching staff likely has a lot of room to improve and is still a work in progress.
After all of that, I'm taking the Cubs. They had 95 wins last season and had the best record in the NL until the final day of the season (and actually until after the division tiebreaker game, not angry about it at all). They had the 3rd best ERA and scored the 9th most runs. The Cubs get a healthy Kris Bryant and Yu Darvish, which should bring a division title home for the North Siders, I hope.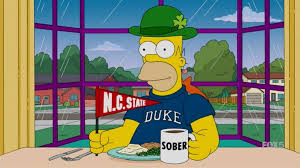 NL East



The toughest division to predict for me is the NL East. 4 teams that could all be on top when all is said and done. The Phillies made the most, and biggest moves to improve with the additions of Jean Segura, J.T. Realmuto, Andrew McCutchen, and Bryce Harper.  The Braves brought in Donaldson and McCann, and have one of the best young players in the game in Ronald Acuna Jr. The Nationals have been on top of the division in recent times winning 3 out of 4 division titles. Then, we have the Mets who I discussed earlier.
Philly is the odds on favorite according to Vegas, but give me the Nationals at +290. They have a top 2 rotation in the division, and a top 2, maybe 3, offense. There are enough pieces in place here that the Nationals could take down another division title, and potentially more than they ever achieved with Harper. And it's good to spread the money around after taking the Mets above.

NL West



It's an odd number year (and they're terrible) so we can rule out the Giants. We can likely rule out the Diamondbacks as well after they moved on from Goldy and Pollock. The Dodgers have won the division the last 6 seasons and are the favorite to win it again, for good reason.
However, the Dodgers come into the season without future HOF Clayton Kershaw ready to start the season, and they are relying on less experienced and injury risk players to keep them atop the NL West. Sounds like more risk than I'm willing to take at -450.
The Padres were my sleeper pick for the NL Pennant, but that is also using a good amount of forecasting for call ups and trades with a good line. This means that I'm laying my NL West money on the Rockies at +400.
They surprised everyone last season by winning 91 games and finishing only 1 game behind the Dodgers. In the last 2 seasons, they have ensured that the Blackmon/Arenado duo will finish up in Coors. Plus, they enter 2019 with something they haven't had in a while, a potential front line starter in German Marquez (still can't believe Grey got him for $13 in Tout).
After writing up these divisions, it really seems like betting on division winners may be a losing game. Here's some of the picks that my industry buddies like this season to get back on the winning track.

Fantasy Friend Picks
Grey Albright
Razzball


If you've listened to any podcast with Grey over the last few weeks, you probably already know his pick. He's taking the Twins for the World Series at +4500.

The Itch
Razzball



Don't ask a ray to scratch your itch (just ask Steve Irwin. Too soon? South Park did it.), but The Itch loves the Rays taking the over on 84.5 wins.

Donkey Teeth
Razzball



Well, I forgot to take a screenshot and the site we used for the rest of these took down strikeout prop bets, but here's another site and my podcast co-host Donkey Teeth is taking the over on 200.5 Ks for German Marquez.
Roto-Wan
Where isn't he? But Razzball for the purposes of this article.




Roto-Wan used the fantasy force and is taking the over on both the Pirates and the Cubs from the NL Central.

MB
Razzball



The Master Better is taking the under on the Phillies 89.5 win total for 2019.

Walter McMichael @RealFakeWalter
Friends with Fantasy Benefits – Real Fake Baseball Podcast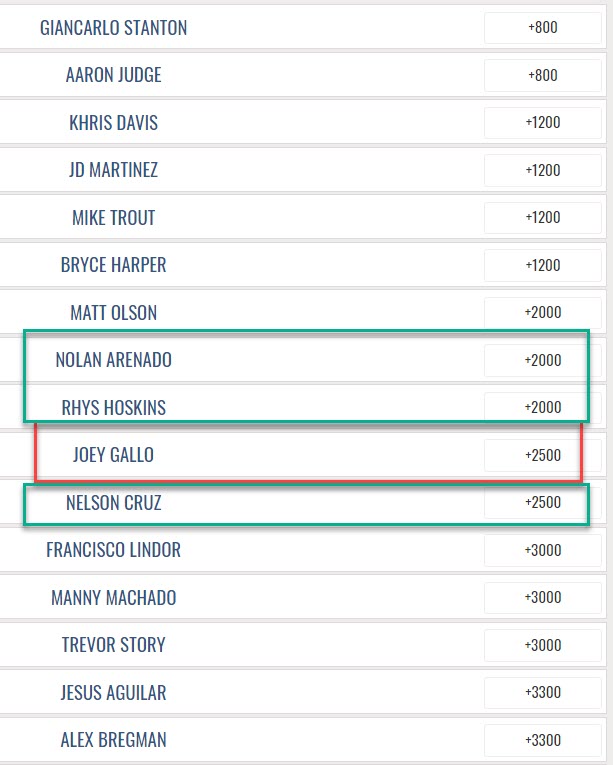 Walter is taking Joey Gallo to lead the league in home runs at +2500. That's a steal. I will say that I have seen some other odds that take him down to as low as +1000, but the site we used for prop bets says +2500, which is nuts! I'll go ahead and add Nolan Arenado, Rhys Hoskins, and Nelson Cruz to the mix for me.
I have one player pick. Taking the under on Nolan Arenado RBI. I know, Arenado hasn't had under 110 RBI since he came into a full time role, but with it looking like Arenado is moving to the 2 hole, we may get more runs, maybe more HRs with the additional PAs, but less RBI.

Projection Systems
Donkey Teeth and I had Steve Paulo on to talk about his projection system, THOME, and I have yet another tool in my belt as I approach the sports book. I combined Steve's projections with those from PECOTA and identified 6 teams that PECOTA and THOME agree on the win total compared to the over/under with a THOME confidence level over 80% (highlighted green below). There were an additional 7 teams that PECOTA and THOME agreed on versus the over/under, but these confidence levels are under that 80% confidence threshold (highlighted yellow below).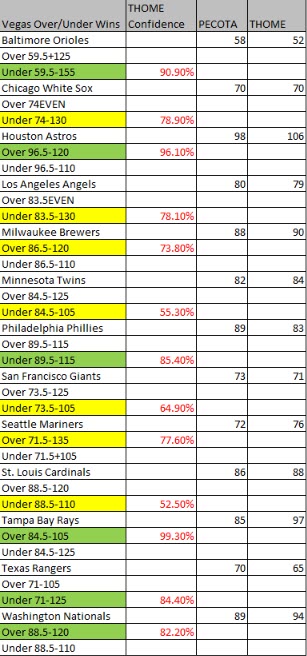 Awards
This article is already getting pretty long, but for those of you that can access Razzball at work, but not online sporting sites. Here's some more MLB awards off and my picks.
AL Cy Young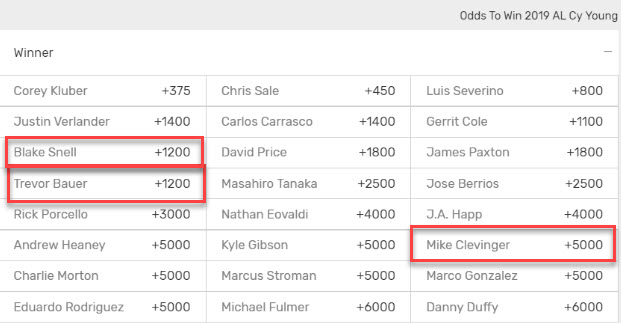 AL MVP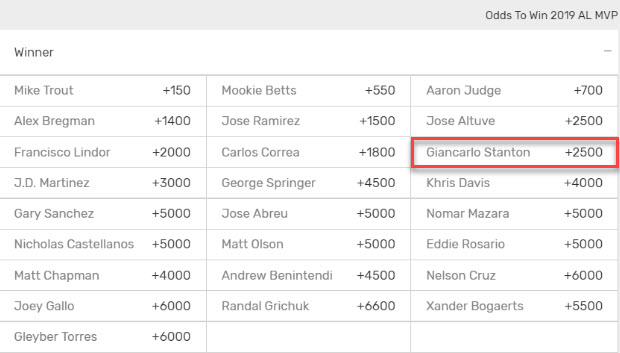 AL ROY


NL Cy Young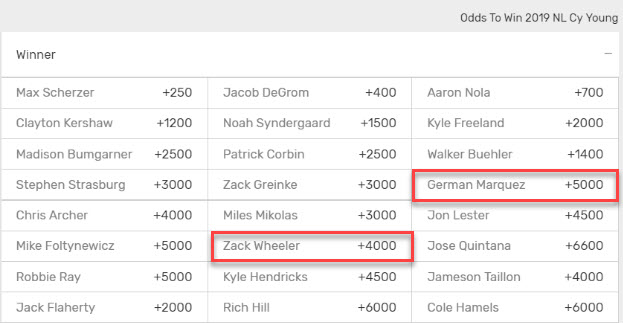 NL MVP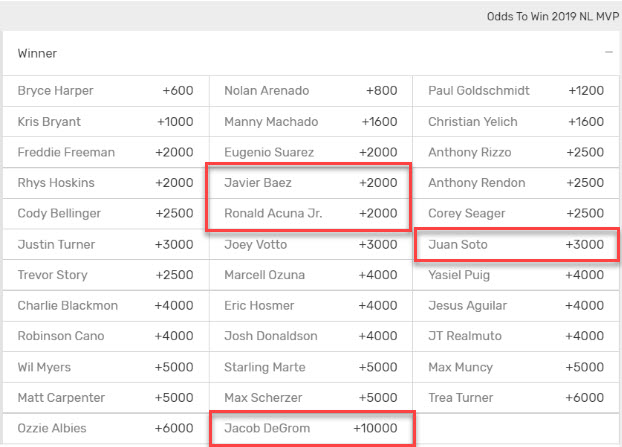 NL ROY


Regular Season Wins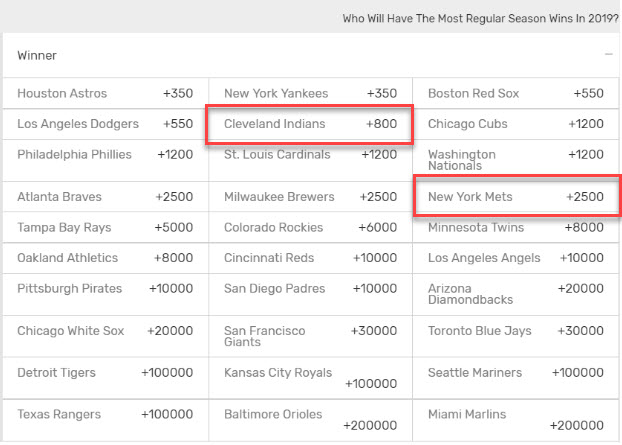 Regular Season Losses